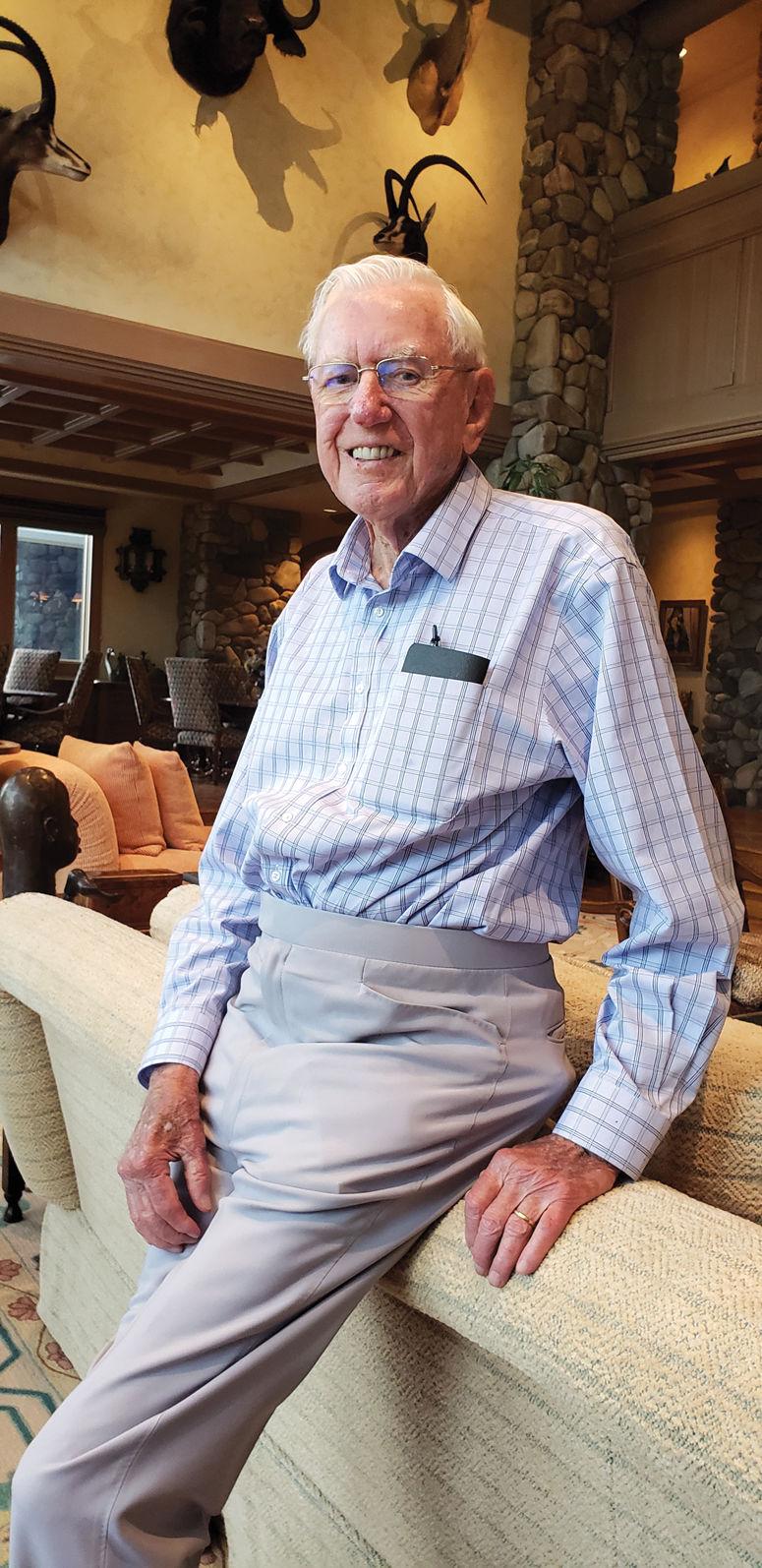 Harry S. Rinker is a legendary real estate developer who recently was celebrated by The Nature Conservancy and Wood River Land Trust for his donation of his 10,500-acre Rinker Rock Creek Ranch to the University of Idaho.
    Rinker, 97, spoke to the Idaho Mountain Express at his 200-acre estate beside a 3-acre pond high on a hill in Gimlet subdivision, where he lives with his wife, Diane.
    Their home, built in the 1970s, is a castle of sorts, situated beside a waterfall fed by a perennial spring. It is filled with museum-quality artifacts from his travels in Africa, Asia and Oceania.
    One of the high walls of the living room features big game trophies from Africa. The facing wall has trophies from North America.
    "I'd never think of hunting an animal like that today," said Rinker. "But safaris and hunting were considered differently back then."
    Originally from Tacoma, Wash., Rinker grew up on a farm without indoor plumbing or electricity. His first job was in a cannery and he worked there every summer through high school. He suffered from dyslexia at a time when there was little understanding of the learning disorder.
    "It is really an advantage to have a handicap, to be poor or to have some physical failing or another because it causes you to try to rise above that and go beyond the norm," said Rinker, during an interview for the Horatio Alger Association available on YouTube.
    He served in the Army during World War II and went to Orange County, Calif., in 1953, where he would build more than 1,000 tract homes with his partner Bill Tietz. They created Garden Grove in Anaheim when a two-bedroom house sold for $7,500.
    Rinker went on to build more than 100 gasoline stations and 30 shopping centers on the West Coast. He relied on the expertise of retired "field men" who had worked for oil companies, to choose potential sites for gasoline stations.
    "We would choose a corner to build on, then put it in escrow and offer it to oil companies for development," he said. "I wish I had kept more of those shopping centers."
    Rinker has for nearly half a century been a major landholder in Blaine County, including the mid-valley Peregrine Ranch, which, at 160 acres, is one of the last wide-open private landholdings in the Wood River Valley.
    Rinker met Bill Janss and his wife, Anne, after he first came to the Sun Valley area in the early 1960s. After the tragic death of Anne in an avalanche, Bill married Glenn (Cooper) Janss. Rinker invited the new couple for adventures on Galgo, a 112-foot motor yacht that carried a crew of seven and two ski boats. The guests used the boats to scuba dive and search for conch in the Caribbean Sea and surfed off the coast of Costa Rica.
     Rinker and Bill Janss flew with John McCaw on McCaw's private airplane to Spain several times to hunt for red-legged partridge, and later to England to shoot pheasant. Rinker also took a group to Morocco to hunt wild boar, and to Czechoslovakia for pheasant shooting. Everyone stayed in a castle estate filled with medieval armors and weapons and dined at an enormous centuries-old wooden banquet table.
    "It was still a communist country, so it was surprisingly cheap," Rinker said.
    Within and beyond the Sun valley area, the Rinkers are well-known for their philanthropic duties. Harry is a member of the Horatio Alger Association of Distinguished Americans and has been involved with the Big Brothers of America board of directors, the Eisenhower Medical Center board of governors, the Segerstrom Center for the Arts, the Orange County Sherriff's Advisory Council, Orangewood Home for Dependent Children and South Coast Repertory theater, among many other charitable and civic activities.  
    The Rinkers are longtime supporters of Chapman University, where Harry has been a member of the Chapman University board of trustees since 1976, and the couple has supported countless university priorities through the years, including presidential scholarships, American Celebration, the Economic Forecast, Argyros Global Citizens Plaza and the Dale E. Fowler School of Law's Harry and Diane Rinker Law Library.
In the world of real estate development, Rinker has a Midas touch. His crowning achievement as a developer in the Wood River Valley came about 25 years ago when he began to turn 200 acres of pasture near East Fork into Golden Eagle, an upscale housing development that features manmade ponds, waterways and creeks.
The development faced considerable scrutiny by public officials and numerous public hearings before County Commissioner Len Harlig cast a deciding vote for approval for the second phase of the project, just before stepping down from office. Rinker said the average home price in Golden Eagle today is about $3 million.
    "It was a fun project," he said. "We planted about 170 trees."
    Harry and Diane Rinker have had many friends in the Wood River Valley. Harry knew Julie Ann Wrigley in Los Angeles when she was 15-year-old Julie Ann Burns, before she went to work as an attorney for chewing-gum mogul William Wrigley, later becoming his third wife.
    For many years, he celebrated his birthday with four other prominent men his age who shared the birthdate; Parry Thomas, Marshall Bennett, Monty Fisher and Ken Leventhal. Their 90th birthday bash in 2011 was held at Thomas' River Grove Farm in Hailey. A 10-piece orchestra played as Vegas casino owner Steve Wynn's wife, Elaine Wynn, played emcee.
    "We invited 500 people, but I think 600 showed up," Rinker said with a warm smile.. He spends some of his time in a glassed-in arboretum beside his house that is aflutter with hundreds of colorful finches.    
    "I have always tried to be positive in my life, to stay active and not make too many mistakes." he said. "But one disappointing thing about getting to this age is that I have lost so many friends."
    The Rinkers have four children, six grandchildren and two great-grandchildren.