With a background in economics and real-world experience helping to run the city of New York, Environmental Resource Center Executive Director Lindsay Mollineaux has set her sights on turning one of her hometown's nonprofits into a driver for environmental conservation and education.
"This is a time for creative and ambitious thinking to join with rigorous soul-searching about impact," Mollineaux said. "I thought this job would be about providing basic environmental education, but it's been much more about listening to existing great ideas and then thinking smartly as an organization about how we can be a bridge between all of this excitement and expertise here, and meaningful action."
Mollineaux, 33, grew up in Hailey and attended Deerfield Academy in Massachu
setts before enrolling at Brown University as an English major. When the 2008 financial crisis struck, she changed course and started studying economics.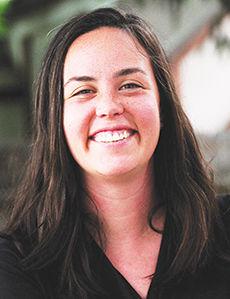 "There is nothing like a worldwide crisis to change your priorities," she said.
After graduating in 2010 she worked busily as an assistant economist at the Federal Reserve Bank of New York, specializing in corporate governance and financial stress testing, and as a research assistant at the International Monetary Fund in Washington, D.C.
"We were sleeping under our desks for months," she said.
Mollineaux then worked as an analyst and then deputy chief of New York City Mayor's Office of Data Analytics, which she described as the city's "civic intelligence center," allowing it to aggregate and analyze data from multiple agencies.
"The office uses analytics tools to prioritize risk more strategically, deliver services more efficiently, enforce laws more effectively and increase transparency," she said. "We joked that we were data therapists."
Mollineaux also led the city's Open Data initia-
tive, which includes implementation of the New York City Open Data Law, which she calls "the most ambitious and comprehensive open data legislation in the country."
"It was wonderful and exciting," she said. "We invited more public participation in government."
In 2016 Mollineaux came to visit family for a ski season while contemplating graduate school. Instead, she served local government as a policy fellow and then policy analyst for the city of Ketchum from 2017-2018, then worked for Kraay's Market and Garden south of Bellevue as its market manager to gain practical experience on a small farm. She started as executive director of the ERC in October 2019.
Recently, the Wood River Women's Foundation gave a $75,000 grant that will be split evenly between a joint consortium of the Ketchum Community Development Corp.'s Sustainability Advisory Committee, the Environmental Resource Center and the Sun Valley Institute.
"These three organizations sought one another out because we had shared interest and complementary expertise," Mollineaux said.
Six months into her new job, Mollineaux said she is in the midst of a major strategic planning process that will hopefully help determine whether the organization is moving toward its stated goals.
"However, when someone stops you on the street to tell you that their child wants to be a ranger after attending our Science After School program, that's infinitely more valuable," she said. "When a volunteer comes in full of frustration and hopelessness about the environment and leaves signed up as an ERC community ambassador, participating instead of grumbling on the sidelines, that's proof of value. My goal is that every single resident and visitor will be able to point to a game-changing experience they've had with us in the future."