From Idaho's earliest days, women have fought hard for a stronger voice in their self-governance.
That fight continues today in the Legislature, and Blaine County is represented by three women legislators in District 26. The district is one of only two in Idaho to have three women lawmakers represent it, along with District 18 in Boise.
Senate Minority Leader Michelle Stennett, D-Ketchum, has served in the Legislature since 2010. Rep. Sally Toone, D-Gooding, has served since 2016, and Rep. Muffy Davis, D-Ketchum, was elected to her first term in office in 2018.
They were part of a national surge of women candidates for elected office in the U.S. last year. A record number of women ran for seats in Congress and in state legislatures in 2018, and a record number of women are now serving in those chambers, according to Rutgers University's Center for American Women and Politics.
In Congress, women hold 127 out of 535 seats, or 23.7 percent. In state legislatures, they hold 2,126 of the 7,383 total seats. Women also hold 86 of 312 statewide executive offices across the nation, according to the Center for American Women and Politics.
Overall, in 2019 the Idaho Legislature's makeup is 30.5 percent women, according to the National Conference of State Legislatures. It's a big change from 1975, when 9.5 percent of the lawmakers were women.
In the Senate, nine of 35 senators are women. In the House of Representatives, 23 of 70 representatives are women.
Nationally, the state is tied with Georgia for 20th overall for the highest percentage of women representation in its Legislature, according to the National Conference of State Legislatures. Nevada has the highest in 2019, with 50.8 percent; the national average is 28.7 percent.
Idaho was among the first states in the U.S. to grant women the right to vote. In 1896, voters passed a constitutional amendment approving women's suffrage.
Before the 19th Amendment granted women's suffrage throughout the U.S., Idaho was the fourth state to approve it, though five territories granted it prior to statehood.
Since then, women have been elected to the state Legislature, held some of the most powerful committee chair positions, represented Idaho in Congress, been elected to statewide executive offices and helmed state government agencies.
However, the glass ceiling remains: No woman has ever been elected governor or U.S. senator, and no woman has served as speaker of the House or as Senate majority leader in the Idaho Legislature.
The signs of future change are evident, though. Last year, Idaho voters elected a woman to be lieutenant governor for the first time ever, Republican Janice McGeachin. Democrat Paulette Jordan ran for governor last year, and had she been successful would have been the first Native American woman to be elected governor in the U.S.
Two Blaine County women have taken turns leading the minority party caucuses in the state Senate and House for the past quarter century: Stennett and former Rep. Wendy Jaquet, D-Ketchum.
History
The push for women's suffrage began before statehood in Idaho. Indeed, movement leader Abigail Scott Duniway was instrumental in its success. She emigrated west on the Oregon Trail in the 1850s and worked as a newspaper editor in Portland, Ore., from 1871 to 1887, when she moved to Idaho.
In 1889, leaders in Idaho held the constitutional convention in Boise, and Duniway delivered a historic, 4,000-word address. She delivered 140 public lectures in favor of women's suffrage from 1876 to 1895, which required traveling more than 12,000 miles to more than 22 cities, according to University of Southern California researcher and professor Randall Lake.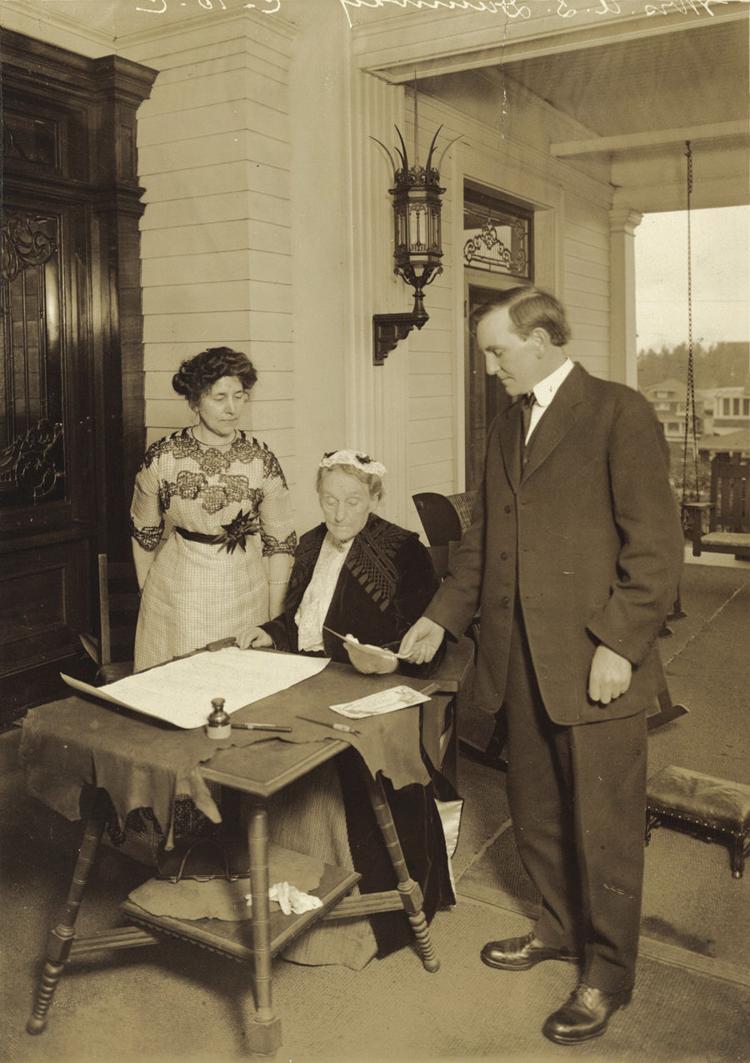 "We ask for nothing but our right to use our voices—as your companions and co-workers—in making the laws under which we, as well as you, must live; laws which we are taxed to maintain, to which we, equally with yourselves, are held amenable," Duniway said in her address in Boise. "We could not rule men if we would, and would not if we could."
With their rights secured, many influential women followed in Duniway's footsteps.
In 1898, Clara Campbell, Hattie Nobel and Mary Allen Wright were the first women to be elected to the Idaho Legislature, and served in the House of Representatives. The year following, Wright became the first woman to preside over the Legislature and was later elected chief clerk of the House of Representatives.
In 1899, Permeal Jane French was the first woman to be elected to a state office, according to the University of Idaho. She was elected superintendent of public instruction and later served as the university's first dean of women.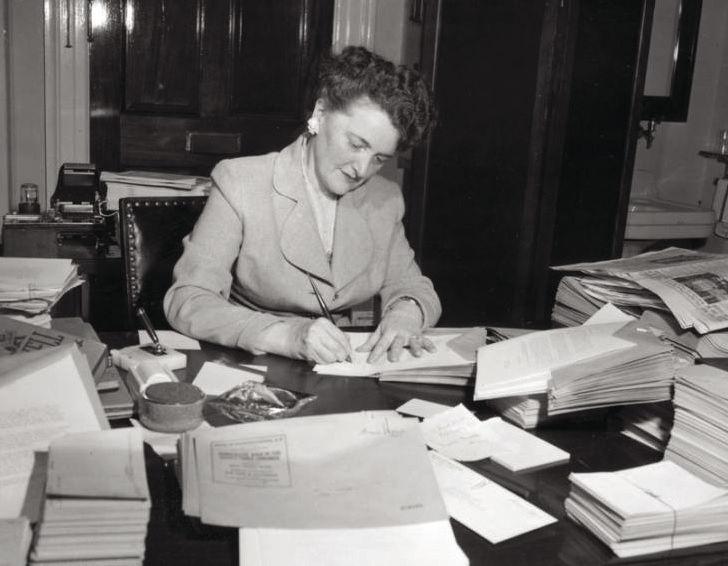 Gracie Bowers Pfost became the first woman to represent Idaho in Congress in 1953, and served as a Democrat in the House of Representatives. She served five terms, but unsuccessfully challenged Republican Len Jordan for one of Idaho's two U.S. Senate seats in 1962. She lost, but President John F. Kennedy appointed her to a position in the Federal Housing Administration in 1963, according to Boise State University. She died in 1965.
Mary Elizabeth Thomas Peavey Brooks was elected to serve in the Idaho Senate from 1963 to 1969, and became the third woman in history to serve as director of the U.S. Mint. She was appointed by President Richard Nixon and served from 1969 to 1977. Brooks' son, Carey-area rancher John Peavey, replaced her in the Senate following her appointment. He served from 1969 to 1976, and then from 1978 to 1994.
Following a career as a journalist for several Idaho newspapers, Louise Shadduck became the first woman in Idaho and in the U.S. to hold a cabinet-level post in state government in 1958. Republican Gov. Robert Smylie named her head of the Department of Commerce and Development, which was a post she held for the next decade.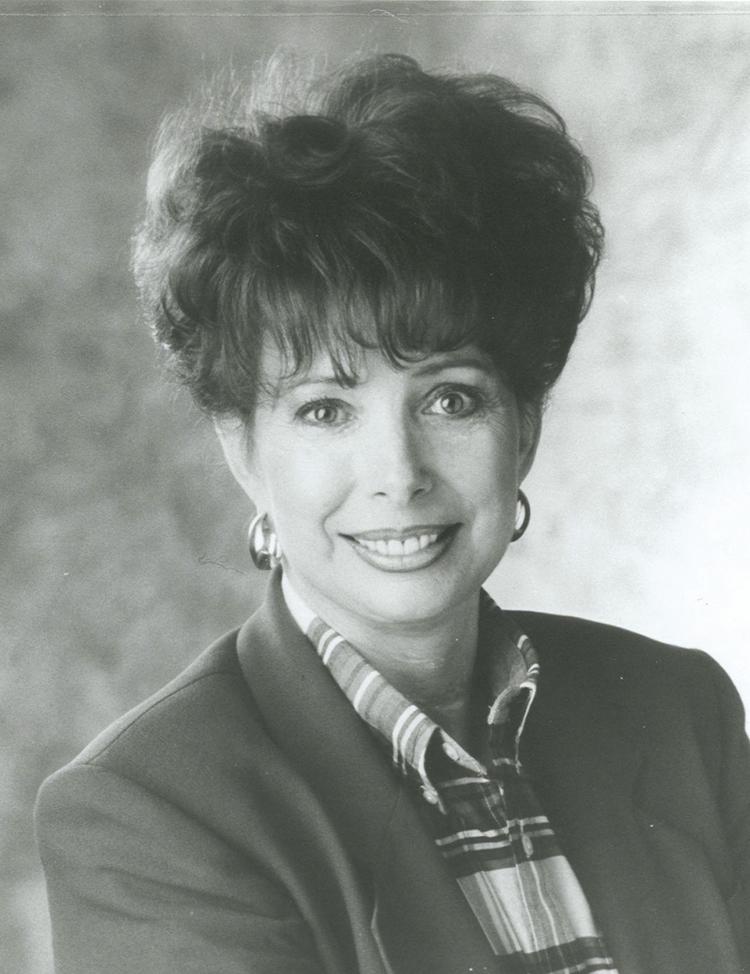 Republican Helen Chenoweth-Hage became the second woman to represent Idaho in Congress, following her election in 1994. She served until her retirement in 2001.
In another first, Shadduck challenged Pfost in the 1956 election, which was the first time in U.S. history two women secured the major party nominations for a contest for a congressional seat, according to author Mike Bullard.
University of Idaho history professor Katherine Aiken examined why Pfost and Chenoweth-Hage succeeded in Idaho politics. Aiken wrote that "both recognized that Idaho voters demanded an independent, Western approach to politics."
"Certainly both women were cognizant of Gracie Pfost's warning that a woman running for Congress 'must be willing to have her every motive challenged, her every move criticized—she needed the skin of a rhinoceros,'" Aiken wrote. "In the final analysis, Gracie Pfost and Helen Chenoweth shared exactly that."