This year—as always—Sun Valley Realtors Give handed out hundreds of Christmas bags filled with snow gear, toys and holiday meal kits to Blaine County families in need.
On Saturday, an estimated 1,000 Wood River Valley residents filtered in and out of the Queen of the Hills Room at the Community Campus in Hailey to pick up food and children's gifts. Earlier in the week, local students had decked out the room with festive trees and snowflakes, providing holiday cheer and an ideal welcome for the afternoon's guest, Santa Claus.
"A lot of families will bring their children along when they come, so we try to make sure they feel as welcome as possible," organization Executive Director Brandee Smith said.
Providing enough food, winter gear and toys for more than 225 families is no small feat.
"To be able to feed over a thousand people and put together gifts for over 500 children—it really takes the whole community to show up," Smith said. "It's amazing to see how people in this valley come together, year after year."
Sun Valley Realtors Give, a nonprofit, typically spends up to $45,000 on clothing and food every year. Much of that funding comes from its annual Golf To Give fundraising tournament at the Sun Valley Resort, which netted the organization more than $20,000 this past summer. The bulk of that money goes toward purchasing warm winter clothes for kids—one item per child.
In early December, dozens of volunteers made the 160-mile round trip to Twin Falls' Target to purchase about $15,000 worth of snow boots and winter jackets, Smith said. A borrowed RE/MAX truck helped transport the load back to Sun Valley.
"Costs go up every year as clothes get more expensive. We try to spend as little as possible, but still, a new coat at Target is between $40 and $60," Smith said.
For holiday-basket essentials like toys, books and toiletries, various community organizations took the reins. Wood River Valley dentists donated toothpaste and toothbrushes; the Little River Preschool in Hailey set up multiple "angel trees" at Atkinsons' Market in Hailey and other hotspots, collecting highly requested toys like soccer balls and Legos. Local banks, libraries and schools collected toys and books. Real estate offices collected new coats.
With the help of volunteers from the Sun Valley Community School, Sage School and Silver Creek High School, baskets were assembled in the Queen of the Hills Room from Dec. 3 through Saturday.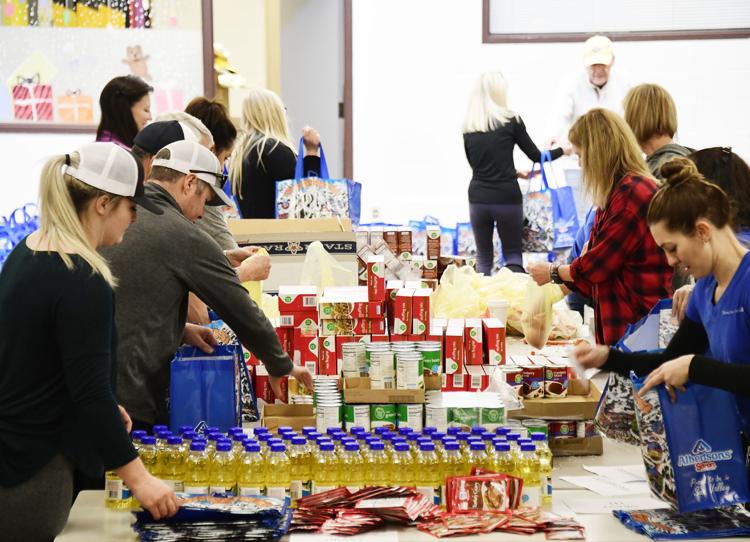 A total of $16,000 was spent on Albertsons gift cards and at Atkinsons' on nonperishable items, both of which were packed into bags Thursday, Dec. 12. The supplementary $25 Albertsons gift cards were designated for perishables, like meat or dairy items.
"We give families the option to choose between traditional American or Hispanic ingredients to put together a meal," Smith said. "Some families, depending on number of people, receive multiple food bags and gift cards."
The "American" meal-kit option included green beans, stuffing mix and gravy, while the "Hispanic" offering included rice, beans and masa. Everyone got hot cocoa, Smith said, as well as produce items like apples and carrots. Magic Valley Potatoes also stepped in this year to donate a ton of their crop, amounting to two pounds of potatoes per person.
Most recipients who showed up Saturday had put in a holiday basket request to The Hunger Coalition, St. Luke's Community Outreach or The Advocates. Some had not.
"I always order extra food to make sure we have enough for everyone—even those who don't sign up," Smith said. "It's harder to guarantee leftover winter clothing, because shopping is done beforehand, but we always have extra books and toys to help out families in need."
The only qualification to receive a holiday basket is residency in Blaine County.
"We face interesting problems in this community," Smith said. "You can have two incomes and still need some financial help over the holidays. We see every type of family situation you can think of, from young single mothers to multiple-income families struggling to afford those extras."
In 2004, Sun Valley Realtors Give took over the Holiday Baskets program from the Ketchum Rotary Club, which had overseen the annual project for decades. Since the organization was founded that same year, the effort has expanded to provide housing assistance to veterans and scholarships for local high school students.
All in all, more than 1,000 hours of volunteer time was pitched in to Holiday Baskets this year, Smith said.