Adams Gulch wins Best Biking Trail
    This year's winner in the Best Mountain Biking Trail category was no surprise. Adams Gulch has it all: an extensive trail network with a variety of rides and scenery—all within riding distance of downtown Ketchum. It has long been the northern Wood River Valley's go-to place for an easily accessible mountain bike ride or walk with the dog.
    Olin Glenne, owner of Sturtevants, which won first place in the Best Bike Shop category, said his employees often recommend Adams Gulch for out-of-town riders.
    "They're great trails in there in general and they're so diverse, and then you throw in the convenience of the trailhead being so close to the bike path, and it's just ideal," Glenne said. "But it's still a backcountry adventure. You're in nature, so it's nice."
    Just starting off on a ride on a late May afternoon, Elkhorn resident Jen Noel, 38, and Ketchum resident Jason Smith, 35, said they weren't sure where they were headed on that ride, but Adams Gulch's extensive trail network gave them lots of flexibility.
    "You can just start out and figure it out as you go," Noel said. "You don't have to have a plan."
    Boise residents Kristen Dynes, 53, and Paul Dynes, 52, said the easy rides near the trailhead make Adams Gulch a great destination for families.
    "The dads can go one way while the moms stay with the kids, or vice versa," Kristen Dynes said. "You can make a day of it easily."
    In addition, she noted, "the wildflowers are amazing."
    After just finishing her second-ever mountain bike ride, Avery Dynes, 11, said, "It was hard, but I enjoyed it."
    Sun Valley resident Jonathon Monshke, 51, said the proximity to town means that once he reaches the high point of his ride, "I can coast all the way back to Lefty's or Grumpy's."
    Adams Gulch is also popular with hikers and dog-walkers, so the trails within easy walking distance of the parking lot can get busy, and several riders said they choose other locales for midday rides in the summer.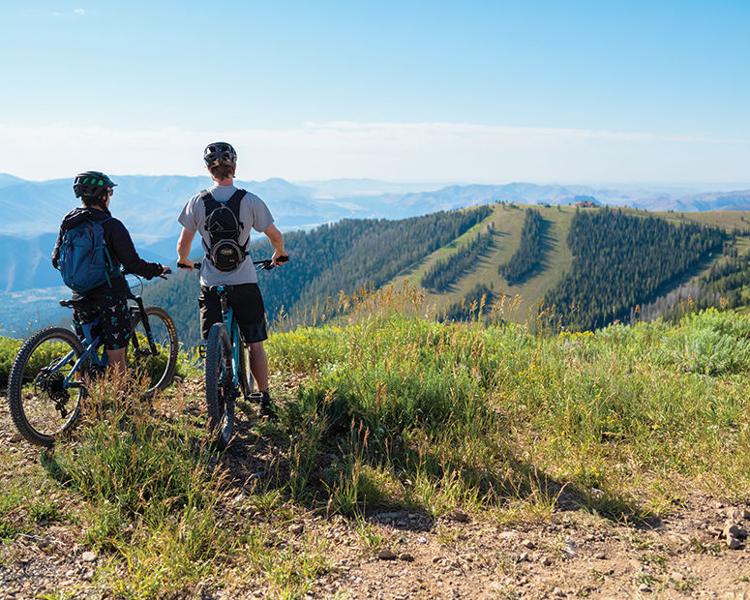 Bit by bit, Sun Valley Resort has been turning Bald Mountain into a mountain biking locale, and this year the Baldy trails jumped into second place in the Best Mountain Bike Trail category.
    "They really committed to make it a legitimate bike park experience," Sturtevants owner Glenne said. "You can get the classic cross-country climb, but then it becomes the flow-trail experience. It's a whole different side of riding."
    During most of the day, accessing those trails means riding the lifts or biking up from Warm Springs or on the fairly steep Bald Mountain Trail (more hiker- than biker-friendly) from River Run, since the River Run Trail is closed during lift-operating hours.
    Dane Harlamert, bike shop manager at Backwoods Mountain Sports, called Baldy's flow trails "a really nice perk right out of town."
    "It's fast and smooth and it gets closer to the feeling of skiing," Harlamert said.
    He recommended that beginner flow-trail users start with the Lupine Trail, which crosses the Bowls, then progress to the more difficult Saddle Up (from College to Roundhouse) and Mindbender (from Roundhouse to the River Run Trail) trails. The toughest is the new Pale Rider Trail, along Lower River Run. The biggest jumps, Harlamert said, are on Mindbender.
    One indicator of the Fisher Creek Trail's popularity among mountain bikers is that it took third place in the Best of the Valley contest without even being in the Wood River Valley. It's in the Sawtooth Valley, about a 45-minute drive north of Ketchum. But it's a perennial favorite among locals and well-known among avid mountain bikers elsewhere.
    "The ultimate ride," wrote Greg and Darla McRoberts in their guidebook to Sun Valley-area mountain biking, "Good Dirt II." "When you have the time and the want for a ride you'll be talking about for years to come, this is it. Great climbing, stream crossings and a descent that would make anyone jealous."
    The Fisher Creek loop remains popular despite the fact that the scenery isn't what it used to be; an extensive area in the upper part of the ride is slowly recovering from the 2005 Valley Road Fire, caused by someone burning trash in a barrel on a windy day.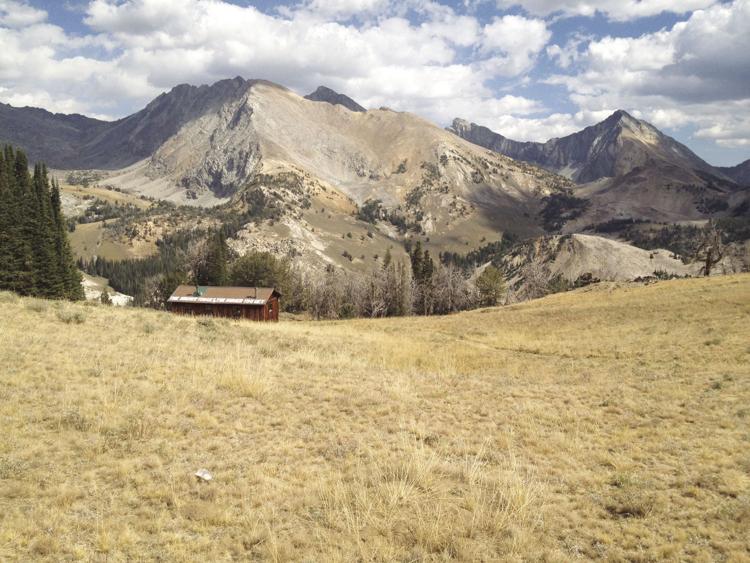 From the end of Corral Creek Road just east of Sun Valley, the Pioneer Cabin trail ascends through a shady fir forest before coming into the open and providing gorgeous views of the Pioneer Mountains. At the top at an elevation of 9,400 feet is Pioneer Cabin, which was built in 1937 as a ski-touring hut and has been undergoing a major renovation over two recent summers.
    Paddy McIlvoy, managing partner at Backwoods Mountain Sports, which won first place in the Best Outdoor Gear Shop category, called Pioneer Cabin "one of my absolute favorite trails."
    "There's just the magic of popping over the ridge and having the whole Pioneer Range open up in front of you," McIlvoy said.
    He said Backwoods employees "almost inevitably" include Pioneer Cabin as a recommendation for visitors looking for a nearby all-day hike, though he admitted that the 2,500-vertical-foot climb has to be earned.
    "People who are not fit and coming from sea level—probably not a great hike," he said.
    McIlvoy noted that the hike offers several options—an 8-mile up-and-back from the end of Corral Creek Road, a 9.2-mile loop around Long Gulch or shuttle-assisted hikes up from Corral Creek and down Johnstone Creek or the North Fork of Hyndman Creek.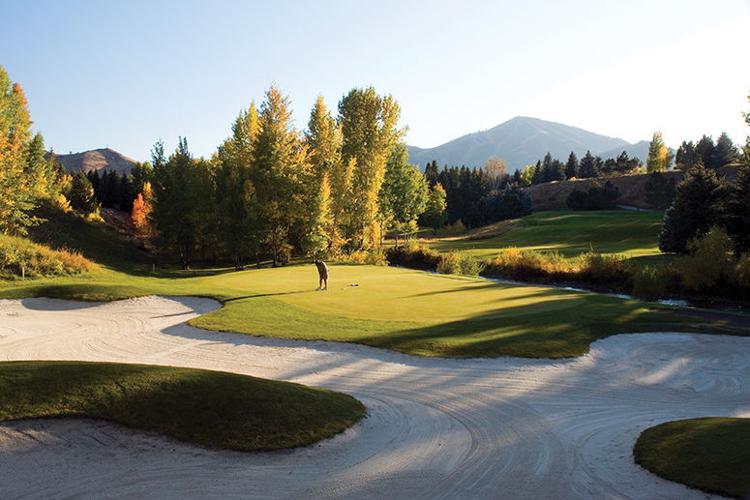 Best Golf Course: Trail Creek Course, Sun Valley
    The 18-hole Trail Creek golf course straddles its namesake creek at the eastern end of the Sun Valley Resort, with fairways lined up with Bald Mountain.
    Skyler Jensen, outdoor supervisor at the golf club, said the course gets about a 50-50 mix of locals and visitors.
    Ketchum resident John Manocheo, 69, called it one of his favorite courses anywhere.
    "The views are spectacular and the golf course is a fun course to play. It's a challenging course—lots of trees—it requires precise shots," Manocheo said.
    Seattle residents John and Marilyn Baughs said they have played many courses around the U.S. and in foreign countries, and the Trail Creek course ranks with the best.
    "This course has a lot of elements that a lot of courses don't—it's got a lot of water and trees," John Baughs said.
    Marilyn Baughs said that even though the course is challenging, "it's very fair"—no surprises to snag you if you aim your shots carefully.
    Jensen said that one thing regulars like about the course is that many holes allow several strategies, keeping them interesting for repeated visits.
    Sun Valley's nine-hole White Clouds course is just across Trail Creek Road. That course, Jensen said, is a more challenging links-style course, with more hills and more rough.
    As Best of the Valley contests over the past few years showed that "It's a secret" was the valley's favorite fishing spot, that category was discontinued.
    "I like it all, and it changes on a daily basis," said Lost River Outfitters owner Scott Schnebly, voted Best Fishing Guide this year, about local fly-fishing sites.
    Schnebly said those changes include river flows, water temperature and insect hatches.
    He said his guiding service chooses locations from among the area's varied offerings based on clients' interests. For beginners or people who want to catch a lot of fish, that could be the Big Wood River; for catching big fish, maybe Magic Reservoir or the Big Wood downstream from the reservoir; for a more adventurous locale, maybe the Big Lost River east of Trail Creek summit.