A look at the numbers for short-term rentals from 2017 to 2021 reveals an interesting perspective about housing in the Wood River Valley. In a continuous debate, an argument exists that the Valley's short-term rental market has had a significant effect on the long-term rental market. It could also be an element that has stifled affordable housing.
The data, though, paints a more complex picture. For one, the number of rental by owner or vacation rental by owner properties—like what you might find on AirBnb, HomeAway or VRBO—has stayed basically flat from before the COVID-19 pandemic to today, according to Destimetrics, a tourism consulting firm. In 2019, the monthly average of professionally managed properties/units advertised on Airbnb and HomeAway/VRBO was 643. The monthly average for 2020 was 636 and 638 from January through May of 2021.
When combined with hotel, lodge and motel accommodations, the total of 1,338 in 2017 rose to 1,573 in 2021, a gain of 235 units, or 15%. Of the 235 units added, 161 of them are increases in hotel, motel and lodge properties, like the new Silver Creek Hotel in Bellevue and Marriott Fairfield in Hailey, according to DestiMetrics. The shift suggests a change is afoot, says Visit Sun Valley Executive Director Scott Fortner.
"What has changed is the difference in the type of short-term units that are available," Fortner said. "Many of the RBOs or VRBOs are homeowners who came to town decided to stay. As a result, these properties were taken off the market."
During the pandemic, many second homeowners simply never left, "taking advantage of working from home and remote schooling and pulled their units out of the short-term and workforce rental markets, either partly or entirely," according Tom Foley, Inntopia's senior vice president of business process and analytics, who provides statistical information and data reports for Visit Sun Valley through DestiMetrics.
"Then, this year those same homeowners decided to rent short-term but are more selective, focusing more on family or people they know, not strangers," he said. "Others—including long-term locals—opted to cash out and sell their units altogether, and many of those have not made their way back into the rental market, short- or long-term."
As demand spiked, some landlords with long-term tenants either raised rents, or opted not to renew existing leases to court remote workers willing to paying more, Fortner said. But Destimetrics data did not show an increase in short-term rentals, Fortner said.
"If long-term rentals or new home buyers decided to short-term their new purchases, we would see the total numbers in the available inventory rise, but that is not the case," he said. "It has remained flat and reveals that other factors are in play with the decrease in long-term rentals.
Foley says the it's difficult pin down a single cause for the housing crunch.
"When discussing destination resorts, workforce housing is a global issue," he said. "Many mountain towns are isolated places with a finite amount of inventory and no bedroom communities from which to source a workforce. And so, a need to house that workforce comes into conflict with the need to generate tourism revenue through guest lodging stays."
This issue is complex, making it important to understand a unit's "use type over time" to determine the impact, Foley said.
"While we know for sure that some amount of inventory has moved from workforce to short-term rental," he said. "We also know that it's not as black and white as it seems, but rather several tones of grey."
Foley views the local situation in two parts. First, there are professionally managed units, which have gone up since 2017, generating tax revenue in the process. Then, there are "rental by owner" units—what we typically refer to as short-term rentals, like what's available on VRBO and AirBnb. That number hasn't changed much over the past several years, he said.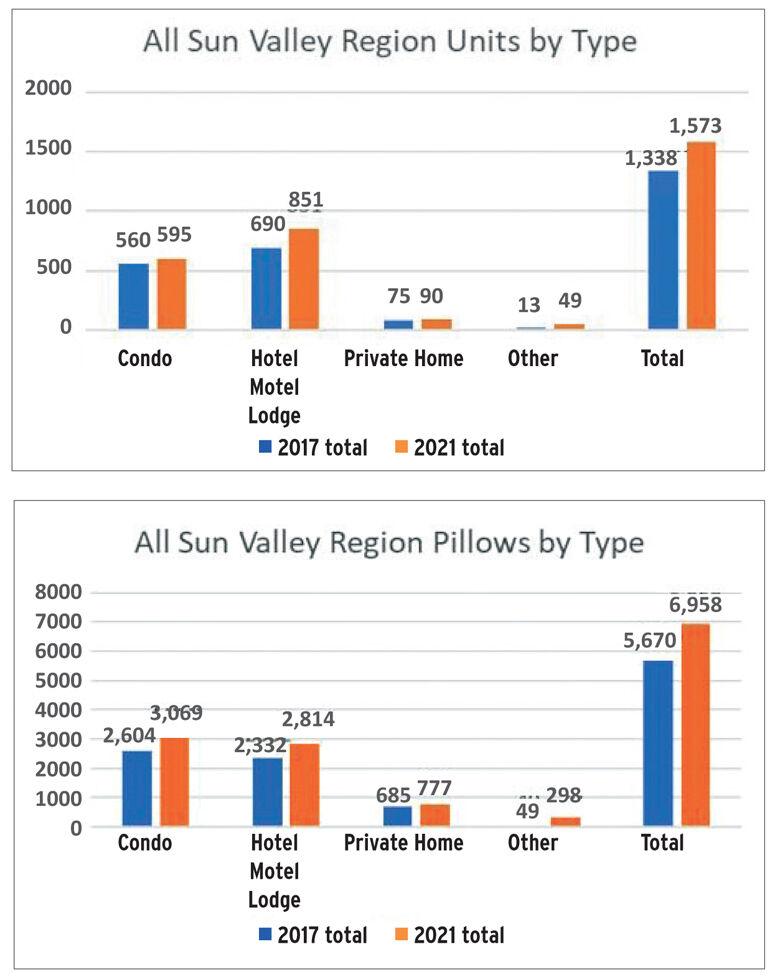 "It's a data set that goes against initial perceptions: there's a sense that the market is flooded with new [rental by owner] units showing up all the time, and that's being cited as the cause of the loss of workforce housing," he said. "But while that's true to some extent, the changes in short-term inventory are small enough that they can be cited as only one part of a considerably more complex set of conditions that require wide-field analysis and understanding."
Either way, with the decrease in long-term housing, a new burden has been placed on business owners—particularly those in the hospitality industry—that need employees. The housing shortage bears some of the blame, but not all, Foley said. Citing a report by Bloomberg, Foley said that a third of workers that have left the hospitality industry in the past 18 months indicated that "there is no incentive in the marketplace, including salary and benefits, that will lure them back."
"Their values around their jobs versus family and social life have changed," he said. "That's significant, and while there's a need for benefits and salary increases to help address the issue, the industry needs to innovate and evolve to win back or attract an engaged workforce."
How do you create affordable housing in a tourism-based economy that is dependent on a certain level of staffing to maintain and justify people visiting in the first place?
"Incentivizing people to rent their units out long-term is one avenue, but that may be easier said than done," Foley said. "It's a real shift as a lifestyle takes over, and folks abandon to some extent their urban/mountain double lifestyle for a full-time mountain experience. That phenomenon happens with units that were previously available homes to the workforce but now are being used by their owners, not showing up on VRBO and Airbnb.
"Lastly, while some of these are new circumstances, the fundamental issues around workforce housing are a decade or more in the making, and there's not a short-term fix for a tourist destination."