Though Independence Day events have been restricted this year due to the COVID-19 pandemic, opportunities remain to celebrate, especially in Hailey, the Wood River Valley's traditional center of July Fourth events. Here are some ideas:
---
Visit a Wood River Land Trust preserve.
On July 4, the Land Trust is inviting residents to share their memories of the Big Wood River and post them at designated "story stations" at Draper Preserve in Hailey, Boxcar Bend Preserve south of Ketchum and Howard Preserve in Bellevue. Take a couple of hours in the morning to sit by the river, reflecting on its importance to wildlife and people alike. Meander along the Croy Creek Wetlands boardwalk at Draper Preserve for glimpses of migratory birds; at Boxcar Bend, watch yellow warblers perch on nearby trees; and at the trails looping around Howard Preserve, look out for deer and elk.
(For more on the Land Trust's revamped Riverfest, see Page 11.)
---
Attend the parade.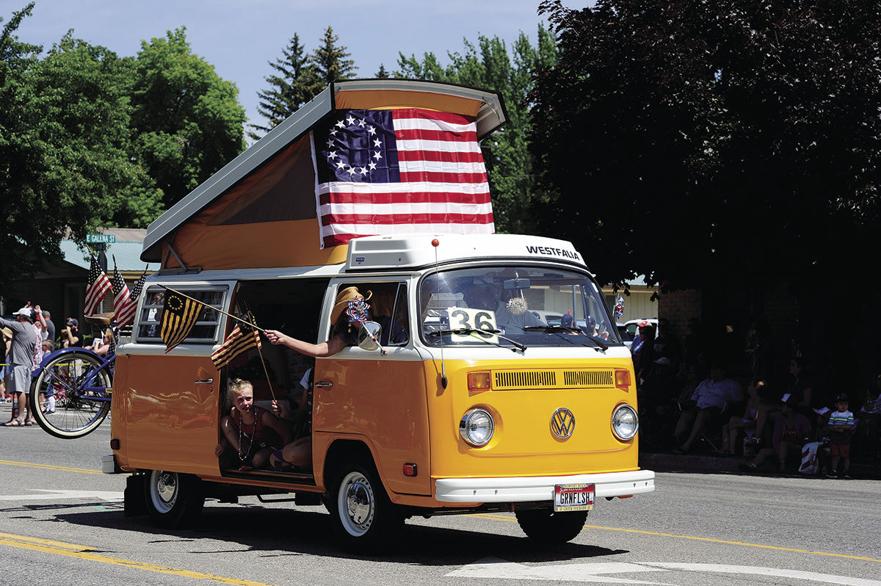 This year's Fourth of July parade—beginning at noon—will allow residents to participate from their own vehicles or bicycles without having to apply for entry.
The parade route will start and finish at the Community Campus, cutting through several neighborhoods east of Main Street. For anyone without a front-row view of the action from their own lawns, the city has mapped out three main viewing areas: Foxmoor Park, the Wood River Middle School fields and Deerfield Park.
According to Mike McKenna, executive director of The Chamber Hailey & the Wood River Valley, the procession will be a chance to celebrate the city's perseverance through the COVID-19 pandemic while honoring essential workers.
"The Chamber and Mayor Burke have reached out to first responders, hospital workers, supermarket and hardware store staffers to invite them to be in the parade as a way to honor them for their efforts," McKenna said. "The entire community has been heroes for how we have all stepped up to crush the curve."
For safety reasons, only vehicles and bikes will be allowed to enter (no floats, but vehicles can be decorated). A suggested donation of $10 can be made online at haileyidaho.com, McKenna said.
---
Show up to Hop Porter Park.
The Sawtooth Brewery's Fourth of July Party in the Park will take place at Hop Porter Park from noon to 4 p.m. The event will feature live music and a beer garden. According to brewery owner Kevin Jones, attendees will be able to maintain 6 feet of distance between themselves and others while listening to music or enjoying a cold beer.
"Bring your mask, tent, lawn chair and family," the brewery stated on Facebook.
---
Enjoy the city's fireworks spectacle.
Following the Sawtooth celebration, residents can set up lawn chairs and enjoy the city's fireworks show from 9:30-11 p.m.
As in previous years, fireworks will be discharged from the usual spot by the Community Campus.
"Just about any place in Hailey offers a great view," McKenna said.