Ann Christensen was supposed to be a boy. That's what her father thought, anyway—and thought, and thought as each of his three daughters were born, until, eventually, he stopped trying for a son.
It didn't bother him all that much. Instead, he raised his Ann like he would have raised an Andrew. When she was 6, he outfitted her in the smallest sizes of boots and service-issue khakis sold at the Army Surplus and took her dove hunting in the cornfields around Louisville, Ky. They vacationed in the swamps of Florida, the girls and their father sculling a rowboat across the inky water, lines cast wide for fish. If any of them needed a bathroom, he'd get out and beat cottonmouths from the bushes to clear a space on the bank. While he caught dinner, it was all Ann could do to catch her breath. But she didn't show it.
"We had to be boys, so we were boys," she said. "It was his love, so it was part of our lives."
His love grew into her own, and a lifetime spent looking, learning and wondering at the natural world. Now 85, Christensen can be alternately described as an environmentalist and an educator, a committed activist and a community volunteer, a scientist and a simple lover of all things outdoors, won to constant awe by its grandeur. And now, more than 40 years after she first set foot in the Wood River Valley, she can add one more title to the list: Woman of the Year.
For those who know her, it's a testament to a local legacy built piece by piece, at her circle at Science Time, in her classes at College of Southern Idaho, through her service in nonprofit boards, by her resolute testimony on behalf of Idaho's wildlife and waterways, or on winter walks with the Environmental Resource Center. Few people have left so deep a mark on their community, while encouraging so many to leave no trace around it. And, few are so adored in their adopted homes.
"Ann's pretty beloved," said Hadley DeBree, executive director of the Ketchum-based ERC, an organization Christensen helped found and guide through its early years in the 1990s. "She has something that's really special. She's so humble, and yet so many people look up to her in so many ways. She's an incredible woman. I hope she sees herself that way."
Growing up in Kentucky, she didn't see herself living such a life—and leaving such a mark—in Idaho.
"I was a very, very quiet, shy, studious Southern girl, from a very conservative family," she said. "We didn't know about the West. It didn't exist in our minds."
When her father wasn't hunting, he was working, and often on the road. When he was home, Ann followed him into the woods, a rare chance to bond. "He wasn't, you know, a cuddly persona at all," she said in an oral history she recorded for The Community Library's Center for Regional History in 2016. "You had to get out there with him."
Ann's mother didn't work, nor was she expected to. She raised the girls, and in the time that was her own, she volunteered. Over the summer, when she went to buy groceries, she'd drop the girls off at the public library, a small, stone building down the street from the store, and let the books be their babysitter.
Women weren't encouraged to pursue science—in fact, they were barely taught it. There were four high schools for Christensen's neighborhood, segregated by race and by gender. She attended the school for white girls, 20 people in her graduating class. They took two science classes over four years: a general one as a freshman, and either biology or chemistry as a senior.
"I didn't get any science, really, in school," Christensen said. She studied English and history, learned Latin and French, the latter spoken, to the discerning ear of her Francophone college professor, in a distinct Kentucky drawl.
At Smith College, in Massachusetts, she continued on the course of study charted from the early grades—more history, literature, art. But Smith had broad requirements, and, calling back to her days in the swamps and fields, Ann gravitated towards zoology.
It was a dissection-based course, and she loved it. Labs were a throwback to her childhood—cleaning fish, plucking birds—all things she grew up doing.
"It was just a part of my life, and I didn't think of it as being different from anyone else's," she said.
At Smith, an all-girls school, it was. Ann would take specimens from the lab back to her second-floor dorm room, and in the New England winter put them on the roof outside for safe keeping. Her roommate came back from spring break to find a sheep's head— "or a heart, who knows"—resting on the eaves, and was instantly sick in the laundry she set out to hang dry.
"It was the only time she ever got angry with me," Christensen said. "I was a little more respectful after that."
But Christensen mistook lifelong interest for a passing whim, one more thing she spent too much time learning about, when there were already too many other things to know. She skipped ecology, though the course description had her rapt. In June of 1956, she left Northampton with a bachelor's degree in history.
She planned on teaching, eventually. With two younger siblings, she'd been teaching for as long as she had knowledge to share. In her early 20s, though, she wasn't ready to settle into the rest of her life. She'd never been west of Kentucky, past the far side of the Mississippi River where it nicks the corner of her home state. She had an inkling there was more for her to see.
Procter & Gamble offered a job—and an expense account—in its market research division. She could travel, rent a car with a few other recent grads, all female, and knock on doors. They put on hats and gloves and canvassed the towns—always prim, always proper, and, in those days, always traveling in pairs. Housewives would answer, and they would start to ask: "What kind of toilet paper do you use?" "Do you put Tide in your laundry machine?" "How about soap—would you ever try Ivory?"
Christensen became supervisor. Corporate would have her train the men who would someday run the department, her future bosses. That was her role, common enough to many women in the 1950s, and she was OK with it.
"We were making, for us, good salaries, and we had our expense account, and none of us had anything to want for, really, considering the times," she said.
She was nearing four years in, and lined up for another promotion, one that would take her back to the home office, when she met Doug.
The job was all traveling but sometimes it stalled. No one wanted a knock on their door during the holidays, and the season beached Christensen in Salt Lake City for six weeks between Thanksgiving and New Year's. It took less than one for her to see all the sights worth seeing. So, she went skiing.
Salt Lake was dry in 1959, but people brought their own booze and drank as they pleased—especially at Alta's Rustler Lodge, an eight-mile drive up Little Cottonwood Canyon, east of town. She arrived there to find a group from California finishing up their private stock. An invitation followed, to help lighten the load for the trip home. Ann dumped her bags on a cot upstairs and saw Doug Christensen on the way back down.
Six months later, they were married.
"He was a radical, politically and in every other way," she said.
Together, they moved to the San Francisco Bay Area in 1960, where she found a city following suit. The first stage of the California State Water Project, a massive public works proposal to power and hydrate the southern portion of the state, had just been funded. Environmentalists, as well as many Northern Californians, were livid. So was Doug Christensen. Ann, who had grown up with an unexamined faith in the powers that be, was determined to figure out why.
"As a child, I'd wake up in the morning in a nice neighborhood in Kentucky and see the coal dust on my windowsill," she said. "We had coal delivered through the basement and burned it all day. I thought, 'They wouldn't do it if it wasn't good for us.'
"In California, I realized that 'They' might not know everything."
She accompanied Doug to political action meetings, then went on her own when Doug couldn't attend. She "learned how to vote," as she puts it now. And she made friends in the Marin County environmental scene—including a woman named Elizabeth Terwilliger, who stood as its heart. After the Christensens' first daughter, Eloise, was born in 1962, they became a frequent guest at Terwilliger for Tots, a nature education program aimed at kids too young to start school.
Elizabeth's house was a mess, with stacks of magazines and papers ringing every room. If she saw anyone looking around, or caught a tinge of judgment, she'd repeat her motto, worn smooth with use: "You'll never remember a day spent inside vacuuming. You'll always remember a day you spend outside in nature."
So, twice a week, Terwilliger gathered parents and toddlers and that's what they'd do—head outside—to see what they could find.
"Mrs. T" taught with a lot of live animals—dead ones, too, and bones—and if the kids picked up a thing or two about the natural world, Christensen learned that much more.
She enrolled at the community college in Marin, and took every science class it offered. Eventually, she'd take biology, chemistry, physics—a class she couldn't remember ever being offered. But on hikes, she noticed that while adults scanned the sky for birds, all the kids had their face in the dirt. She wanted to teach them about what they saw. The first class she took was entomology.
(Plus, Christensen is fascinated with spiders. She keeps a black widow as big as a half-dollar coin in an empty Costco-sized mayonnaise jar on her kitchen counter. "I love spiders," she said, "Partly because the girls are so big and powerful.")
Once Eloise started school, Ann began volunteering as a docent at the Audubon Canyon Ranch, a conservation organization that ran preserves nearby. After her second daughter, Aimée, was born, she volunteered with the baby in a Gerry pack on her back. When Aimée started kindergarten, Ann enrolled in a teacher program to get the credentials needed to share what she'd learned in the classroom. (It was Doug's idea: credentialed substitutes got an additional $100 a month.)
It went on that way into the 1970s. Doug kept his contractor job. Ann volunteered, and taught whenever she was asked. Together, they led family overnights for the Sierra Club, and in 1977 the location of choice was Castle Peak in the White Cloud Mountains of Idaho.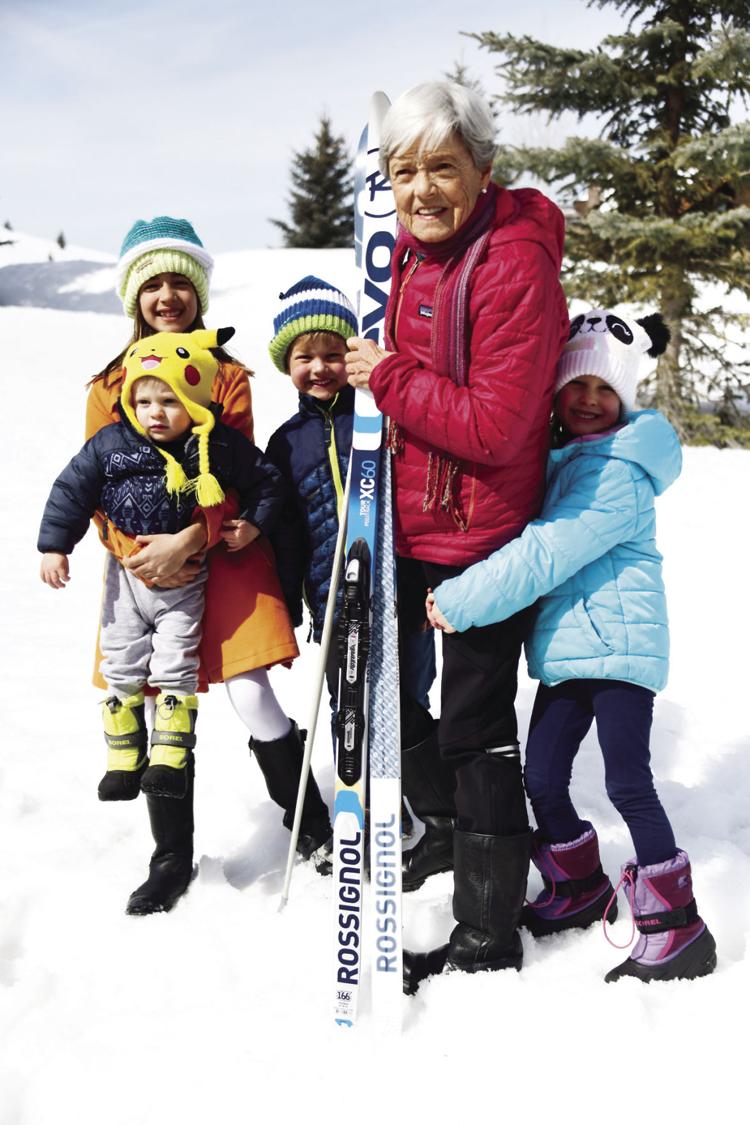 The trip came at the end of August, and it was miserable. Fluke alpine storms bubbled up and dropped snow almost every day. The group, which included kids as young as 18 months, hunkered down and burned all the wood they could find. The fishermen sat fiddling with their flies. The children learned to play poker in their tents. But the day they left was perfect. Together, they checked into the Sun Valley Lodge, bearded and beat, in the clear after the storm. It was Labor Day weekend—"gorgeous, glorious, beautiful." The Christensens were sold.
They came back that winter over Washington's Birthday. Ann went heli-skiing, and Doug, as he did everywhere he went, read the real estate section of the local paper. He called an agent, who called a friend, who told them both that she knew "the best place on earth."
The next day, the couple went over Galena Pass and bought the Circle A Ranch in Stanley. After five years of part-time use, Doug retired. Eloise went off to college. And the Christensens moved to Idaho full-time.
That year, Aimée started ninth grade at the Community School. Ann taught as a substitute, and led the PTA. She joined the board of The Community Library, then more than 40 people strong, almost entirely women. They dwarfed the staff. To keep the place running, board members were expected to volunteer. For Ann, "it was a no brainer," said Children's and Young Adult Librarian Helen Morgus. "She came here with all this nature education, and she knew what she wanted to do."
In the model of Terwilliger for Tots, Science Time was born.
On a recent Tuesday, 32 years later, Christensen sat cross-legged on the floor as 20 or so preschoolers, all shorter than the doorknob they used to enter, circled around her. The building was new—Christensen spearheaded fundraising to develop the children's wing—and so was the generation waiting before her. Her style, though, hasn't changed. There are no screens at Science Time, no videos. Cougars were the topic of the day—she had a cat carrier, with a shelter tabby named Romeo coiled inside. And, placed gingerly at her side, she had her bag, bottomless, it seemed, in the Mary Poppins mold.
"What's incredible is, in this high-tech world, I've seen her have 50 preschoolers totally transfixed with nothing but a felt board, and a story," Aimée Christensen said. "Even as an advocate, she's always focused on how amazing nature is—that's why we need to protect it. In a divisive time, she seems to be able to communicate with a diverse group of people."
The first thing she pulled from her bag was that board, wrapped in teal felt, on which she sticks hand-cut stand-ins for her subjects—plants, animals, a round, yellow sun. Then, she removed six skulls. This lesson featured a large dog that Doug found on a run in Marin. The coyote, the fox, the bobcat and cougar were given to her—"One of the best gifts I've ever gotten," she said of the biggest cat, which a Hemingway School teacher sent her way.
"You have a lot of bones," a kid said.
"I do have a lot of bones—people give them to me," she said.
Turns out, once you get a reputation for collecting dead animals, word spreads fast. Christensen is at the center of a network of sources that help her get specimens, ranging from antlers to insects. When she moved closer to Ketchum in the 1980s, the neighbor's cat, Lena Horne, was an excellent hunter. But Lena was also very well-fed at home. She left the excess spoils on her owner's doorstep, where they were promptly scooped up, bagged and hand-delivered to Ann Christensen.
"Growing up, my friends would go to the freezer for a popsicle and find it three-quarters full with dead animals," Aimée Christensen said. "I was so embarrassed, at the time—I mean, who keeps a dead beaver in their fridge?"
In early March, Aimée helped her mother move into a downtown condo while her duplex near Trail Creek received some overdue renovations. Ann stashed three tote bags full of specimens in the shade of its sub-freezing balcony. These days, Aimée eats vegan.
Her mother is undisturbed. What she isn't given, she collects herself. When a friend heard wolves out deep in Warm Springs, he called Christensen. They tracked the prints out to the corpse of a bull elk, with a rack as broad as Ann is tall. They popped the head right off—"It was perfect timing," she said. "That's in the garage now."
And the sixth skull, the smallest one back at Science Time? That was Snoopy, her housecat. After a long and comfortable life, Christensen buried it in her vegetable garden back in Marin. When it came time to move, she dug it back up, stripped by time and nature down to bone. Now, Snoopy lives inside a box made for an iPhone alongside the rest of the collection.
Morgus remembers Snoopy—or at least his bones. Christensen displayed the cat when Morgus' son attended Science Time as a toddler. He just turned 30.
Today's crop is much younger: 3 to 5 years old is the target, but Christensen says it should read "zero to 100."
"I get the parents, too," she said.
If anyone knows there's no age limit on learning, it's Christensen. Teaching, either.
"Teaching keeps me young," she said. "It keeps me going. I've always been a teacher, all my life. But these days, I only teach what I love. I only do what I love—I'm old enough. What else would I be doing?"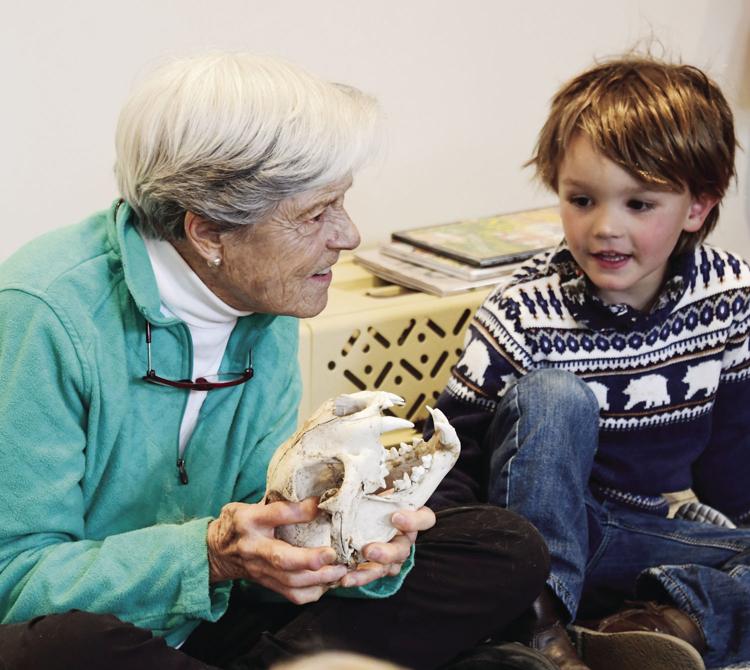 She often says she'll retire when she can't get up off the floor. After having a knee replaced four years ago, that was the first thing she asked the physical therapists to teach her. Three years later, when she had both shoulders done, she had them teach her a different way. She's a bit more careful now—especially outside.
"Out in nature, I just look," she said. "I'm always curious, always looking. I get myself in trouble that way—I can fall down standing still."
Science Time always starts with introductions. She may not remember every kid's name—not at first—but she files away repeat students.
"She makes you feel significant," Morgus said. "There are children who have grown up with Ann's education. She gets this following, and people stay with her as long as they can. She has a particular way of honoring the child. She pays attention to what they say, and responds to them human to human, not adult to child.
"It's hard to find people who respect children's intellect. Ann sees their spirit and their minds, and thinks, 'I can learn something from them.' She wants people to know that, if they're in that room, they're important to her."
To her, and to her cause. Christensen teaches because she loves nature, but also because she hopes to preserve it.
"The world has changed so much in my lifetime, and the environment has changed with it," she said. "Young people won't be able to see the things I have seen. I feel like I have to help people appreciate what's there, so they'll work to save it."
It worked on her own children.
"She educates to create new activists," Aimée, now the executive director of the Sun Valley Institute on Resilience, said a few days earlier, standing beside her mother in the kitchen of her new apartment. "I'm a case in point—I'm totally indoctrinated.
"My mom taught me to love nature, and my dad taught me to fight for it. Of course, she'll fight for it when she has to."
Ann laughed, as if surprised by the thought.
"Well, you have to stand by the facts," she said. "And you have to have a purpose. I feel bad for people without a passion. It makes everything obvious."
Days later, at Science Time, Christensen held up the cougar skull, and pointed to its canines, as long as the fingers on her hand. Romeo, the shelter cat, wandered close.
"Does anyone know what mountain lions eat?" she asked.
"Mountains," one girl shouted.
Romeo crouched to lick the bone.
"Kitties are always curious about what's going on around them," Christensen said. "Do you know what curious means?"
The kids, for a rare moment, grew silent.
"It means you want to know everything."