The COVID-19 pandemic hit Blaine County early and hard, shutting down the local economy while the virus worked its way through the community. As the dust settled, it quickly became apparent that the Wood River Valley was a desirable place to call home. This sent home prices sky high and led to what some have termed a "generational shift" in local demographics.
Anecdotal stories abound about people having to leave the valley due to high rents, and there is data to support this. Yet many more have flocked to the valley, sometimes bringing their careers with them.
Jill Donnelly, the owner of Baby & Company clothing store in Seattle, moved with her husband to the valley a year ago. She came here to ski in high school, but until recently was anchored in Seattle, where her store had thrived near Pike Place since 1976.
Donnelly, 63, said upheaval in the city during street protests last year drew police from the downtown area, leaving shops vulnerable to looters. "These were thieves, not protestors," Donnelly said. "They smashed our windows and looted the store. We were left stranded without protection."
Donnelly sold her home in Seattle and found a new shop location in the Galleria Building in Ketchum. She has hired two people to work there and expects her online sales to make ends meet. Although she and her husband have experienced some "pushback" from locals at fishing spots, they are determined to buy a home and settle in.
"We want to blend in to what makes this place special," Donnelly said. "I can feel the growing pains in Ketchum. We went through this in Seattle. But sometimes fresh voices can bring an outside perspective and add to the riches of a place."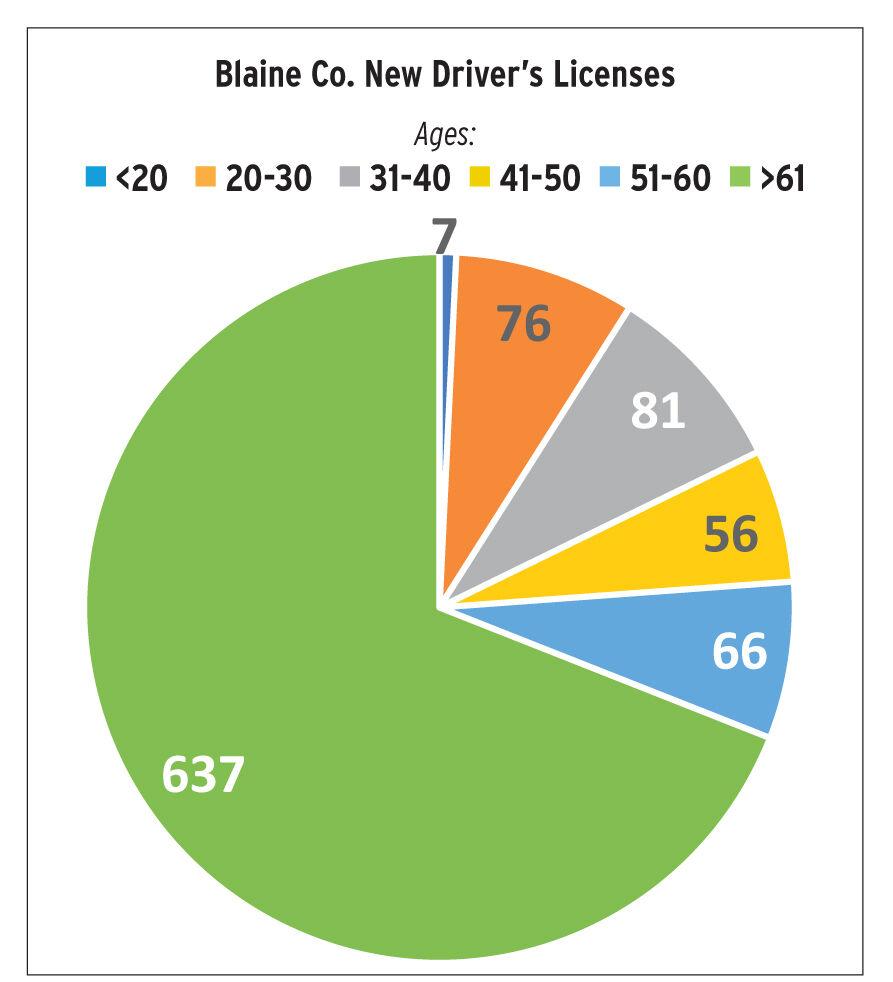 Data gathered by Sun Valley Economic Development shows that a rapid influx of new residents, primarily from the West Coast, has taken place from March 2020 to March 2021. During that year, the Blaine County Department of Motor Vehicles reported 923 new driving license registrations. The majority of new residents came from California (326) and Washington (136), with 61 from Oregon (Figure 5). Of these new Blaine County drivers, 637, or 69%, were 61 or older.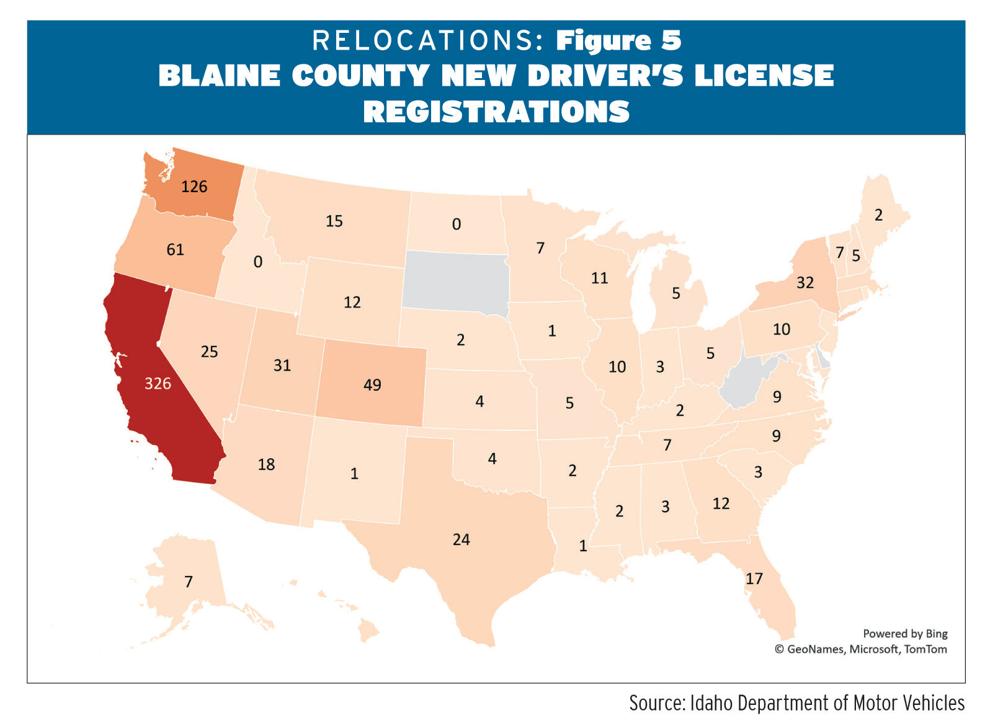 Harry Griffith is the executive director of Sun Valley Economic Development, the nonprofit organization that analyzed the data. The numbers indicate a "wave of West Coast retirees" are coming to the valley, he said. They could also be working remotely.
"These are most likely fulltime residents," Griffith said. "These increases are not unique to Blaine County. For instance, there is also a big influx in the Boise area."
New Blaine County driver's licenses were issued to an additional 213 people ages 20-50. How many of these newcomers came with children is uncertain, but anecdotal reports of waiting lists at private schools and sports clubs indicates that demand for services have been strained by the change in demographics.
"These restraints could be keeping others from moving here permanently," Griffith said.
New voter registrations for people aged 19 and older, both Republican and Democrat, in Blaine County also showed a big jump last year, from about 700 in 2019 to more than 4,000 in 2020 (Figure 8). This was during an election year that typically draws more intense interest from voters. But, all in all, the data, along with real estate sales increases, show that the population is growing. This could bring a lasting boon to local businesses and perhaps put stresses on infrastructure and services in the years to come, including streets, schools, and hospitals.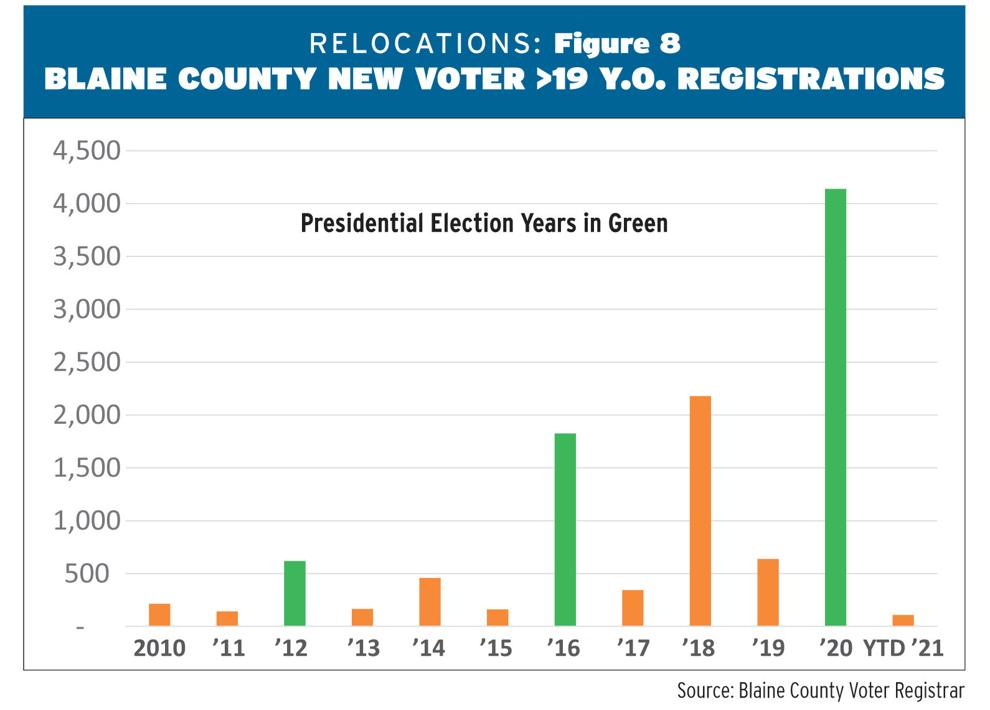 From March 2020 to April 2021, 179 new homeowner tax exemptions were filed, with the highest number coming from Idaho residents (52), followed by 48 from California and 24 from Washington (Figure 6). Griffith said the exemptions numbers probably lag well behind actual new home ownership and will likely tick upward in coming months.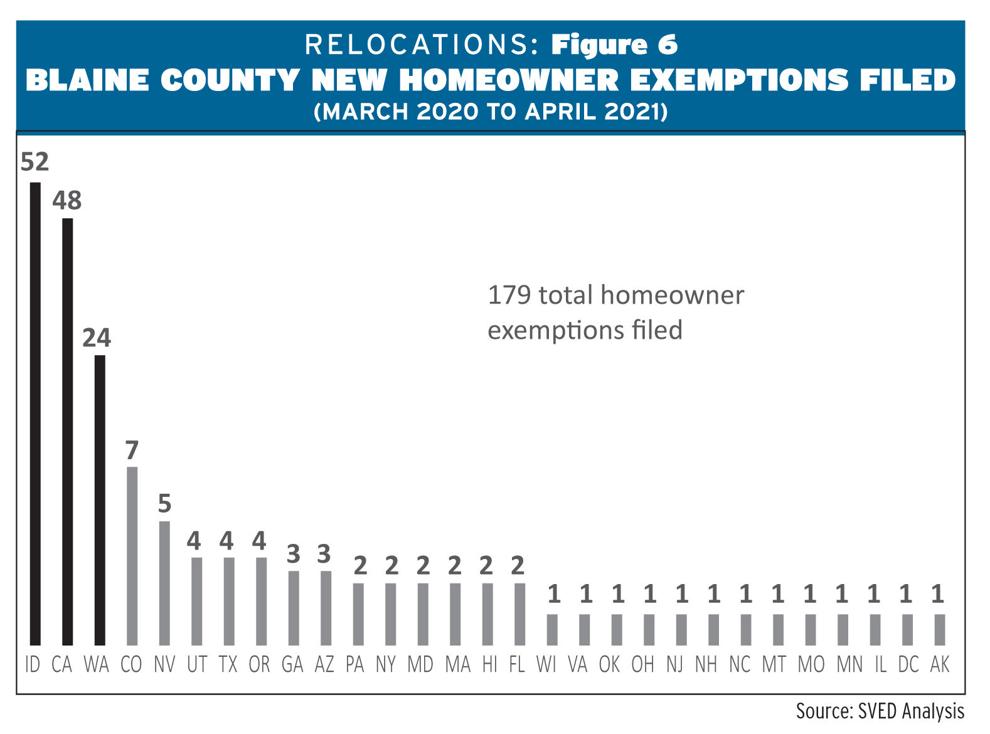 "The high number from Idaho likely shows that people have gone from having a second home here, to claiming Blaine County as a primary residence," he said.
Another big demographic shift can be seen in the recent rise in wealth transferred to Blaine County, as measured in FDIC bank deposits (Figure 7). That number grew by 53% from 2019 to 2021, when about $1.35 billion was transferred to the nine banks doing business in Blaine County.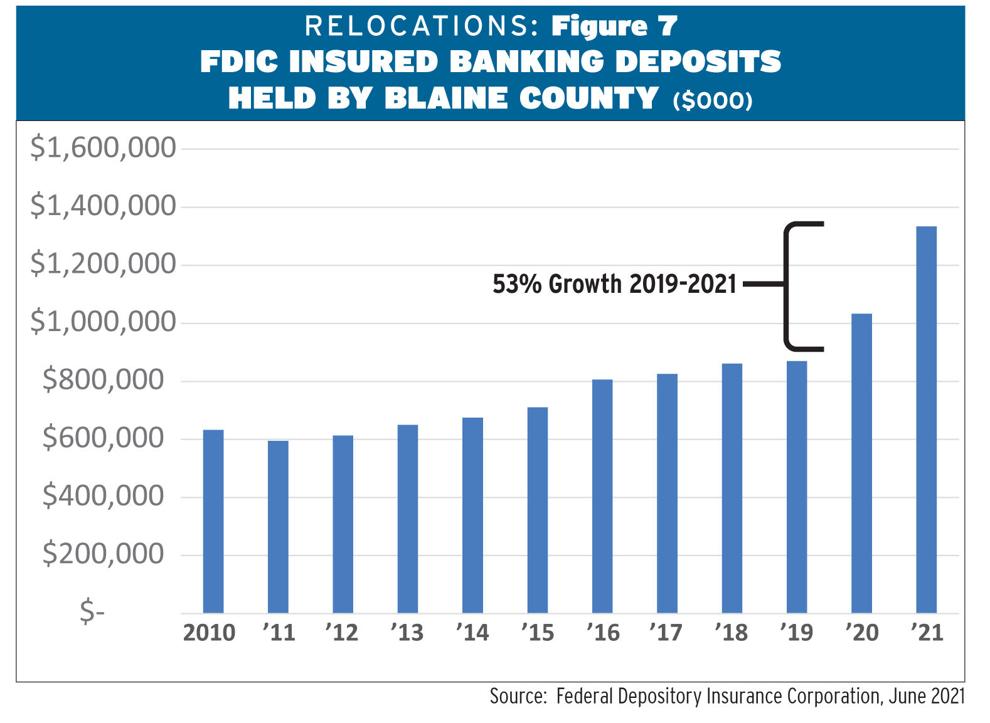 Griffith said the newcomers tend to be relatively well-heeled, and that their numbers could include hundreds of "Zoomers" who can work online from anywhere, although that data is hard to track.
"The new people are relatively well off," Griffith said. "They are buying homes above median home prices."
Griffith said the collective data indicates that since the COVID pandemic began in March 2020, 1,700 to 2,700 new fulltime residents of all ages and genders likely came to live here. That means a lot of new faces and could lead to changes in the social fabric.
"This is all about urban flight to more rural settings," Griffith said. "People are putting down roots and trying it out here."
Some residents have left the community since the pandemic began. With few rentals on the market and home prices beyond the reach of many locals, Facebook sites have sprung up to cater to numerous people, including some longtime residents, looking for a place to live.
Driver's license data shows an increase in license "surrenders" from Blaine County from people who registered licenses elsewhere. The number of surrenders was 800 in the first 12 months after COVID, compared to a typical annual number of 400 to 500.
That means about 300-400 more people over the age of 16 left the area than Griffith would typically expect to see in a year.
"It could be due to high rents," he said, "but this is largely speculative."