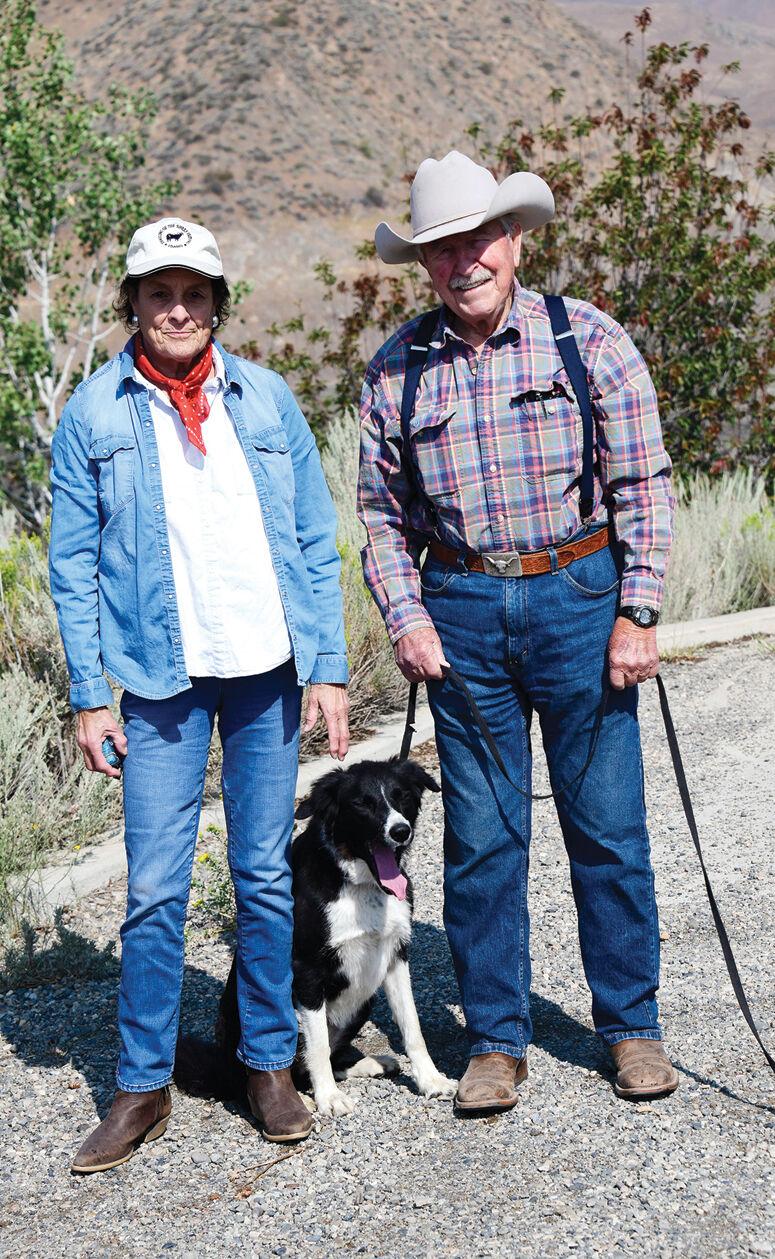 It can take a good long while to drive across the 28,000-acre Flat Top Ranch, with its broad rangeland vistas, river valleys and craggy mountain ridgelines. Time enough to get to know two people from very different backgrounds who came together over their deep appreciation of Idaho.
John and Diane Peavey, a couple known for their cultural and political contributions to the region, own the ranch near Carey—and, over decades, have come to represent the area's ranching history. In honor of those ties, the city of Ketchum named the couple Wagon Days grand marshals for 2021.
"I am looking forward to bringing the community together to celebrate this year's grand marshals," said Ketchum Mayor Neil Bradshaw. "It may seem like a small way to acknowledge all that the Peaveys have accomplished, but this is Ketchum's way to show how grateful we are."
John Peavey is both a third-generation rancher and a third-generation state legislator, who served constituents as both a Republican and Democrat. Diane Josephy Peavey came from Connecticut, the daughter of renowned journalist and historian of Native America, Alvin Josephy Jr. She is also an author and journalist in her own right.
John Peavey's grandfather, John Thomas, jumped into both banking and ranching at an inopportune time in the 1920s, on the brink of the Great Depression. Peavey's father died in a hunting accident when Peavey was young.
"What I admire most about my grandfather is that he was a risk-taker, and came out whole on the other side," Peavey says, while driving his truck up off the lowlands of the Little Wood River Valley into the foothills and over into Muldoon Canyon into Bellevue, a journey he has taken since he was a little boy, sometimes looking for dispersed cattle.
"After the Great Depression hit and most bankers were turning away customers from making runs on the banks, Thomas put out a sign saying they would stay open late in case anyone needed their money," Peavey said.
Peavey's grandfather was a Republican senator, as was Peavey starting in 1969 when he was appointed to fill the seat of his mother Mary Brooks, who was called by President Richard Nixon to Washington, D.C., to run the U.S. Mint. He later switched parties over water and conservation issues.
"It was more fun being a Republican," he said with a mischievous grin, "because they were on the wrong side of some conservation issues, and so there was work to be done. Well, it was fun until I lost the party primary."
In 1974, after repeated attempts to pass a "sunshine law" that would require lobbyists to register and provide political campaign disclosures, Peavey led a successful statewide campaign to pass one by ballot initiative. His political activism also involved taking on Idaho Power when the utility company planned to build a 1,000-megawatt coal-fired power plant near Boise. Then, there were fierce debates in the 1970s over water rights in the Snake River.
The Idaho Supreme Court ruled in favor of Peavey and his supporters, establishing defense of substantial water rights at Swan Falls Dam, which led to the $93 million Snake River Plain water rights adjudication, the largest in U.S. history. It is credited with heading off the over-appropriation of water rights and providing a tool for conservation.
"That's when conjunctive water rights management began," said Peavey. "All the things we are going through today."
Peavey, a former U.S. Marine and veteran pilot, lost the Republican primary over his political activism but ran four years later and won a seat in the senate in 1980, as a Democrat, holding it until 1994. He also wrote a "bottle bill," a recycling measure that never passed the state house.
Peavey had three children from his first marriage, but the lasting love of his life has been Diane Josephy Peavey. They've been married for some 40 years and, at times, complete one another's sentences.
Diane grew up in Greenwich, Connecticut, where her father worked as a journalist before taking an assignment for Time Magazine that led to an accidental visit to the Nez Perce Reservation in northern Idaho. The people he met and the stories he heard changed his life and career. He wrote the "The Nez Perce Indians and the Opening of the Northwest" in 1964, a groundbreaking book that led to many more about Native American history and culture.
"My father was the quintessential New Yorker for years, but in the end, he preferred his home near Joseph, Oregon, where he did so much work with the Nez Perce. That first book took him 18 years to write. I'm pretty proud of what he did," Josephy Peavey said.
When Josephy Peavey first moved to Idaho from Washington, D.C., to be with John, it was such a different experience for her to be at a ranch and learn to be responsible for the land and animals.
"I learned about the history of the place," she said. "That's what's most important, learning all the stories. And this is what Wagon Days is all about, it's a story of the West. Both John and I feel honored to be a part of that story because that is how we have spent our lives."
Josephy Peavey is still well-known in Nez Perce Country in northern Idaho and has visited the area many times, but the majority of her writing has been about home on the range in southern Idaho, primarily the Flat Top Ranch.
"How could I not become a part of the West being a part of John's family, which has taken care of this land for nearly 100 years," she said, while looking out the window at the vast expanse of high desert that surrounds the family's ranch house. This is where she wrote while creating weekly radio essays about the ranching lifestyle for Boise State Public Radio for 18 years. The essays are published as "Bitterbrush Country: Living on the Edge of the Land." Her writings also have appeared in numerous magazines, journals and in anthologies.
Upon arriving at the family homestead, somewhere between Craters of the Moon National Monument and the foothills of the Pioneer Mountains, several other members of the Peavey clan gather for conversation and storytelling.
John Peavey's son, Tom, runs the ranch. Tom's two sons, Jake, a BLM firefighter, and Corey, run the cattle and sheep, respectively. That means keeping up with about 1,000 cattle and tending to some 5,000 sheep at several different mobile camps that will soon be coming down from the high country at summer's end.
Some years ago, the Peaveys dedicated most of the Flat Top Ranch into conservation easements with The Idaho Nature Conservancy to protect it for future generations from development, with the provision included that the family could keep ranching in perpetuity. Public access is also allowed on the ranch.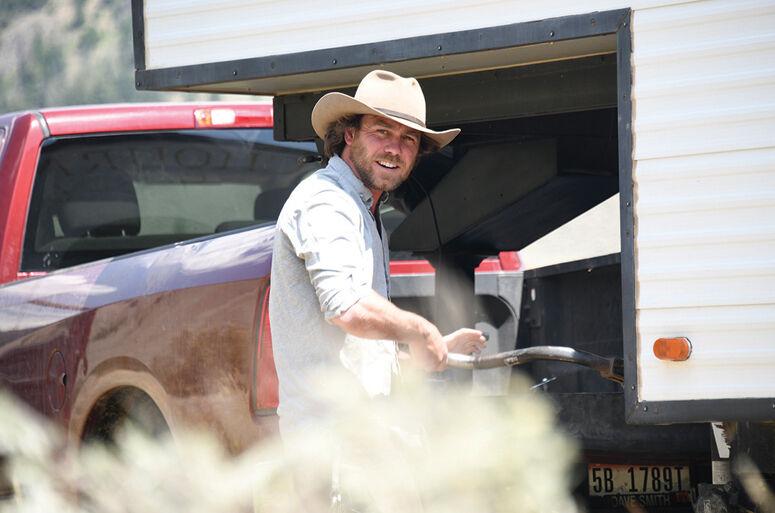 The fourth and fifth generations of the family have no plans to change things.
"This ranch is all of our legacy," Tom Peavey said, gesturing to the group. His son, Corey, said he has plans to overwinter at the ranch house. He will be the first to undertake such seclusion since 1982, what his father called a "very bad winter."
"For me this is home and all I have ever known," Corey said. "And I have traveled around enough to know and appreciate what we have here."