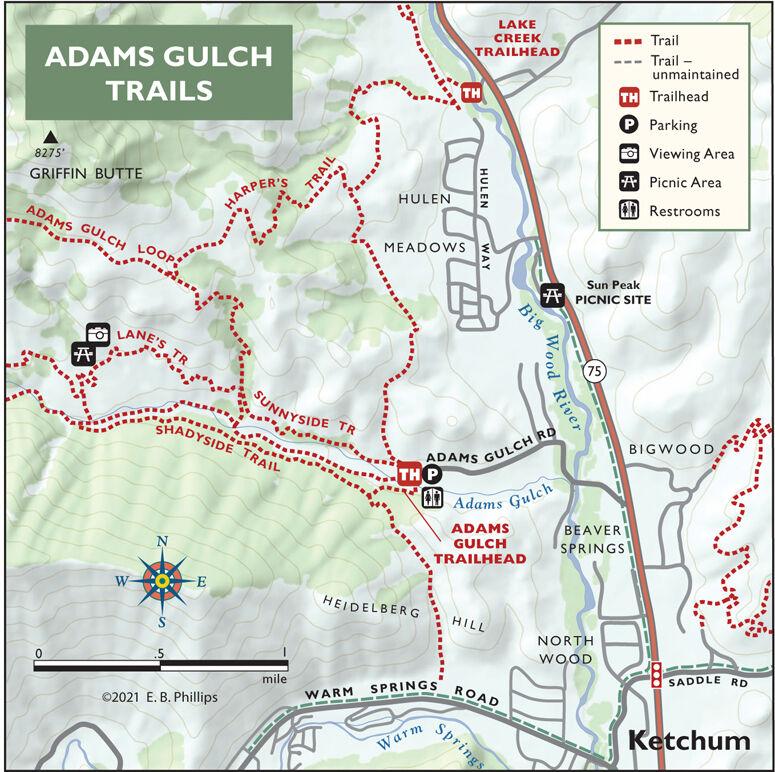 Few places in the Rocky Mountain West offer an abundance of easily accessible public hiking trails comparable to that of the Wood River Valley.
The main natural feature of the valley, the Big Wood River, courses through lowlands surrounded by tens of thousands of acres of mountainous terrain managed by the U.S. Forest Service and Bureau of Land Management.
Within those public lands around the Big Wood and its tributaries are scores of maintained trails that meander through flowering meadows, alpine forests and expansive sagebrush-covered hillsides. From many vantage points, hikers can gain astounding views of the Boulder, Smoky and Pioneer mountains.
Immediately north of Ketchum, one of the region's hubs for outdoor activities, is Adams Gulch, a valley with a vastly popular network of public trails. The area is popular with dog walkers and mountain bikers.
Sunnyside-Lane's Trail is perfect for a morning or late-afternoon walk. The easy 3.3-mile Shadyside Trail-Sunnyside Trail Loop meanders through evergreen forest and aspen groves and under ancient rock formations. The moderately difficult Adams Gulch Loop—more than twice as long—has more elevation gain and views.
The Fox Creek and Chocolate Gulch trailheads—farther to the north, about 6 and 7 miles north of Ketchum, respectively—connect to a vast network of maintained trails. The popular, 5-mile Fox Creek Loop is moderately difficult. The 5-mile Chocolate Gulch-North Fork Loop is a moderate route that renders breathtaking views of the Boulders. In early summer, wildflowers abound.
Families looking for an easy stroll through the valley often seek out the Harriman Trail, a 19-mile path from the Sawtooth National Recreation Area headquarters—8 miles north of Ketchum—to Galena Lodge, a day lodge offering food, drinks and additional trail access. The Harriman Trail has numerous access points off state Highway 75.
In Sun Valley, just northeast of Ketchum, the 5-mile Proctor Mountain Loop is a moderately difficult trek that offers excellent views of Bald Mountain and the Boulders. The trail is accessed from a memorial to author Ernest Hemingway along Trail Creek Road. Nearby, the easy, 2.2-mile Aspen Loop Trail is a shorter alternative.