An 1881 report describes the new mining town as "located about two miles from the mines ... it is in a beautiful location, being surrounded by forests of pine, hemlock and spruce. It is composed of about fifty dwelling houses, two stores, two saloons, two blacksmith shops and one livery stable."
Though this description fits the Ketchum remembered annually during Wagon Days, it actually refers to another mining town called Galena, one of the foremost towns in the region for about 10 years in the 1880s.
After exploding in population, the town collapsed nearly as fast as it had gone up. While Galena Summit and Galena Lodge still share its name, there is almost nothing else remaining on the once-flourishing townsite.
Galena was hardly the only town that boomed and busted in the Wood River Valley during the mining days. Ketchum, Hailey and Bellevue owe their existence to mining, but other small towns have left their names and other remnants as reminders of the days when almost every mine had a town.
Gold was never particularly abundant in the area, but veins of silver, carbonate and argentiferous galena ore run throughout the valley. Galena ore is also known as lead sulfide, from which commercially valuable lead and silver could be extracted with the aid of a smelter.
Galena, the ore's namesake town, was home of one of the first important finds, a deposit of ore at the mouth of Gladiator Creek discovered in the summer of 1879. The town was founded in September, and over 2,000 mining claims were filed the following year.
The estimated 800 residents of the town were mostly men, workers at a dozen mines in the area, with the exception of a few wives and at least two well-known prostitutes.
At its height, Galena had its own post office and its own smelter on Senate Creek. The smelter was soon put out of business by the Philadelphia Mining and Smelter Co., which opened its doors in 1882.
Galena had already been struggling financially, and the loss of the Senate Creek smelter contributed to its decline. The town was abandoned by 1890.
Bullion City's name lives on in the name of Bullion Street in Hailey, which once led to a mining town seven miles west.
The town began as a mining camp in 1880, and thrived for several years despite its location in a narrow gulch with little room for expansion. Built on a large quartz lode, Bullion was home to workers from the Mayflower, Jay Gould, May Queen and Bullion Mines.
Bullion rivaled Galena in population by 1882, with 700 residents. While Hailey was still just a collection of tents in 1881, Bullion City was a well-established town with two stores and nine saloons.
But as Hailey grew to be the center of commerce for the mining community, Bullion declined. The post office closed in 1890, and now almost nothing remains of the site.
One of the only ghost towns with existing structures is Boulder City, home of the former Bazooka claim. The mines there tapped into a large vein of silver ore so pure that it generally did not require a smelter.
Boulder City was located between Galena and Ketchum and can be reached via a rough dirt road to the north off state Highway 75. The site is within the Sawtooth National Recreation Area, and remains of cabins and machinery can still be seen.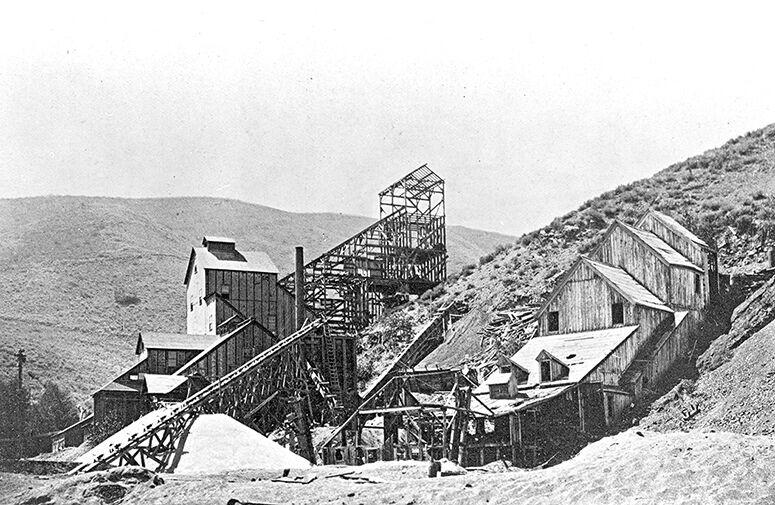 According to historian Wendolyn Holland, a sporadically operating mill existed on the site from 1920 until 1950, but was eventually closed due to theft and vandalism.
When trolling the Internet for information on Idaho ghost mining towns, running a Google search turns up a site that also includes Ketchum, Hailey and Bellevue in their lists. Residents of the Wood River Valley know that these towns are far from ghostly, though the dynamic among the towns has changed substantially.
Perhaps most dramatically, Bellevue was known as "the hub of the Wood River rush," according to historian Charles C. Spence. A set of maps published in 1881 listed Bellevue as "the center of a rich mining district," with great prospects for "rapid and prosperous" growth.
This showed remarkable foresight, as in 1881 Bellevue was still a collection of tents with only a handful of framed buildings and log cabins. The promise of growth most likely arose from the town's population of 2,000 residents, only slightly fewer than the estimated 2,229 people living in Bellevue in 2009.
Though Bellevue took pride in its role as a "Gate City" to the mining district, Ketchum and Hailey were closer to the major smelters and rose to greater prominence, perhaps because of better technology.
Hailey had the first telephone system in the Idaho Territory, installed in 1883, and Ketchum had the first electric lights in the territory. Ketchum also attracted doctors and lawyers in addition to miners, creating a more complex social scene than could be found in Bellevue.
Several buildings from that time can still be seen in downtown Ketchum, including the former bank building on the corner of Main and Second streets.
Less tangible remnants of the Wood River Valley's mining past still linger in the tales of lost treasure and hidden mines that still exist in the hills.
Holland describes a few such tales in her book, "Sun Valley: An Extraordinary History." The most notable is perhaps the bartender who buried his earnings and silver plate near one of the Vienna saloons to avoid taking it with him when he left town for the winter. He died before he could return, and the silver has yet to be discovered.
But even more intriguing is the story of Joe Langona's lost mine, rumored to be 20 miles east of Bellevue in the former mining town of Muldoon.
The area produced a great deal of silver, but a guide to lost treasure in Idaho tells of a rich vein of ruby silver that is yet untapped. The location of the mine was known only to a man named Joe Langona, who bragged about his mine before leaving the area in the 1880s.
Langona never returned to make his fortune, and his mine could still be lurking in the area, waiting for a dedicated Wagon Days attendee to take time out from the festivities to go prospecting for real.