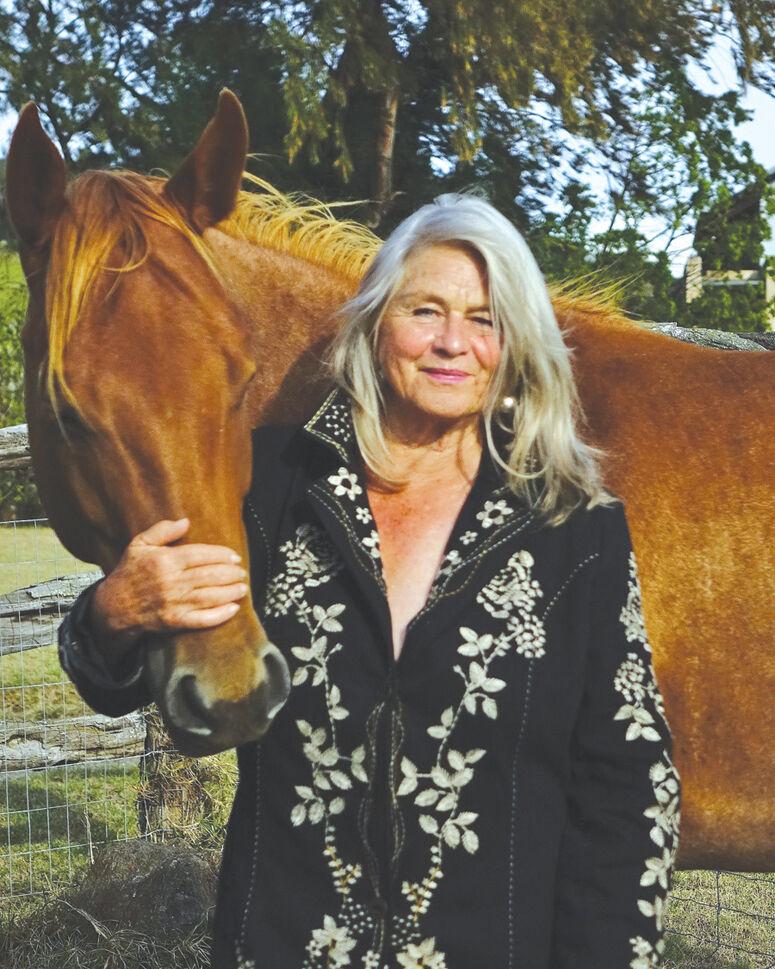 In 1975, Gretel Ehrlich came to Wyoming to make a documentary about sheepherders. After her partner passed away from cancer at the age of 29, she continued working on the ranch.
Whenever one of the herders quit, she would step in for a few days, trailing the sheep across the Bighorn Basin in the springtime. This was only the beginning of her exploration through the world.
The acclaimed author and essayist is the keynote speaker for the Sheep Tales Gathering. The event will take place at The Argyros on Friday. Oct. 8, at 7 p.m.
Ehrlich will talk about her new book "Unsolaced: Along the Way to All That Is," which she describes as "a collection of pieces about people that I felt were really extraordinary ... I learned an immense amount about each of them, and they represented a larger sense of the world." Tickets cost $25 and are available on The Argyros website. 
Trailing of the Sheep Co-Founder and Artistic Director Diane Josephy Peavey says this will be a special experience.  
"The goal of the Sheep Tales Gathering is to share from the stage those stories and experiences that explain the culture and the landscapes of home and the life and commitment to sheep herding and ranching in Idaho," she said.  "[Gretel's] experiences are unique and provocative, and we come away exposed to new and important information about our own lives."
Ehrlich hopes those who attend the event get "some new ways of thinking about things and a sense of fun and the joy of all being together in a beautiful place." 
Through her time working with sheep, Ehrlich learned how grazing animals can reinvigorate and restore grasslands, which in turn sequesters huge amounts of airborne carbon. 
"It's kind of a wonderful signature of pastoralism, in the best sense of pastoralism—that grazing animals benefits the world," Ehrlich said.  
She spent time in Spain with sheepherders. Along the way, they improved the grass by aerating the dirt and manuring. They formed bonds with the locals. As the forage ripened and the snow melted, they traveled across ancient trails that go through private land where they found grass pastures for their animals. 
"This was before and beyond ownership of land, of property rights and all this stuff we kind of battle with now," Ehrlich said. 
Ehrlich was not born in a city. She never really wanted to stay inside. From a young age, her parents took her camping, sailing and horseback riding.
"You can't say you're not interested in nature because you are nature," Ehrlich said. "We are a living being."
"Unsolaced" includes her early days in Wyoming, when a woman taught her how to cowboy. It describes her early experience of living in the mountains, with "ferocious weather and wonderful communities."
The book follows her travels into northwestern Greenland with mammal hunters, Africa researching regenerative agriculture and a deserted island in Alaska with an ornithologist, which provided an index for the climate crisis. 
While in Kosovo, a trauma surgeon told her, "It's easy to die; it's hard to live." 
Some of the biggest themes of her books include memory, sentience, how we know what we know and how we can all lose it so easily. 
"Home is a moving place, and the world is coming apart," Ehrlich said. 
Throughout her journeys, she saw firsthand biodiversity collapsing. She fears the human race is on its way to going extinct. 
"We're at the edge of the abyss," Ehrlich said.
The first step away from it, she says, is to educate people. Most people don't know what the root causes of climate change are or how its mechanics operate. 
"It's not obvious from moment to moment, unless the fire is burning down your house or the subways in New York are flooding," Ehrlich said. 
Next, she says, we would have to change building codes, incorporate new ways to harvest water and convert to renewable resources like solar power. We would need to end commercial agriculture. People would have to learn how to grow food. We would have to restore large scale grasslands. 
"I can't believe it hasn't been done 50 years ago," Ehrlich said. "It's just so obvious. People are addicted to conflict and difficulty. It's more exciting, I guess. They've never genuinely been hungry. They've never been thirsty. They just haven't suffered enough, I guess."
If we want any hope, Ehrlich says, we need to restructure the whole economy. 
"It could be a lot of fun to do things in a new way," Ehrlich said. "It doesn't mean you can't have coffee in the morning and go for a hike in the afternoon. It means you have to think about where you live in a different way."