The holiday season is a time for gathering with friends and family, planning delicious feasts and opening presents by the fire. For most of us, that is. But for many who work in the Wood River Valley, the holidays are a time like any other, and that means working while the rest of the community is celebrating. Restaurant workers, clerks and emergency service providers are the backbone of the community and ensure that during the time of year when our valley is thriving, they continue to provide the necessary services and goods that keep it functioning.
---
Julie Youngblood:
Engineer EMT, Sun Valley Fire Department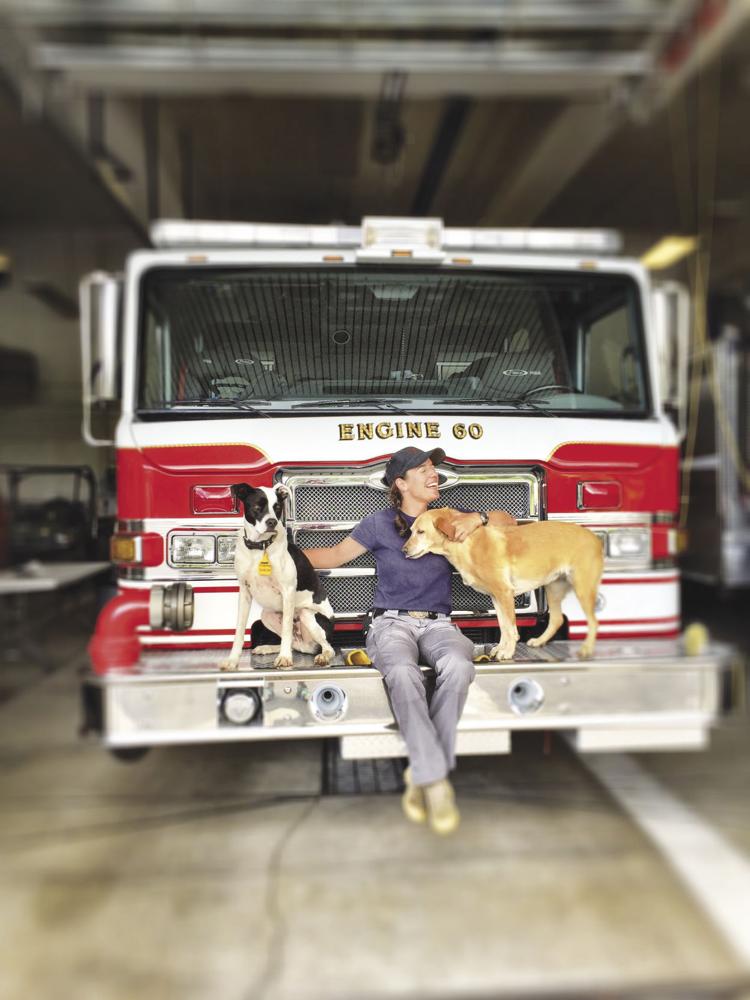 The holiday season is rife with fire emergencies, from a chimney fire to someone burning a turkey to full-on house fires. Helping mitigate those emergencies both big and small are firefighters like Julie Youngblood, an engineer EMT now in her third year full-time with the Sun Valley Fire Department. Year-round, the firefighters work 48-hour shifts followed by four days off. Youngblood will be working a 48-hour shift over Dec. 23 and 24, which means being on-call at the station for those entire 48 hours. Luckily, the holiday shifts are rotated each year so that hopefully no one person always ends up working Christmas or is working Thanksgiving and Christmas, for example.
While at the station, firefighters do chores and maintenance, check EMS supplies and use the gym for training. The firehouse also has a living quarter side with bedrooms and a kitchen. To make things a bit more festive for those working the holidays, there's often a small gift exchange and decorating of the station.
"I go a little nuts with the Christmas lights," Youngblood said.
The firefighters also always eat meals together, some years merging with the Ketchum station or the local police officers to celebrate.
"We definitely try to keep the holiday festivities alive at the station," Youngblood said. "One firefighter working Christmas morning is going to have his kids come to the station to open gifts. It's a fire family."
While everyone would like to be with family for the holidays, it's important to have firefighters fully staffed, especially during this time of year when call volume increases, according to Youngblood. Chimney fires occur often either from people not cleaning them often or part-time residents coming to houses that haven't been used in a year. During big snow years, boilers work overtime, which can also result in fires.
"You never know what you're going to get," Youngblood said. "We do all the EMS coverage and backcountry rescue as well—it really keeps it interesting."
But no matter the emergency or the time of year, Youngblood said she is happy to do her part, along with all her fellow firefighters.
"We've all worked this job because we make it our job to make people's worst days as smooth and easy as possible, and that happens on holidays as well. We're there to protect from any unforeseen disaster and try to save your holiday from becoming a true disaster by being available and ready whenever needed."
Youngblood also advises residents to check chimneys and smoke alarms this holiday season.
---
Mary Blomquist:
Human Resources, Atkinsons' Markets
From the clerks ringing up groceries to the deli workers preparing goods, each employee of Atkinsons' Markets is a necessary component to make the valley's popular grocery stores function during the holidays. This includes Human Resources' Mary Blomquist, whose job entails payroll, the administrative part of insurance and assisting the Accounting Department.
"Because we're open every day except Christmas, the business has to carry on," Blomquist said. "Everything needs to be done, so the business of human resources and payroll still goes on—customers still want to call and talk about their charge accounts, people want to buy gift certificates. It's important that we're all here so it can go smoothly."
Atkinsons' will be open on Christmas Eve from 7 a.m. to 8 p.m. (instead of their usual 9 p.m.), of which Blomquist will work 7:30 a.m. to 3:30 p.m., her usual hours for a Tuesday, while Thursdays and Fridays she works until the end of the day. Though she is now in HR, Blomquist explained that Atkinsons' promotes from within whenever possible, meaning almost all office staff started with the grocery store as checkers.
"With that experience, we are here, ready and able to provide support to the front-end staff and also to cover our service counter when our regular customer service staff goes to lunch," she said.
During the holidays, a sign-up sheet is available for staff to volunteer to work. As pay is increased for working holidays, the volunteer list is always filled and no one works holidays who doesn't want to. Employees also receive an annual Christmas bonus and participate in secret Santa, both sure to raise holiday spirits for those who do have to work.
---
---
Karen Stevens:
Assistant nurse manager, St. Luke's Wood River hospital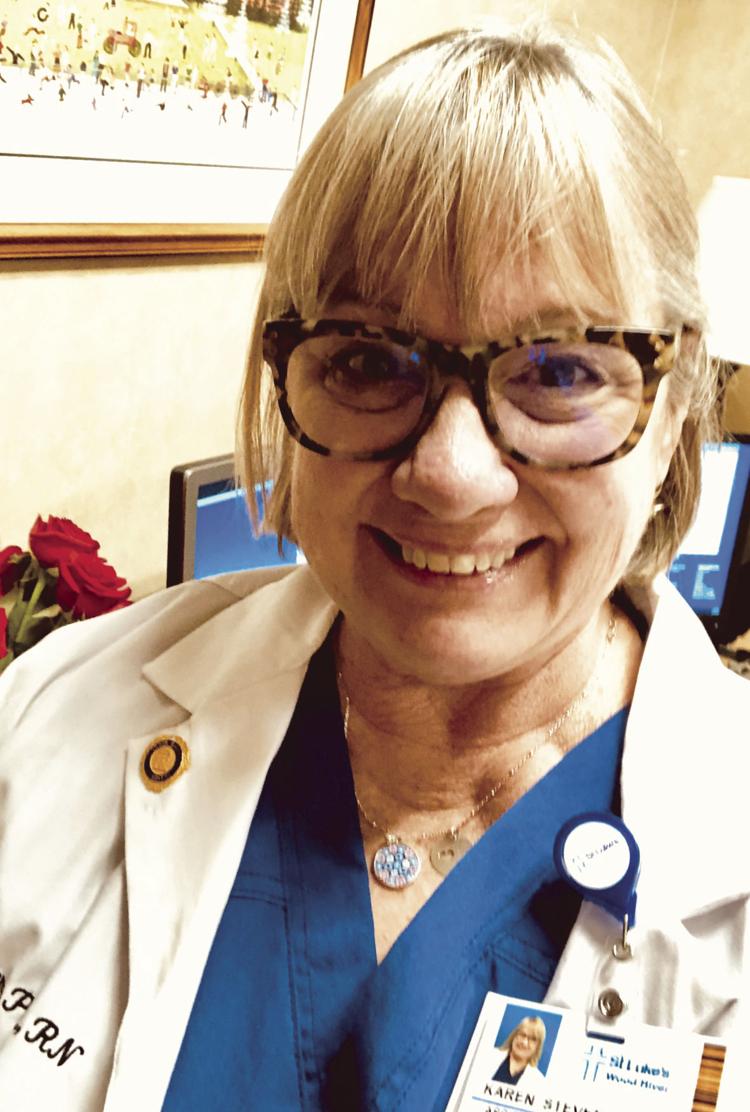 Like those in any emergency service, nurses, doctors and others who work at the local hospital are essential service providers no matter the time of year, holidays or not. Before becoming assistant nurse manager a year ago after a St. Luke's reorganization, Stevens was a night-shift charge nurse for many years and has been a nurse for 32 years total. Her job entails covering all clinical areas of the hospital, making sure staffing is adequate and all quality measures are in place and providing leadership at all times.
This holiday season, Stevens will work from 7 a.m. to 7 p.m. on both Christmas Eve and Christmas Day and 1 p.m. to 1 a.m. on New Year's Eve and New Year's Day.
"When I went into nursing, I knew it was a 24/7, seven-days-a-week gig," Stevens said. "That includes holidays. People don't get sick or injured according to a calendar, and it's really a privilege to take care of your community no matter what day it is."
Staff working during the holiday try to do a potluck each year and on New Year's Eve, sparkling apple cider is brought in and tossed back for a toast at midnight.
---
Lyndsey Mason:
Owner, manager and chef of Town Square Tavern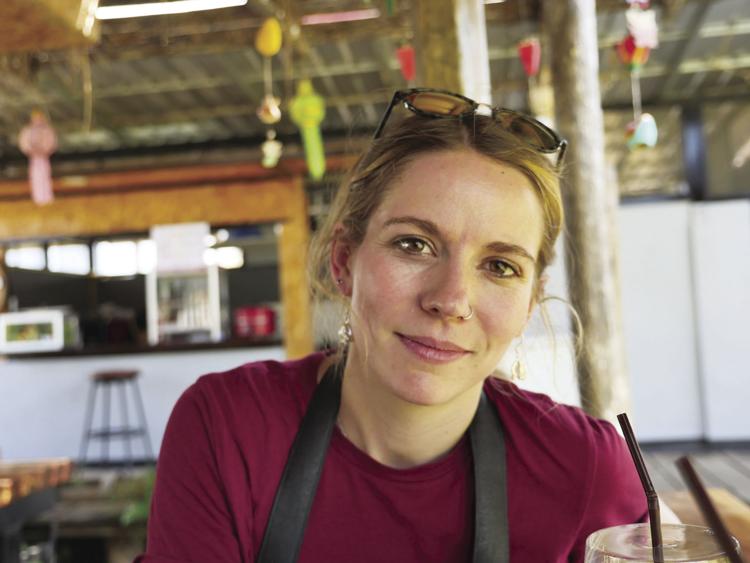 The youngest of the Mason clan, which is a longtime player in the restaurant scene of Ketchum, Lyndsey grew up in Ketchum and the restaurant industry, giving her both a strong work ethic and an understanding that during the holidays, everyone needs to step up. The Mason family's three restaurants—Town Square Tavern, Ketchum Grill and Enoteca—are popular establishments in Ketchum.
"I think it's important to keep the restaurants open [over the holidays], because it helps with the tourist economy that comes here and supports our local community," Mason said. "It's a really busy time of year and people like to come here for that magic and to spend time with family—part of that time is spent dining out."
The Masons treat their restaurant staff just as much like family as they do their patrons, and it's important that everyone have time off during the holidays to spend with family. With closures on Christmas Day, everyone employed by the three restaurants gets at least one day off. While most want to work during the holiday season because of the extra income, Mason and her family are understanding and accommodating to people who want to go home to visit family.
As managers and owners, one might think that the Masons give themselves holidays off. On the contrary, they work even harder to give staff more time off if needed.
"My family and I put ourselves in that position because we want to work as hard as our employees," Mason said. "They are our family and we want to be there for them and be there for our customers because they are our business. The harder we work, the more our employees are able to take time off and appreciate us as employers and think of us as family, as we think of them."