With 756,000 acres of public lands and waters—including 700 miles of hiking trails and 300 high-elevation alpine lakes—the Sawtooth National Recreation Area offers boundless backpacking, fishing, cycling, climbing, hunting and rafting opportunities.
The SNRA was established in 1972, largely through efforts of Idaho's congressional delegation, including Sens. Frank Church and Len Jordan and Reps. Orval Hansen and James McClure, to preserve central Idaho's iconic landscapes and wildlife.
It's home to four mountain ranges (the Sawtooths, White Clouds, Smoky Mountains and Boulder Mountains), the headwaters of four major river systems (the Payette, Salmon, Boise and Big Wood rivers) and several threatened species, including the Canada lynx, wolverine, Sockeye and Chinook salmon, and bighorn sheep.
Here are a few ideas to celebrate the SNRA's 50th anniversary this summer.
Take advantage of summer programming at Redfish Visitor Center, located at the northeast end of Redfish Lake. Go on a guided 60- to 75-minute nature walk around the lake to learn about local flora, fauna, ecology and geology from the center's team of naturalists. Other family-friendly summer programs at the visitor center include 15-minute "Patio Talks" on the front porch, 30-minute afternoon "Ranger Talks" in the amphitheater and evening amphitheater talks spanning subjects from glacial geology to the Kokanee salmon spawning in Fishhook Creek. The evening talks are generally held on Fridays and Saturdays in June and Thursdays and Saturdays in July and August.
Encourage a child to appreciate the SNRA's natural resources by becoming a junior ranger. Kids ages 5-12 can pick up an activity book at the Redfish Visitor Center and share their answers with a staff member to receive the ultimate summer memento: an official "junior ranger" patch or badge and certificate.
Take a one-hour lap around Redfish Lake on a Lady of the Lake boat tour. Pontoon boats depart the Redfish Lodge Marina on Saturday and Sunday afternoons; admission is $15 for adults and $5 for children 5 and up. There is a $60 minimum, so be sure to bring a friend or two (or three).
Visit picturesque Baker Lake, accessed by Baker Lake Trailhead about an hour's drive from downtown Ketchum. The 3.6-mile out-and-back trail offers great views of Backdrop Peak and Baker Peak, two Smoky Mountain gems.
Go berry picking at Huckleberry Creek, accessed by the Huckleberry Trail across from the irrigated fields of Decker Flat between Pettit and Redfish Lakes. The berries (technically known as "grouse whortleberries") make great pies, jellies, jams and ice creams. According to adventure-planning site Outdoor Project, it is "useful to have a pair of sandals" to cross the first half-mile of irrigated field. From Huckleberry Trail, you can continue on to Alpine Way Trail or Upper Decker Creek Basin. Another good berry-picking spot is Upper O'Brien campground in Stanley; picking season there usually starts in July.
Bike Fisher Creek, the SNRA's signature bike loop accessed from the Williams Creek trailhead off state Highway 75. "When you have the time and the want for a ride you'll be talking about for years to come, this is it," wrote Greg and Darla McRoberts in their guidebook to Sun Valley-area mountain biking, "Good Dirt II." The complete 17.5-mile loop includes a two-mile road ride to Fisher Creek Road and single track through lodgepole pine forests, aspen groves and fields of wildflowers. One indicator of this trail's popularity among mountain bikers is that it took third place in our 2022 Best of the Valley contest without even being in the Wood River Valley.
Go goat-watching at Billy's Bridge Goat Viewing Area, just a 20-minute drive from Ketchum. Unlike other high-elevation towns and national parks in Colorado, Montana and Wyoming—where goats have become tame from human feeding—the wild goat population in the Boulders are truly wild and can die if they encounter people. "The mountain goat is the purest form of the animal alive here in the Wood River Valley, and in the Lemhi and Stanley valleys—they came here naturally," local goat expert Nappy Neaman told the Express. Through the viewing area's spotting scopes, look for flecks of off-white against the eggshell white of snow-packed crevices. Exposed rock faces are a good bet, too.
Pitch a tent under the stars. From North Fork to Grandjean, each of the SNRA's 37 campgrounds offers something special. For a private experience in the heart of the SNRA, try North Shore campground on the shore of Alturas Lake, where sites are spaced apart among dense stands of Engelmann spruce. For easy fishing access, try the secluded Holman Creek campground along the Salmon River near Clayton. Take a relaxing stroll to the river bend across from the campground, where you can watch fish in their natural habitat in a clear pool carved into the riverbank. Closer to town, try Easley campground along the Big Wood, which also offers the Easley Hot Springs swimming pool.
Trek to Sawtooth Lake from Iron Creek. This quintessential, 10-mile day hike is moderately difficult, with an elevation gain of about 1,800 feet. About two miles in, enjoy stunning views of Alpine Lake. The last mile of the trail is the most difficult, with switchbacks over loose rocks. You'll also need a free wilderness hiking permit to hike the trail.
Find solitude close to town in the 250 miles of trails within just 10 miles of Ketchum. The Greenhorn Gulch area has great trails for mountain biking, motorcycling and horseback riding. The Fox Creek and Chocolate Gulch trailheads—farther to the north, about 6 and 7 miles north of Ketchum, respectively—connect to a vast network of well-marked trails popular among hikers and trail runners. The popular, 6-mile Fox Creek Loop is moderately difficult, but has plenty of river stops for water breaks. Fox sightings are common there, as suggested by the name. The 5-mile Chocolate Gulch-North Fork Loop is a moderate route that renders breathtaking views of the Boulders.
Take in Elephant's Perch from the Saddleback Lakes (or up close). The dramatic golden granite face offers 25 climbing routes, according to Tom Lopez's book "Idaho, a Climbing Guide." You can get there by taking a boat shuttle from Redfish Lake Lodge Marina, continuing on foot on the Redfish Lake Creek Trail southwest for around 2 miles and taking a steep one-mile route to the lowest of the Saddleback Lakes. "The easiest and most popular route on the Perch is the Mountaineers Route, according to online climbing resource mountainproject.com, while other "classics" include the "Direct Beckey, Astro-Elephant, the Sunrise Book, and Myopia."
Get a goat plate. The Sawtooth Society's Goat License Plate Fund is supported by proceeds from Idaho license plates featuring mountain goats and doles out around $45,000 annually to nonprofits operating in the SNRA. One regular recipient is the Sawtooth Avalanche Center. To buy a goat plate, visit www.sawtoothsociety.org.
Hire a fly-fishing guide. Book an all-day adventure to beautiful, remote trophy fishing areas with Lost River Outfitters' Scott Schnebly and Susanne Connor, voted this year's top two fishing guides in the Express' Best of the Valley survey. The longtime partners in business and life will help you improve your casting techniques, follow the hatches and immerse yourself in the symphony of life around you. (They pack homemade lunches from their garden and also cook for guests at their steelhead lodge in Stanley).
Experience nonmotorized flight. Fly Sun Valley is now accepting reservations for the 2022 summer flying season, which typically begins in early June. The outfitter—the only fully insured and permitted paragliding operation associated with Sun Valley Resort—has offered tandem flights, flight instruction and equipment sales in downtown Ketchum for more than 20 years. Owner and operator Chuck Smith is a certified USHPA instructor and former U.S. National Champion and national paragliding team member who flew tandem in 1991 while working as a test pilot for a paragliding and hang-gliding manufacturer.
Reap the benefits of birdwatching (endless entertainment, a renewed sense of calm and a greater connection to your surroundings, to name a few). Look out for Clark's nutcrackers in high-elevation pine stands or on the ground, caching seeds; Western tanagers performing courtship rituals in the upper part of open conifer forests; and bald eagles soaring above Redfish Lake.
Indulge in the crystal-clear water of Goat Lake, which can be accessed via an 8-mile, challenging hike from Iron Creek Trailhead. Hikers will need to follow a relatively unmarked trail across streams and slick scree fields to reach the lake, which requires some backcountry experience.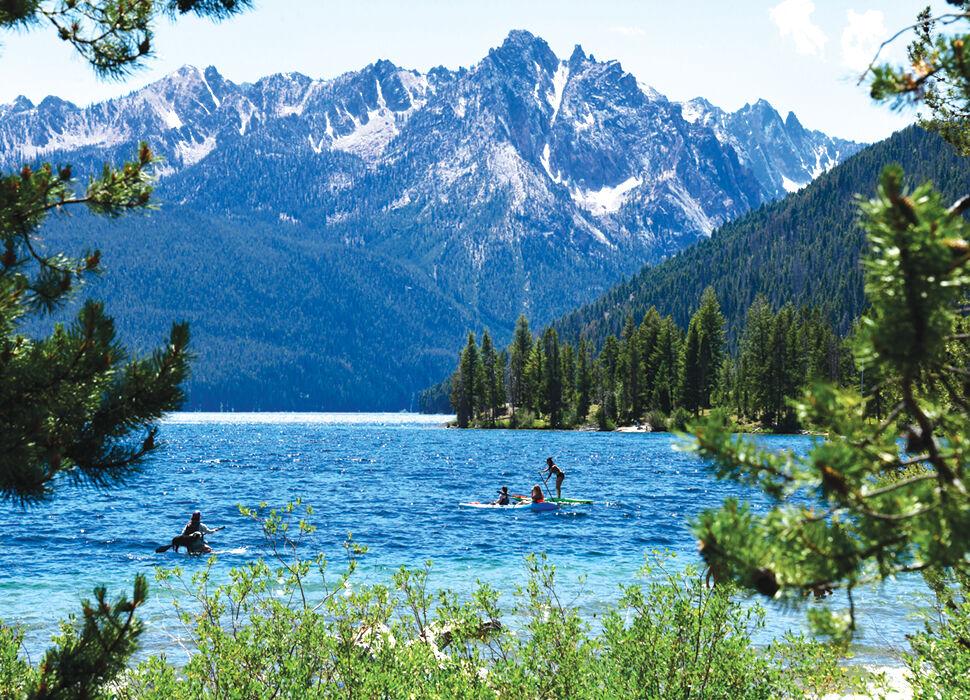 Paddleboard or kayak from the Redfish Lake marina. Single kayak rentals are priced at $15/hour, $40/half day and $60 for a full day; stand-up paddleboard rentals are $15/hour, $50/half day and $80 for a full day. Double canoes and tandem kayaks are priced at $20/hour, $55/half day and $70 for a full day.
Saddle up at Mystic Saddle Ranch for a 90-minute trail ride around Little Redfish Lake or a daylong excursion around Alice Lake. Located about 10 miles south of Stanley, family-owned and operated Mystic Saddle Ranch has been offering guided trail rides since 1969. (Kids must be at least 6 to ride; double riding is not allowed.)
Volunteer with the National Forest Foundation to help hand-cache whitebark pine seeds in the SNRA. The high-elevation species is under significant threat in Idaho due to blister rust, a fungus that has proved to be a prolific killer among white pines. The Whitebark Pine Volunteer Restoration Project is scheduled to take place on the East Fork of the Salmon River at Railroad Ridge on Thursday, June 30, from 10 a.m. to 4 p.m.; if snow prevents access to the planting site, the event will move to Monday, July 18, 2022. Shuttling to Railroad Ridge will be provided from Big Boulder Trailhead for anyone who doesn't have access to a high clearance, 4-wheel drive vehicle. For more information, contact Dani Southard at dsouthard@nationalforests.org.
Relive history at Pioneer Cabin, built in 1937 by the Union Pacific Railroad as a ski hut. This is easily one of the most well-known local hikes because of its difficulty, terrain, distance and views from the top. The 8.5-mile loop takes two to three hours on the climb up to 9,400 feet. For the full effect, hikers should carve out an entire day to experience the views. The trail ascends through old-growth fir forests before providing gorgeous views of the Pioneer Mountains. To get there, take Sun Valley Road northeast for 5 miles, turn right on Corral Creek Road and travel about 4 miles to the trailhead.
Pay a visit to Pole Creek Ranger Station. The two-room log cabin, the oldest standing building in the Sawtooth National Forest, was originally built in 1909 and has been used as both a guard station and as an area to study native plant species ever since Ranger Bill Horton fenced off a nearby pasture. The historic site can be accessed by an interpretive walking trail, which features impressive views.
Pack a picnic at Wood River Picnic Area near the SNRA headquarters. This area is a prime wildlife-viewing spot, perfect for taking in the splendor of Silver Peak, Ryan Peak and Kent Peak, all which tower over 11,000 feet.
Take a scenic float trip on the Salmon River. Located at the confluence of the Main Salmon River and the Yankee Fork, White Otter Adventures—voted this year's best river rafting company—specializes in guided day trips for the whole family. The outfitter is located directly at its put-in, so guests are able to meet their guides and walk straight to the river.
Rent an ATV or UTV at Sawtooth Traxx in Stanley to share the off-road experience with friends or family. Rental options range from two- to four-seaters, with half- and full-day options. Law enforcement officers and current and former military members are eligible for a 10% discount.
Relax in a hot spring. The SNRA is home to countless geothermal pools—Bear Valley, Dagger Creek, Elkhorn (Boat Box), Sheepeater and Sitting Bull, to start. Further up Highway 75 along the Salmon River is Sunbeam Hot Springs, a great family-friendly option; here, parking is close to the rock pools, and guests have access to a restroom and changing room.
Try your hand at astrophotography. (This is even possible on a smartphone by adjusting exposure and shutter speed.) The Central Idaho Dark Sky Reserve, which includes much of the SNRA, offers some of the best stargazing in the inhabited parts of the world. Under such a dark sky, shooting stars can be counted by the dozens and the Milky Way can be clearly photographed as it reflects on alpine lakes.
Visit the Stanley Museum. Located in Lower Stanley, the museum was built in the 1930s by the Civilian Conservation Corps and used until 1972 as the Valley Creek Ranger Station up until the SNRA was developed. It features a variety of displays and artifacts, including a historic ice house, that help tell the story of Central Idaho. Hours are Saturday, Sunday and Monday, 10 a.m.-5 p.m.