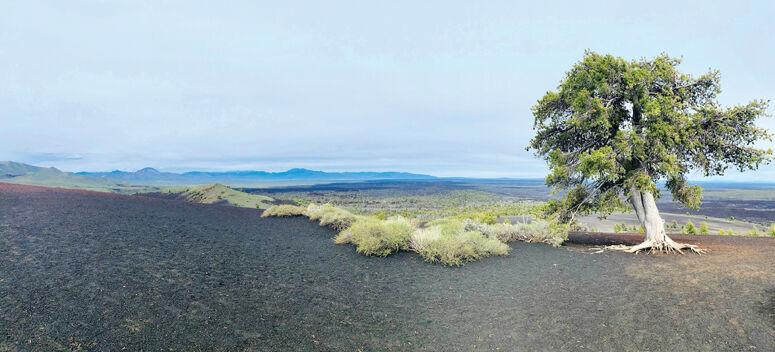 So, you already hiked Baldy, played golf and got a good look at the Sawtooths from Galena Pass. Along with booking concert tickets and dining out, why not consider a day trip that will expand your vision of the Sun Valley area? Here are a few suggestions:
Craters of the Moon
For an "otherworldly" experience, head south and on state Highway 75 out of the Wood River Valley, then east on U.S. 20 through Carey to Craters of the Moon National Monument. During the last section of this gorgeous 65-mile drive the landscape will become increasingly barren to the south due to an enormous field of lava that spewed from volcanoes not so long ago, and your final destination.
"Craters" as it's referred to by locals, has an established visitor center, campground, driving tour and short hikes that crackle underfoot as you walk on cooled red and black molten rock configured into cinder cones. Lava tube caves and specially evolved plants dot the 618 square miles of the monument, which covers only a small portion of the Great Rift that produced successive eruptions from 15,000 to 2,000 years ago. You can also brush up some Hawaiian terms like pahoehoe and a'a, two types of lava, and kipukas, islands of historic vegetation that have been sealed off from the rest of the landscape for thousands of years.
"You can go to them only with a high-clearance vehicle on backcountry roads on BLM land," said Craters Ranger Lauren Reed. "The lava has protected kipukas from a lot of hoofed animals, and there's miles and miles of wilderness out there."
Get to Craters before things heat up again. According to geologists, the area erupts about every 3,000 years. The Great Rift is expected to become volcanically active sometime within the next 100 years and bring large-volume pahoehoe [smooth lava] flows, according to the monument brochure. Eruptions elsewhere may be comparatively explosive and produce significant amounts of airborne material and destroy existing cinder cones by both explosion and collapse, building new ones in the process.
Air temperatures at Craters heat up daily in the summer, though, so mornings and evenings are the best times to visit.
Yankee Fork Dredge and Custer
Mining enthusiasts and mechanical geeks simply must take the 83-mile drive north from Ketchum to tour the Yankee Fork Dredge, a four-story 1,000-ton floating, river-gobbling monster that spat out 6 miles of rubble in its wake.
The reason? Gold, of course.
Built in 1939, this self-powered diesel machine was constructed at great cost in a remote area and operated by a crew of three, with a supporting village of helpers. The dredge, now a historic site, looks like a portable factory dropped into the wilderness by aliens. The gigantic metal structure took four months to build and 25 pontoons to float on 11 feet of water in a migrating man-made pond. When cranked up, it dug 35 feet deep through sand and rock, processing the debris to get to the shiny stuff. This behemoth gradually moved itself upstream until it came to a creaking halt in 1952.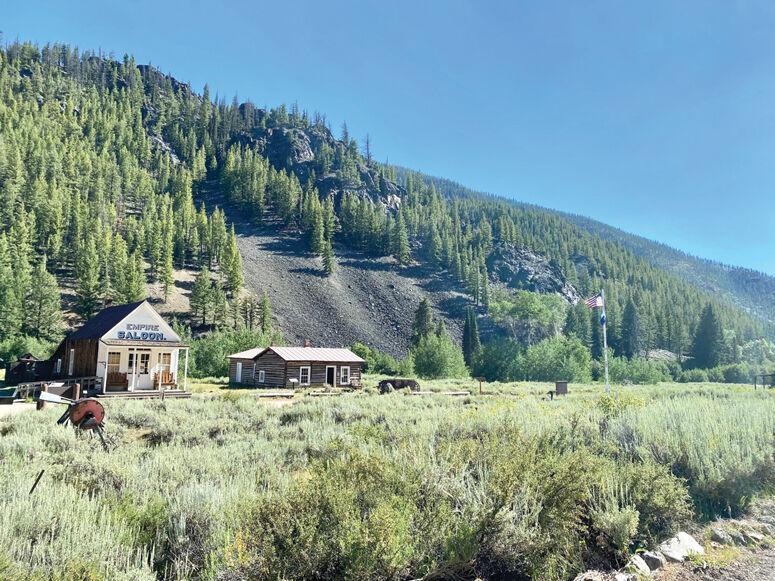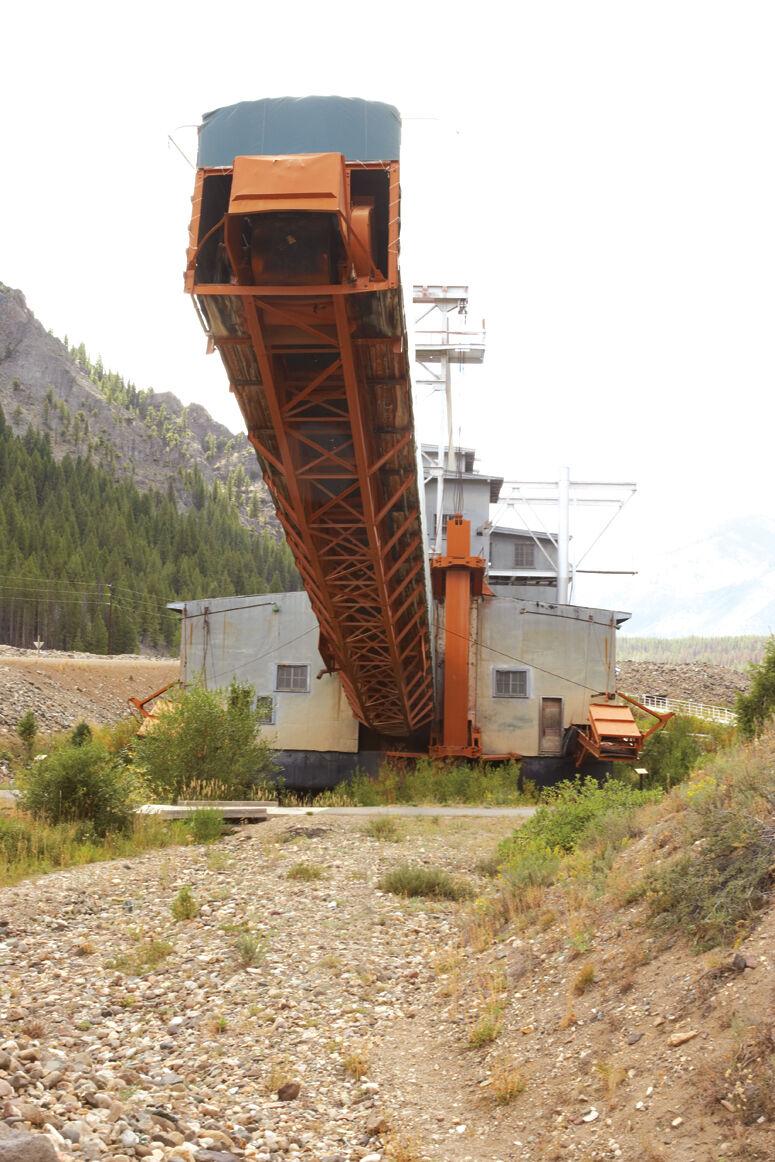 The Yankee Fork Dredge forever transformed the riparian landscape of the Yankee Fork River during a period of very lax environmental regulations. According to the website Western Mining History, this Depression-era dredge removed enough gold to create a gold brick 2 feet square.
If you push on a few more miles upstream of the dredge you'll reach the ghost town of Custer, where gold miners first settled in 1879. Custer reached its peak population of 600 in 1896, but by 1910 was abandoned. Now on the National Register of Historic Places, Custer features a saloon and general store, somewhat restored frontier homes and buildings, including the home of the once prominent Pfeiffer family. The roof is shingled with old tin cans.
In Custer you will also find an assortment of large and small rusting metal contraptions once used for mining. Luckily, there are signs explaining their use and place in frontier mining history. Push on even farther upstream and you'll enter a more lasting Idaho treasure, the Frank Church-River of No Return Wilderness.
Camas Prairie
About an hour's drive south of Ketchum on Highway 75 and U.S. 20 West, you'll find the small town of Fairfield, population 410. This is the seat of Camas County, named for the blue flowering camas plants that bloom here in June. The plants have long been a staple for Native Americans, including the Shoshone-Bannock, who have used this area for foraging and hunting since time immemorial.
Since the homesteading era, farmers have been calling Camas County home, replacing the once-abundant camas with many other field crops, yet vestiges of the unique ecology and vast unbridled expanse of Camas Prairie is still palpable from several vantage points. Push on about 10 miles farther west on Highway 20 past Fairfield, take a left at Wolf Lane and head another 6 miles to Centennial Marsh, a 6,240-acre seasonally flooded, protected wetland filled with waterfowl and shorebirds, as well as muskrat, elk, pronghorn and sage grouse.
During the mid-March thaw in 2013, about 3,000 northern pintail ducks, 1,000 snow geese and 500 tundra swans used the marsh for feeding or nesting, according to Idaho Fish and Game. This kind of avian activity keeps Centennial Marsh on the map of birdwatchers near and far. Since the marsh dries out usually by mid-July, this trip could be the first on your list.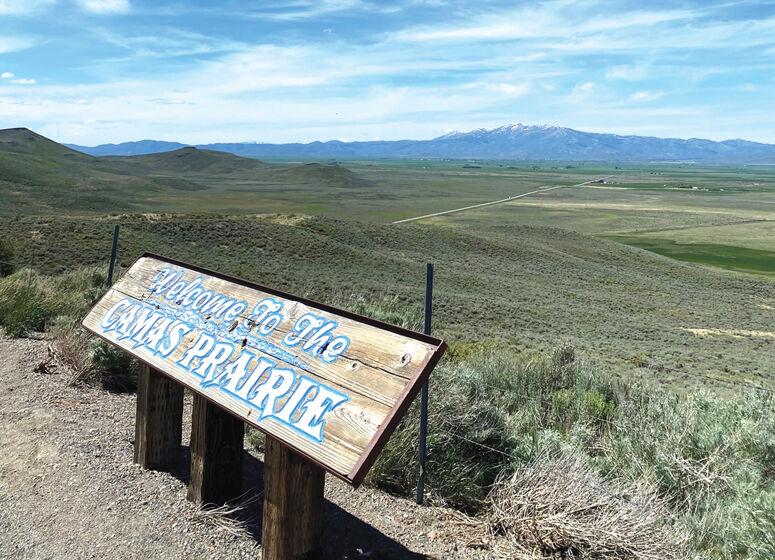 About a decade ago, the Shoshone-Bannock Tribes at Fort Hall Reservation near Pocatello began to reengage with the citizens of Fairfield to revive Camas Lily Days, a spring festival that now contains an indigenous component in the form of mini-powwow, songs, drumming and dancing.
Camas Prairie has been the site of rich human history reaching back thousands of years and continues to provide awe-inspiring views. For the best perspective on the enormous sweep of this green valley, head south about state Highway 46, which links up 4 miles east of Fairfield, and continue on south for about 10 miles. The road will take you to the rim of the valley and a parking lookout that provides a magnificent and commanding view of Camas Prairie, with the Soldier Mountains beyond.
Little City of Rocks
About an hour and 20 minutes southwest of Ketchum on Highway 75, Highway 20 West and Highway 46 South, you will reach the access road to the natural geological wonder called Little City of Rocks. Not to be confused with the City of Rocks climbing area three hours to the east, this is the place to hike or ride a horse through a narrow canyon of rock spires, balancing rocks and steeply eroded hillside reminiscent of Roadrunner cartoons—though in volcanic rock, not sandstone.
Little City of Rocks is on public lands and includes a 6,000-acre Bureau of Land Management wilderness study area filled with raptors and songbirds, as well as elk, deer, coyote and other animals. The upper reaches of several merging canyons at Little City of Rocks provide an expansive view of the Snake River Plain on a clear day and a beguiling perspective on the array of shapes formed by the wind and water-eroded rhyolite columns, more popularly known as "hoodoos." Any encounter with Native American tool making sites or other artifacts should be reported to BLM officials. Stiff fines can be levied against those who remove such items or disturb them.
While the canyon bottom hike is rewarding enough and will bring you to seasonal springs and maybe even a small waterfall, more adventurous hikers can ascend to the escarpment above on a web of trails for a magical mystery tour to arches, small caves and numerous perches from which you can see nearly to Nevada on a clear day. There are no services in the area, so bring plenty of water.