Aspiring screenwriters and producers will have new opportunities to make connections and workshop ideas at this year's Sun Valley Film Festival.
Two new programs—a residency for screenwriters and a live pitch panel for producers—are making their debut at the 2020 festival.
The residency program, part of the annual Screenwriters Lab, will include five days of roundtables, meetings and mentorships with more experienced screenwriters. Four writers have been invited to participate, chosen from a pool of applicants who submitted scripts.
Participants in the Ford Pitch Fest, meanwhile, will pitch their ideas to a live panel of four award-winning producers, with the winner taking home a $25,000 producer's grant.
---
Ford Pitch Fest
It's become increasingly apparent over the years that the Sun Valley Film Festival is "a producers' festival" at its core, said Celeste Matika, a producer and organizer with the festival.
"As we grow the festival, we've really started to see that that's a large identity that we have," Matika said.
The idea for the pitch panel, then, "just came kind of organically," she said. The festival organizers talked to Ford Motor Co.—sponsor of the new Pitch Fest—and the response was enthusiastic. The company agreed to provide $25,000 for the winner's grant.
Three finalists chosen from a number of submissions will be invited to Sun Valley for the festival, where they'll receive one-on-one mentoring with a pitch coach, access to networking opportunities and the chance to pitch their project to a panel made up of industry veterans.
Those panelists are Effie T. Brown, producer of "Dear White People" and "Real Women Have Curves"; Jim Burke, who won an Academy Award for producing "Green Book" in 2019; Lionsgate Vice Chairman Michael Burns; and Idaho native Heather Rae, producer of "Frozen River" and "Bull." The event will be hosted by actor, producer and writer Will McCormack.
When it comes to hearing the pitches, Rae said, she's most interested in finding projects that take her into a new world—or explore a familiar world from a new perspective.
"I think the industry's changing and it's changing quickly at this point," she said. "So there's certainly a demand for new perspectives. And at the same time, there's such a saturation of content that it also becomes quite challenging to find originality."
For Burke, it's important to find stories that people are able to connect with.
"I personally would prefer what I call human films," he said.
The contestants' delivery of their pitches—their outward levels of confidence and charisma—may influence the judges at first, Burke said. But "once you get down to it, the best idea and the best perception of who could execute that idea will win out."
Being able to pitch effectively is important, Rae said, but substance is more important. And for a contestant to be visibly nervous or uncomfortable on stage isn't necessarily a bad thing.
"I think that sometimes when somebody is nervous or taking a risk, you see that and you can appreciate that," she said. "It's charming for someone to be pushing themselves to a new limit."
---
Screenwriters Lab residency program
The Screenwriters Lab, which is sponsored by Variety, has always included a "mini-residency" of sorts, Lab organizer Emily Granville said. This year, organizers made the decision to create a full-blown five-day residency program.
"We found it's nice to house all the screenwriters together because they kind of bond, become friends and go to festival events together," Granville said.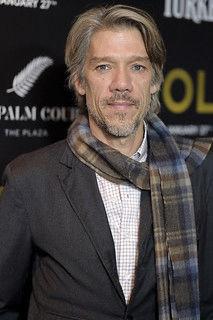 The four finalists for the annual High Scribe screenplay award have been invited to participate in the residency, which will include roundtable events, mentorship opportunities and face time with Academy Award-winning screenwriter Stephen Gaghan, host of this year's Screenwriters Lab event. The lab includes a live table read of the High Scribe winner's script.
"We always have a really good group of actors [for the table read], which is great," Granville said.
When reading through the submissions, Granville said, she prefers to judge by script alone rather than name or cover letter. Scripts were submitted through online platforms including Submittable, which is a partner of the High Scribe Award and new residency program.
"I really sort of believe in blind submissions in general," she said.
In previous years, the pool of screenwriters was "a little bit male-dominated," Granville said, but in the past few years, she's noticed more diversity among applicants.
"This year it's a diverse group, which I was happy to see," she said.
The organizers' next task: matching up screenwriters with more experienced mentors.
"The real trick is trying to pair a script with what the mentors like," Granville said.
Over the course of the week, residents will meet with local author Charles Brandt, chat with the president of a Los Angeles-based management company, attend a reception for filmmakers and receive pitching tips. And, of course, they'll have time to write in the middle of it all.
"Some labs really give people isolation and let them write and it's more about honing the craft," Granville said. "This is more about being at the festival and making connections and meeting people."
The Screenwriters Lab event, include a discussion with the finalists, presentation of the High Scribe Award and a reading from the winning script. For the time and place of both the Pitch Fest and the Screenwriters Lab.