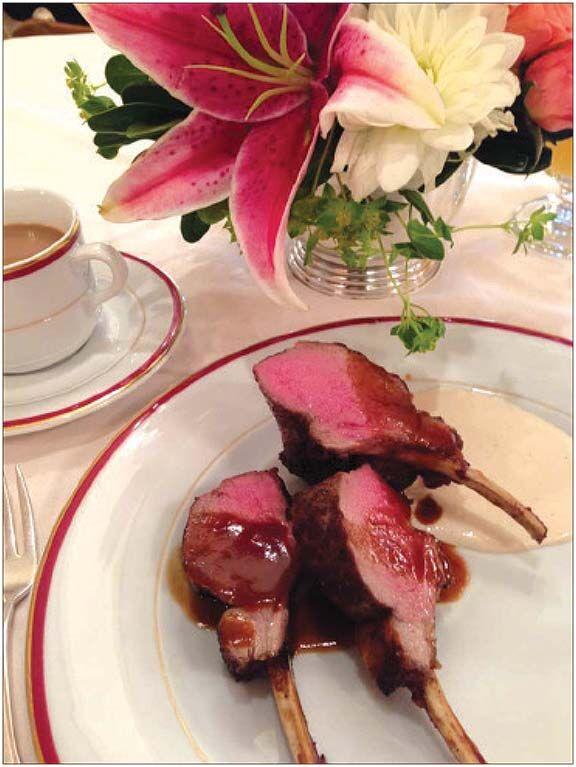 Every fall, thousands of sheep make their way through the Wood River Valley, from summer pastures north of Ketchum to winter grazing areas in points south.
Over the decades, the tradition has been celebrated in many ways, including feasts that feature fresh lamb. During the 25th annual Trailing of the Sheep Festival, food lovers will have several opportunities to enjoy different preparations of lamb.
Lamb generally refers to the meat of sheep less than 1 year old. Animals born in the spring come of age in the fall, producing rich, full-flavored red meat. It is considered a delicacy in many parts of the globe.
Leg of lamb and rack of lamb are popular choices for celebratory meals in the United States and Europe. In many nations, lamb is served as a traditional dish at Easter. It is a food staple of many cultures, including those of Turkey, Greece, New Zealand and several countries of the Middle East. Morocco is famous for its zesty preparations of lamb.
Lamb is popular largely because of its distinct flavor but is also recognized for its great versatility. It can be served grilled, roasted, braised, sautéed or stuffed, in a Western-style stew or in an Eastern-style curry. And, it marries well with a seemingly endless list of seasonings, including basil, cinnamon, cumin, garlic, lemon, mint, rosemary, saffron, sage and shallot.
The best cuts require little preparation. A rack of lamb can be simply roasted with small doses of salt, pepper, rosemary and garlic.
Yet, lamb also shines in more complex dishes with numerous ingredients. The Greeks might serve it with zucchini, herbs, garlic, pine nuts and tomatoes, or with a minted yogurt sauce. A French cassoulet might mix lamb with beans, bay leaf, thyme, onion, pork and sausage.
"I love lamb," said chef Scott Mason, who with his family owns and operates three restaurants in Ketchum.
Mason runs the Ketchum Grill and his daughters operate two other restaurants he started—Enoteca and Town Square Tavern. He has been serving different preparations of lamb to his customers for decades.
"It's an alternative to beef, another red meat," Mason said. "It's usually free-range, and for us, it's usually local."
Mason's restaurants serve Lava Lake lamb—from a ranch in southeastern Blaine County and surrounding grazing lands—as well as from other sources in the Rocky Mountains. He generally prefers American lamb to lamb imported from Australia or New Zealand, he said, but preference can be a matter of taste. American lambs tend to grow a little bigger and have more fat, he said, offering a different flavor profile than imported lamb.
One reason Mason loves to cook with lamb is its versatility, he said. It lends well to Italian and French cuisine, but also works well with Asian flavors—he sometimes makes a lamb sausage with soy and ginger.
He also appreciates lamb in Middle Eastern cuisine, such as a Turkish recipe in which ground lamb is shaped onto a skewer, grilled and served with chutney and cous cous. Town Square Tavern serves a lamb burger flavored with garlic, shallot, mint, salt and pepper.
Mason has been making lamb meatballs for some 30 years, he said, and has rotated the dish in and out of the Ketchum Grill menu. His version of the dish evolved out of a recipe for Swedish meatballs that he inherited.
A lamb leg roast can be rubbed with garlic and rosemary and roasted in the oven or slow-cooked on a grill, he said. On the grill, the cook would preferably sear the meat first and then slow cook it with indirect heat at 350 degrees.
A longstanding menu favorite at the Ketchum Grill is a braised lamb shank. The seared meat is cooked for three hours in a liquid that features wine, tomato, paprika, salt and pepper.
The more tender "upper cuts"—such as the chops—should be cooked fairly fast and not overdone, Mason said. The "lower cuts"—such as a leg or shanks—should be cooked "low and slow," he said.
Occasionally, cooks might think they overcooked a lamb shank or other tougher cut, but in fact needed more time and heat to render it falling-off-the-bone tender, he noted.
"Sometimes, the secret is to cook it a little longer," he said.