Amid the uncertainty surrounding COVID-19 in the Wood River Valley, one thing has become clear: The local real estate market is booming and showing no indication of slowing down soon.
The valley's ample space and recreational opportunities have made the area more attractive to homebuyers during the pandemic, local realtors and property managers say. With remote work opportunities expanding, a growing number of city-dwellers have swapped high-density urban living environments for mountain town life.
From the perspective of Harry Griffith, executive director of Sun Valley Economic Development, the COVID-19 pandemic and resulting real estate boom mark a tipping point for the Wood River Valley—the start of a "generational change."
How that change will ultimately affect the valley—and its most vulnerable residents—will depend on how the community and its leaders respond to the growth.
On the one hand, Griffith points out, newcomers bring fresh energy—and resources—to a community: new customers for local businesses; new volunteers and donors for local nonprofits; new voices and perspectives for community institutions. A wave of remote-working transplants could also mean an increase in young professionals and young families in the cities of Ketchum and Sun Valley, where the average age is currently above 50, some realtors say.
"It has that potential to really refresh and grow parts of our community that have always been important to us," Griffith said.
But the exploding demand for real estate—and the resulting rise in housing costs—could also further squeeze the working class of residents, for whom life in the Wood River Valley is already barely affordable. That's a larger group than outside onlookers may realize. A United Way study published earlier this year found that more than half of people living in Blaine County are either below the federal poverty level or "working but unable to afford basic household necessities. South of the glitz of Sun Valley, a 2018 study by the Economic Policy Institute ranked Hailey as the ninth most unequal city in America.  
"This land rush has the potential to increase the economic inequality in our community," Griffith said. "With people at one of the demographic spectrum leaving and others coming, that gap is just going to get bigger and bigger, and that has an impact on community health and how people think about where they live and who they are."
---
The numbers
In March and April, the Wood River Valley made national headlines for having one of the highest rates of coronavirus infection in the country, with local per capital figures rivaling those in New York City and Wuhan, China.
Suppressed by those grim statistics, buying activity in Blaine County's real estate market fell stagnant at the start of the pandemic, according to Reid Sanborn, president of the Sun Valley Board of Realtors.
By June, though, confirmed case rates in Blaine County had largely flattened. That's around the time that homebuyers began to flood the real estate market, which quickly made a full recovery—and then some.
"Being basically shut down for four months, we've really only had six-and-a-half months to do business this year," said Jay Emmer, a Ketchum-based realtor at Sun Valley Sotheby's International Realty.
Over the course of those six-and-a-half months, Emmer said, Sotheby's has sold 5 percent more residential properties than it did in the entire year of 2019. Those sales generating more than 50 percent more money overall.
Year-over-year data compiled by the Sun Valley Board of Realtors shows just how rapidly the housing market took off this summer. Home closings, the number of lots sold, and sale prices all jumped up significantly between the last week of June and the last week of September. During that window, 301 home closings and 109 vacant land sales were recorded in Blaine County—up 49 percent and 118 percent, respectively, from the same time last year. In four months, the median cost of single-family homes, condominiums, duplexes and townhomes in the county had increased by 38 percent (see Real Estate Fig. D).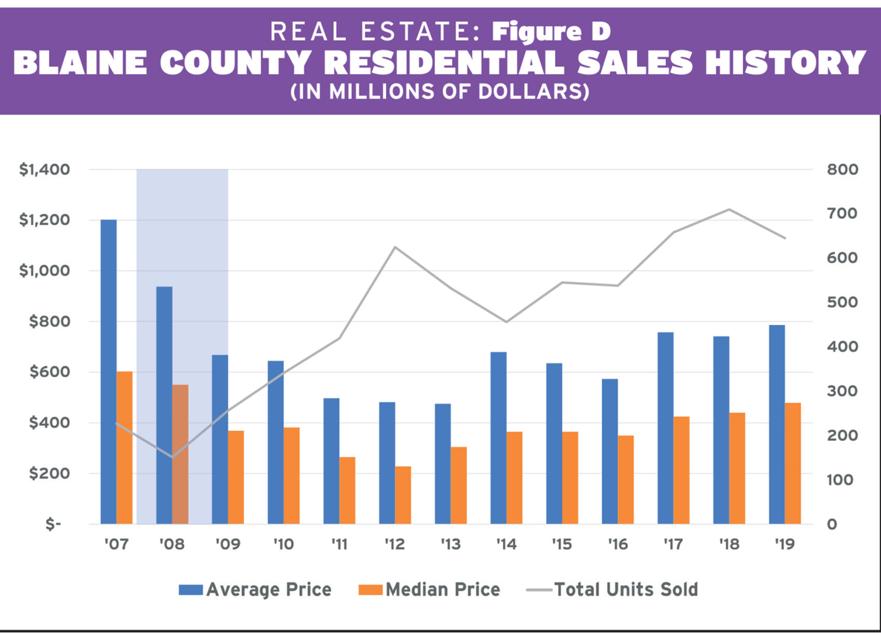 Ketchum saw the highest increase in the number residential sales from last summer at 87 percent, followed by Sun Valley at 65 percent. In those two cities, homes between $450,000 and $3 million were in particular demand, data compiled by Sun Valley Economic Development shows.
"In the 38 years I've been in business, I've never seen this level of activity," said Jed Gray, a broker with Sun Valley Associates who works primarily in the north valley.
"Things are moving more briskly than we've seen for a long time, possibly since just before the recession," Gray continued. "But there's more activity now than there was at that time as well. It's difficult to describe."
---
Home prices rising
Median home prices fell in every Wood River Valley town when the Great Recession hit in 2008 and continued to fall in the years that followed. Around 2013, three or so years after the formal end of the recession, prices began to tick back up, according to data from the Sun Valley Board of Realtors.
This year, median home prices in Ketchum, Sun Valley and Hailey met or surpassed pre-recession median prices for the first time in 13 years (see Real Estate Fig. E).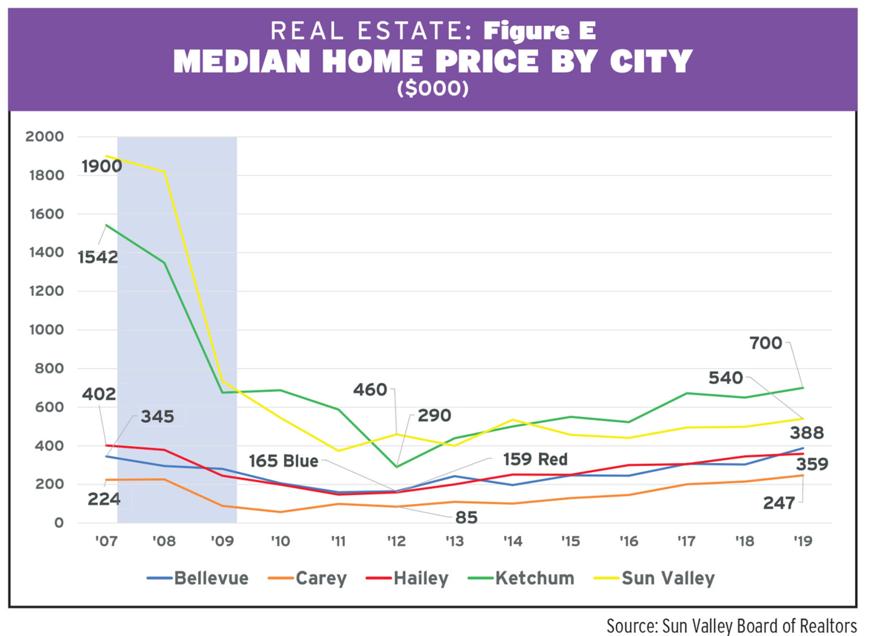 "Median prices are essentially back at the 2007-2008 levels after major declines in the early 2010s," Board of Realtors CEO Grace Summers said. "If we looked at the past few years, it may appear like prices have increased very quickly, whereas over the past 13 years what you really see is a rebound."
Hailey saw the largest increase in median home prices this summer compared to last, according to the Board's Multiple Listing Service: from roughly $400,000 to $528,000, a 32 percent increase. Ketchum home prices rose about 17 percent, from about $795,000 to $930,000; Bellevue prices rose 6 percent, from about $433,000 to $460,000; and Sun Valley prices saw the lowest rise at 3 percent, from about $655,000 to $680,000.
The rising prices are a result of basic economics—low supply and high demand, Sanborn told the Idaho Mountain Express. Even with steeper price tags, homes and vacant lots are going under contract much more quickly than the past.  
Other buyers have turned to vacant lots to build their own homes. Sun Valley's vacant lot market experienced a whopping 2,300 percent increase this summer. Across the county, land sales began to surge in July and August, numbers from Sun Valley Economic Development show, with the majority of buyers hailing from out of state (see Real Estate Fig. A).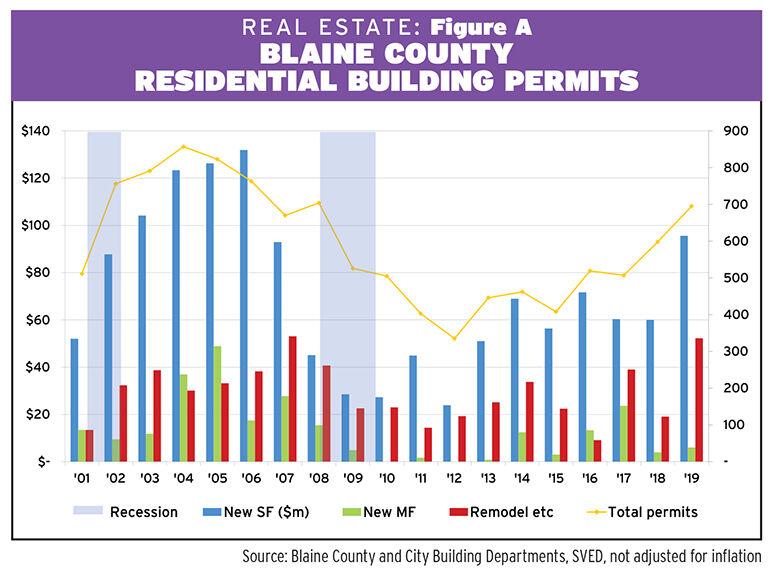 Sales of nearly 80 open properties in Blaine County were closed in July and August alone, amounting to more than $50 million. That's more than double the number of land sales closed in July and August of 2019.
"[Late summer is] when people started to realize, 'Jeez, I'm not going to get the house that I want, I'm not going to get the condo that I want,'" Gray said. "'I'm going to have to build.'"
Building may also prove more expensive than usual, though, with a shortage of materials and labor due to the high demand.
"You've got a perfect storm of things that are driving up cost," said Ned Burns, mayor of Bellevue and a realtor with Coldwell Banker.
---
Who's buying
While hard data isn't available on exactly who is buying in the Wood River Valley, Gray said he's seen a wide range of newcomers, from young families to retirees, and including both second homeowners and people looking for a new place to live.
Enrollment numbers from local schools suggest that some of the buyers have school-age children and are looking to relocate entirely, at least for the 2020-21 school year.
The Blaine County School District received roughly 250 new students whose families relocated from elsewhere—primarily from California, Oregon, and other parts of Idaho—this year, according to data compiled by SVED. Despite the boost, net enrollment is down overall from last year due to other families moving out of the county or pulling their children out of public school.
The Sun Valley Community School—one of a handful of private schools in the Wood River Valley—saw "increased interest this year, both from local and relocating families," school spokeswoman Alessia Carega told the Mountain Express. All three divisions of the school—elementary, middle and high school—had a pool of waitlisted potential students for 2020-21 admissions, Carega said.
Among homebuyers of working age, a common denominator is the ability to work remotely, a privilege generally afforded to those on the higher end of the income spectrum.
Over the course of the past five years, "more and more people have been able to work remotely," Emmer said. "That contributed to a really nice organic growth cycle for us. Then came the pandemic, which for our area basically sprinkled Miracle Grow on that growth cycle."
The pandemic isn't the only reason people are fleeing urban areas, Emmer said. He's seen some buyers fleeing larger cities due to recent social unrest and a perceived increase in danger.
"If you're coming from a high-density area with riots, looting and elevated levels of crime, being in a less dense area makes a lot more sense," Emmer said.
---
Where they're coming from
Local realtors said they have worked with buyers from all corners of the country since June, including Chicago, Florida, Dallas and New York. Sanborn, a realtor with Engel & Völkers Sun Valley, estimated that 70 percent of his clients in recent months have come from the West coast—but he's seen a higher share than usual hailing from the Midwest and the East.
Many of the new buyers he has worked with have been seasonal visitors in the past, Sanborn said—something that's not unusual in Sun Valley real estate.
"A lot of these people have vacationed here before and were already planning on [relocating] within a five-year timeframe," Sanborn said. "But with the virus, possible shutdowns and people being told to work remotely, they just kind of sped up the process."
Some clients have opted to rent for a year before making a decision whether to buy, Emmer said.
"It's the thought that 'We've always wanted to spend a year here, so we might as well come up to this mountain town, make it our primary home and enjoy ourselves, then reassess with the family after a year if we want to [stay],'" he said.
Not all buyers are new to the valley. The pandemic has also seen locals upsizing from condos to larger, single-family homes away from city centers, Sanborn said—a departure from a local trend in downsizing over the past five years, when residents were more interested in moving into downtown condos than large homes in the countryside.
"I think when people first got locked down, some realized they wanted something bigger to quarantine together as a family, with more office space," Sanborn said.
---
Rentals in demand
A growing number of people seeking the fresh air and recreational opportunities of a mountain town mid-pandemic has meant growing demand for long-term rentals, too, according to property manager Brian Emerick, president of Ketchum-based Mountain Lifestyle Property Services.
"With COVID, we didn't know if we were going to head into a deep recession and have a lot of vacant [long-term] property on the market," Emerick said. "Indeed, the exact opposite happened, with a greater demand than I've ever seen."
Week-long vacations became extended, multi-month stays, which became plans to stay for a year, Emerick said.
"I saw the highest level of seasonal renters that I've ever seen in my 30-plus years in the valley this summer," he said. "But we had an even more significant uptick in people looking for long-term leases, whether they intended to stay for six months or a year or more."
To accommodate the demand, a number of property owners who previously focused on vacation rentals began offering seasonal and long-term rentals, Emerick said. Data compiled by Sun Valley Economic Development shows a decrease in short-term rental listings, between last summer and this summer, especially in Ketchum and Sun Valley. In August 2019, there were 419 short-term rentals available in Sun Valley; this past August, there were 293 listings.
"The long-term rental market has been tightening up every year for the last five years or so," Emerick said. "Every year it's gotten tighter and tighter with more people trying to move here."
---
Rents may be on the rise
While there's less data available to show changes in rental prices over the course of the pandemic, some anecdotal data suggests that rental prices, like home prices, are on the rise.
In some cases, Emerick said, rent increases over the past six months have been as steep as 30 to 50 percent.  
"You have $2,000-per-month condos in Ketchum now worth $3,000," Emerick said. "And the situation is the same across the board, from Bellevue to Sun Valley."
Nathan Harvill, executive director of the Blaine County Housing Authority, said he hadn't noticed a significant spike in rent prices in his analysis of Idaho Mountain Express classified ads since the start of the pandemic. But Harvill said he had also heard several anecdotes of tenants facing raised rents in recent months.
"It's getting to the point where locals [across the Wood River Valley] are needing to work three to four jobs and work 70 hours a week to make their rent," Emerick said. "This has accelerated in the last few months."
Meanwhile, some long-term renters have been pushed out of their homes when landlords, seeing an opportunity to make a profit off the home sale in the pandemic real estate rush, have decided to sell, according to Burns.
"If somebody can sell their property that they've held and make as much money as they possibly can, they're sort of obligated in their own self-interest," Burns said. "But it's really difficult because there are people that are being priced out, that are getting kicked out because their rental is sold. Then, where are they going to go?"
Emmer agreed that inflated rental prices are a "barrier" to many. For his part, though, he welcomes the affluent new arrivals.
"This is a diverse group of people with everything from infants to teenagers, bringing their jobs and, accordingly, incomes with them, who will be investing and spending that money in our community year-round," Emmer said. "They're people here by choice. How awesome is that?"
---
South Valley feels push
While much of the pandemic housing rush has been concentrated in the north valley, growth doesn't happen in a vacuum—and, if housing costs continue to rise, Hailey and Bellevue could become increasingly unaffordable for the valley's working class.
If rents continue to climb, Emerick predicts, people will "100 percent, absolutely" be pushed further south.  
"We're not just talking about service industry employees," Emerick said. "It's police officers, nurses and schoolteachers."
In Bellevue, the valley's southernmost city, the demand for real estate—and sale prices—hasn't increased as dramatically as in Ketchum, Sun Valley and Hailey. Still, land sales in Bellevue been "very, very robust," said Burns, the city's mayor.
If current trends continue, he foresees a crunch in the south valley's housing supply coming soon.  
"I think it's going to put even further pressure on those current locals who are struggling to stay in a home or stay in a rental," Burns said. "It's going to make it even harder than it already is."
---
'A lot of unknowns'
For some Blaine County residents at the lower end of the income spectrum, the decision to stay in or leave the Wood River Valley may depend on the availability of service jobs in the months and years ahead. Griffith and other close observers of the local economy have predicted that the pandemic will have a long-lasting impact on Blaine County's economy and its businesses.
"The challenge is now, as we move into slack season and as hours are perhaps cut even further, will those people at the lower end of the demographic spectrum be able to hang on?" Griffith said.
Others who have experienced financial struggle during the pandemic may find themselves facing eviction—and debt—when a federal moratorium on evictions, announced by the Trump administration last month, expires at the end of the year.
"I can see storm clouds on the horizon as far as January is concerned," Harvill said, adding that individual outcomes will likely depend largely on landlord-tenant relationships.
The Blaine County Housing Authority—in cooperation with the Blaine County Charitable Fund—has been working since the start of the pandemic to provide some funds to those who find themselves unable to pay the bills, and will continue to do so, Harvill said. But longer-term affordable housing solutions will also be needed.  
"There's a lot of unknowns, a lot of different roads that this could diverge down," Harvill said. "Our hope is that we can bring people together and identify some reality-based solutions to help people remain housed, or find housing more appropriate for them, and not injure landlords or the economy, either."
---
Next steps
Maintaining a sufficient supply of affordable housing in the Wood River Valley will demand just that: a greater supply, Burns and Griffith said.
Ketchum Mayor Neil Bradshaw told the Mountain Express that affordable and workforce housing "remains a priority for [his] administration," especially in light of the real estate boom.
"It continues to be a challenge, but we need to support our businesses and our service workers by providing more affordable and workforce housing to our community," Bradshaw said. "This remains a priority of mine and no more so than now, with an increase in home prices."
Going forward, Bradshaw said, "We want to preserve what makes Ketchum special"—specifically, he said, the town's connection to nature and the environment—"and welcome those that embrace the values of small-town mountain life."
Exactly how long the Wood River Valley will continue to see the current flood of newcomers seeking small-town mountain life is anybody's guess. Gray rejects the term "spike" to describe the phenomenon that's taken place in recent months: "A spike is sharp and it ends up falling just as sharply," he explained. "And I don't believe that that is going to happen for a while."
Griffith describes the current growth as "the first wave" of pandemic transplants and second-home buyers. If a second wave follows—"another group that's maybe not as wealthy, more middle- to upper-middle-class Americans, who have made the same decisions but took a little more time to put their plans in place"—having a healthy supply of affordable housing will become even more crucial, he believes.  
"It's not all good, and it's not all bad," Griffith said of the renewed interest in the valley. "But change always gives you an opportunity to do something better. And I think if we're smart, our community can come out stronger on the backside."