Blaine County is considered by numerous residents to be a unique place, where one can enjoy many of the amenities of well-to-do cities in a remote setting of sagebrush-covered hills, forested mountains, glistening lakes and a world-class ski area. It's a place that visitors travel hundreds or thousands of miles to in pursuit of recreation and relaxation on the edge of the Idaho wilderness. It's a place where retirees and second-home owners cherish the ability to hike in solitude among rugged peaks in the afternoon and delight in a dinner of fine French or Tuscan cuisine in the evening.
However, at the same time, Blaine County is home to a diverse, evolving permanent population estimated at nearly 24,000 residents. While the county has an established upper class, its population includes thousands of men and women who work to make the economic engine churn, to cook that French and Tuscan cuisine, to work the lifts at the ski area, to teach the children, and to work hundreds of other jobs that support the service industry and the economy at large.
Although Blaine County carries a reputation for being an enclave of wealth and privilege, recent economic data indicates the middle class is shrinking and the lower-income sector of the population has been increasing since 2010. Data also shows that the county faces other challenges, too. There are fewer young, working-age people living in the county, posing a substantial challenge in keeping that economic engine running.
So, who are we, this relatively small population of people who live in the shadow of the Smoky, Pioneer and Boulder mountains? While every resident of the county has his or her own collection of stories, data compiled by the nonprofit organization Sun Valley Economic Development provides some quick answers.
---
Population & Age
Blaine County's population is growing, but not as quickly as it did in the past, data from the American Community Survey indicates. The rate of population growth in the county has been slowing since 2000, with the average growth rate since 2010 standing at .9 percent a year, according to data compiled by Sun Valley Economic Development. Since 2000, the county has been adding an average of 448 new residents per year, the organization stated in an analysis of the latest data. The growth rate below 1 percent "is not desirable or sustainable and is a major barrier to diversifying our economy," SVED stated.
In 1970, the county's population was 5,749. It quickly grew to 9,841 by 1980 and 13,552 by 1990. It continued to rise at a high rate until 2000, when it was calculated at 18,991. It stood at 21,376 in 2010 and is estimated at 23,921 in 2020 (see Demographics Fig. A).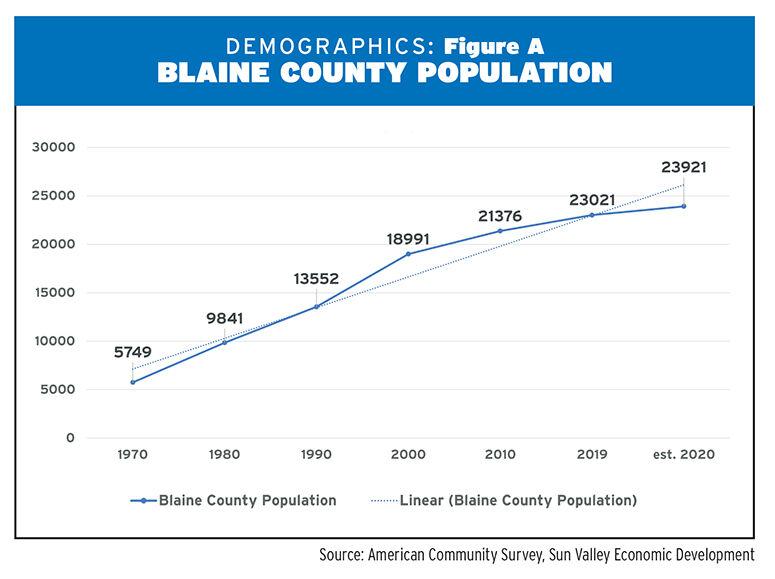 As the growth rate has slowed, the county's population has gotten older, with the percentage of residents 55 and older rising from 18 percent in 2000 to 33 percent in 2019. At the same time, the percentage of residents in the prime working-age group of 35-54 has decreased from 36 percent of the population in 2000 to just 27 percent of the population now (see Demographics Fig. B).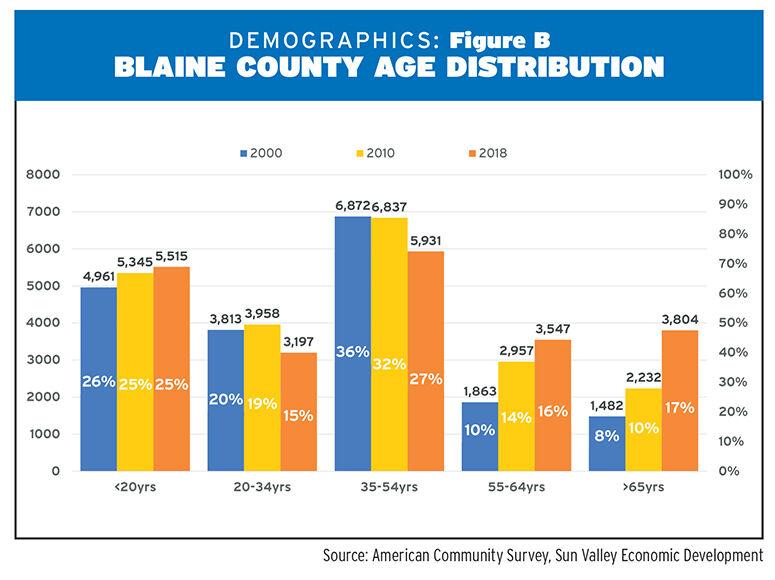 "The 21-34 group is our main source for service workers who eventually establish themselves and move to professional-level employment, and the low percentage of the population in this age cohort is an economic drag," SVED stated.
In 2018, Hailey had the highest population of the county's five incorporated cities, with 8,259 residents. The largest age group in Hailey was of residents under the age of 20 (2,679 residents), followed by the category of those aged 35-54 (2,356 residents) and the 55-64 age group (1,471 residents). Ketchum had the second highest population of the cities, with 2,761 residents in 2018. In Ketchum, the largest age group was of residents ages 35-54 (766 residents), followed by the 20-34 age group (630 residents), and the 65-plus age group (579 residents). Bellevue had a population of 2,715 residents in 2018, with 677 residents in the 20-and-lower age group, 672 residents in the 35-54 age group, and 563 in the 20-34 age bracket. Sun Valley had 1,445 residents in 2018, with the older age group of 65-plus being the largest sector (547 residents), followed by the 20-34 age group (364 residents) and those ages 55-64 (222 residents). Carey had 714 residents, with a balanced population of 212 in the sub-20 age group, 672 in the 35-54 age group and 563 in the 20-34 age bracket.
Sun Valley had the oldest median age in 2018, calculated at 57.3, while Bellevue's median age is growing faster than in the other cities. It stood at 39.1 in 2018. Ketchum's median age has decreased since 2015, from 51.4 to 46, while Hailey's median age has remained stable, at just over 37. Carey's median age dropped from 38.1 in 2015 to 29.3 in 2018.
---
Race & Ethnicity
Blaine County is still predominantly white, especially in the northern Wood River Valley and unincorporated areas, but with a growing Latino population, according to American Community Survey data. In fact, without the growth in the Latino community, the county's population would be decreasing (see Demographics Fig. E).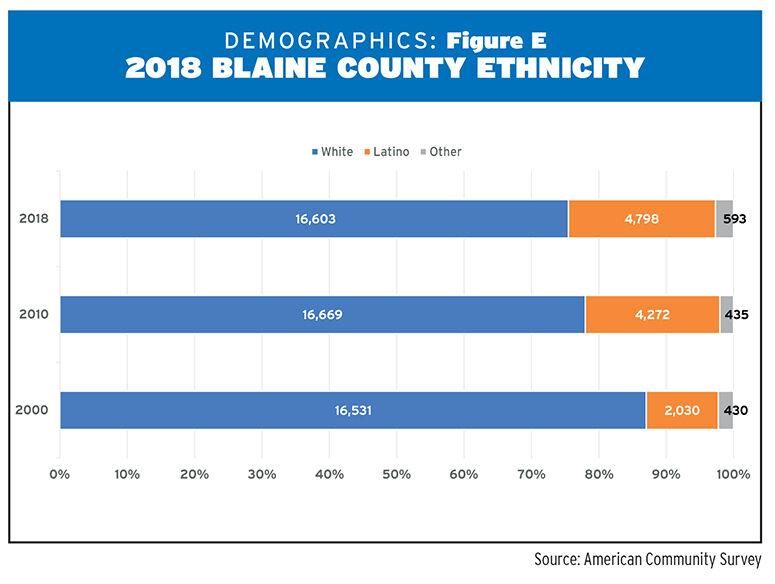 In 2000, when the total county population was 18,991, Latinos made up 10.7 percent. In 2010, when the population was 21,376, that percentage had risen to 20 percent. By 2018, when the population was 21,994, the Latino population had risen to 21.8 percent. Meanwhile, the white population made up just over 75 percent of the total in 2018. Other ethnicities made up about 3 percent. 
The highest percentage of Latino residents was in Hailey, at 34 percent, followed by Bellevue, at about 27 percent. In Hailey, the total non-white population in 2018 was 37 percent. Correspondingly, Hailey and Bellevue had the lowest percentages of white people, at about 63 percent in Hailey and slightly higher in Bellevue, at 67 percent. The fewest Latinos live in Sun Valley, which is predominantly white. Almost 94 percent of Sun Valley residents were white in 2018, while Ketchum's population was recorded at just over 88 percent white.
---
Household Income
Blaine County does have considerable wealth, but, contrary to its glitzy image, many families in the county are facing difficulties in making financial ends meet. 
The number and percentage of households in the county earning less than $25,000 a year—the established poverty level for a family of four—decreased from 2000 to 2010, but has been increasing since then, according to data from the American Community Survey. While the number and percentage of households earning between $25,000 and $50,000 is essentially stable, households in the middle class—those earning between $50,000 and $100,000 per year—are decreasing. The county had 3,345 middle class households in 2000, and only 2,492 such households in 2018. Households in the upper-income range—those earning more than $100,000—increased from 2000 to 2010, but the number has been decreasing in the last eight years. Still, that category has posted a net gain since 2000, with an addition of 444 such households.
"The increase in upper class households is surely a positive point in our income data," Sun Valley Economic Development stated. "However, the gains in the upper class have come at the expense of Blaine County's middle class."
Part of the challenge for the middle class, SVED stated in an analysis of the data, is a lack of housing those residents can afford.
"If Blaine County wants to keep and build its middle class and middle class jobs, it needs to find a way to build and support middle class housing," the organization concluded. "It should not be a mystery as to why our middle class is shrinking."
David Patrie, outreach director for SVED, noted that specific types of housing are needed in Blaine County to properly support its economy.
"The availability of large, expensive homes attracts the wealthy," he said. "If we want middle class professional families, we need middle class, single-family homes. If we want to attract more 20-somethings, we need more well-appointed and located rental [units]. The bottom line is that we won't get a diversified population without a diversified housing stock."
The median income in the county has dropped considerably since 2010—long before the economy had recovered from the Great Recession—and has increased only slightly since 2000 (see Demographics Fig. D, Page 6). The county's median income was $50,496 in 2000, increased to $61,854 in 2010, and dropped to $51,968 by 2018, American Community Survey numbers indicate. At $69,107, Ketchum had the highest median income among the county's five incorporated cities in 2018, followed by Bellevue, at $62,689. At $47,288, Hailey's median income in 2018 dropped from its 2010 figure of $59,148. Sun Valley's median income also dropped in the last eight years, from $53,073 in 2010 to $51,094 in 2018.
"On average, Blaine County household incomes are not benefiting from economic gains in the county," Sun Valley Economic Development stated. "They are either consolidated in a few households or being exported to other areas."