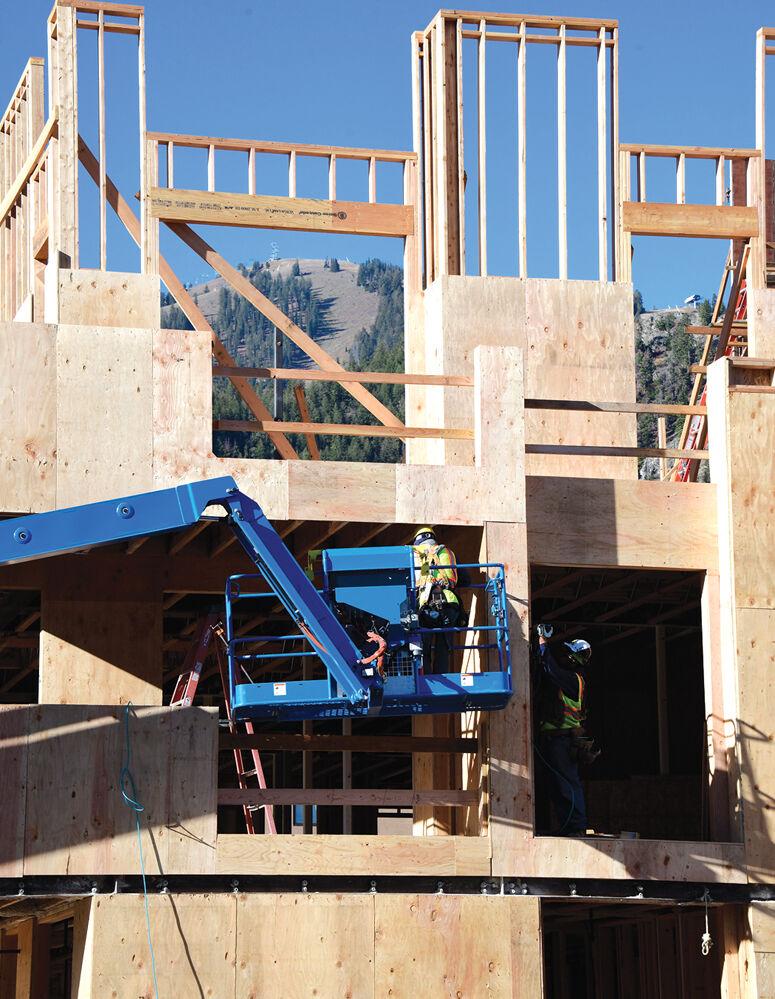 As with virtually every other business across the nation, one cannot think about Blaine County real estate over the past 18 months without factoring in the COVID-19 pandemic. Are its impacts temporary? Or, are people permanently re-thinking their life decisions, favoring more remote living and working than ever before? Has demand been pulled forward by the race to live out the pandemic in a beautiful, open place? Or, have people realized that they no longer need to live in constrained urban environments?
While we will only know the answer to these questions with hindsight, studying the recent real estate data trends could help us predict some of what's to come, making us better prepared to plan, react and govern.
Blaine County saw a dramatic uptick in real estate sales activity after the initial surge of the pandemic prompted shutdowns in early 2020. Despite comparatively very few transactions in April and May of 2020, year-end sales exceeded $1.1 billion for all types of real estate in Blaine County and $925 million for residential properties, compared to $585 million and $507 million, respectively, in 2019 (Figure 13).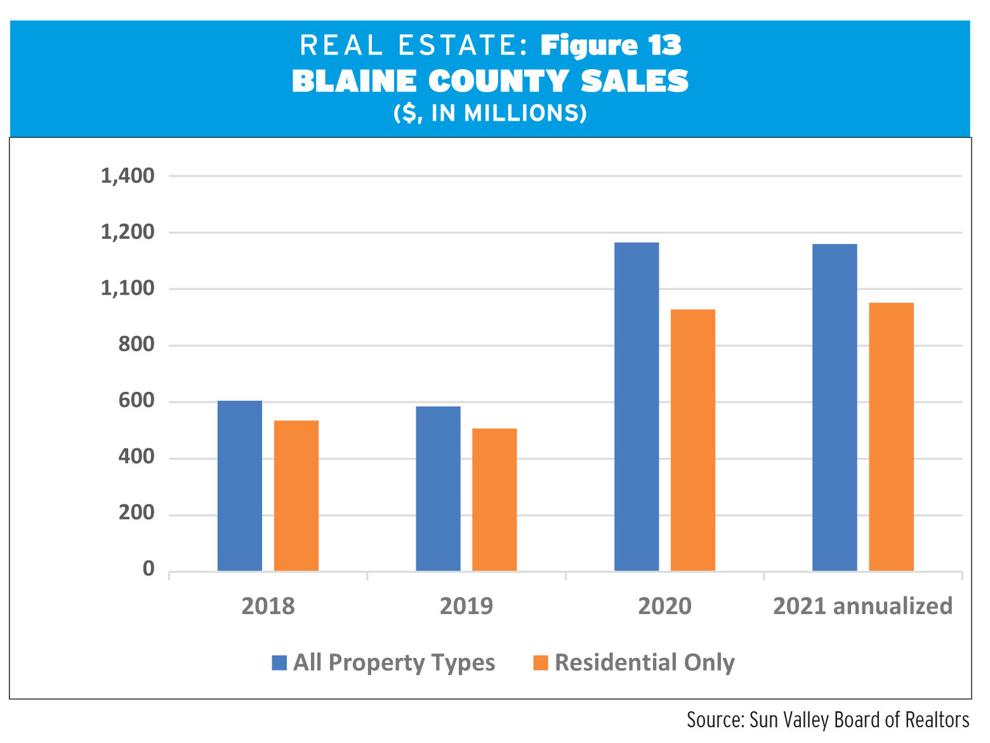 Did these trends continue into 2021? Absolutely yes, with annualized 2021 sales for all types of real estate again exceeding $1.1 billion and annualized 2021 residential-only sales topping $951 million.
Countywide, median home prices surged past what historical trends would have anticipated. Prices rose by more than 38% from 2019 to 2020, and more than 58% from 2019 to 2021. During our last full pre-pandemic year, from 2018 to 2019, median prices rose only 9% (Figure 14).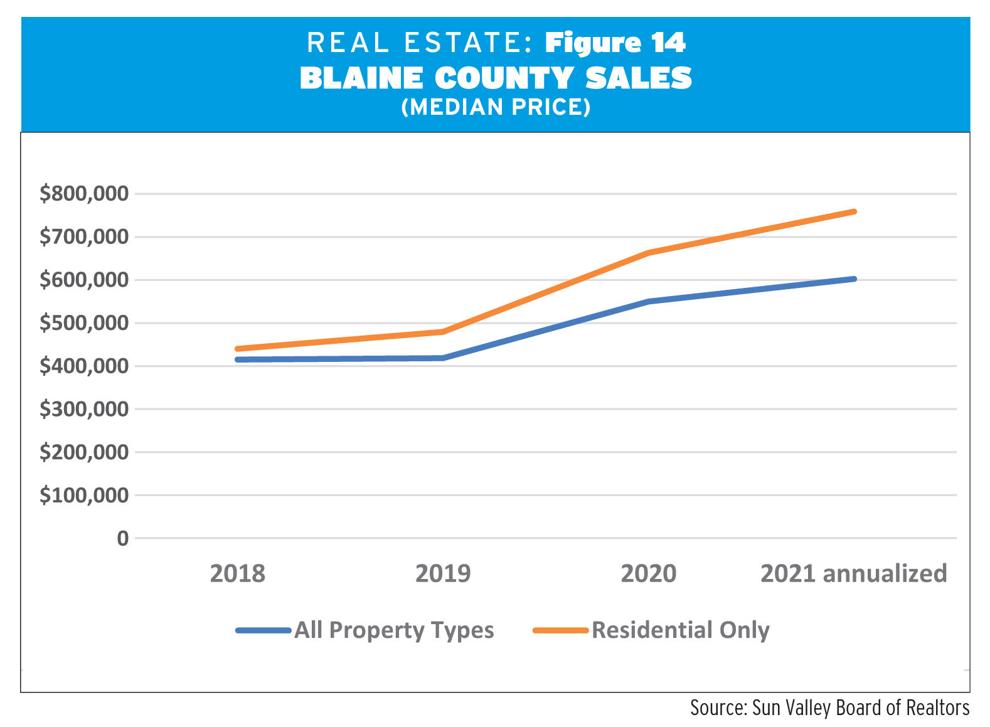 These trends show surging demand. In the future, though, they will likely be mitigated to some degree by lack of supply. Similar again to businesses across the country, lack of supply—in our case, of vacant land zoned for residential building, of building materials and of skilled labor—could dramatically impact our ability to create homes quickly enough to supply both the workforce or middle-income housing market and the second-home market.
The rapid escalation of median home prices in 2020 and 2021 indicates that much of the post-pandemic sales activity has occurred at the more expensive end of our market. Yet, we anticipate our future housing supply to grow most in areas of Hailey and Bellevue, where approved large-scale annexations and subdivisions have traditionally produced middle-income and workforce housing. Will elevated demand force all buyers to consider what used to be deemed "middle market" opportunities, thereby driving those prices higher? Will the buyer profile stay the same, with prospective homeowners waiting longer for new, more expensive construction rather than dipping into the middle-income stock? Or will those buyers simply move on to a better supplied marketplace, causing ours to trend back toward the levels we saw before the pandemic? Unfortunately for private sector businesses, planners and elected officials, there does not seem to be a clear answer available to us right now.
Along with the increase in real estate activity, as is also playing out across the country, we have seen an increased concern over the shortage of labor and rental housing that is affordable to our workforce. Housing availability for our workforce—or, rather, the lack of it—has reduced hours for some of our retail and restaurant businesses. Some of the amenities that we desire can't provide the services we expect. Emergency service workers, health-care workers and teachers, among other important groups, cannot find acceptable housing in sufficient supply.
These concerns and realities long predate our recent increase in real estate activity. One silver lining of the recent trends is that they have shone a brighter light on the workforce housing supply problem. We now have an amplified willingness by the broader community to participate in solutions by investing in workforce housing projects, actively supporting candidates for office who have a solid plan for future workforce housing development, or simply allocating a portion of their philanthropic efforts to housing. All support in this area must be welcome.
If we are successful locally and as a nation in defeating COVID-19—or, at least, materially curbing its impacts—we should have a much better idea over the next year whether the real estate trends of 2020 and 2021 are the new normal in Blaine County or are a generational outlier. Regardless, efforts to provide more for-sale housing and long-term rental opportunities for our middle- and low-income residents are crucial to the economic wellbeing of our Blaine County communities and worthy of support by our residents and second-home owners alike.
---
Robert Crosby is the government affairs director for the Sun Valley Board of REALTORS.