Blaine County's gross domestic product surpassed its mid 2000s heights in 2017 and 2018, fulfilling an eight-year rise out of the pit caused by the Great Recession. Now, though, the coronavirus pandemic threatens that upward march—though it won't be clear for some time how COVID-19 will reshape the region.
Buoyed by tourism, the local economy grew by 2.27 percent per year during the eight years from 2011 through 2018, according to the most recent available data from Sun Valley Economic Development (see GDP Fig. A). In all, it amounts to a 28 percent increase in GDP from the economy's lowest point, led by a subset of the tourism industry that includes aspects of real estate, rental accommodation and food sectors.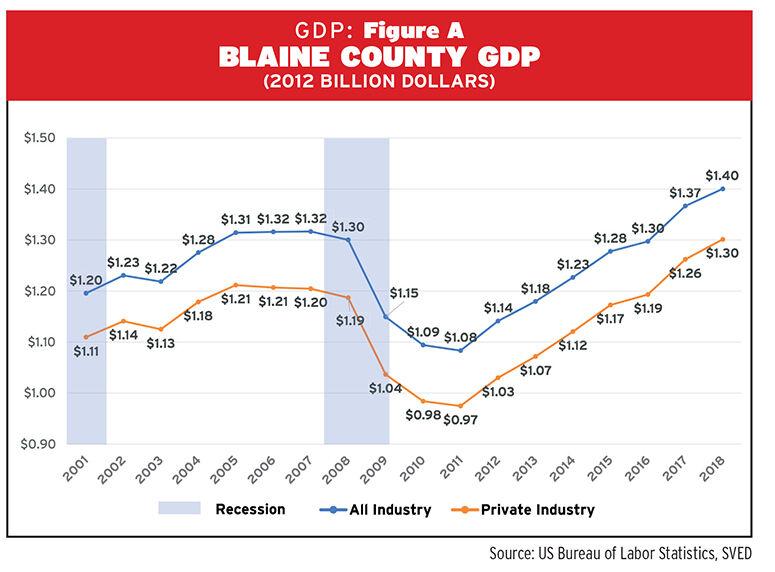 The pandemic has already shifted the economy in unexpected ways, driving a surge in demand for housing and outdoor recreation while bringing sharp declines to other sectors. COVID-19 could also be reshaping the overall economy in the long-term.
"The economy was very solid prior to the COVID crisis," said Mike McKenna, executive director of the Chamber of Hailey and the Wood River Valley. "Since things opened back up late in the spring, it's really been a story of two sectors: Many businesses have thrived, while others have really struggled and their futures are in doubt."
One in four Blaine County jobs are in the leisure and hospitality sector, according to 2019 data from the Bureau of Economic Analysis compiled by the Idaho Department of Labor—and that doesn't include other tourism-driven industries, like retail, construction or related services. Tourism was king in 2018, generating almost two thirds of the Blaine County economy (see GDP Fig. B). According to a Sun Valley Economic Development analysis, this sector includes a web of interrelated industries, such as construction, wholesale and retail trade, recreation, real estate and accommodation. Some of those areas appear to have taken a hit this year. Overall local-option tax revenue—an indicator of tourism spending—was down 14 percent in fiscal year 2020.
SVED Outreach Director David Patrie said despite the coronavirus, local stores have seen an unexpected increase in customers over the last few months.
"We have seen real estate demand rise, but also many other retail companies across the board," Patrie said. "Good-to-record retail business has been reported throughout the summer."
McKenna said numerous retailers have reported they were up over the summer and that fall has started strong because of all the newcomers in town.
"Lots of retailers are reporting that between 40-60 percent of their business recently has been to unfamiliar faces," McKenna said. "Businesses that sell things that can be used for home projects or entertainment have also been doing well. Restaurants and bars, especially those who aren't set up well for take-out or outdoor dining, have really struggled."
Scott Fortner—executive director of Visit Sun Valley, a destination marketing organization that promotes the Wood River Valley to the outside world—said the most striking feature of the age of COVID-19 has been a big drop in public and private events, including corporate conferences like Allen and Company, weddings, nonprofit fundraisers and seasonal festivals like Trailing of the Sheep.
Fortner said despite this loss, the local economy has proven resilient. (Ketchum showed an overall drop of 5.45 percent in LOT receipts, still bringing in $2,515,292 for public services.)
"Given everything that's happened, I would take that," Fortner said. "It was a lot worse across the county as a whole in 2009 and 2010."
Not every sector of the tourism economy dodged the bullet, however. Ketchum's retail LOT receipts in March and April were down approximately 31 percent and 48 percent, respectively, compared to 2019. Retail edged up to a 9 percent drop in August. LOT receipts in Ketchum from hotel room bills were down almost 47 percent in August from the previous year, compared to 55 percent and 37 percent in June and July, respectively. For the fiscal year, the category was down 20.53 percent. The liquor-by-the-drink sales category showed a similar trend in recovery since March and tallied an annual drop of about 18 percent from the previous year.
Hailey's LOT, which has become a significant source of funding in recent years, dropped 23 percent from last year, but much of that had to do with May 2019 payments for 17 months of AirBnB rentals, which skewed the short-term lodging metric substantially. Sun Valley's LOT was down 26 percent for fiscal 2020.
As the economy rebounds, McKenna said some employers are struggling to hire service-level employees.
"With our traditional feeder markets for these employees—Twin Falls and our southerly neighbors—growing and increasing wages, it's tougher to supplement the local workforce in this category. The loss of J-1, or international exchange employees [traditionally employed by the Sun Valley Resort] this winter will further exacerbate this challenge."
On the positive side, condominium rentals in Ketchum surged after an initial shock, to a rise of about 4 percent for fiscal year 2020, according to the most recent data from the city. Those figures were up nearly 25 percent in August. Collections from sales of building materials were also up 10 percent for the fiscal year, showing increases in every month except April, May and June.
Fortner attributes the solid numbers around condo rentals and construction to the promotion of "quality of life" in the Sun Valley area. He said people came in droves and booked vacation homes for the entire summer and brought friends. Second homeowners seem to have come and stayed also.
"A lot of people have come this summer and stayed way longer than we anticipated," Fortner said. "It's too soon to tell if this is a permanent situation but it is telling that people have chosen this location to weather the storm."
Fortner added that confirmed winter rentals for 2020-2021 are "way off" from last year, and that people seem to be waiting until the last minute to decide where to go and when.
"They haven't planned their Christmas or Spring Break vacations yet," he said.
Since the COVID-19 pandemic struck in March, the outdoor gear and apparel industry has surged, with shortages in stock resulting from legions of road trippers looking for something to do in the great outdoors. Blaine County and some local businesses seem particularly well suited to meet this demand.
"We have experienced a substantial increase in business," said Mike Herlinger, founder and CEO of cycling apparel company Club Ride in Hailey. The company designs and sells clothing across the U.S. and in eight foreign countries. "The biking category has exploded. There is a new user group nationally. Cycling is now seen as an outlet for being stuck indoors."
Herlinger said Club Ride's success is part of a surge in the outdoor industry that reaches across the board from recreation vehicles to paddleboards and fly fishing.
"Anything to do with being outside and away from massive amounts of people," he said.
Manufacturing in India and China has posed a problem, however, due to supply chain disruptions.    
"Those countries were affected harshly and they are struggling to get back online," Herlinger said. "Keeping our inventory supplied is our biggest issue right now.
As the full impacts of COVID-19 continue to develop, Patrie said some long-term changes to the economy could occur, especially with regard to people working from home and relocating to the valley to do so. He said there could be increased demand for broadband access, electricity usage and even trailhead parking. It could also contribute to the ongoing loss of long-term rentals for the local workforce.
"We haven't addressed the long-term effects of this and are not sure if it is permanent," Patrie said.