The COVID-19 pandemic hit Blaine County hard soon after it struck in the winter of 2020. Early on, the county was a coronavirus hotspot, thrown into the national spotlight as the remote place in Idaho where the disease was afflicting numerous residents and visitors alike.
Before long, people were told to wear protective masks and stay away from others. Sun Valley Resort closed the ski season early, like many U.S. mountain resorts. Restaurants and other businesses had to temporarily cease—or significantly scale back—their operations. Travel ground to a halt and hotels were empty. In the spring of 2020, commerce in most major economic sectors was slowed to a trickle, and only picked up marginally in the early summer.
"Clearly, we got whacked in the beginning," said Harry Griffith, executive director of the Sun Valley Economic Development nonprofit organization.
Now, some 18 months later, the Blaine County economy has substantially recovered, but still shows some "pockets of weakness," Griffith said.
"I think we've done well," he said. "I think the positives kind of outweigh the negatives."
In addition, Griffith noted, the county's economy has undergone some "structural changes," some of which have benefited businesses and residents.
The degree of the pandemic downturn is evident in Griffith's analysis of local-option-tax collections in Hailey, Ketchum and Sun Valley (Figure 3). The three resort cities collect the taxes on a range of goods and services as a state-sanctioned means to offset the economic impacts of hosting a large number of visitors. LOT collections are commonly used as an indicator of economic activity.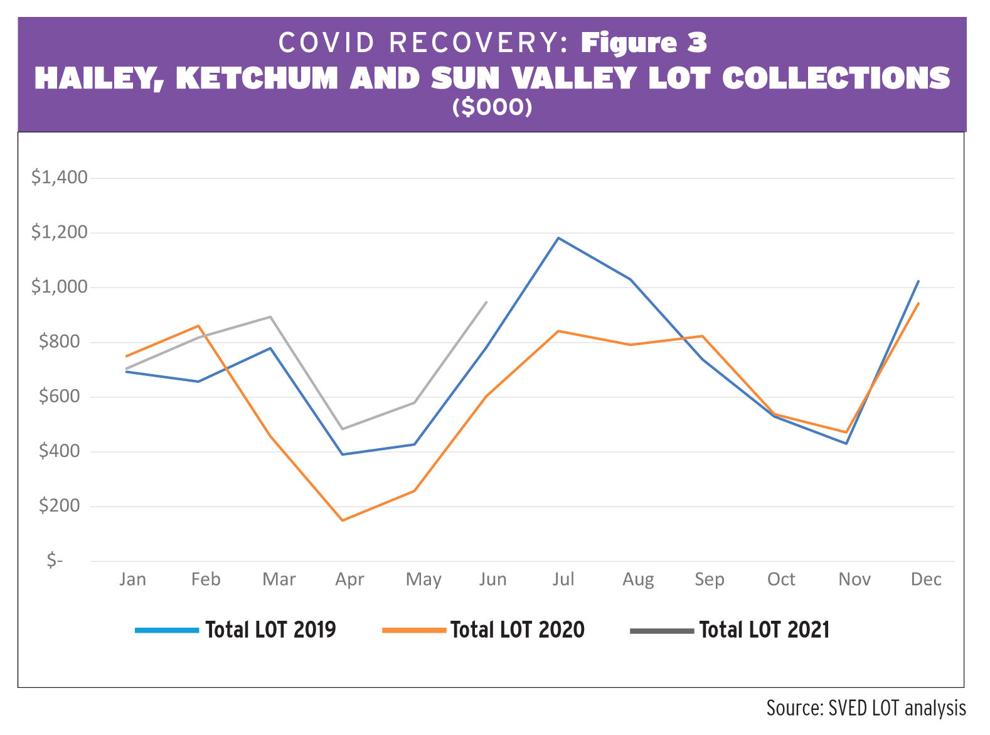 In February 2020, the LOT collections in the three cities had exceeded those in February 2019, standing at more than $800,000. In 2019—considered a solid, non-pandemic baseline year for economic activity—LOT collections that month were less than $700,000. Though LOT collections drop in April after the busy winter tourism season tapers off, they fell below $200,000 in April 2020. In April 2019, they registered at approximately $400,000.
After a below-average summer in 2020, the economy started to recover, with a slightly above-average fall and slightly down winter, the LOT data show. In 2021, LOT collections had fully recovered by March, when COVID-19 vaccines and falling case counts renewed confidence in travel and spending. From March through June 2021, LOT collections were up each month over 2019 figures, and continued to be strong through the summer.
Similar trends of recovery are borne out in data on employment, wages and indicators of commuting and travel. Traffic counts between Hailey and Ketchum—the county's primary commuter corridor—for most months in 2021 have far exceeded 2020 levels, as well as those in 2018 and 2019, data from the Idaho Transportation Department indicates (Figure 4). Traffic counts north of Ketchum spiked in July and August 2020, possibly indicating high numbers of travelers escaping to the mountains after being largely quarantined by the pandemic that spring.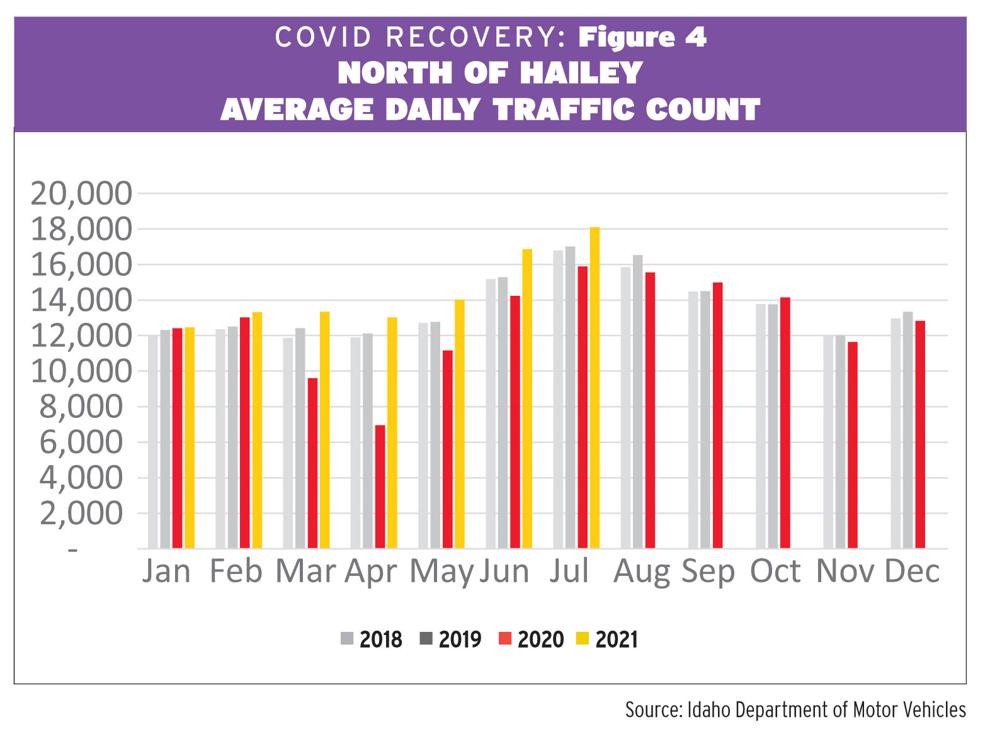 Airplane traffic at Friedman Memorial Airport in Hailey has also recovered, the data shows. Since April, commercial enplanements at the airport have exceeded monthly counts in 2019. The numbers had dropped precipitously after the pandemic hit in 2020. General aviation landings at the airport are also up this year.
One major factor in the recovery, Griffith said, is an influx of COVID-relief money into Blaine County from the federal government. The Coronavirus Aid, Relief and Economic Security Act—known as the CARES Act—enacted in late March 2020 has brought $139 million to Blaine County, a Sun Valley Economic Development analysis determined (Figure 2).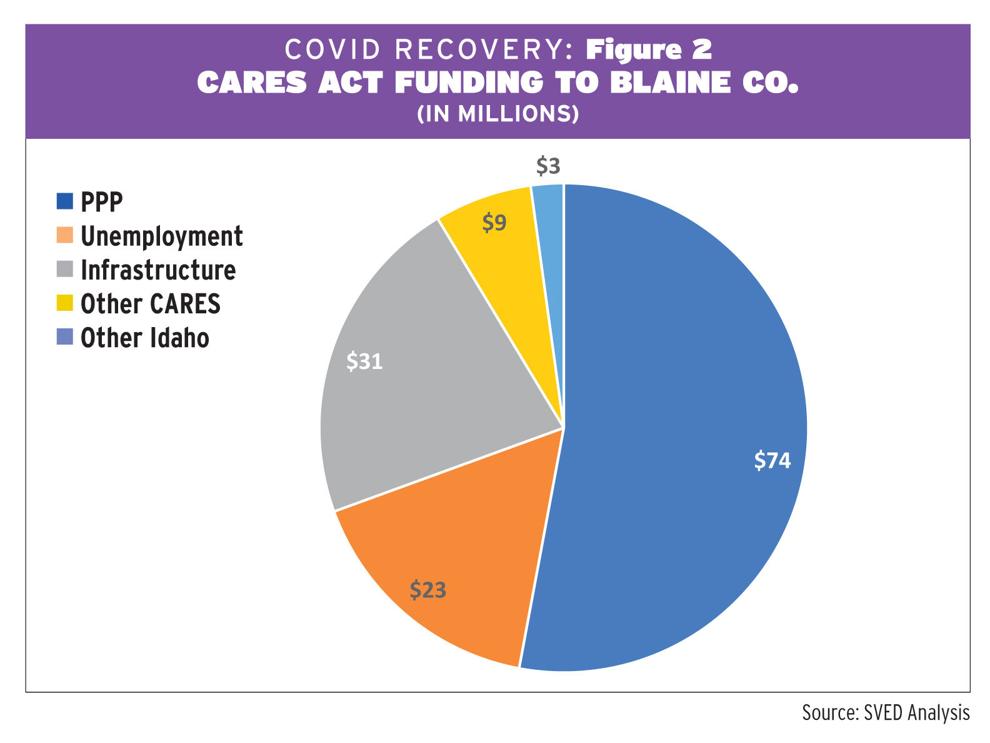 The CARES Act funding brought $74 million to Blaine County through the Paycheck Protection Program, which has provided low-interest loans to businesses to maintain their payrolls and keep their staffs working during the pandemic. If the businesses maintained their staff levels and wages, the loans could be forgiven. Approximately $31 million came through infrastructure grants for things such as broadband projects and funding for the public bus system. Another $23 million came in the form of enhanced unemployment benefits.
The CARES funding—which amounts to about 7% of the county's $2 billion gross domestic product—has now been followed by funding from the American Rescue Plan Act, enacted in March of this year. Through August, that COVID-relief money had brought $39 million to Blaine County (Figure 1). The federal government allocated about $29 million in PPP funding, $6 million in enhanced unemployment payments and $3 million for infrastructure-type projects and programs. Municipalities also received funding.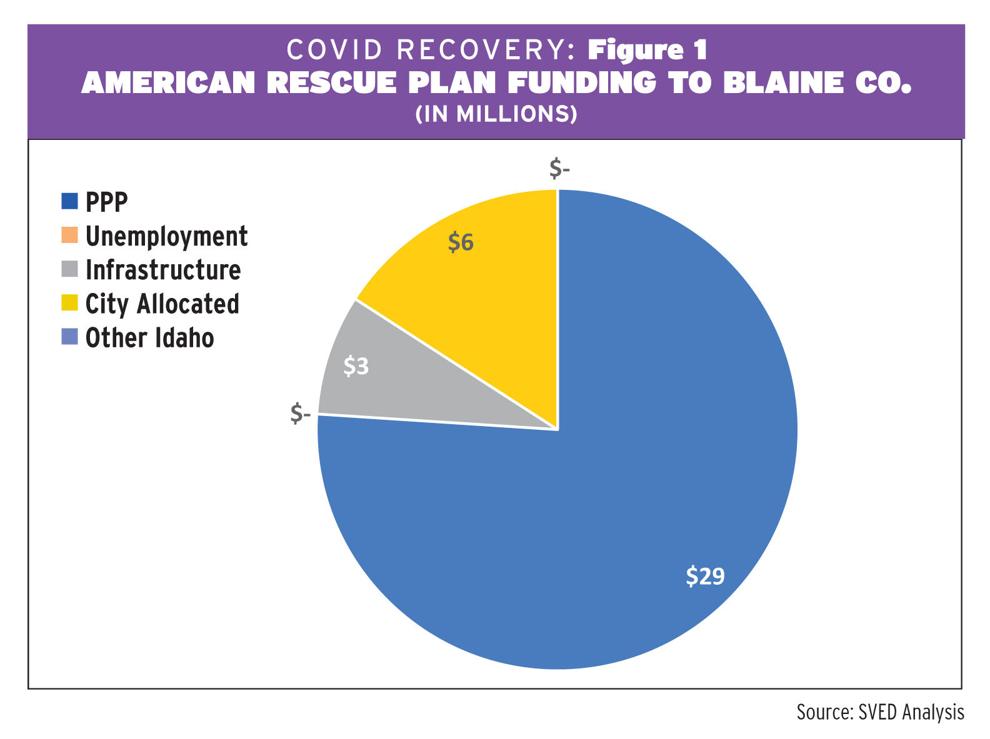 Without the relief funding from the two federal programs, the Blaine County economy would not have recovered to the point it has, Griffith said.
"We would have been in a deep, dark hole," he said.
"Many thousands" of jobs in Blaine County were saved by the PPP funding and kept incomes stable, Griffith said.
"It kept people on payroll," he said.
The "structural changes" in the economy identified by Griffith have influenced the recovery, he said. The pandemic has brought many new residents to Blaine County, some of them working remotely, and second-home owners are spending more time in the region, he said. At the same time, some residents have left—in part because of a shortage of affordable housing—and there is a major shortage of workers, he noted. Also, with high numbers of visitors returning, second-home owners spending more time in their second homes and new residents settling in, the so-called "slack" seasons of spring and fall have been busier than normal.
The changes have boosted some sectors of the economy but—with the effects of the pandemic—have hurt others, Griffith said. The new residents have helped fuel a boom in the real-estate industry, which set a record for sales in 2020. They have also pushed high demand in the construction industry and associated trades, which in turn are having trouble meeting that demand. If a landowner wants to build a luxury home in Blaine County, they will likely have to wait until 2024, Griffith said.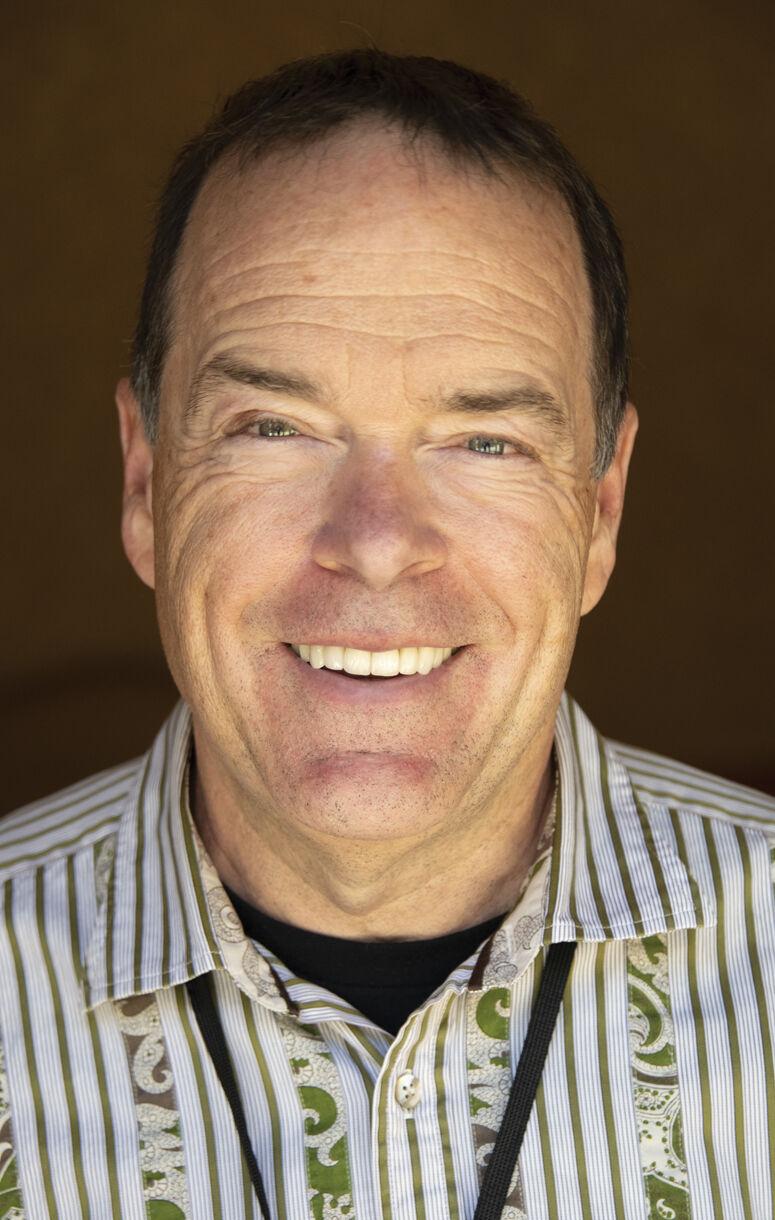 "That sector has come back like a freight train," he said.
Occupancy levels at lodging properties last summer were the highest on record, Griffith said.
Meanwhile, there are some downsides in the recovery. The gap between the haves and the have-nots has increased, putting Blaine County near the top of the list of places with the greatest income inequality, Griffith said. It took some extra time for the lodging, hospitality and restaurant sector to rebound, compared to others, he noted, and the restaurant industry continues to endure stress.
"In general, the restaurant industry has kind of gotten the worst of it," Griffith said.
In the Wood River Valley, 13 restaurants have recently closed permanently, announced their closing or are risk of shutting down, Griffith said. That is "a pretty large number," he said, and higher than the average rate of closures. The restaurant industry has been significantly impacted by the broader worker shortage, Griffith said, causing reductions in operating days and operating hours, menu cutbacks and stress on staff.
Yet, there are exceptions. Despite staffing challenges, some restaurants reported above-average business last summer.
Though some sectors are still recovering, the outlook for the Blaine County economy is good overall, Griffith said. More federal funding is likely to come. Events put on hold by the pandemic are starting to be held again. New residents are spending money and will likely bring new visitors of their own. New commercial investors have discovered opportunities in the Wood River Valley and new development projects—including a hotel and affordable-housing project in Ketchum—are "stacking up," Griffith said.
"We're going to be seeing a lot of cranes," he said.
Adding to the positive outlook are strong hotel bookings for December and January, Griffith said.
At the same time, Sun Valley Resort has rebounded well, Griffith said. Sales of the multi-resort Epic Pass—which Sun Valley is a partner in—have hit a record number this year. Last year, Sun Valley sold a record number of mountain passes and had a record-high skier count last winter, Griffith said.
"I don't see any reason why this year wouldn't be on par," he said.