---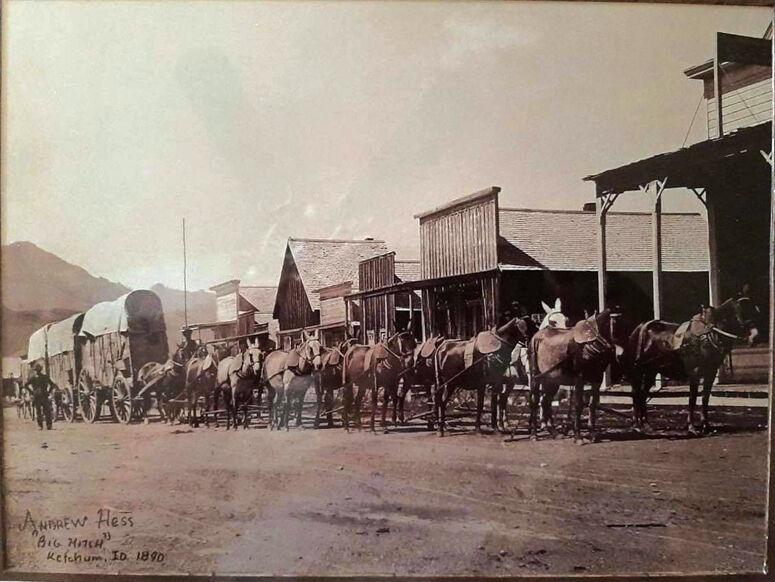 Every year, sights and sounds at the Big Hitch Parade—from bonnet-covered wagons to the sloshing of bells on mule teams—help visitors and locals imagine life during the Wood River Valley's early days as a mining stronghold.
What may not be evident from the sidelines this weekend are the hundreds of hours that have gone into making sure each wagon, cart and stagecoach is ready to roll without a hitch.
Read on to learn about two new wagon entries this year, their caretakers and their stories.
---
Restored 1908 Winona Wagon
Owned by Pete McGarry of Hamer, Idaho
Pete McGarry—a retired rancher, three-term county assessor and advocate for soil and water conservation—has been passionate about wagon restoration ever since he was a child.
"I became interested in it when I was big enough to start driving a horse," said McGarry, 82.
That was around the time he learned to walk. Growing up on the family ranch in rural Kilgore, Idaho, near the Montana border, McGarry restored his first buggy as a teenager.
One of his recent accomplishments has been refurbishing a Winona Mountain Wagon dating to 1908. The three-seater, which he describes as "in the stagecoach family," was owned by Yellowstone National Park and used in the early 20th century to ferry tourists from the train station in West Yellowstone to their hotels. It also took park visitors on rough mountain roads out into the country, "but those were short trips," McGarry said.
When he bought the wagon a few years ago, it was "pretty deteriorated, you could say," he said.
"I rebuilt the whole thing slowly—a little here, a little there, when I found the time," he said. "I replaced all the bad seats, took out the woodwork and running gear underneath and took the wheels up to a friend in Livingston, Montana, to be rebuilt."
McGarry debuted the newly restored three-seater this summer at the two rodeos and parades in Jefferson and Clark counties, pulling the grand marshals in the two back seats.
This weekend, the wagon will be pulled this year by McGarry's 11- and 12-year-old mules, Jake and John, who are siblings.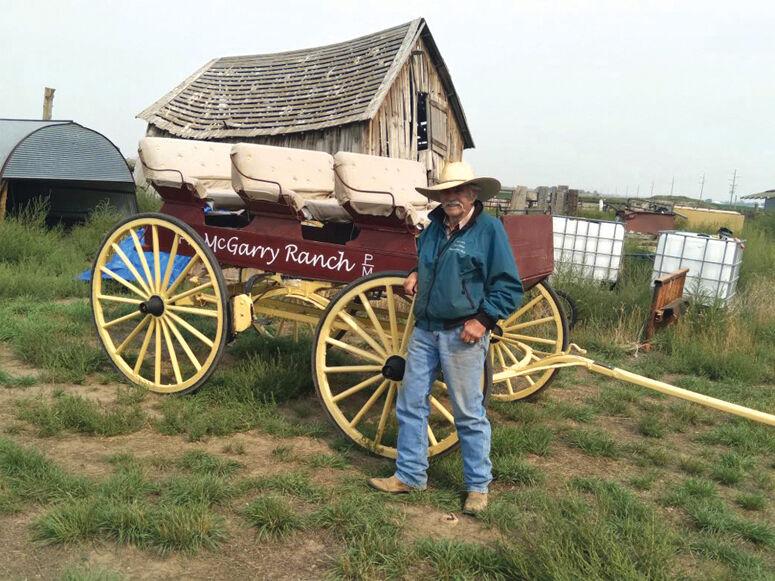 "My little team rides and drives great. I've had them for several years and they are used to parades," he said. "They're also comfortable on pack trips in the backcountry. They can haul all the goodies!"
With its solid poplar body, oak wheels and notoriously strong outer bearing axle design, the wagon is light yet robust. It was passed down to two different owners after non-motorized transit fell out of fashion in the 1920s, he said. The company name wasn't printed on the Winona wagon when he bought it, but McGarry was able to figure out its brand and what it should look like through research.
"This was generally the type of light-weight wagon people could rent to go look around Yellowstone. But this one in particular was used to haul passengers to the motels and hotels," he said.
McGarry also has ties to the Yellowstone area. After he refurbished his first buggy as a teen, he became an expert in mule-packing and balancing sawbuck saddles, leading to a job taking tourists on pack trips at a dude ranch near Yellowstone National Park. McGarry also prepared mules for the Bridger-Teton National Forest, packing in chemicals used to kill bark beetles.
While McGarry has many experiences under his belt, participating in Wagon Days this year will be a first.
"I've been to the parade before and I was very impressed. It piqued my interest, especially the 20-mule jerkline," he said. "I've wanted to participate for a while.
"I was talking to my granddaughter, and I says, 'We ought to go to Wagon Days.' She says OK, let's go. So I says, 'We'll put the tongue on it and hook the mules up."
---
Restored 1860s Civil War Supply Wagon
Owned by Kenny & Bonnie Cox of Fairfield, Idaho
Fairfield native and longtime resident Kenny Cox remembers Wagon Days as highly anticipated family affair every summer.
In the 1950s and 1960s, his extended family would find their usual spot along Main Street to watch the Big Hitch, he said.
"Ketchum has changed a lot, so I couldn't tell you where it was exactly," Cox said. "But there was a hot springs swimming pool off Main Street, where we'd have a picnic, and the kids would go swimming.
"This was a long time before Wagon Days grew to the point where you had to be there five hours early."
Recently, Kenny and his wife, Bonnie, acquired a rare 1860s Civil War supply wagon this summer from a retired collector in Hayden, Idaho, spending about a week renovating it and ensuring all parts worked before driving it for the first time at the Camas County Fair.
The wood-and-iron wagon had been used in the early 1860s to transport ammunition, food, tents, stoves and pans to calvary troops.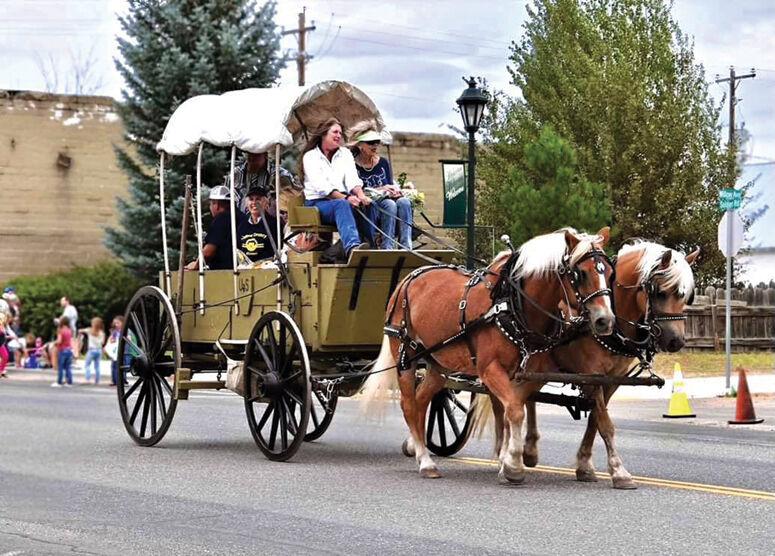 "We took all the wheels off and checked every little pin, because you don't want the hitch to come off or anything catastrophic to happen in Wagon Days, especially with all the crowds," Kenny, 71, said.
A team of Austrian-bred Haflingers, 17- and 18-year-old Belle and Buckles, will pull the Coxes wagon. (The chestnut-colored breed is known for its smooth, elegant gait.)
Cox, the great-grandson of Andrew Hess—who drove the Big Hitch for the Lewis Fast Freight company in the 1880s and 1890s, hauling ore and supplies over Trail Creek Summit—said an interest in wagon restoration has always been in the family.
"My great-grandfather hauled ore into stamping mills in Ketchum. Then he'd pick up supplies and take them to back to the miners—food, dynamite, whatever they needed," he said. "I'd imagine he brought sides of bacon, flour, beans, pure essentials and whatever he could carry to keep the miners going. It was an interesting way of life."
The Lewis Fast Freight Line took a route over Trail Creek Summit called the Ketchum-Challis Toll Road. Cox described the line of work as dangerous.
"You had two men driving four ore wagons, just one driver and a brakeman on the wheel, on a primitive, rutted road through the mountains," Cox said. "They encountered all kinds of conditions."
Hess died at 45 years old.
"I've been told he died of old age, but I think he was worked to death," Kenny Cox said.
He and Bonnie rekindled the tradition of attending Wagon Days only a few years ago. In 2019, Kenny drove his mother—Hess's granddaughter—through the crowd in Ketchum on a different restored wagon. His mother passed away last December.
"That was the final time she got to experience Wagon Days. It was a special thing, a huge event for her," Cox said. "As I was driving the wagon and looking out at the crowd, it was almost more than you can believe.
"I can't imagine that many people would want to stand around and watch a bunch of wagons," he said with a laugh, "but people really love it."