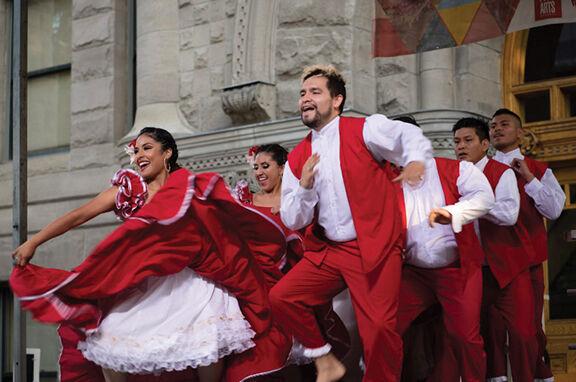 Peru holds a deep history of sheepherding. That's why Trailing of the Sheep Executive Director Laura Musbach Drake asked the Utah Hispanic Dance Alliance to return to the festival and perform a special Peruvian Ballet Folklorica for the festival's 25th anniversary. 
"There are many Peruvian sheepherders in the Western U.S., and this performance will showcase their rich cultural heritage through music and dance," Drake said.
The ballet takes place Saturday, Oct. 9, at 8 p.m. in The Argyros Performing Arts Center in Ketchum. Tickets cost $25, and can be purchased online at trailingofthesheep.org.
Dancers with the Expression Andina from the Andes Cultural Arts organization in Utah will join. Some of the traditional Peruvian dances will include Valicha, Marinera, Festejo, Huaylas and Criolle Selva. Chaskis Peruvian Musicians will accompany the Utah Hispanic Dance Alliance.
The nonprofit started in 2000 with the goal of providing a way to elevate the artistic quality of the representations of Latin American countries, Artistic Director Jessica Salazar said.
"Most important to me was to include everyone and make sure we had a platform where people could receive an education and understand all the traditions and folklore of Latin America," she said.
As a part of the Utah Arts Council, they have danced in concerts at the most prestigious concerts across the state. They first performed at the Trailing of the Sheep 14 years ago. They are honored to be invited back. 
"That community there is very peculiar, very beautiful, very unique," Salazar said. "I really like it ... You are very welcoming and very friendly."
The dancers express the mountains, the valleys, the canyons and the jungles of Peru. Salazar hopes even if viewers are not Peruvian, the performance will inspire everyone to reconsider their ancestry. 
"We are a result of all those traditions within our own families and within our own cultures," Salazar said. "Once we know how to appreciate and how to truly honor that legacy, we will become better human beings."
Salazar says dance has the power to educate. Growing up, she learned just as much about history through dance as through stories.
"Those sounds, those tunes, those rhythms: That's how you fall in love with cultures—when you hear directly from the soul through movement, through music, through dance," Salazar said. 
Salazar is a firm believer that dance can bring people together.
"When we dance together, when we sing together, when we listen to music together there are no cultural barriers."