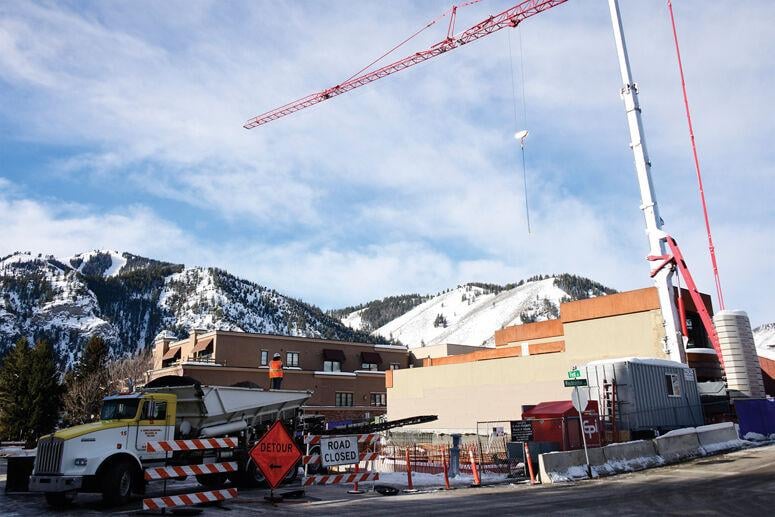 The third week of March 2020 undoubtedly opened a painful chapter for Blaine County as locals adjusted to life under state-imposed isolation: empty streets, police tape circling the skate parks in Ketchum and Hailey, planes sitting empty at Friedman Memorial Airport as plans to visit friends and family were put on hold indefinitely.
But how, exactly, was Blaine County's workforce impacted during the pandemic—and how has it recovered?
To help gain a broader perspective, the Express spoke to the Idaho Department of Labor about the state of the labor market, before and during the COVID-19 pandemic.
2018-2019: A period of stability
In 2018 and 2019, the labor force in Blaine County held rock-solid—fluctuating only slightly between 12,200 and 12,400 month-to-month—while the number of employees with jobs held steady around 12,000. (From a jobs perspective, Blaine County's peak came in 2006, with over 13,890 employments recorded in April that year.)
The 2018-2019 unemployment rates were some of the historically lowest seen in the last 50 years, too, holding steady between 2.4% and 3%.
From January through early March 2020, there were about 12,500 Blaine County residents in the labor force and over 12,000 were employed. But when the pandemic struck in mid-March, employments fell to 11,050. Meanwhile, jobless claims skyrocketed. (Figure 9).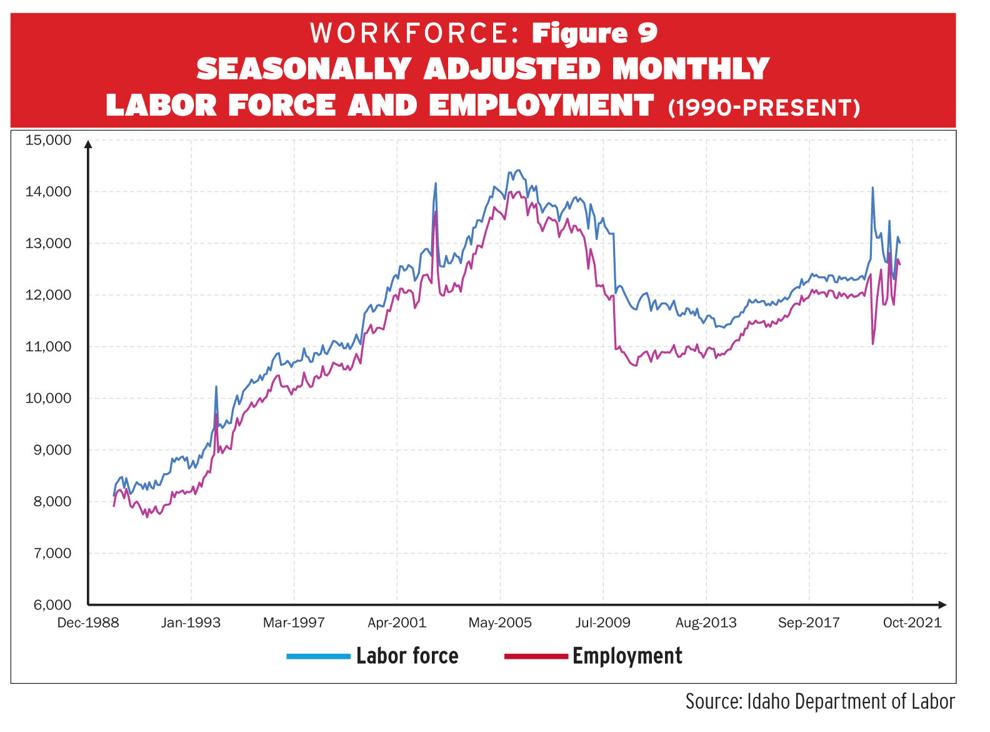 Construction, food service employees—and millennials—take the greatest hit
On paper, the pandemic's most visible effect is Blaine County is its unemployment rate spike in April 2020, which shot up to 21.5%—Blaine's highest on record in the past 50 years.
During the first two weeks of March, only about 20 people filed local unemployment claims with the Department of Labor. Claims mostly came from middle-aged men in the construction and extraction and cleaning and landscaping industries, as seen during 2018 and 2019, data shows. (Figure 11).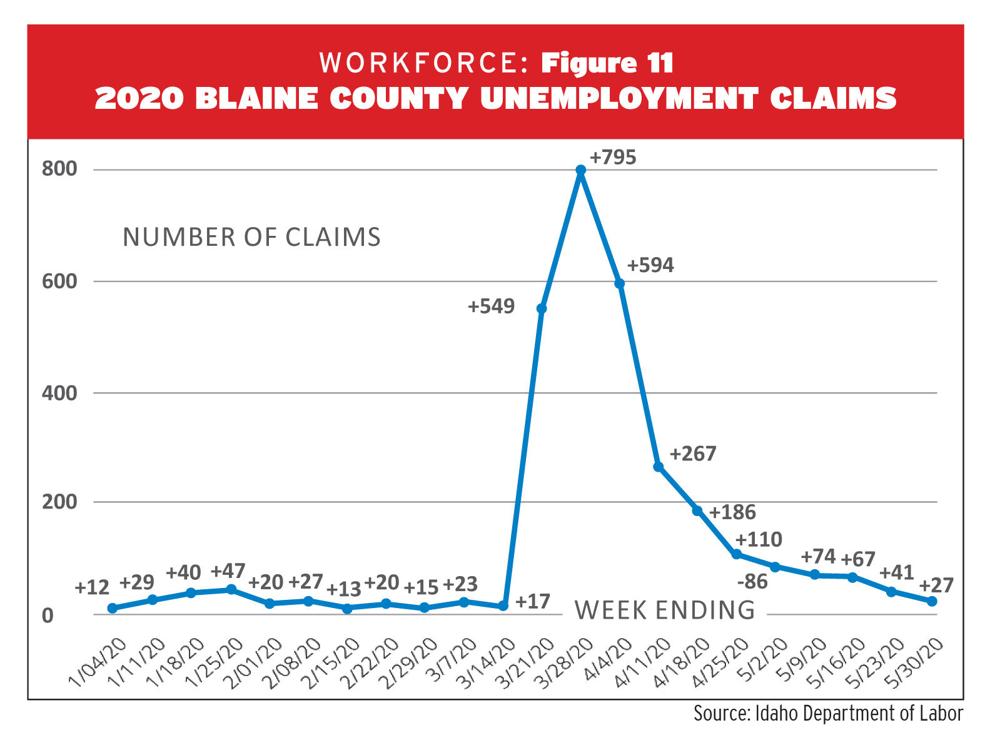 But the week ending March 21 saw 549 unemployment claims filed—a 3,130% increase from the month before—and a much broader demographic affected, with an equal number of men and women filing claims. The following week, 795 people filed jobless claims.
Between March and May 2020, Blaine County employees submitted a total of 2,796 claims to the Department of Labor. The food preparation and service sector took the greatest hit, as evidenced by 496 claims submitted, followed by the construction and maintenance sector at 481 claims; the management sector at 295 claims; the sales and retail sector at 245 claims; and the cleaning, housekeeping and landscaping sector close behind, at 243 claims.
Millennials between the ages of 25 and 34 submitted the most jobless claims in Blaine County—667, or nearly 24%—followed by 580 claims from the 35-44 age group. Around 500 claims came from those ages 45-54.
Building back from the pandemic downturn
Blaine County has been through a few unemployment patches before. During the 1982 global recession, for example, the unemployment rate reached 14%. Unemployment hit 11% followed the stock market crash of October 1987.
The Great Recession of 2008 produced an unemployment rate in Blaine County of 9%, which grew to 10.4% by October 2010. It took until the spring of 2014 to get below a 5% unemployment rate and recoup losses—a slow recovery.
In comparison, it took Blaine County just nine months after the pandemic began—until December 2020—to arrive below a 5% unemployment rate. From spring lows, employments steadily increased, from 11,360 in May to 12,800 in December 2020.
Signs of regeneration can be seen in seasonally adjusted unemployment data from April through November 2020, when the number of jobless residents decreased from 21.5% in April to only 5.5% in November. The following month, only 4.4% of Blaine's workforce was unemployed; by March of 2021, unemployment had fallen to 3.3%, a figure that held through July.
In August, unemployment sat around 3.1%, according to the most recent estimates by the Idaho Department of Labor, well below the national average of 5.2%.
The civilian labor force in August 2021 was also up between 500 and 700 employees from pre-pandemic levels of between 12,200 and 12,400, data shows.
"We found that Blaine County total employment has recovered and is now above pre-pandemic levels," Sun Valley Economic Development stated in an August report.
Today, building and construction is going full bore as new developments spring up, primarily in Hailey and Ketchum.
In September, Hailey City Administrator Heather Dawson reported that pandemic tourism generated "unprecedented" spikes in the city's revenue stream in late 2020 and throughout 2021, and development permits and tourism taxes were at "the highest levels ever seen in the city of Hailey."
But according to Bonang Seoela, Idaho Department of Labor regional economist for south-central Idaho, a few things will need to happen in order for Blaine County to return to its lower pre-pandemic unemployment rate.
"Perhaps people can increase the intensity of their job search, and employers focus on their employees, as we've seen more people resigning, jumping from one job to another with the [increased job supply]," he said. "But my main suggestion is that employers try and narrow down their required skill sets and reduce qualifications. That will help increase the labor pool size."
One curious factor that Seoela noted: In April 2020, the county's labor pool swelled above 14,000. It also decreased by about 570 people between September and November 2020, increased briefly in December 2020 and decreased again by about 1,130 employees between December and February 2021.
It's not fully clear what drove so many to enter and exit the labor force so erratically, he said. (Employees who have exited the labor force are neither working nor actively job-hunting.)
"No idea," said Harry Griffith, SVED executive director, when asked about the variability.
Seoela had a few theories.
"We're not sure why more people decided to go into the workforce [in April 2020]. But what we do know is that during recessions, we have moments where people get discouraged and stop looking for work," he said. "Then, when things get tough, they decide to go back and see if they can get something. So, you see a back-and-forth swing of this unemployment pendulum where people are discouraged, maybe things get better and they get encouraged and apply.
"It's a cycle with so many factors that are hard to distinguish."
Seoela suggested that employers struggling to attract workers in Blaine County increase wages and health benefits and add sign-on bonuses. But that's already occurred in the county, he said, and for the first time, people have more confidence to leave their jobs and find new ones—or not.
"It's still hard to understand why people are reluctant to go for jobs even after employers raise wages," Seoela said. "In Blane County, the housing shortage could be a factor, but what I think could also be at play is skill mismatch—the idea that someone trained as, say, a doctor can't find work that matches their skillsets and the wage [associated] with those skills."
Nationally, Seoela said, skill mismatch has increased about 10% since the pandemic.
"The number of people getting matched to jobs corresponding with their skillsets was around 70% [in early 2020] and now we're down to almost 60%," Seoela said, "going to show that more people are grappling with the question: A lot of positions are open, but do they align with what I am trained in and have skills for?"
Top sectors in Blaine County—and how they pay
Ketchum, Sun Valley and Hailey continue to keep the job market afloat in Blaine County. The valley's top two employers—Sun Valley Resort and the Blaine County School District—each provided between 500 and 1,000 jobs in 2020, according to Idaho Department of Labor statistics. Meanwhile, Atkinsons' Market, Power Engineers and Albertsons provided 100 to 250 jobs each.
Wage growth in most categories accelerated from 2010, with average wages up in all sectors between 2019 and 2020 to reflect a higher cost of living, according to SVED.
Between the Sun Valley Resort—the valley's No. 1 employer—and more than 20 hotels, from the Sun Valley Lodge to Hailey's new Fairfield Inn, the Leisure & Hospitality sector has long been Blaine County's largest and most prominent. In 2020, it employed about 2,980 people.
Top 5 industries also had favorable wage growth since 2010, with year-over-year growth between 2019 and 2020 more variable.
Wage increases were minimal in the hospitality sector between 2019 and 2020, from $26,000 in 2019 to $27,480 in 2020. (That's compared to $19,670 in 2010, representing a 10-year overall increase of 40%).
The trade, transportation and utilities sector, the second-largest (1,920 filled jobs in 2020) saw growth of 13% from $39,090 in 2019 to $44,020 in 2020. Overall growth since 2010 was strong, up 38% from 2010 ($32,020).
The construction industry, the valley's third-largest saw wages increase only about 5% from $46,630 in 2019 to $48,770 in 2020. It should be noted, though, that wage growth in this sector has come a long way since 2010, when salaries averaged $35,800. Employment, too, has improved: there were about 31% fewer construction jobs in 2010 (1,240) compared to 2020 (1,800).
From 2013 until 2018, the construction industry in Blaine County increased its hold on the total county workforce from 11% to 15%, and in 2018, the sector added about 1,070 jobs in Blaine County. Blaine County construction employment once comprised 40% of the regional construction jobs
In the education and health services sector—the valley's fourth-largest, at 1,720 jobs, wages increased 7% from $53,100 in 2019 to $57,010 in 2020. In the Professional and Business services sector, the valley's fifth-largest sector (1,460 filled jobs) wages saw only a slight 2% year-over-year bump from $61,010 to $62,260. But overall growth of 16% from 2010.
The most impressive year-over-year and 10-year wage growth was seen in the finance sector, the valley's sixth-largest at 640 jobs, with average salary increases of $28,250 between 2019 ($66,040) and 2020 ($94,290) and an overall salary increases of about 79% since 2010 ($52,710).
People employed in Ketchum made an average salary of $49,950 in 2020—a wage increase of about 17% from $42,770 in 2019—and Sun Valley workers saw wage increases of about 12% between 2019 and 2020, from $37,310 to $41,750 (See Appendix, Page 7, Figure 10).
But those employed in Hailey and Bellevue saw much more modest year-over-year wage increases of between 4% and 6%. In Hailey, annual salaries increased just $2,600 annually, from about $45,190 in 2019 to $47,790 in 2020. In Bellevue, wages increased by 2,300—or 6%—from $37,110 in 2019 to $39,400 in 2020.
Griffith speculated that the significantly higher wage increases seen in the north valley could be due to more "higher-end sector businesses that can afford to pay more," as well as an increase in entry-level wages at Sun Valley Co., which he said impacts a "proportionately large percentage" of the employed.
Seoela, though, said Ketchum and Sun Valley led Blaine County in wage growth due to the pandemic-related job loss.
"What COVID did, unfortunately, was reduce the number of low-paying jobs, dropping those from the data set so that the average wage increases," he said, adding that wages from Blaine County residents working remotely for companies based in other counties and states are not counted.
Where do they come from, where do they go?
According to the most recent available data from the U.S. Census Bureau, valley residents live primarily in Hailey and Bellevue and work predominantly in Ketchum, Hailey and Sun Valley, in that order. More Blaine County employees live in Boise and Twin Falls (770) than they do in Ketchum and Sun Valley combined (660).
Specifically, 2,660, or nearly a quarter of local employees live in Hailey, followed by Bellevue (880), Ketchum (460), Boise (430) and Twin Falls (340), according to census data. About 200 Blaine County employees live in Sun Valley, making up less than 2% of the local workforce.
In 2018, Ketchum employed about 2,380 Blaine County residents, according to the U.S. Census Bureau, meaning the city--historically the largest supplier of local jobs—provided about 28% of jobs to the local workforce.
Hailey, the next biggest supplier of jobs in Blaine County after Ketchum, employed around 1,170, or 21%, of valley residents and Sun Valley employed 840, or 10%. About 460, or 5%, of Blaine County residents worked in Boise, 420 in Bellevue and 140, or 2%, in Twin Falls.
Workforce participation lags
Along with unemployment data, another key measure of a county's economic health is its labor force participation rate—the number of residents who are either employed or actively job-hunting, measured against the total number of people eligible to work—that is, people over 16 who are not in the military, in prison, in a mental hospital or a nursing home.
In August, Blaine County's participation rate was 8 to 10 percentage points lower than the national rate of 62%, according to a SVED report in August.
"What this means is that Blaine County has fewer people in the workforce compared to the overall population than the rest of the country and by a significant margin," SVED stated. "When we factor in the demand for services in Blaine County from tourism, it is obvious our labor demand is greater than that of a typical county of 23,000."
SVED's report attributed the downward trend in labor-force participation to "demographic headwinds."
"Baby boomers are retiring in increasingly large numbers and younger people are staying in school longer," it noted.