Ask anyone who knew Jack Williams to describe him and you'll probably get a long list of answers: gifted photographer, outdoorsman, philosopher, mentor, devoted family man, flapjack master.
For generations of kids in the valley, though, his legacy might ultimately be the joy he brought to the holidays as a stand-in for Santa Claus.
According to longtime friend and fellow photographer Willy Cook, Williams took his role "very seriously," growing out a hearty beard in the fall and even curling his hair.
"He loved his second chapter of life playing, well, I hate to even say 'playing,' because he actually became Santa in the winter," Cook said with a laugh. "He about drove me crazy practicing his gesticulations. He had the complete act down. In the winter, you didn't call him Jack. It was just 'Santa.'"
Cook said Williams took up the gig in the later part of the 1970s as a way to spread cheer to kids and their parents. He continued to don a red suit nearly up until he died in May at the age of 90.
"I'd ask him 'Jack, how many gigs do you have this week?' and he'd say '40 or 50.' One at the F-Stop, one at the hospital, another at the [tree lighting] ceremony and others at private homes, " Cook recalled.
The two men first met in 1976 when Williams moved to Ketchum from Boise. Both were Ansel Adams disciples and self-professed ski bums; Williams, a Bay Area native, had developed his love of photography while hiking Yosemite as a youth and gone on to pursue his studies at the Brooks Institute in Santa Barbara.
Cook said their bond was "instant."
"Photography was the glue of our friendship right to the end. We were brothers in arms in that regard, talking shop, hiking with our big 4x5 view cameras," said Cook, who has been a staff photographer at the Idaho Mountain Express since 1992.
To pay the bills, Williams worked as a wedding photographer and a camera operator, helping Dick Barrymore and Warren Miller film ski movies.
"He was a survivor, one of those people who could make a living with a camera," Cook said.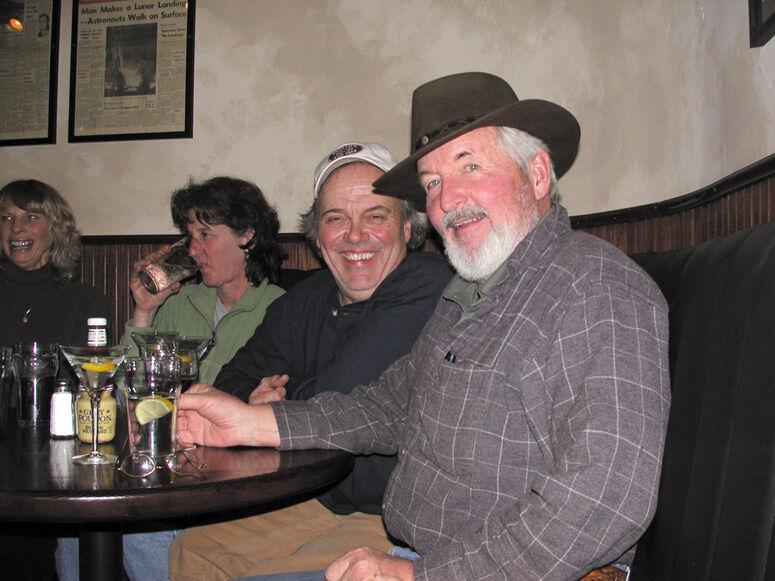 Over the years, the men—along with a third friend, film producer Earl Rickers—met frequently to discuss photography "and just life in general" at outdoor locations around Ketchum they called "nip spots."
"The guy doing the proposing would stop at the liquor store and buy a couple little nippers [miniature liquor bottles] and propose a 'nip spot,'" Cook recounted. "I might call up Jack and say, 'You got time for a nip spot at Atkinson Park?' and he'd say, 'Sure, near the swings?' and be there within five minutes."
The men found nip spots everywhere, at public parks and along secluded dirt roads, and made a point to get together even in the rain.
"Jack would wear this goofy brown hat, almost this Australian cowboy hat. He reminded me of a Labrador retriever, because he'd just sniff the air and appreciate the whole outside experience, more so than anybody I've been around," Cook said. "He'd just be so f---ing happy smelling the air! He was in tune with the small nuances of the outdoor life, the air, the clouds, the rocks, the mountains."
Cook said Williams' black-and-white images, often displayed in Ketchum at The Kneadery, clearly reflect a keen eye for detail. One of his best-known prints is of a cowboy riding a horse across the range in Nevada, revolver in hand.
"His real strength was his scenics, or what you would call landscapes. His use of clouds was exemplary and better than anybody's," Cook said. "Clouds were definitely his friends—the way he would position himself, they took on meaning.
"All I can say is that to this day I look in the sky and once in a while I'll smile and think, those are Jack Williams clouds."
Cook said this past Thanksgiving was bittersweet without a visit from Williams.
"My house was always a little 'nip spot' for Jack to come by for a glass of wine on Thanksgiving. I would buy him his own bottle even after I stopped drinking," Cook said. "I really enjoyed shopping for a good bottle for him."
One touching gift that Williams left was a phone call a day or two before he died.
"His eyesight had failed but somehow he called me on his old cell phone, because 'Jack Williams' showed up on my phone," Cook remembered. "I was thinking in the back of my head, did he just say goodbye to me? I think he may have. And I got news shortly thereafter.
"He was a good enough of a friend to say goodbye."