With the 2019-2020 school year kicking off this week, hundreds of teachers are working classrooms throughout the Wood River Valley. Each has a unique reason for plying the trade, and each has qualities that yield valuable results.
Earlier this year, readers of the Idaho Mountain Express honored several teachers for their excellence, as part of the annual Best of the Valley voting. Results of the voting were published in the 2019 Best of the Valley magazine, which featured Best Teacher gold medalist Jesse Neet, of Wood River High School. Here, the Express is featuring additional teachers honored by readers as among the best in the community.
They might deploy different styles in the classroom, but all have a couple of things in common. First and foremost, they go out of their way to build relationships with their students. And second? They love what they do.
---
Laura Barnhardt, Hemingway STEAM School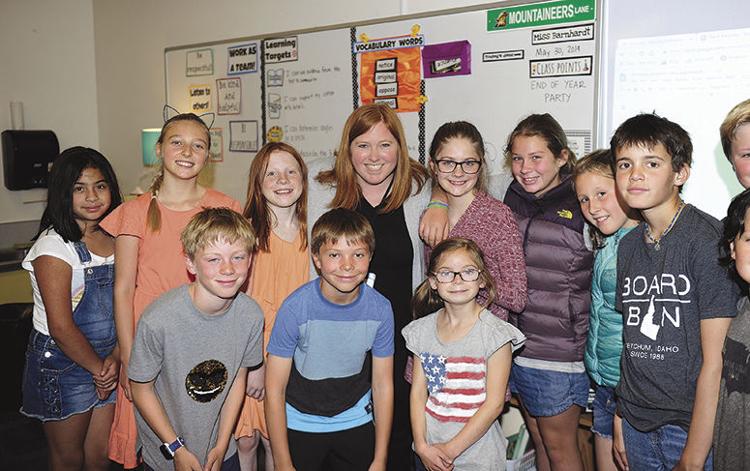 Laura Barnhardt played school before she ever went to school.
The daughter of a teacher, she grew up with chalkboards in the basement. As soon as she could wrangle them, she'd drag her brothers, her friends, and her stuffed animals down there, and arrange them around the room. Even then, she was at the center, always the teacher.
"The neighbors knew if I wasn't, I wouldn't play," she remembers.
Now starting her 10th year in teaching, Barnhardt has moved on from her North Carolina home to helm a fourth-grade class at the Ernest Hemingway STEAM School in Ketchum—and, in the process, earned a silver medal from Idaho Mountain Express readers for her work with valley kids. This year, she followed her current class into the fifth grade, checking another grade as she samples every age elementary school has to  offer.
"Elementary's always been where my heart is," she said. "I love all the grades—and I'm always up for a new adventure. I'm always up for learning a new curriculum, keeping things fresh."
Barnhardt's students, for their part, are thrilled to have her along. Need proof? Here's a smattering of what they had to say about her, written during a project earlier this year:
"I love how creative you are [and] I am super glad to have you has a teacher," said one. "I love how you make learning fun and not boring," added another.
"When I walk into Miss Barnhardt's classroom, everyday every kid is smiling," one said. "You are the best teacher I have ever had. … I was ecstatic when I found out you were going to be my teacher again next year," said a fourth—and there are too many more to print.
Those endorsements don't come easy. The first step, Barnhardt said, is building a relationship with each of the 28 students that filter into her room each morning.
"If they don't trust you, they're not going to want to buy in," she said.
That's why she goes to the hockey games, the soccer matches, dance recitals. Earlier this year, she spent an afternoon watching her students air it out at the Ketchum skate park—"I thought I was going have a heart attack," she remembers.
The kids pay back all that attention when they step into class, where Barnhardt herself has bought in to the school's project-based STEAM focus, emphasizing science, technology, engineering, art and math.
Bringing those concepts into the curriculum requires abstract thinking from teachers, and a clear structure for students, Barnhardt said. She'll set the goal—even a STEAM school is beholden to state standards. She'll draft a rubric to get there. And, as needed, she'll provide "tough love" along the way. But, even in the fourth grade, kids have the freedom to figure it out in their own style.
"They take ownership of their learning," she said. "They solve real-world problems, and learn skills they can apply later on. Schools are so different now—times have changed, and as teachers we need to change how we do our jobs."
So, Barnhardt rarely uses textbooks. The only actual chair in her class is the one she sits in at her desk—everything else is exercise balls, wobbly stools, a couch in the corner that allow kids to move and fiddle whenever they need.
"It's very hands-on," she said. "They explore, create, figure it out. It all does run together, but they have to think about it abstractly." So does she.
"To do it, you have to teach the child as a whole," she said. "You have to build relationships, and foster that love of learning. It's a different way of thinking about teaching—it can be exhausting."
For Barnhardt and her classes, the work is paying off—and the community, both inside Hemingway and out, is taking notice.
"She is just a spark plug!" Hemingway Principal Tish Short said. "She brings out the best in every one of her students, and makes learning fun and relevant. She's an incredible teacher."
---
Harry Weekes, The Sage School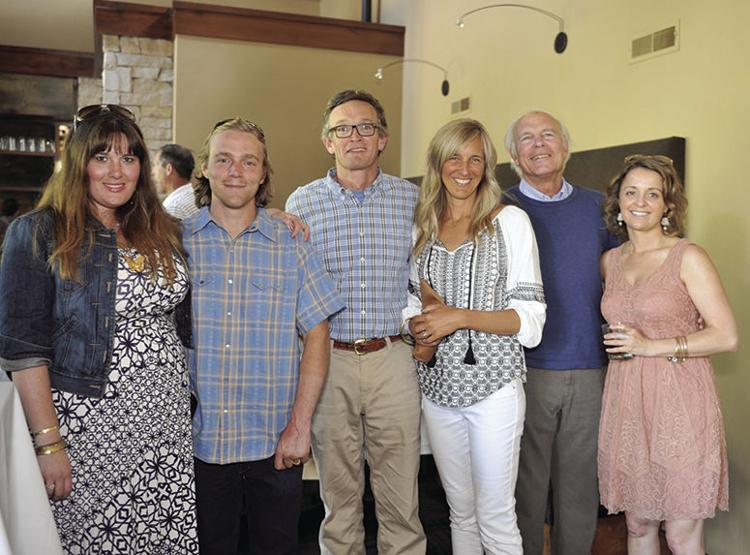 Harry Weekes is an accidental teacher. There was no "thunderbolt" that turned him from a student of biology to a teacher of it. Rather, in the true scientist form, it was an "aggregation," a slow build that led Weekes through an ever-evolving career in valley schools—and, this year, to be honored by Idaho Mountain Express readers as one the best teachers in Blaine County.
At 50, the self-described "adolescent anthropologist" has now spent more of his life in classrooms than out of them, first over 17 years at the Sun Valley Community School, and then at The Sage School in Hailey, which he co-founded 10 years ago.
There, he imparts in students the same sort of reflection and self-awareness that informed his own development from a "standard" biology teacher to the chief educational philosopher driving his own independent school.
When it came to the science itself, Weekes never needed extra encouragement. He was `born in the wake of naturalist Rachel Carson and reared on acid rain. His own education coincided with widespread recognition of the ills of deforestation, and the first whispers of climate change. Growing up on the East Coast, issues of biology and the environment were very real. The whole living world was at stake.
In other words: He never had a problem getting himself ex-cited about photosynthesis. But as a young teacher, it didn't seem to be translating.
"I was sitting there, going on about cells, genetics, ecosystems, and kids weren't fired up about it," Weekes said.
A few years into his career, he took a poll of former students: Only about half went on to take another science class once they ticked the required boxes. Weekes was taken aback. So, he took a step back. He looked at what he was doing, and formulated a simple question.
 "How do I get kids excited enough to take another science class?" he asked himself. "That led to the idea that, maybe, they need to experience it in a whole different way."
So, Weekes took his class to the creek behind the school, where they did a census of the insects. He asked his students what they wanted to study, and cloistered himself away in his free time to learn as much as he could about the winning subject. And, with each passing year, he took what worked, and refined it for the class to come.
"The longer you're in anything, the more you see what sticks, and what doesn't," he said. "Maybe they won't remember a specific lecture, but they'll remember that sunny day where you brought a snake into class."
Weekes took his project-based ap-proach with him to The Sage School, where he polished it further. In the early days, before they even had a student enrolled, Weekes and fellow co-founder Chris McAvoy came up with a metaphor—a simple image to encapsulate the education they aimed to provide.
Their students would not just read about birds. They'd hold the bird.
"You can study something all you want," Weekes said. "But actually holding it? That's a whole different experience. There's a connection there you can't replicate."
Such conections, like those built throughout Weekes' own professional education, are subtle. Often, they form too slowly to see in real-time. And, Weekes says, they typically take a lot of work to build.
"We're built to learn—that's the secret sauce of human beings," he said. "You put one of us, alone, out in the world, it's the most vulnerable thing on the planet. But you take two of us? Now you've got something going.
"The first step is recognizing we're all people. So-called 'soft-skills' are so woven into how we learn, we can't even explain it. I don't think you can separate where you're at emotionally from how you learn. Once you accept that, how do you refine it?"
For one, by paying attention. That's Weekes' job: to make sure kids have the skills they need to face the challenges of their lives. And, equally important, to make sure they recognize it.
"If it all works well, it's a gradual building of skills they're pushed and pulled to develop," Weekes said of his students. "Then, there's reflection—you look back, and see where it came from.
"There's probably nothing you're going to do of value over the long term that isn't going to take a tremendous amount of work. But the great thing about teenagers? They use work and play interchangeably. When they say they're going to play a game on the soccer field, they don't mean it's going to be easy. They're going to be pushing themselves." And, so will Harry Weekes.
"This is exactly what I should be doing—working with kids, right here in this county," he said. "For me, it's constantly challenging and rewarding and it is the most important thing I can do. In my day job, there's almost always laughter. There's silliness, and there's a constant search for meaning—a desire to get better.
"With kids, there's always hope. Let's not forget that. To be connected to that as an adult? To be a mentor and a guide for that? With my personality, it's something I need. It's so cool and so mucky and that's exactly how it should be. We've got a lot of work to do—all of us, as humans. Let's do this together."
---
Kerstin Flavin, Hemingway STEAM School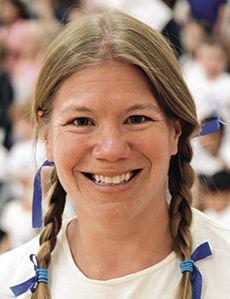 Every fall for nearly a decade, Kerstin Flavin has overseen one of the most important days of a kid's young life: the first day of kindergarten at Hemingway STEAM School.
In teaching the valley's youngest students, she's welcomed the newest crop of kids to the Blaine County School District—and set the tone for the dozen grades that follow.
That's no easy task in Idaho, where preschool is neither required nor funded by the state, and kids report to that first day all over the educational map. Some can already read sentences, while others don't recognize
the alphabet. Last year, one young girl came to class having never seen her name in print, Flavin said. Nine months later, she graduated to first-grade reading and writing.
"The kinds of strides kids can make in kindergarten always amazes me," Flavin said. "Kids come in, and they don't know letters, or sounds, and they leave reading. Kids who don't know numbers, leave counting to 100. Kids who come in and don't know anybody leave with a room full of friends. To see that—to help foster it—that's important.
"Kindergarten's awesome—you get to see these little kids become people."
One thing Flavin's learned on the job: There's no right way to get them there. Her room, like any filled to the gills with 5- and 6-year-olds, is "controlled chaos"—and some days, "controlled" may be generous. To keep it that way, she learns all she can about the kids in her charge.
"Kerstin's an incredibly effective kindergarten teacher who sets up students for academic success," Hemingway Principal Tish Short said. "She is thoughtful, bright and develops strong connections with her students and their families."
If teaching kindergarteners has its challenges, they suit Flavin, who was always drawn to working with younger children. This school year, she has moved from kindergarten to the gym in order to free up time to spend with her own—a first-grade-age son, and a 4-year-old daughter. Even in the new role teaching PE and health, kindergarten is in her blood, and so are the lessons she learned teaching it.
"What I love about it is the flexibility," Flavin said. "It starts with the kids. How I teach, it's tailored to them. I get to help them find their passions, and use what they love to help them learn. To help them find joy in school. It brings me joy, to see it in them. That's what keeps me coming back—knowing I'll get a hug in the morning, and see smiles when they leave at the end of the day."
---
Susan Chizum, Big Wood School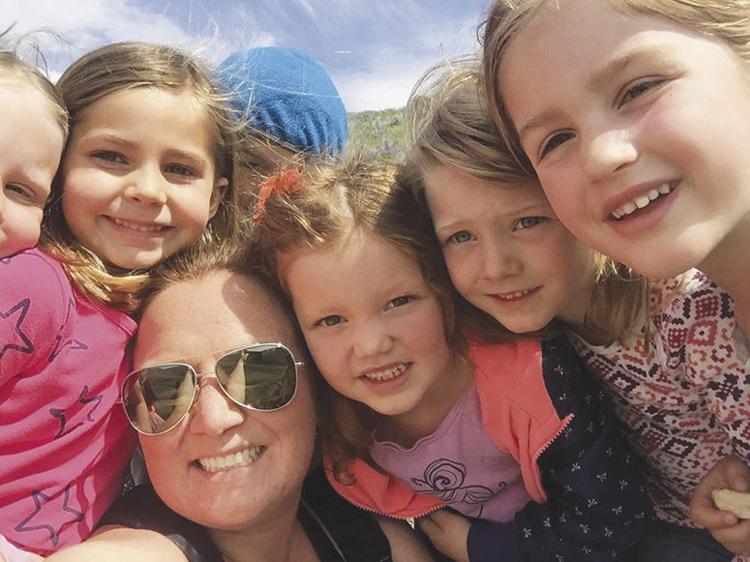 Twelve years ago, a bright-eyed crop of 2-year-olds welcomed Susan Chizum to Ketchum's Big Wood School, her first real job out of college. Those kids are in high school now—but Chizum manages to match the enthusiasm she brought them that first day, every day.
Her first job turned out to be her dream job.
"I just feel very lucky, that I was able to find something I love so much—something I can do for 12 years and still want to show up every day," she said. "I can't think of many jobs where you have the kind of unconditional love I have here. I hit the jackpot, winding up here—it's one-in-a-million."
Her students are lucky, too: This year, readers of the Idaho Mountain Express voted Chizum one of the best teachers in the Valley for her work with "The Sharks," her crop of preschoolers at Big Wood.
Her secret—one known to anyone who spends their day around 5-year-olds—is flexibility.
"I think that's the number-one requirement for this job," she said. "You've got to roll with the punches, and keep a good attitude."
That means a willingness to throw out a lesson plan, and let the kids take the lead. If they show up on Monday hyped about superheroes, that's probably where the day is going to go. Tuesday, it could be Lego. Wednesday—who knows?
"I want to foster learning opportunities, whether or not they coincide with my schedule," Chizum said.
At this age, much of the learning takes place away from lesson time, anyway.
"The ABCs and 123s come second," Chizum said. "First, I try to teach kids to be kind, empathetic, loving. The rest will fall into place."
For that, Chizum's students have few better role models than their teacher, who draws as much from them as they do her.
"I love that there's still so much innocence in everything they do," she said. "Even if someone has a snarky attitude, it never comes from a place of malice. They're learning to be human.
"It's like I get to see the world for the first time through their eyes. We grow together, every day."