• Hunter Diehl of Hailey, who graduated Sunday, June 2 from Sun Valley Community School, is one of four Idaho residents who will be inducted into the U.S. Air Force Acad-emy at Colorado Springs, Co. on Thursday, June 27. They will take an oath of office and begin a rigorous six-week ori-entation program which will introduce them to military life-style and basic combat skills.
The other three Idaho stu-dents headed to the Air Force Academy are Beck Grasser from Eagle, a 2019 Bishop Kelly High School graduate, Caitlyn McGarry from Boise, also a Bishop Kelly graduate, and Boise's Graham Elder from Timberline High.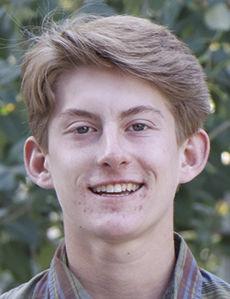 • Several Wood River Valley residents have received college degrees from Western Gover-nors University (WGU) based in Salt Lake City, Utah.
Cherie Shardlow and Lau-ren Williamson of Bellevue earned Bachelor of Science, Nursing. Angie Telford of Hai-ley earned Bachelor of Arts, Special Education. Anne Leady of Hailey earned her Bachelor of Science, Nursing. Shelly Abell of Hailey earned her Master of Science, Nurs-ing—Leadership and Manage-ment (BSN to MSN).
 • Lewis-Clark State College in Lewiston on May 22 an-nounced its 2019 spring semes-ter honor rolls featuring 438 students on the President's List (GPA 3.75 or higher) and 400 students on the Dean's List (GPA 3.25 to 3.749). Area stu-dents on the lists were:
President's List: James Wil-liams of Bellevue and Janice Moulton of Hailey.
Dean's List: Nik Roussos of Fairfield.
• Ketchum native Kenya Schott participated in com-mencement proceedings at Whitman College in Walla Walla, Wash. Sunday, May 19. A graduate of Wood River High School, Schott graduated Magna Cum Laude with a bachelor's degree in Economics from Whitman.
 • Lisa Buell from Hailey recently graduated from the College of William & Mary in Williamsburg, Va. with a Bachelor of Arts degree.
 • Montana State University has announced its undergradu-ate honor rolls for spring se-mester 2019.
Making the President's List (perfect 4.0 GPAs) was Evan Hesselbacher of Hailey.
Those attaining Dean's List (GPA 3.5 and above) were Tayte Kelly, Royce Rhein-schild, Alexandra Schaffner and Evan Telford of Hailey; Nathan Stouffer of Bellevue; Ellie Polk and Caitlin Sholtis of ketchum; Allie Dixon of Stanley.
• Wood River High School graduate Cody Carter of Hai-ley was one of 210 Cornell Col-lege graduates receiving de-grees during the school's com-mencement ceremony May 12 at Mount Vernon, Iowa.
Carter received a degree in Psychology-Psychology Spe-cialist Concentration and Kine-siology-Exercise Science Con-centration.
 A high-scoring basketball player for Wood River High, 6-4, 215-pound forward Carter played four years for the Cor-nell College men's basketball team and earned Academic All-Midwest Conference recogni-tion in the 2017-18 season.
• University of Idaho-Boise graduates announced recently included the following Wood River Valley students:
Lydia Irene Flynn of Hailey, Educational Specialist in Educational Leadership; Mal-lam Prior of Ketchum, College of Law, Juris Doctor; Kendra Price of Hailey and Tyler Spence of Bellevue, Agricultural Science, Communication and Leadership; and Viviana Hurtado Romero of Hailey, Secondary Education.