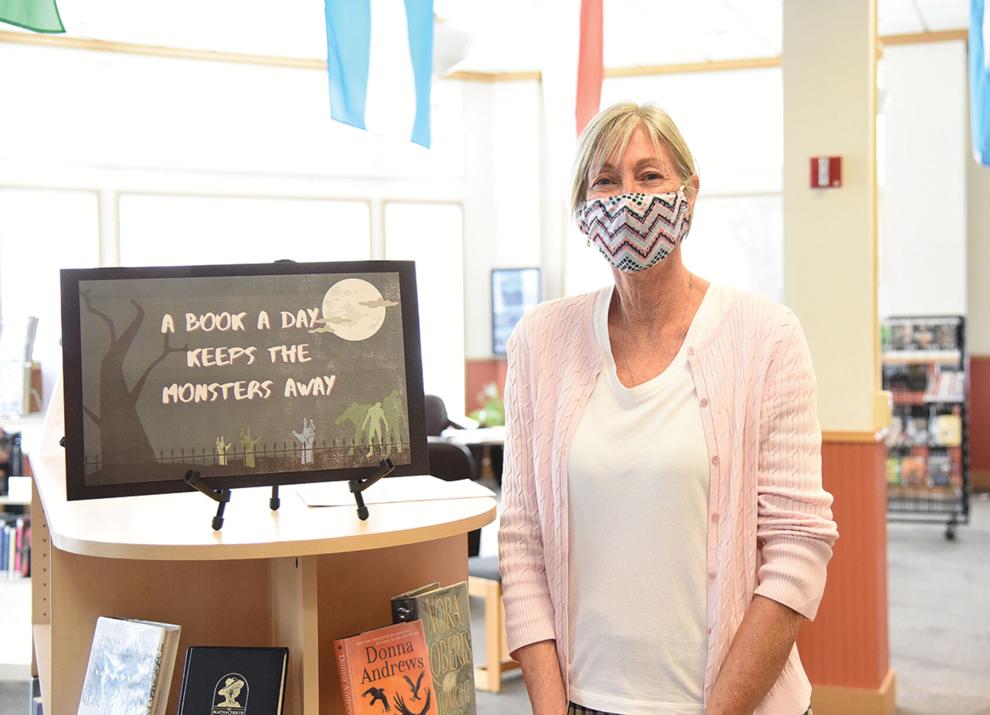 Lyn Drewien grew up on a farm in South Dakota and rode her horse 16 miles to town. Her destination was the library, and it took four hours to get there. In hindsight, the experience would prove to be providential.
"My grandfather would meet me there and hold my horse while I went in to check out books," said Drewien, now 58 and serving as the director of the Hailey Public Library. She recalled being entranced by literature as a kid. "I loved Nancy Drew mysteries right off the bat, and also anything to do with travel and history, science. I loved to read, and it didn't really matter what. So long as I had a book in front of me, I'd read it."
Drewien earned a degree in history from Metropolitan State University in Denver and a master's in library and information science from San Jose State University. She worked in libraries in Arizona and Ketchum before taking the reins at the Hailey Public Library.
Prior to starting her job at the library several years ago she worked as Blaine County's grants and procurement specialist for two years, honing grant writing skills she would bring to her new position.
"Libraries are always looking for grants, so that's what I spend a lot of time doing," said Drewien. She took over as library director about a year ago. Since that time, the mostly city-funded library has increased its focus on serving the Hispanic community. Siomara Navaret was recently appointed the first Hispanic member of the library's board of trustees.
"One of my main goals has been to expand the collection with the Hispanic community in mind," Drewien said. "One issue we face is finding quality materials in Spanish. We do have bilingual librarians on staff."
Drewien, who is 30-year resident of the Wood River Valley, understands the importance of libraries for small towns.
"When you grow up in a remote place, libraries can give you access to the world out there that you can't get elsewhere," she said.
During the COVID pandemic, the library shifted resources to expand online adult programming. Programs and Engagement Manager Kristin Fletcher brings the outside world of ideas and books to patrons using online presentations. Recent live talks have been about archeology, World War II and permaculture.
"Kristin has done an amazing job, hands down, providing programming that is relevant to the community," Drewien said. "I allowed her to dedicate more time to this, and it has gotten us a lot of attention from the community."
Drewien said a total of eight staff members, including herself, have positions focused on particular services: youth services, reference, promotion and social media, information technology support and acquisitions. The library networks with other organizations and has an "especially tight" connection with The Community Library in Ketchum.
"The two libraries even accept returns of one another's books," she said.
Until recently, Drewien said she was concerned about space constraints. The library, which is home to the Mallory Collection of historic photographs, has little room to spare for talks or community gatherings.
"My biggest problem has been keeping my staff from taking on too much. They are always coming up with new ideas," Drewien said. As a result, she thought the library would have to move to a new location to accommodate its expanding services.
The city of Hailey's recent acquisition of a property at 116 S. River St., adjacent to City Hall and the Hailey Public Library, has eased her concerns. She said the library will likely have access to indoor and outdoor spaces on the new property, starting with a fundraising book sale today and Saturday, Oct. 23, in the building that until recently housed Copy & Print.
"Now I am certain that we will not have to move," Drewien, obviously relaxed about the prospect. "Now we can just continue to focus on library services."