"Heap on more wood!—the wind is chill; / But let it whistle as it will, / We'll keep our Christmas merry still. / Each age has deemed the new-born year / The fittest time for festal cheer."
The quote comes from Sir Walter Scott's narrative poem "Marmion," which is about as far as you can get from a cheery Christmas poem. It features dueling, battles, lustful deception…a nun gets walled up alive.
Out of context, though, I do like those lines. The wind is chill; but let it whistle as it will, we'll keep our Christmas merry still.
Sir Walter observes that we've earmarked the darkest and coldest time of year—the "bleak midwinter," as it were—for our warmest celebrations. What feeling is better than a glowing fire or a piping hot cuppa tea on a chilly day? That little bit of warmth to drive the cold winter away? After all, you can't get cozy on a hot day; you can only get cozy when the air around you is cold, and in my humble opinion, coziness is the greatest state of being.
So, I'll be thinking of Christmas as the brief, warming state of coziness in an otherwise bleak and thoroughly discontented winter of a year. Here's how I plan on doing that:
Reading: "What Christmas Is As We Grow Older" by Charles Dickens
Eight years after he penned "A Christmas Carol" and drilled that into the collective public consciousness for the rest of time, Charles Dickens wrote "What Christmas Is As We Grow Older," a kind of pseudo short story/reflective personal essay.
As in "A Christmas Carol," Dickens posits Christmas as a time for reconciliation, generosity, forgiveness and betterment. He begins by recalling childhood Christmases, when the holiday is pure goodness and unsullied by the lows and woes of life.
"Time was, with most of us, when Christmas Day encircling all our limited world like a magic ring, left nothing out for us to miss or seek; bound together all our home enjoyments, affections, and hopes; grouped everything and every one around the Christmas fire; and made the little picture shining in our bright young eyes, complete."
But that's easy when you're a kid. As you grow up, the good becomes mixed with the bad, love becomes mingled with loss, and life becomes inextricably tangled with death, and sometimes these things can weigh especially heavy around the holidays. Dickens acknowledges the temptation to shut out the bad and focus only on the good, but eventually resolves that everything is welcome by the Christmas fire. At this time of year especially, we have to try to reconcile the good with the bad.
"Lost friend, lost child, lost parent, sister, brother, husband, wife, we will not so discard you! You shall hold your cherished places in our Christmas hearts, and by our Christmas fires; and in the season of immortal hope, and on the birthday of immortal mercy, we will shut out Nothing!"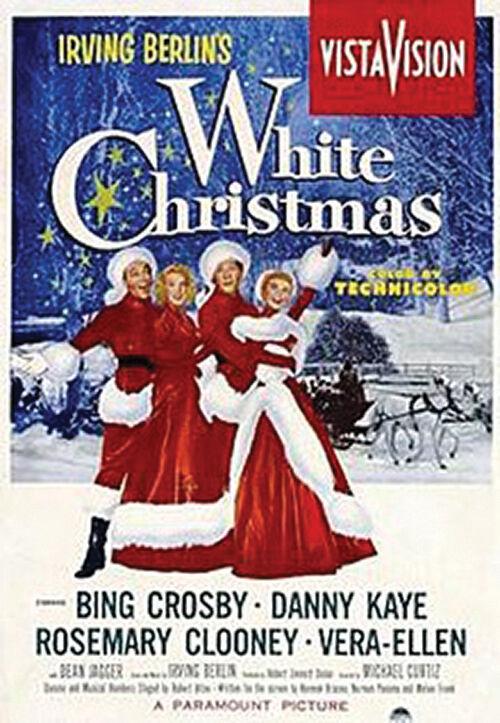 Viewing: "White Christmas"
"White Christmas" has one of my favorite opening scenes in film history. The camera fades in on an idyllic wintry pastoral, celebratory jazz music complements the scene and a title declares "Christmas Eve 1944." The camera then pans out to reveal that the scenery is simply a flimsy stage backdrop, the music becomes mingled with the sound of distant artillery, and Danny Kaye and Bing Crosby come dancing into view, wearing Santa Claus hats and jackets over their army fatigues. They're performing a makeshift Christmas show for their battalion, just a few miles from the front, in the ruins of some nameless war-torn town.
After a brief scene of dialogue, Crosby and Kaye slow things down for their next number: Bing's solo performance of the titular song while Kaye accompanies on a hand-crank music box, and director Michael Curtiz reminds us all what he's capable of doing as a filmmaker.
Does the middle portion of the movie drag a little bit? Yes. It's an Irving Berlin musical, so it naturally has a few unnecessary songs. But the first 60 minutes and the ending are perfect. "White Christmas" is a great way to celebrate its namesake holiday, and it's currently streaming on Netflix.
Listening: "Have Yourself a Merry Little Christmas" by Judy Garland
The first time I was unable to spend Christmas with family, I joked that I'd spend the holiday sitting on the floor next to the tree listening to Judy Garland's "Have Yourself a Merry Little Christmas" on repeat while drinking room-temperature Baileys out of the bottle. I'm not going to do that (probably), but if ever there were a year when that would be excusable behavior…
I think I'll take Judy's advice and have myself a merry little Christmas. I'll try to heed lyrics like "next year all our troubles will be miles away," and count myself lucky for what I do have, which is really more than enough.
"Someday soon we all will be together / If the fates allow. / Until then, we'll have to muddle through somehow. / So have yourself a merry little Christmas now."