Sometimes if I'm lacking inspiration for my column—which is very often the case lately—I'll look up what happened in history on the day I publish. Sometimes it nudges me in the right direction. Sometimes I start writing something about the 921st anniversary of the death of El Cid before realizing that surely, no one is interested in my thoughts on that.
Well, I dug up July 17, and let me tell you, it has not historically been a very good day. On this day in 1936, the Spanish Civil War started. In 1918, the Romanov family—including children as young as 13—were slaughtered in a basement.
It kind of just follows that pattern going back. In 1203, Crusaders began besieging Constantinople—a fellow Christian settlement, so they kind of got their wires crossed there.
In 180, six people were executed in Carthage for being Christian. That's the first record of Christianity in the area. Could you imagine that? The first record of your existence is your death? Bummer.
Adam Smith, Charlotte Corday, Dorothea Dix and Billie Holiday all died on July 17.
My point is, the bar's set pretty low for today—although from a certain reading of history, that's true of every day. Bad things have happened on every day of the year and they're easy to find if you look. Good days are not as often recorded in the history books. Let's just all try to keep a level head and see to it that July 17, 2020, doesn't make that list with the Romanovs and the Spanish Civil War.
Reading: "Franny and Zooey" by J.D. Salinger
There's a special kind of peace in anonymity and innocuity, which is something that noted recluse J.D. Salinger appreciated.
"Franny and Zooey" is a largely unassuming but deeply moving character study about accepting life for what it is, and finding the strength of character to be decent to one another.
At one point, Franny remarks that she is "sick of not having the courage to be an absolute nobody."
There's a certain wisdom in that line. As a society we place a lot of emphasis on fame, infamy, celebrity, of being top of the food chain and top of the table. Not enough people are simply satisfied with doing a good job.
"Franny and Zooey" is an easy read for a summer afternoon. It also includes my favorite indictment of pretentious faux intellectualism.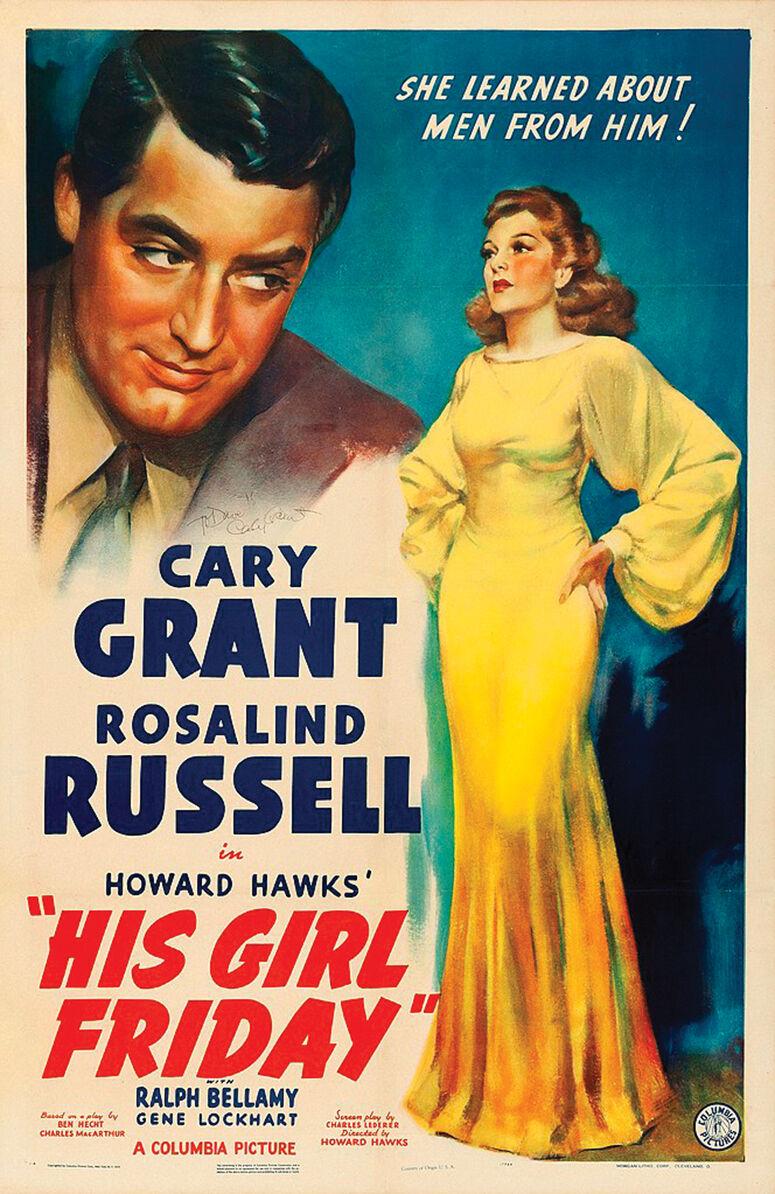 Viewing: "His Girl Friday"
"Walter, you're wonderful, in a loathsome sort of way."
Ever wonder what life is like working as a reporter for a newspaper? You may find the reality disappointing if you go in expecting it to be like "His Girl Friday," but if you're in the mood for a movie that is all but guaranteed to brighten your day, look no further than the classic 1940 screwball comedy starring Cary Grant and Rosalind Russell.
I've said this before and I will certainly say it again, but they do not make movies like this anymore. The characters are loveable, the dialogue is witty and clever, and the comedic timing is rapid fire and absolutely flawless, complete with a few jokes that you will miss upon the first viewing because you're still laughing from the previous joke.
"His Girl Friday" is an antidote for what ails you, and is streaming for free on YouTube, Kanopy and Amazon Prime.
On a sadder note, "Mythbusters" star Grant Imahara died of a brain aneurysm at the age of 49 this week. He was a delight and I had the pleasure of seeing him give a talk once several years back. Consider tracking down some "Mythbusters" to watch this week.
Listening: "The Highwomen" by The Highwomen
The Highwomen is a county/Americana supergroup consisting of Brandi Carlile Natalie Hemby, Maren Morris and Amanda Shires. Their name is, of course, a play on The Highwaymen, a supergroup featuring the talents of Johnny Cash, Willie Nelson, Kris Kristofferson and Waylon Jennings.
"The Highwomen," like their male counterparts, kick off their eponymous album with an eponymous track. Their song follows the tune and structure of the original song written by Jimmy Webb. "The Highwomen" weaves toge-ther generational stories of perseverance, persecution and strength in really quite a moving manner.
The best track on the album, though, is "Crowded Table," without a doubt. It's a simple song, musically speaking, and its lyrics reflect that, tapping into deeply rooted desires that I think most people harbor: a happy home life, a loving family, a sense of belonging and some room for peace and quiet.
And hey, if you want to stick with the July 17 theme, definitely check out Billie Holiday. Also, one of the few positive notes I happened on during my research was that Handel's "Water Music" debuted on July 17, 1717. Check it out, if you're in the mood for something classical (or, technically, I guess, Baroque).