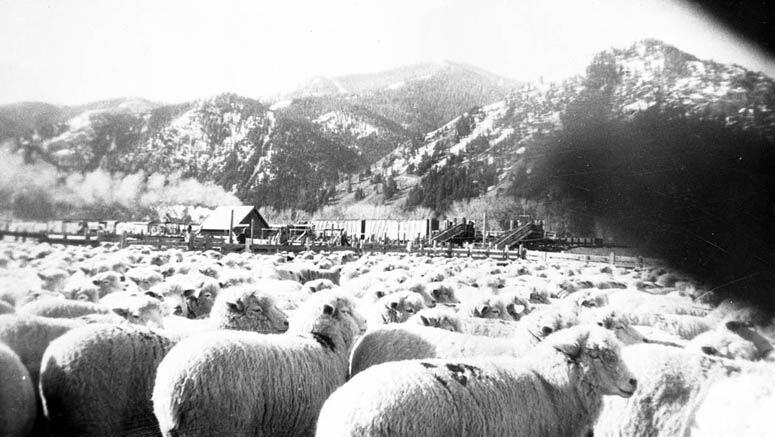 Have you run into these little guys on the bike path recently? It's that time of year again, when the sheep are making their way north for the summer grazing season. One of the deepest roots of Blaine County and Idaho history is sheep ranching. It's said that John Hailey was the first to bring sheep to southern Idaho in the late 1860s. In these early years, Idaho's breeding record showed a mere 14,000 sheep. Scottish immigrants such as James Laidlaw took work as herders and received payment in sheep. During this time, local mines began to peter out and the sheep industry began to increase and fill the hole in the local economy. Basque immigrants from northern Spain began to immigrate in the mid-1850s. They had come for the gold rush, but soon found more successful jobs as sheepherders and became the lead group. By 1918, the state's sheep population had reached 2.65 million. The shipping of sheep from Ketchum, like those in this image from the Miriam Breckenridge Collection, had become the second largest next to Sydney, Australia. Today, many sheepherders are Peruvian. 
Each year, the community honors the sheep industry with the celebration of the Trailing of the Sheep festival. In 1997, the first festival sprouted when John and Diane Peavey, owners of Flat Top Sheep Company, invited people out to observe and help them trail their sheep from the summer grazing lands back to the lowlands for winter. This October the Trailing of the Sheep Festival will celebrate its twenty-fifth anniversary. 
Last week, there was a ribbon-cutting ceremony at The Community Library to recognize the recent donation of the complete archive of Trailing of the Sheep history to the Jeanne Rodger Lane Center for Regional History. The archive has been donated in the memory of Patricia Crandall Lane.
---
By Kaili Smith, Patricia C. Lane Trailing of the Sheep Festival Archive Intern