As thousands of parade-goers took their seats wherever possible—knee-to-knee on the curb, on picnic blankets, on the rooftop of the Pioneer Saloon—all eyes turned south in anticipation. Children armed with animal balloons and freezer pops sat on their parents' shoulders; dogs yapped from their owners' arms. With no context, one could have mistaken the scene for a Fourth of July parade.
But as the first wagons, stagecoaches and buggies rolled down Main Street on Saturday afternoon, a much different kind of celebration unfolded. The 61st annual Big Hitch Parade had come to Ketchum.
With the sun beating down, cowboy hats abounded in the crowd, estimated at 20,000. Leather-tasseled vests and embroidered cowboy boots were also ubiquitous, harking back to the Wood River Valley's Wild West days.
As a Labor Day weekend celebration of Ketchum's rich mining history, Wagon Days is about returning to roots and remembering those who literally moved earth to create a Wood River Valley economy.
Within minutes of the procession's start, original pioneer-era wagons began to evoke the sense of time travel. Local politicians rolled onto the scene: two white horses pulled Ketchum Mayor Neil Bradshaw and his family in figure eights, and Sun Valley Mayor Peter Hendricks and his daughter waved from a 1900 John Deere carriage that once transported guests to the old Geyer Hot Springs resort. In the original Lewis coach—donated to the city of Ketchum by descendants of Horace Lewis along with the parade's grand-finale "Big Hitch," or six 1884 ore wagons—rode members of the Ketchum City Council.
Inspired by wagons and mule trains in Montana as a teenager, Horace Lewis, the son of one of Ketchum's first settlers, I.I. Lewis, originally founded the Lewis (Ketchum) Fast Freight Line in 1884 to shuttle freight more efficiently between railroads and mines.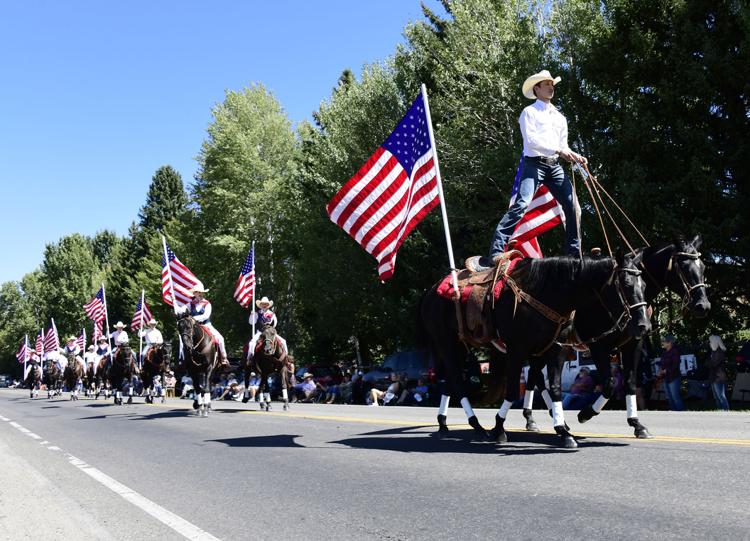 The first ore shipment made by the company's giant wagons took place almost 140 years ago, when 30 teams of wagons pulled by 200 mules carried the first load of galena ore from the Elkhorn Mine to Kelton, Utah. The two-week-long, 160-mile round trip proved that the wagons—built to last with a nine-ton weight capacity per vehicle—could effectively bridge the gap in manufacturing and trade where the railroad fell short.
Even after the Oregon Short Line reached Ketchum, every trip was plotted with efficiency in mind: Wagons took freight from railcars to miners, then picked up galena (an important source of silver and lead) to take to the local Philadelphia Smelter for processing.
On Saturday, one could witness other revolutionary developments in transportation dating to the early 20th century. Two Troy Tank Wagons, used to transport Standard Oil petroleum in the Magic Valley around 1910, were pulled by gray Percherons; horses "Doc" and "Eddie," two brothers, pulled a realistic "toe puncher" coffin as part of a re-created funeral procession by the Wood River Chapel.
While the historic wagons wowed adults in the crowd, children's attention tended to gravitate toward the animals, which included an impressive roster of Peruvian pasos—often considered the "Cadillac" of horses for their extraordinarily steady gait—and other pack creatures. Bactrian camels Ralphie, Humphrey and Dude were followed by slow-moving Buffy the white buffalo, a rare genotype of buffalo with historical reverence among Native Americans.
Following the stately brass of the Jerome High School Ambush of Tigers Marching Unit, a low beating of drums signaled the approach of the Shoshone-Bannock Tribes of Fort Hall, a reservation 10 miles east of Pocatello.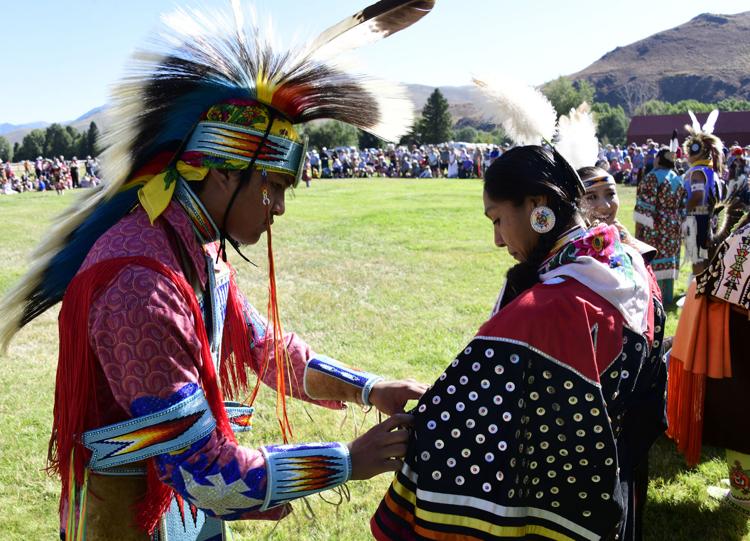 With the day's earlier song-and-dance demonstrations from the Shoshone-Bannock tribes, this was the second year in a row that the Big Hitch recognized the historical presence of Native Americans in the Wood River Valley. According to the Blaine County Historical Museum, the Shoshone and Bannock people once traveled through Blaine County for hunting and gathering, camping in present-day Elkhorn and Indian Creek near Hailey.
With the help of father-and-son duo Jose and Cesar Heredia, the parade next demonstrated how the valley's cowboy culture owes many of its practices to Mexican cattle ranching. From their saddles, the men demonstrated complex floreo de la reata (lasso tricks) and charro (horse and foot maneuvers). The Escaramuza Charra group, Idaho's first female-equestrian ensemble to honor soldaderas, or women soldiers in the Mexican Revolution, followed the Heredias with a complex synchronized sidesaddle dance to the rhythms of traditional Mexican music.
A more general recreation of Western history also materialized on Saturday, with local volunteers portraying Capt. Merriweather Lewis, Native-language interpreter Georges Drouillard and trapper John Grey atop Spanish mustangs. A young boy in a coonskin cap rode by on donkey "Lil'Bit," demonstrating one of the valley's first revenue streams in fur trading.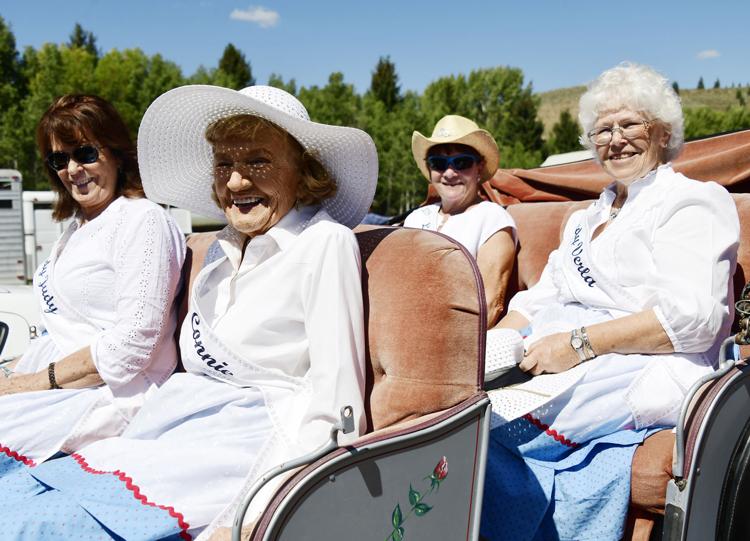 Eventually, after a long pause, the sloshing of bells could be heard as the much-awaited Big Hitch drew near. Commanded by professional mule-skinner Bobby Tanner, the 20-mule jerkline pulled the hitch's six bonneted wagons, each with a brakeman posted on the side, while attendees recorded the procession on cameras and smartphones.
Saturday's celebration was followed by a family-friendly concert on East Avenue featuring rising country singer/songwriter Brandon Lay.
"Cultural dancing, kids activities, a rocking country band and, of course, the Big Hitch, all made for a Wagon Days weekend to remember," Mayor Neil Bradshaw said Tuesday, adding that "20,000 smiles always makes for a great event."