In a back room at the Blaine County Sheriff headquarters, officers gather around a wheelchair and kneel, one by one, to wish 10-year-old Delilah a merry Christmas.
"Kimber," a German shepherd mix, nuzzles into the girl's hand at the command of K9 officer Chris Harrison. A newly gifted teddy bear sits in the crook of Delilah's elbow.
"She loves dogs," the girl's mother, Ceceilia Baker, tells the officers. "The pointier ears, the better."
There's a short round of laughter. To the untrained eye, Delilah, afflicted with Rett syndrome, doesn't appear to react. But Ceceilia—squatting at eye-level with her daughter, face nearly touching the girl's delicate curls—knows differently.
"Cognitively, she's present. She's locked in—we can see it in her eyes," Ceceilia later tells me. "There are times when it's clear she wants to say something, but she just can't communicate."
Over time, Ceceilia and husband, Aaron, have compiled a rough glossary of Delilah's different vocalizations, discerning between her screeches and yells. They watch her eyebrows for subtle jerks, indicative of excitement. But about 80 percent of the time, they say they're in the dark.
Delilah is one of around 20,000 girls in the United States living with Rett syndrome. The pediatric neurological disease stems from mutations on the X chromosome—thus mostly affecting females—and, as Ceceilia describes, carries devastating consequences.
"Imagine Parkinson's, Down syndrome and autism rolled up into one little girl," she says. "And that girl cannot use her hands, walk or talk. Rett has honestly taken everything from our daughter, except her smile."
Today, Delilah is able to attend Bellevue Elementary on Mondays, Wednesdays and Fridays, but her parents say that wasn't possible until recently.
From January through April, a series of life-threatening infections brought the tween close to septic shock after her stomach began to necrotize. In August, spinal fusion surgery to correct severe scoliosis left her with hundreds of stitches and two pounds of metal in her back.
Day-to-day complications of Rett syndrome are less serious, her mom says, but can be alarming. Delilah will stop breathing during bouts of apnea, for example, and seizures will rock her entire body.
"There's nothing you can do to control those things. It's very hard to see her in pain," Ceceilia said.
Last month, the mother typed out a simple request to her friends on Facebook.
"[Delilah] has had a really rough year, and there would be nothing better than to end the year with some beautiful notes from friends and family. New friends too!" she wrote.
The post caught Deputy Chris Harrison's eye. With the help of Sheriff Steve Harkins and fellow colleagues, he arranged a special meeting to surprise Delilah with a giant hand-drawn Christmas card—featuring Santa Claus in uniform and Bald Mountain in the distance—and, of course, a visit with dog Kimber.
Soon after, cards began to pour in to the Bakers' post office box from all corners of the country. People across the world began to learn Delilah's story on social media. By Thursday, more than 50 Christmas cards had arrived in Hailey, some including "fan" art.
"Hey! I saw on Twitter that you wanted to get some Christmas cards. … I saw you like mermaids, so I drew you one," someone wrote.
---
'A blessing in disguise'
Like many girls her age, Delilah loves dogs, horses, anything with sequins, princesses and Taylor Swift, though she couldn't tell you those things.
"We've found that she actually has quite the eclectic taste in music," Aaron says. "She'll hum along with Elvis and Frank Sinatra, and 'Uptown Funk' is her 'savior' song."
We're conversing in Java Coffee & Cafe in Hailey, Delilah's favorite spot.
"She loves the vibe here," Ceceilia says. With Christmas tunes piped in through the sound system, the atmosphere is bright and cozy—a radical shift from the day before, which the family spent in a sterile hospital room.
Once or twice per month, Delilah will make the 300-mile round trip with her parents to see her neurologist and gastroenterologist in Boise, undergoing EEGs and a battery of other tests to figure out how best to treat her seizures, chronic pain and feeding issues.
Aaron says the drive may as well be etched onto the back of his hand. The same goes for the family's daily routine.
"If we're not awake, we will be," he jokes of their mornings. "Delilah will start yelling if you don't turn on her TV in time."
Disney movies, especially "Frozen," are some of the few things that bring Delilah comfort. Once the TV is on, Aaron will ready his daughter's wheelchair and schoolbag, hook her up to her feeding tube and prepare foods she can easily digest: baby food, pudding, avocado.
Ceceilia does more of the heavy lifting—bed to wheelchair, wheelchair to car. In their apartment parking lot, she'll break down Delilah's wheelchair, scoop her daughter onto her shoulder, strap her into her pink car seat and lift the chair into the back seat of their sedan.
"It's times like that when a minivan would be nice," she said. "It sounds crazy, but a ramp would seriously change our lives."
A van to replace their four-door Saturn, however, remains a pipe dream. Aaron, a former mechanic, was put out of work after he was diagnosed with multiple sclerosis in 2003, and Ceceilia lost her job last fall.
"When Cece was working and I was a stay-at-home dad, that was great," Aaron remembers. "But a few years into my diagnosis, my legs started to give out. Of course I want to help carry Delilah—in my mind, it's no problem—but I'm afraid of dropping her. She's definitely the size now where it's become a two-person job."
Aaron's declining health has hit the family hard.
"He's very strong, but his stamina is not always there," Ceceilia said. "And like any person, you want to provide for your family financially, but he can't anymore."
"[MS] was one of those things I thought would never happen to me. I thought I could beat this thing by working out and pushing my body, but one day my neurologist stepped in and told my employer I had to stop working," he said. "The next thing I know, I couldn't walk."
When Ceceilia lost her accounting job last fall, the possibility of upgrading to a van—or hiring a nurse for Delilah—fizzled out. But losing her job was actually a blessing in disguise, she said.
"If I were still working in January, I wouldn't have noticed what was wrong with Delilah. But because I was with her every moment, I knew something was really off," she recalls.
Aaron and Ceceilia rushed Delilah to the hospital when her stomach expanded three times its normal size and her fever spiked. Doctors told them their daughter was just constipated, but Ceceilia pushed for further tests.
"It turns out her seizure medication had given her bad pancreatitis and caused her stomach to die," she said. "If Delilah could talk, we would have known this much sooner."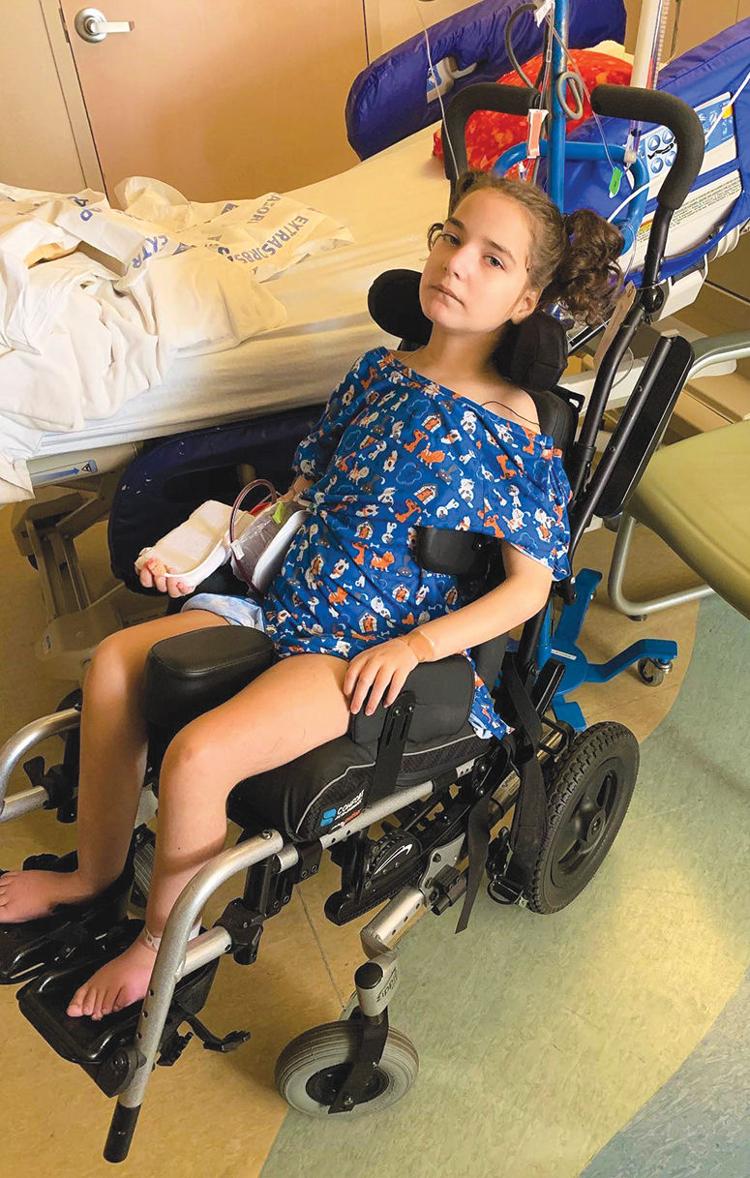 In the future, a revolutionary eye-tracking device called Tobii Pro could allow Delilah to communicate with her parents. (That is, if her parents can obtain the necessary thousands of dollars.) Using gaze-interaction technology, the girl could learn to operate her eyes like a mouse, pausing on icons with phrases—excuse me, why, when, come here—and ultimately find her voice.
"I can only imagine what Delilah is capable of, what things she'll have to say," Ceceilia said. She's almost 11 now. I'm sure there's so much sass in there just waiting to come out, especially with the way people talk sometimes as if she isn't listening."
The Bakers are also hopeful that scientific advances will pave the way for more effective treatment of Rett syndrome. Last month, the FDA announced rare pediatric disease designation to two exploratory oral drugs, Sarizotan and blarcamesine, which have shown promise to abate Rett symptoms in kids.
"They're working on a lot of drugs now and actually extended the ages of the clinical trials. If they bring one to Seattle, I think that's something we would consider," Ceceilia says.
---
Dreams on hold
As Ceceilia spoon-feeds Delilah whipped cream, pausing every so often to dab at the girl's mouth, I ask her when she first knew something was wrong.
"As a parent, you're always on the lookout for milestones, and she was a little late on those," she says. "She used to be a normal kid, babbling and playing with toys, but something was really different at 10 months. Her eyes were crossing and she had no interest in crawling."
After a number of MRIs, doctors told Ceceilia they may never know what was wrong with her child. A year later, a behavioral specialist recommended a test for Rett syndrome, advising Cecelia not to Google the disease. The new mother did.
"Once we'd found a diagnosis, it was like Delilah let loose," she said.
 Thus began the long road as a caretaker, a role Ceceilia has known to breed stress, isolation and burnout.
"It's gotten to the point of not taking care of me, so I'm learning to make myself a priority. It's a work in progress," she said. "In an ideal situation I'd like to go back to school, but I can't. I'd like to get a job, but Delilah needs me 24/7."
Acting as both a parent and nurse to her daughter, Ceceilia has had to forego her own hopes and dreams. There's no break in special-needs motherhood, she said—earlier that day, Delilah needed to be picked up from school at 11 a.m. after a gagging spell.
But support from Aaron and the wider community has kept her going.
"We're a lovely bunch, the three of us, and we have a lot of fun together," she said, planting a kiss on Delilah's forehead.
Someday, Ceceilia and Aaron hope to get to Disneyland, where all their daughter's favorite things—princesses, music and plenty of sparkles—can be found in one spot. (Delilah was granted a Disney trip through the Wishing Star Foundation six years ago, but the plan was foiled when her health deteriorated and the family was instead treated to a mobile celebration in Boise.)
"Maybe we can con a relative into going with us so Aaron and I can go on the big-kid rides," Ceceilia said with a laugh.
 For now, Christmas cards will do just fine.
"I don't care if we don't have that much. I just want Delilah to end her year with something special—she's a rock star," Ceceilia said. "She's just an incredible girl. She's already outlived her life expectancy three times. She's tough, and she's had a lot of things packed into her little life so far."