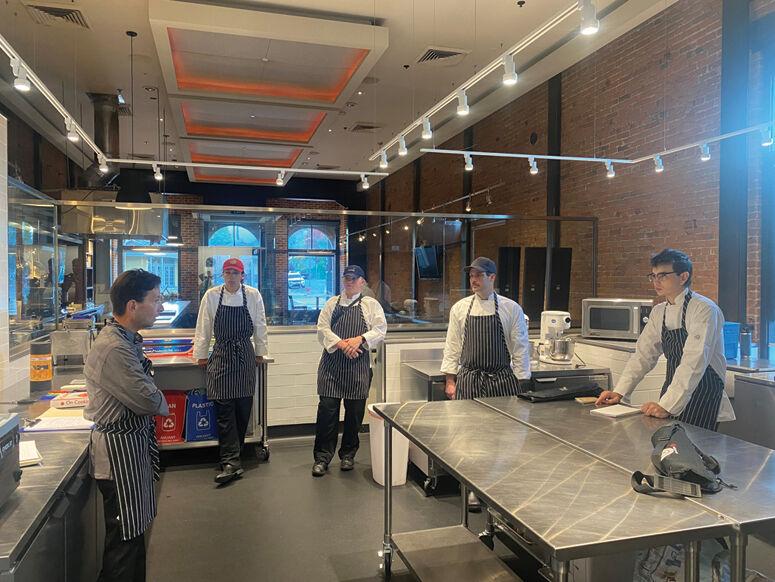 For Geoff Felsenthal, the culinary director at the Sun Valley Culinary Institute, cooking and education go hand in hand. That philosophy makes him an idea fit for his newest role: instructor of the Institute's inaugural professional culinary arts program. 
"If I can help foster and grow a dream, then I've succeeded in my goals as a cook and as an instructor," Felsenthal said. 
The school has a new approach, designed by Christopher Koetke, a chef out of Chicago who helped build the curriculum. He had a vision for a different school model that was less time in school and more time in a supervised restaurant situation at less cost to the student. While most other culinary institutes charge between $30,000-$40,000 for two years—leaving students with debt before they can even start their careers—the Sun Valley Culinary Institute charges $12,000 for one year. 
Four apprentices from across Idaho make up the program's initial class. In the first two months, they start with an internship at the Institute. After that, they go on an externship, where they will get paid experience at a real restaurant during the peak tourism season. Then, the cycle repeats. They graduate in September 2022.
"I told the students it's really about the five of us," Felsenthal said. "I am an instructor, but all of us share the same goal: to put people who can be successful in the business."
Felsenthal hopes to get his students in such local restaurants—but first the students have to be prepared.
"People have high expectations when they go out to restaurants," Felsenthal said. "If we are asking people to invest in us, we have to exceed their expectations."
On Monday, Sept. 27, they hit the ground running. Felsenthal started with the basics, teaching students how to use a knife and how to set up a kitchen. This week, they worked through terminology, learning how to write and cost out a menu. Next week, they will learn how to prepare a variety of egg dishes. Then, they will work on sandwiches, soups, salads, poultry, shellfish and baking. 
"I will impress upon these students that there's a lot of people who do what we do, but there are few people out there that are willing to make a difference day in and day out," Felsenthal said. 
There will be quizzes and homework each week with projects sprinkled in. They will go on numerous field trips throughout the year, like heading south to Twin Falls to see such companies as Chobani and Cliff Bar. To learn about small vegetable growers, they will visit potato and dairy farms. Felsenthal even hopes the students will have their own gardens by the end of the year.  
"To make a commitment in their young careers, they have to immerse themselves in the culture of food and they live and breathe it 24/7," Felsenthal said. "They cannot take shortcuts."
Felsenthal started his career during high school, bussing for an Italian restaurant and making around $30 a night. 
"I ate famously," Felsenthal said. "Kids in high school, all they do is eat."
He moved up through the ranks: dishwasher to bartender to server and finally chef. He did whatever it took to be successful, working for free on his off days, studying cookbooks and magazines. He worked in restaurants throughout Minnesota, San Francisco, North Carolina and Chicago, cooking and teaching. 
"Food is a part of everybody's life," Felsenthal said. "It doesn't really matter where you live."
About a year ago he decided he wanted a change. He wanted to give back. 
"My philosophy as a teacher is to instill a sense of passion and a sense of pride in what they do," Felsenthal said. 
When he applied, Karl Uri, the director of the Sun Valley Culinary Institute, chose him to lead the class
"After speaking with former students, colleagues and meeting with him and his wife Carol here in Sun Valley I knew we had found the right person," Uri said. 
Next year, Felsenthal hopes to expand the program and get more apprentices involved. 
"Hopefully," he said, "some of these students we have here now will spread the gospel that culinary school can be a great stepping stone."