As the sun set in Gimlet on Wednesday—creating an orange-striped sky—drag queens took their turns on stage in silky gowns and rainbow frocks, strobe lights flashing behind them.
Warm applause gave way to Whitney Houston's "I Wanna Dance With Somebody":
Clock strikes upon the hour
And the sun begins to fade
Still enough time to figure out
How to chase my blues away.
Residents from across the valley danced in and around the gazebo of the Sawtooth Botanical Garden. Rainbow shirts, tights, socks, sunglasses, lawn chairs, umbrellas and blankets—even rainbow-dyed hair—abounded in the crowd. A rainbow flag posted along state Highway 75 flapped in the breeze.
Wednesday's sold-out event, Pride in the Garden, drew around 130 valley residents for an evening of festivities celebrating the local lesbian, gay, bisexual and transgender community and its allies.
The evening was spearheaded by Sawtooth Botanical Garden Executive Director Jen Smith, who with her wife, Heather Johns, became the first queer couple to wed in Blaine County.
"This event was actually first put on the whiteboard in 2018. The idea was for people, especially kids, to feel safe and know that there's support in this community," Smith said. "When we saw we were coming out of the pandemic, I ran it by the [Sawtooth Botanical Garden] board. They were like, 'Hell, yeah!' What better place is there to cultivate growth and authenticity?"
Pride in the Garden kicked off Wednesday with a guided meditation and breathwork session by yogis Jesse James Rice and Eduardo Emmanuel Ballesteros.
Rice, wearing a sunflower crown, noted that this was the first "pride" event of its kind in the valley.
"This special day has given us the permission to be ourselves and share our full colors, shadows and light," he said. "The more you show up and be you, the more we can show up and be us."
As attendees enjoyed a dinner of roasted sweet potatoes, Brussels sprouts, barbecue chicken and pulled pork and wine, local rock band Doghaus performed songs from their album "Play Hard," written during the pandemic.
Rocks painted by the Wood River High School Pride Club lined the entryway. Across the lawn, Pride Club members Luke Lincoln and Kay Angell invited passers-by to spin a wheel and answer icebreaker questions: "How do you support members of the LGBT community? What's your favorite queer movie? Favorite queer celebrity?"
Hugs were distributed liberally to the high-schoolers, who shared their coming out stories and feelings of otherness. A third club member, who asked not to be identified because they were not out to their parents, said they were thrilled by Wednesday's supportive atmosphere.
"I nearly fell over when I saw all of the rainbow flags. I was so happy," they said. "There aren't many rainbow flags in Idaho, or that much support, so when you do see one, it's that much more special."
Wood River Middle School student Tucker Arndt, who identifies as gender-fluid, said they enjoyed the movement, positivity and energy leading up to the night's drag show.
"I actually thought there would be a few homophobic people here," they said, headed toward a table of rainbow-frosted cupcakes. "Nope! This is a total blast."
Other agenda items on Wednesday included an unconventional auction involving Jell-O shots—led by auctioneer Meghan Myrick—which raised over $1,500 for the garden.
Then, keynote speakers R.L. Rowsey and Carter Hedberg delivered speeches that visibly moved audience members to tears.
Rowsey—valley thespian, vocal coach, artistic director of the Caritas Chorale and education artistic director at the Sun Valley Music Festival—described his Southern Baptist upbringing in a small town outside of Richmond, Va.
"Discovering that I was a gay boy in the 1970s was tricky. Our minister came to me and told me that I was likely going to hell because I loved square dancing," he said. "Finding the musical theater community is where I found a family that finally embraced and celebrated me."
Four years ago, Rowsey's husband and life partner, John Glenn, artistic director of Company of Fools, died suddenly after a medical emergency.
"Out of nowhere, my lover, soulmate and partner in crime was no longer with us," he said.
"But this community created a tidal wave of love that became a chair when I needed to sit down and a bed when I needed to lie down. The process of love was not perfect, but it was pretty damn close to it."
Carter Hedberg, director of philanthropy at The Community Library and former executive director of the Sawtooth Botanical Garden, called Wednesday's event "not a small step, but a giant leap" for the valley's LGBT+ community.
Next month, he said he'll celebrate 40 years of being together with husband Wayne Schmidt, an ordained priest at St. Thomas Episcopal Church in Sun Valley.
"To have institutional support in this valley, this is tremendous tonight," he said.
Hedberg told the crowd that shortly after he became executive director of the garden, he learned that a man on the board's search committee had not been "so much in favor" of a gay man becoming executive director, because the man "wondered how a gay person could find community in the Wood River Valley."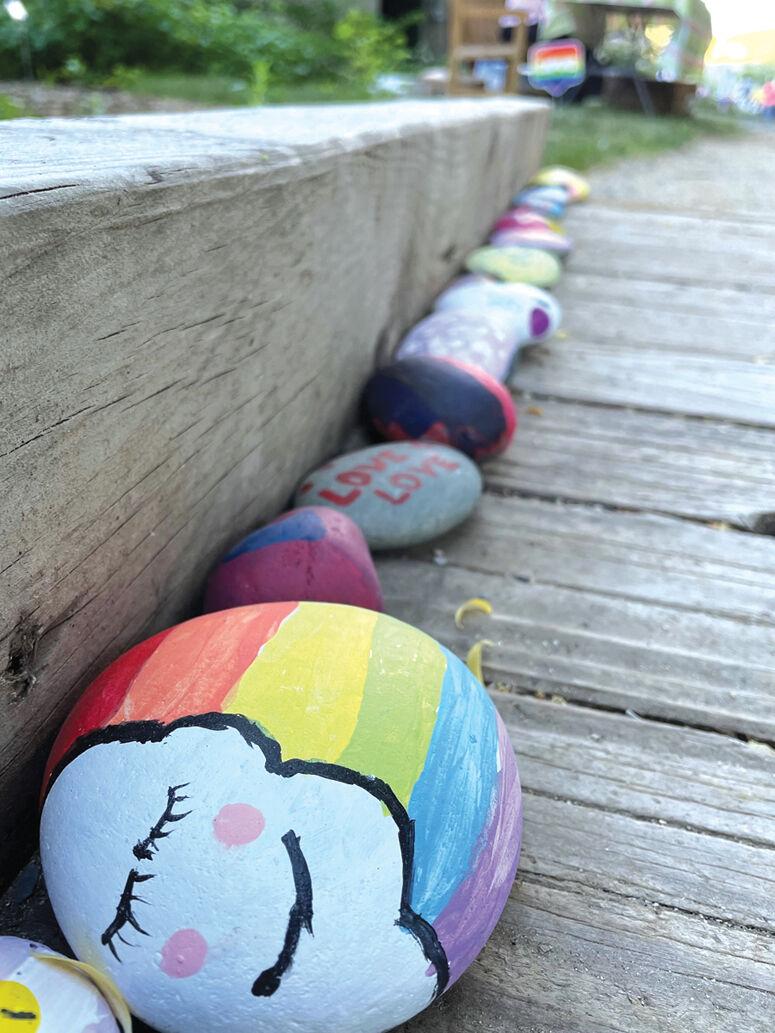 The man recognized that he was wrong and later became a good friend, he said, and the community welcomed him "with arms wide open."
"The abiding love in this community is remarkable," Hedberg said.
Before parting, Hedberg offered a book recommendation: "Flamer," a young-adult graphic novel about a young boy dealing with his feelings of being gay.
"We learned at school how bad homosexuality is. It's a sin. Gay people do bad things and I'm not a bad person … so I couldn't be gay," he read from the novel. "See, that's how some of us grew up, feeling that. But we're not bad. We're fabulous."
To cap off the night, Portland-area drag queens Dolce Vita, Jayla Rose, Nay-Nay Cartier and Alexis Campbell Starr lip-synched to LGBT+ anthems. Eventgoers cheered on the queens and brought up dollar bills for tips.
"Pride is here," Cartier said, wiping her forehead. "Love is all around us. And it's running down my face."