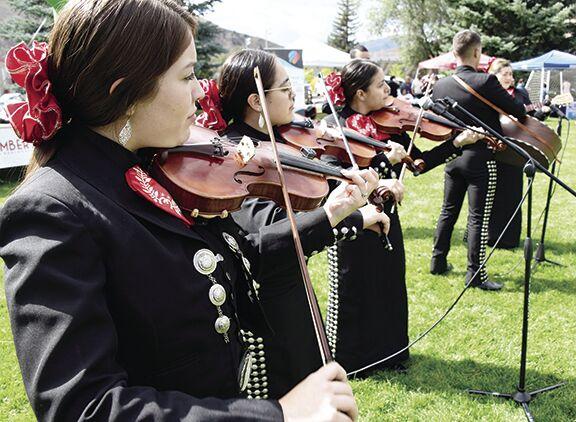 This Saturday Hailey's Roberta McKercher Park hosts the fourth annual National Hispanic Latin@X Festival from 11 a.m.-8 p.m. Hispanic Heritage Month runs Sept. 15 through Oct. 15.
Born in El Salvador, Herbert Romero, founder of the festival, has lived in America for over 40 years. 
"It's not reinventing the wheel," Romero said. "It's just bringing it to a community and just helping it grow at a grassroots level."
Hailey Public Library kicks off the celebration tonight, Sept. 17, at 6 p.m. The library will offer presentations, music, pinatas, activities, exhibits and the Bilingual Story Walk.
The Bilingual Story Walk will have various speakers, professional instructors and outreach coordinators. The Hailey Public Library will have storytellers. Bilingual resources will be available detailing the history of different Hispanic cultures. 
The Hailey Hispanic Heritage Latin@X Fest will recognize local law enforcement at 2 p.m. Police Chief Steve England will acknowledge Hailey's Hispanic liaison team. 
"I think that small steps are very significant in our Hispanic community," Romero said. 
Margie Gonzalez of the Idaho Commission on Hispanic Affairs will come from Boise to give out plaques.
"Part of the festivities is acknowledgement," Romero said. "It's not just a big fiesta. It's more than that. It's about recognizing the work."
With tensions surrounding the police high in recent years, some sponsors expressed dissent when Romero chose the park across the street from the police station as the venue for the festival. 
"We could really show this community that we could address this fear, that we could build relationships with the police departments," Romero said. 
Revered band Huracan del Peru will perform live music at the festival. Romero met them at Jhony's Peruvian Cuisine, a Hailey restaurant. Then, Father and son duo Manuel and Antonio will serenade the crowd with authentic Mexican music. Psychedelic blues/funk trio Shop Dog will also play.
On Wednesday, Sept. 22, at 4:30 p.m. there will be a Hispanic Latin Leadership roundtable conversation with Margie Gonzalez of the Idaho Commission of Hispanic Affairs at the Old Copy & Print in Hailey. Those interested must RSVP. Contact projectoolsuccess@yahoo.com for details.
Thursday, Sept. 23, at 4:30 p.m. is the presentation "UNIDOS-Together, We Are the Solution." Guest speaker Sri Preethaji comes to share wisdom to local families of Latin descent on the Community Campus grass area. 
The growing Hispanic population in Carey also requested a celebration. So, on Sept. 23, for the first time, organizers will bring the festival to the Itty
Bitty Farms in downtown Carey at 10 a.m. Sun Valley Community School and Wood River High School will team up for a project called the "Community Table." They will provide mobile mini games, food, arts and crafts and bilingual readings. Neighbors Helping Neighbors Crisis Hotline and the "I Have a Dream" Foundation will also be there.
Last year, Blaine County made a proclamation certifying Hispanic Heritage month. 
"To be on record for the first time is so impactful to the community as a whole," Romero said. "To have this awareness of recognizing our leadership, our achievements, not just nationwide, but here locally in this valley, that was huge."
While developing this event, Romero wanted to be inclusive of different Hispanic cultures:  Peruvians, Mexicans, Central Americans, Colombians and Argentinians. People have come all the way from Twin Falls, Jerome, Burley and Gooding to support the event.
"Our Hispanic community has been developing and evolving," Romero said. "Sometimes people don't understand that. I think it's easy to paint us with one brush."
The term "Hispanic" came to prominence during the rise of the Census. While some people see it as erasure, others see it as empowering and unifying.
"Within the Hispanic community, our differences make the difference," Romero said. "It doesn't separate us."
For those unaware, the "Latin@X" movement has recently been popularized as a way to identify women and those who are gender fluid, distancing from the male-dominant "Latino."
"At the end of the day," Romero said, "it's about respecting and understanding different perspectives."