Emmy Award-winning cinematographer Bob Poole has been working with the Hadzabe and Maasai Tribes in Tanzania to get up close with African wildlife. Extraordinary footage the Ketchum resident shot will be featured in the BBC television series "Life at the Waterhole," airing Wednesdays on PBS, May 19 to June 2, at 6 p.m.
The series captures the daily drama of African wildlife at a unique man-made waterhole in the Mwiba Reserve rigged with partly submerged and weather-proofed cameras. Poole worked with renowned conservation scientist Dr. M. Sanjayan.
"Wildlife appeared within hours," Poole said. "The first to arrive were warthogs who had been watching the construction and were eager to jump in and have a mud bath. Elephants have an amazing sense of smell and they came shortly after. It didn't take long for other animals to discover the water, and they returned regularly after that."
Poole, 62, said the location at the southern tip of the Serengeti is a community-owned conservation area where the indigenous people benefit from tourism. But elephants and buffalo, as well as other animals, become desperate for water during the dry season and conflict between wildlife and people arises at man-made wells.
"The waterhole was built to relieve conflict at the wells nearby," Poole said. "A man-made waterhole for wildlife was a good solution to the problem."
Over the change of seasons, the crew witnessed various animals coming at different times of day. During the driest time of year, most animals came mid-day. During the hottest time of year, most animals came at night. During the rains, animals still came to the waterhole.
"We think because it was built on an open plain where animals felt safe because the grass was short and the lack of bush made it hard for predators to hide," Poole said. "It was amazing to be so close to elephants, buffalo and giraffes as they drank."
Poole has spent time around natural waterholes in Africa since he was a child. His father worked in the Peace Corps in Kenya. He moved to Sun Valley nearly 40 years ago to work with Jim Dutcher on a film about wolves. He has filmed award-winning documentaries for the PBS series "Nature" and "NOVA," the BBC and Discovery Channel networks, and nearly 40 programs for National Geographic Television. In 2011, he won an Emmy for outstanding cinematography on National Geographic's landmark series "Great Migrations."
"To me, life at the waterhole was very normal," Poole said. "Many species approach the waterhole together, there's safety in numbers. Baboons have excellent eyesight; giraffes have a better perspective. A herd of impala have so many collective eyes. Competition for water between animals is rare but does happen. For the most part animals wait their turn and share."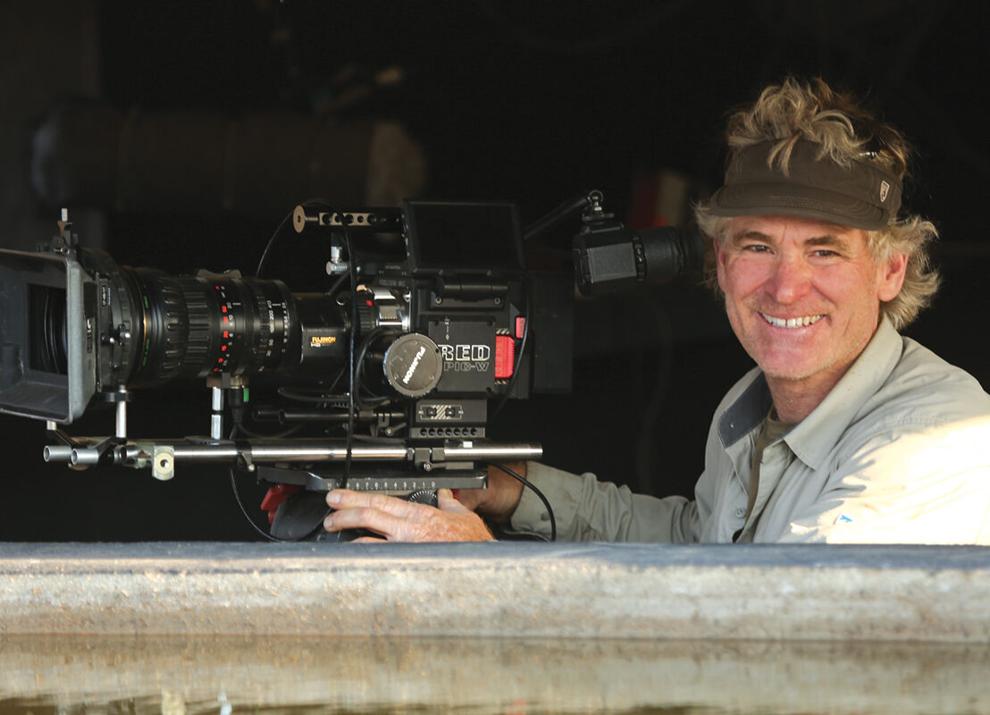 Construction of man-made waterholes has been controversial, but Poole said they could serve multiple beneficial purposes. However, he said they can disrupt seasonal animal migrations.
"As the human population grows and settles, animals are often blocked from water points. It is a problem across Africa," he said. "A team of researchers wanted to study the effects of a man-made waterhole. Because the waterhole was going to be built from scratch, to serve wildlife and alleviate the tension at the Maasai wells, it could be designed for multiple purposes. The idea to rig it with cameras was a natural one, as it would offer a better record of what happened."
Poole has had many projects with National Geographic, including "Man Among Cheetah," a story about him following a mother cheetah and her two cubs in the Greater Mara of Kenya. His wife, Gina, worked with him on the film.
COVID prohibited travel to Africa, so Poole worked on a National Geographic series called "Earth Moods," which is currently running on Disney+. He shot aerial footage with his drone over the Sawtooth National Recreation Area and travelled around southwest Utah and eastern Montana, living out of a Volkswagen van to capture footage.
Poole's work has long had a conservation focus, including his work filming at Gorongosa National Park in Mozambique, where fellow Wood River Valley resident and philanthropist Greg Carr has been active for many years.
"Africa is changing at a staggering rate," Poole said. "Wildlife and wild spaces are disappearing faster than you can imagine. In my life I have seen drastic change. Wildlife was found almost everywhere, and now it really only exists within protected areas."
Poole said one of the biggest challenges African wildlife face is loss of habitat.
"Places like Mwiba Reserve, where we filmed "Life at the Waterhole," are critical to preserving wildlife and can benefit local people as well," he said. "Tourism provides good jobs and money that can help fund schools, clinics and wells and promote better agricultural practices."