There is an old saying in the artisanal beer brewing industry: "Think globally. Drink locally." The tradition of local brewing in the Wood River Valley goes back at least to 1882 when the Wood River Times reported on "Patriotism in the Home Industry," singling out the fermented beverages at the St. Louis Brewery in Croy Gulch, a ramshackle mining town west of Hailey that has disappeared in the mists of time.
"Keep your money in the country," the columnist wrote. "There is some beer in Croy Gulch which is made on the St. Louis and Milwaukee method, and is equal in quality and healthier than the export beer of those places, or of any other place, because the beer is made fresh every week."
The Mountain Express rounded up as many commercial brewers as it could find to get the scoop on today's burgeoning local beer industry. Thanks to increasing demand for American craft beer, what was once chugged only in the valley during the mining era now finds its way to distant ports of call around the world.
Chris Harding became a dedicated home brewer before founding River Bend Brewing Co. at his house on River Bend Lane near East Fork about 23 years ago. He started out small and then added onto his fermenter to double his capacity.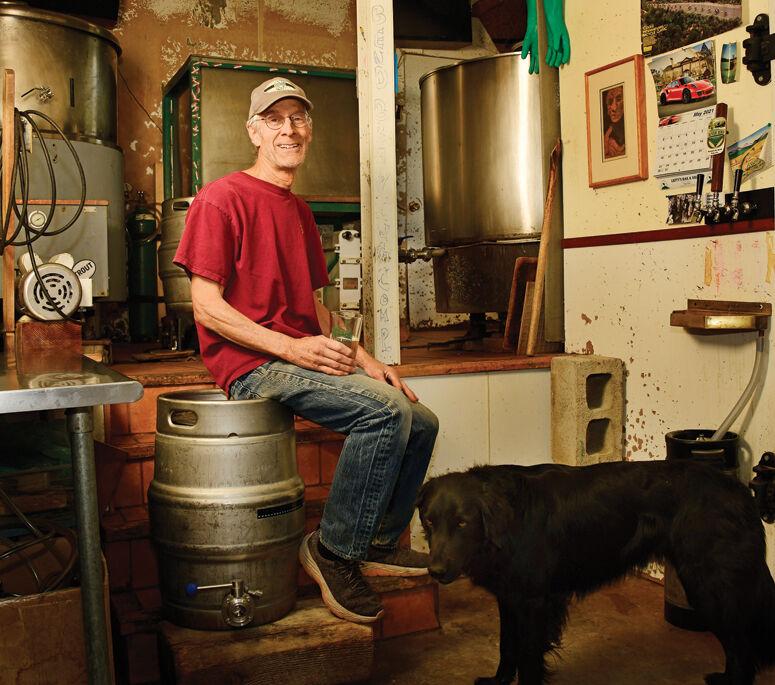 "I sold my first keg in January of 1999," said Harding, who has an in-home operation and owns all his equipment, which means he has no debt. "We all do it differently, but that was one of my plans, to not be a total slave to it. There is not much automation here, so I was able to get into it cheaply."
Harding, a sole proprietor, said brewing is for him a part-time job, but in summer when he is cranking, it's full time-plus. Harding brews seven barrels at a time, the equivalent of 14 kegs. This takes place every three to four weeks. For a guy who claims to be "extremely pro-slack season," his 13- to 14-hour brewing days aren't really that much work. "That's the easy part," he said. "Because the yeast takes over. They are my work force. They never go on strike."
Harding's DIY operation included special equipment to facilitate his one-man transport of 160-pound full kegs. He said drinking draft is by far the most sustainable way to drink beer because there are no bottles or aluminum cans.
"I use kegs that are decades old," he said. "They last forever."
Harding's mainstay is Around the Bend Pale Ale—"that's the one that keeps me in business," he said. "It's well-balanced, low alcohol, but high in flavor. You can have a few of them and still function."
River Bend has steady long-term clients from Bellevue to Galena Lodge. His best by far is Lefty's Bar and Grill in Ketchum. Harding delivers his kegs in the back of his car. He uses water from his well, hops from the Yakima Valley of Washington and barley from all over the place.
"There are some farmers in the Bellevue Triangle who grow a lot of malting barley, really nice stuff, but it's all contracted to Coors Beer, unfortunately," he said. "I get a lot of barley from the United Kingdom, which isn't exactly local. But beer is mostly water, and my water is excellent. I do nothing to change it. It's the terroir of my beer."
---
Sun Valley Brewery
Sun Valley Brewery on Main Street in Hailey was founded in 1986. Sean Flynn has been the proprietor since 1993 and says his brewery is the oldest continually running operation in Idaho. It also features a restaurant and live music.
"We're part of the fabric and culture of this valley and have been participating in local events for a long time," Flynn said. "We are a family-run business, and more than one generation of some families have been coming to us."
Flynn runs what he calls a "smaller brewery" that concentrates its business locally, brewing and bottling about 500 barrels a year in 12 varieties.
"We try to get most of our grain locally because Idaho raises some of the best barley in the world," said Flynn, who sources his barley through a dealer in Pocatello. "Hops-wise it's a mix, but it's all regional, from Idaho, Washington and Oregon. Those are the three hops-growing regions that dominate the scene."
Sun Valley Brewery has some time-tested local favorites, including Gretchen's Gold, a German-style lager named after local hero Gretchen Fraser, the first American skier to win an Olympic gold medal in 1948, and an ambassador for local ski programs. Flynn's Cranky IPA has that bitter, hoppy taste. It was designed for cycling about 10 years ago to go with the biking lifestyle.
After weathering the pandemic, Flynn is set to throw the doors open and serve outside as much as possible this summer.
"Our parking lot will be a full-blown beer garden," he said. "A traditional German outdoor area where people gather to eat and drink beer at communal tables."
---
Sawtooth Brewery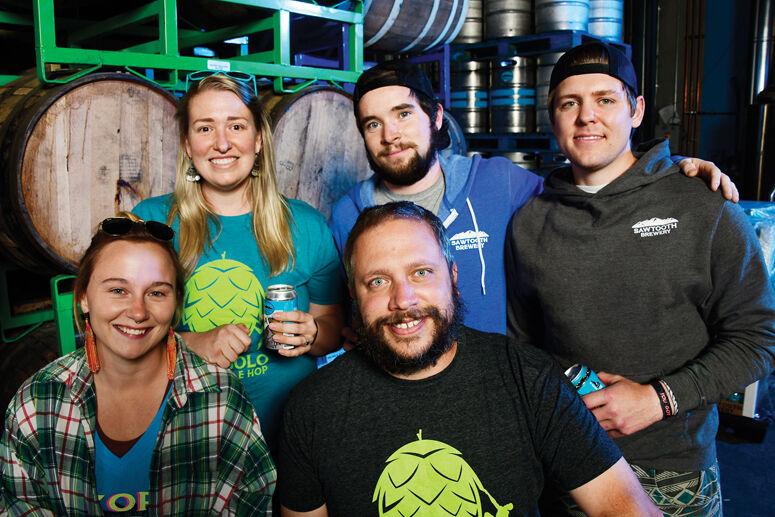 Like Harding, Paul Holle is a home brewer who went pro. He's co-owner of the Sawtooth Brewery on River Street in Hailey, with Kevin Jones. Their sizeable brewing operation is across the street from the site of the well-known Star Brewery of the gold rush era. Stacks of pallets piled with shiny cases of beer and old whiskey barrels tower over vats with bubbling mash that will be drained for wort, then added with yeast into a growing number of fermenting vats along the back walls.
Some of Holle's product is heading across the Atlantic. He was recently seen loading his first shipment of 1,100 cases of his Idahome IPA onto a refrigerated truck for transport to Sweden.
"They wanted an American West Coast-style IPA, so here it comes," Holle said.
Sawtooth Brewery, which also hosts a mug club and eateries in Hailey and Ketchum, will celebrate its 10th anniversary this year. Holle plans to ramp up production from 2,200 barrels last year to 3,000 in 2021.
"We try to source as much of our ingredients as possible from Idaho," Holle said. "Our barley is from Pocatello and Idaho Falls. Our hops are from Parma, Idaho. Idaho is actually the No. 2 producer of hops in the country."
Sawtooth Brewery offers a wide variety of beers, from the Myopia Hazy IPA to the summer favorite, Lost River Lager. If you are willing to wait, you can have a special release from the Woodside Series, aged for 9-12 months in a whiskey or bourbon barrel. Lately Sawtooth has been getting into the "hard seltzer" business, too, under the label Atmos Brewing.
"Our Creekside hard seltzer is our version of the White Claw, which the college girls all love, only ours doesn't taste like Jolly Ranchers," Holle said.
Shipping internationally is a big step for Holle, but comes as no surprise.
"American beer is trendy almost everywhere because we're making the best beer in the world by far," he said. "Other countries know that we are experimenting to see what's possible."
---
Warfield
Alex Buck, co-founder of the Warfield Distillery and Brewery on Main Street in Ketchum, looked to the old world for inspiration. He started the downtown mainstay after stepping away from work as an attorney and traveling in Europe with his family to visit relatives in the U.K.
"We developed a strong affinity for European beer and spirits," Buck said. "We've always had a desire to build and work in a creative business that produces excellent organic products and provides a wonderful place for the community to gather."
Back in the early 2000s, Buck purchased brewing equipment to make cider. He then decided to make beer—a British bitter named Toothy Grin. Over the course of many years, he exclusively made his own beer for consumption. By 2014 the family was in the Wood River Valley and ready to make their dream come true.
"Luckily for us, the old Slavey's building was available," Buck said. "We thought it would be the perfect location for our business. We committed ourselves to making beer and spirits with only the highest-quality organic ingredients."
The Warfield's combined operations with rooftop bar and street-side cafe at a prime location at the corner of Sun Valley Road features a window upon the distilling and brewing operations that go hand-in-hand.
"In order to make excellent whiskey, you have to start with excellent beer, but without the hops," Buck said.
To him, that means making beer with certified organic pale ale and crystal malts. The combination produces an unfermented beer called "whiskey wash," which is then fermented into a 9% alcohol-by-volume liquid. From there, it is transferred to a wash still to distill out the alcohol. Finally, it gets further refined in a spirit still. Selected portions are put into whiskey barrels for a minimum of three years.
At the bar, you can taste the beer version of the Warfield's whiskey alongside the finished spirit. It's called The Wanderer, an English strong ale.
The Warfield produces about 2,000 barrels each year between whiskey production and beer production, crafting a wide variety of brews. The Ketchum Kolsch is billed as an "extremely drinkable German Ale"—light, crisp and easy to put back.
"In contrast, our Lucky Seven Pale Ale and Feisty Wee Number IPA are wonderful for folks who love hops," Buck said. "And then we have our darker and maltier brews like the Toothy Grin British Bitter and our Thorny Thistle Scottish Ale—a favorite of Charlie, our No. 1 mug club member."
The Warfield's organic and nonorganic hops come from various sources, including Crosby Hop Farm in Oregon, Yakima Chief in Washington and Castle Malting in Belgium for difficult-to-find organic varieties.
The brewery sells cans, bottles and kegs.
"We've been on this corner for six years now, and improved it," Buck said. "We hope to be here for another 100."