After a trying year, we decided to try a few new categories to recognize those who bore the brunt of COVID-19. Voting for Best Frontline Worker, in both medical and nonmedical fields, garnered an outpouring of responses—and, a wide range of worthy candidates. Express Staff Writer Gretel Kauffman caught up with four of the winners in the nonmedical category to learn how they weathered the pandemic, and what makes them so beloved by the people they serve.
---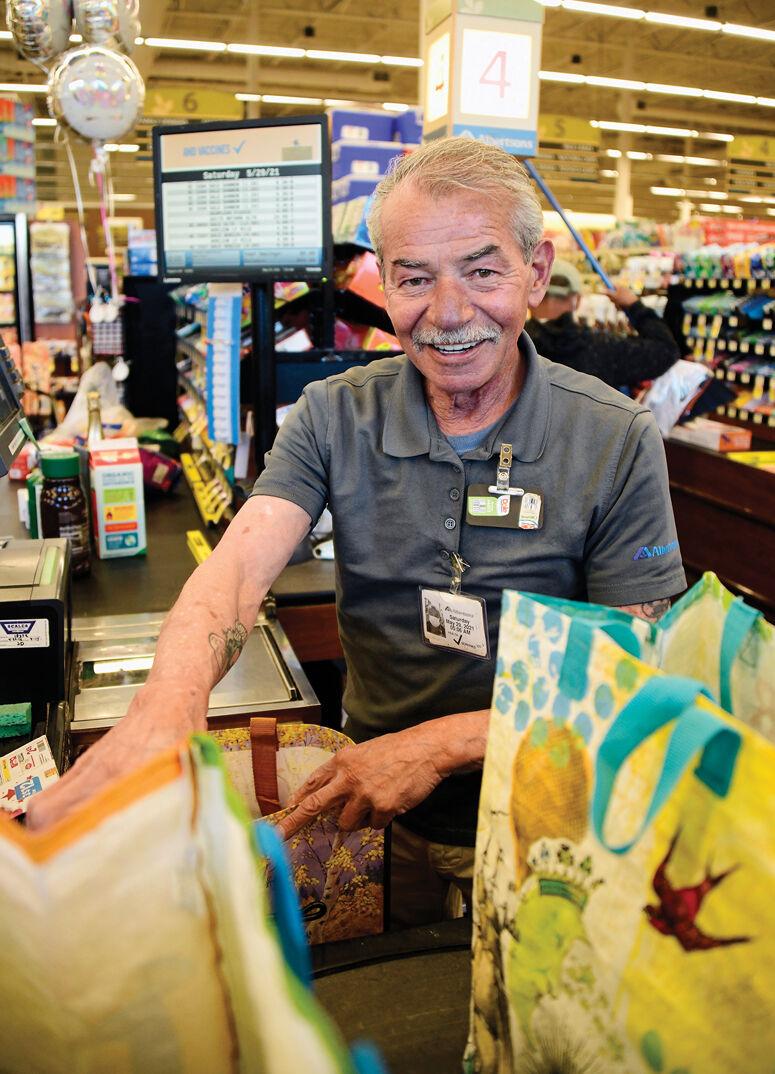 Eddie Archuleta-Albertsons

After 14 years behind the register at Albertsons, Eddie Archuleta is one of the store's most senior employees. He enjoys taking new hires under his wing and showing them the ins and outs of the job. But his most important advice for his fellow cashiers isn't about counting money, bagging groceries, or memorizing codes.
"Acknowledge your customers and ask them for their name," Archuleta said, when asked what he tells new hires. "I think that's important as a cashier, to get to know your customers on a first-name basis."
Over his dozen-plus years at Albertsons, Archuleta has gotten to know countless customers and their families on a first-name basis, watching local children grow up through the checkout line. Those relationships are the most rewarding part of his job, Archuleta says—and they're what led the Blaine County community to vote him the best frontline worker in the valley this year.
"I just treat all my customers the same way," he said. "I love them."
Archuleta began working at Albertsons in 2007, shortly after moving to Hailey from California to be closer to his children. The location and the job description were both new to him—in California, he had built prefabricated homes. But he caught on quickly as a cashier, making sure to learn each customer's name as he got to know his new community and using his bilingual skills to connect with customers from a range of backgrounds.
"I fell in love with the valley and the people," he said.
Then COVID-19 hit the Wood River Valley—and a "drastic change" ensued. As a cashier, Archuleta got a close-up view of the panic that followed the virus, as frightened shoppers cleared toilet paper and other essentials off store shelves and loaded up baskets upon baskets of stockpiled supplies.
"It was frightening and sad how you saw the two sides of people," Archuleta said. "We were constantly backed up at the check stand. It was really heartbreaking."
Archuleta did his best to reassure his customers that things would be all right—encouraging them to only buy what was needed, and explaining that more supplies would be coming each week.
"Nobody knew anything about it, how it affected people, and it was just a scary thing," he said. "To see the shelves bare, it was like a Third World country."
For Archuleta, one of the most challenging parts of the pandemic was not being able to see the same familiar faces go through his checkout line each day.
"That really affected me during COVID, because I didn't get to see any of the kids I normally see," he said.
On one recent day, a young boy went through Archuleta's line at Albertsons—not to buy anything, but just to say hello to his friend Eddie. It was this type of interaction that Archuleta missed the most during the pandemic. But with summer quickly approaching and the COVID vaccination process underway, regular customers—and friends—are starting to return to their regular routines.
"Now I'm starting to see a few of them," Archuleta said. "They'll say, 'Hey, let's go through Eddie's line.' That's rewarding, to see how much love they have. And I'm just thankful for them."
---
Matt Hansen & Julie Youngblood-Sun Valley Fire Department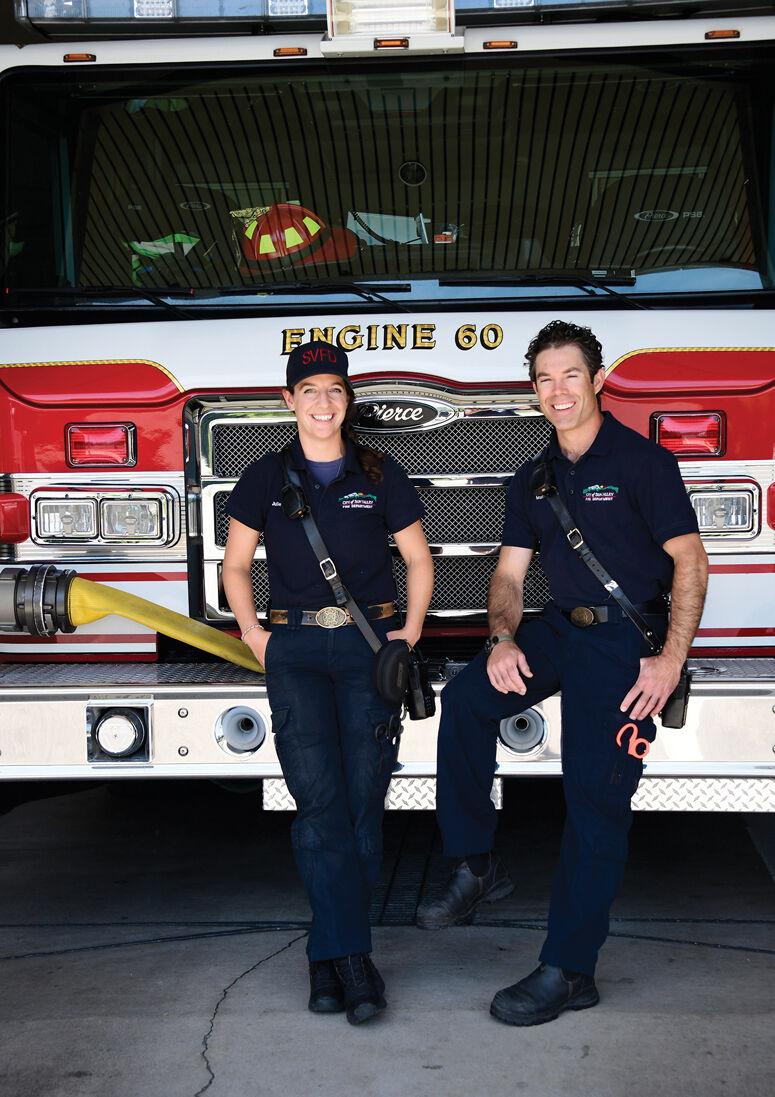 One of the most challenging parts of firefighting, according to Matt Hansen: always being prepared for "high-risk, low-frequency events."
And in a pandemic—perhaps the epitome of a high-risk, low-frequency event—the most rewarding part of firefighting—"building a strong team," according to Hansen—becomes more valuable than ever.
Hansen and Julie Youngblood, his colleague at the Sun Valley Fire Department, were named two of the best frontline workers in the Wood River Valley this year as part of the 2021 Best of the Valley awards. They both attribute the honor in large part to their team at Sun Valley Fire.
"We're all a tight-knit family," Youngblood said. "It makes all the tough parts about the job, having to be there on people's worst days and in their lowest moments, easier. It brings some sense of security to that."
Both Youngblood and Hansen first joined the department as volunteers, with Youngblood signing on full time in 2015 and Hansen following two years ago.
Prior to joining the department full time, Youngblood had done "the Ketchum shuffle," she said: working in a range of jobs while volunteering with the department and enjoying the Wood River Valley's outdoor opportunities. She had never thought about fire service until a fellow member of her co-ed soccer team—now her co-worker—recruited her to join as a volunteer.
Youngblood briefly moved back to her hometown of Los Angeles to pursue her private pilot's license, which she still maintains today, but returned to Blaine County when a full-time job with Sun Valley Fire—which she calls her "dream job"—came open in 2015.
Hansen, a native of the Wood River Valley, first began working with the department in 2014. He said he was driven to join as a volunteer after "wanting to help people and feel more involved." But he didn't expect to become a full-time firefighter until a position became available in 2019.
When the COVID-19 pandemic hit the Wood River Valley, local firefighters' jobs—like so many others—changed. And as a student earning his paramedic license during the pandemic, Hansen faced an extra challenge on top of his new responsibilities at work and in the community.
"It's been the big concern going into any kind of call," he said. "And as service provider, I think we're the first people the community looks at for a lot of answers—it's being a liaison to members of the community, and being the role models on what's acceptable and how to approach what's going on."
But Youngblood found a silver lining in the departments' frontline work: getting to see her co-workers every day.
"The additional safety protocols definitely made things a little more challenging, but we were able to work together to figure out ways to provide the best service we could," she said. "Being part of the team to figure out ways to do that made it as palatable as possible."
"We're always going to be confronted with challenges," Hansen said. "It's putting our heads together and working together to make this place everything we want it to be."
---
Cathy Swink-Valley Apothecary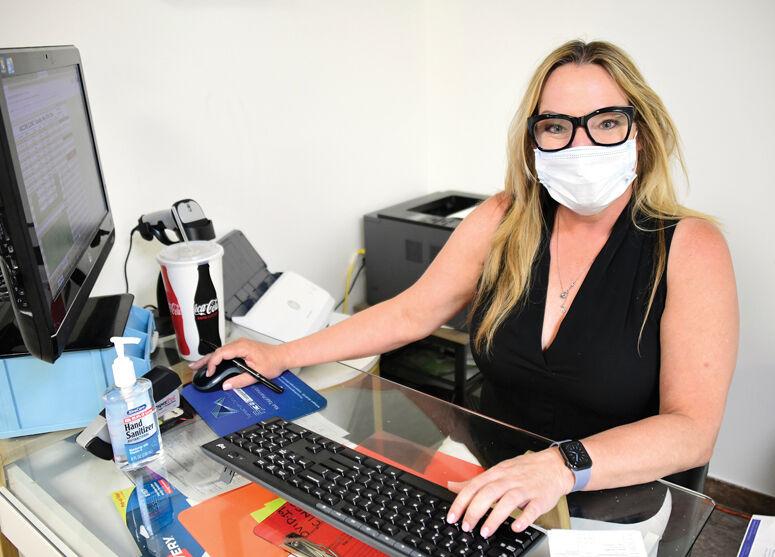 Cathy Swink knew she wanted to open her own pharmacy someday. It was always, the Valley Apothecary co-owner said, "kind of a dream of mine."
That dream came true with the opening of the Apothecary a decade ago—and led to Swink's winning a bronze medal for best frontline worker in the 2021 Best of the Valley awards.
While working for large pharmaceutical chains earlier in her career, Swink felt there was something missing, something she could provide if given the opportunity to open her own pharmacy.
"[The chains] were missing a sense of community," she said. "I really wanted to bring it back to core values, where we know everyone's name and don't treat them like they're a customer. We treat [our customers] more like they're a patient and part of our community."
Swink, a former pharmacy professor at the University of Southern California, first moved to the Wood River Valley in 2002. She initiated the valley's first pharmacy-provided immunizations while working for Karen's Family Pharmacy before becoming manager of a large pharmacy retail chain.
When Swink and co-owner Paula Shaffer set out to establish the Apothecary 10 years ago, they knew they wanted to take a different approach than the typical corporate chain.
"It's much different than working for a chain organization, where it's more about the bottom line," Swink said. "Here, it's more about helping the customer and about the experience."
When COVID-19 hit the Wood River Valley last year, Swink and Shaffer were thrust into the front lines, helping physicians and patients navigate new territory. In early April 2020, the Apothecary began to administer COVID tests—and when COVID vaccines became available to the pharmacy the following January, the Apothecary started to administer those, too.
The pandemic has been "very hectic" for the pair, Swink said. "I've never received so many phone calls in my life." But through it all, the Apothecary's proprietors have received countless lunches, pies, cookies, gift cards and flowers of gratitude.
"The outpouring from the community has been immense," Swink said. "It was nice to give, but it felt like we received more than we gave."
---
Buffie Caldwell-Village Market
Buffie Caldwell is, in her own words, a "compulsive helper."
"It makes me feel good to help people," Caldwell told the Mountain Express. "I get a sense of satisfaction from it."
Caldwell believes it's this trait—along with her 50-plus years of customer service experience—that helped her survive working behind a cash register during a global pandemic. It also may be the reason that Caldwell, who previously worked for 18 years at Atkinsons' in Ketchum and now works at Village Market, was named one of the top frontline workers in the Wood River Valley in this year's Best of the Valley awards.
"I've never experienced anything like it," Caldwell said of the COVID-19 pandemic. "But when you have a lot of experience, I think you're able to deal with that on a different level. You just kind of keep going."
The months after the virus first arrived in Blaine County, when grocery shelves were quickly emptied of toilet paper and other necessities, were particularly difficult.
"People were agitated, anxious," Caldwell said. "And there were no answers. You just had to take each person as they come, each personality, and try to develop some kind of a rapport with them to calm them down."
She "learned a lot about the community" during that time—"most of it good, some not so much." But with light now at the end of the tunnel and some semblance of normal returned, Caldwell is thankful for those "who have been so kind and generous through all of this."
"Everybody in the essential frontline deserves this award," Caldwell said of her Best of the Valley title. "I'm very grateful to have won it, but I won it for all of us. I just want the community to know that I'm really grateful that they allow me to do what I love to do."