With vaccination rates climbing and local governments repealing their COVID-19-related health orders, the Wood River Valley's summer calendar is filling up. Nearly every beloved annual event that was forced to cancel or shift to a virtual format is planning to return this year, and it's starting to feel like a homecoming.
2020 was largely devoid of big communal gatherings like Ketch'em Alive or Trailing of the Sheep—no festivals, no concerts, very little in-person programs to speak of. Many events had no choice but to cancel outright, either for financial reasons or simply due to the nature of the program. Others were able to restructure or shift to a digital format, meeting with great success. The Boulder Mountain Tour, Oktoberfest, SVSEF Wild Game Dinner and many more programs enjoyed positive results and turnouts despite restructuring.
It's safe to say, though, that everyone involved—organizers, performers, sponsors, audiences—is looking forward to a full return to normalcy.
Perhaps to best illustrate that sentiment are the Sun Valley Music Festival and Hailey's Fourth of July festivities, both of which featured in two new Best of the Valley categories: "Event You Missed Most in 2020" and "Best Modified Event." The readers of the Idaho Mountain Express have voted, and indicated that both those festivals did an excellent job coming up with alternative offerings during the pandemic, but that nothing quite compares to the original.
"It says people really missed the regular season, but appreciated we were able to put something together," said Sun Valley Music Festival Executive Director Derek Dean. "That's probably particularly because we were able to offer some kind of live gathering experience during the summer, streaming to the [Sun Valley Pavilion] lawn."
The Music Festival pivoted early on to set up a full season of virtual performances. The festival team put together 14 concerts featuring more than 100 musicians across dozens of cities. The total project required an estimated 1,000 labor hours from the nonprofit's team.
"The musicians said they really loved being able to make music last year, but those who recorded at home said it was incredibly difficult to perform without an audience," Dean said. "You miss that adrenaline you get walking out on stage, miss the collective process of making music as an ensemble, the intake of breath, the rise and fall of the bows. There's no real substitute for that."
Between streaming and opening up the Pavilion lawn, the Music Festival reached a wide audience, beyond the usual Sun Valley crowd. But Dean said his organization is excited to return for exclusively in-person events this year, catering directly to the core local audience, whose decades of support, he said, are paramount to the festival's continued success.
"We talk about how infectious COVID-19 is, but human emotion is more infectious. It sweeps through the crowd even if you're not a classical music fan.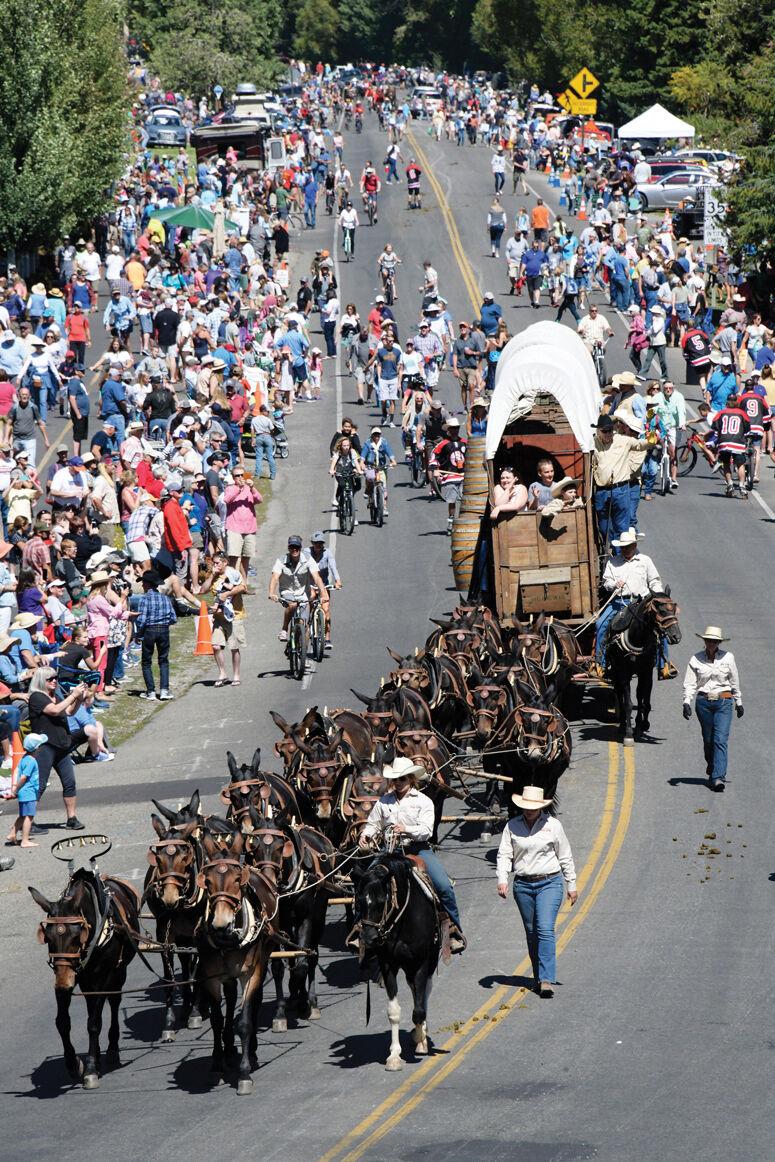 "The nature of a music festival is a live experience in a community where people gather in one place. We have this capability [to go remote], but we all want to go back to normal," he said. "That's what it's all about."
The Sun Valley Music Festival has, for more than three decades, presented free live music to the public and has rightly cemented its position as a must-see event in the Wood River Valley. Another such proud tradition: Hailey's Fourth of July celebrations.
Mike McKenna, executive director of The Chamber, heads up the planning for the city's Independence Day festivities, which in a normal year consist of a parade, fireworks, a rodeo, Riverfest, an antiques show and more over the course of the holiday.
Nearly all of that was nixed pretty early on last year. By May 2020, McKenna and his team knew that most festivities would be impossible. So, they got to work planning an alternative.
"We were definitely committed to doing something," he said. "I'm just part of this team. We got great support from the city, especially from Fire Chief Mike Baledge, and Police Chief Steve England. Those guys deserve a lot of the credit. Even with everything else going on for them during the pandemic, they stepped up."
With Baledge and England helping with logistics and safety, McKenna and his team were able to organize a community parade. People could enter their own cars and drive a long, winding route throughout Hailey, where residents were encouraged to come out and watch from their porches or lawns, cheering it on and maintain safe distancing. Around 80 people entered the parade, which was enjoyed by "thousands of people," McKenna estimated.
"We were surprised and stoked to see how many people came out to watch and cheer everybody on," he said. "A lot of folks liked that we took the parade to them last year instead of making them come to us."
If the Best of the Valley voting is anything to go on, McKenna's estimations are correct. The reimagined, socially distanced Fourth of July Parade was voted one of the best modified events, but voters also indicated that they sorely missed traditional Independence Day proceedings.
Fortunately, with some very light modifications in place, it looks like the holiday will be almost back to normal this year. Hailey has lifted its COVID-19 emergency health order, defaulting to the state's Stage 4 Idaho Rebounds safety guidelines. There are no longer limits on gatherings (same goes for Sun Valley, so the Music Festival shouldn't see restrictions) and the mask requirement has been rescinded as well.
The rodeo is back, as well as a more traditional parade and the antiques show.
"For the most part, it's all going on," McKenna said in late May. "The last two weeks have been especially encouraging with Hailey leading the charge on mask ordinances. I'm thinking the game's back on."
With summer 2021 now well and truly underway, Wood River Valley residents and visitors can mark their calendars for the auspicious returns of two beloved annual events in the Sun Valley Music Festival and the Hailey Fourth of July celebrations, plus many, many more.