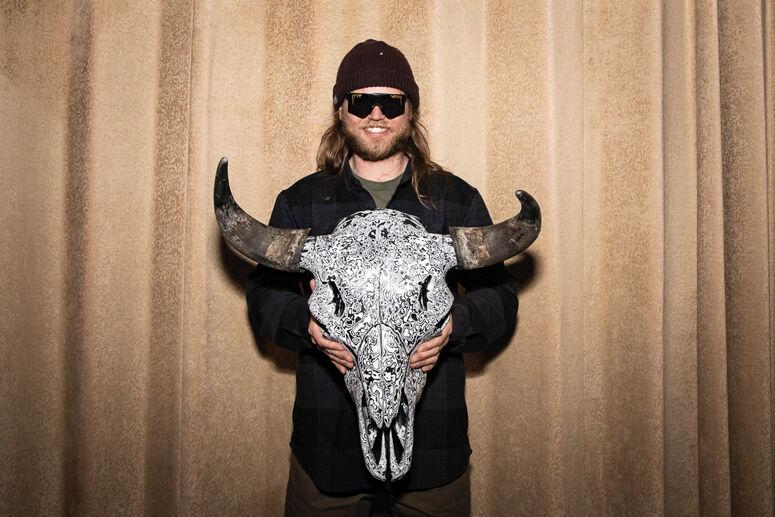 The year keeps getting better for local skier Karl Fostvedt.
First came a successful winter in which Fostvedt won the men's division of the Kings and Queens of Corbet's competition at Jackson Hole, and now "Crazy" Karl took home the gold to be named the Valley's Best Athlete.
It was an all-winter finish for the top athletes of the valley. Fostvedt beat two U.S. Olympic team members for the award—Nordic skier Johnny Hagenbuch, who took second place, and snowboarder Chase Josey, who came in third.
"This is super exciting," Fostvedt said. "I'm honored."
For Fostvedt, being named Valley's Best Athlete caps off a season worth bragging about, but it's also a tip of the hat to one of the Wood River Valley's best skiers and most colorful personalities.
At 31, Fostvedt has built quite a résumé.
He's a two-time winner of Kings and Queens of Corbet's (2018 and 2021), while placing second in Kings in 2019. Fostvedt was named International Freeski Film Festival (iF3) Rookie of the Year in 2012 and won the 2014 Under Armour War of the Rails at Bear Mountain. He was also nominated for a Powder Magazine Award in 2013 for Best Manmade Air.
When Fostvedt isn't shredding or performing death-defying acts on skis, he's catching waves on a surfboard in Playa La Saladita, Mexico. Skiing is his first passion, but surfing is not far behind— even if he has to go out of the United States to do so.
"It's not the best sport to be into while living in Idaho," Fostvedt said. "It's hard to be a landlocked surfer. My friends and I like to call ourselves the 'Gem State Surf Club.'"
When the Express caught up with Fostvedt, he was down in Mexico getting all the surfing in before coming back to Idaho to work on his ski movie "Brapski Volume 1," which he's producing with his company Native Earth Productions. Here's what "Crazy" Karl had to say about that project, and more on the valley he calls home.
---
Can you tell me a little bit about the movie you're producing?
I'm going to spend all of June and July putting the movie together. It'll be premiering in Idaho this fall in either Ketchum or Stanley. We came up with "Brapski" because my friends and I are big snowmobilers as well as skiers, so it's a combination film. We're going from brap to ski for the lack of a better word. I've been working with some local athletes—Collin Collins, Wing Tai Barrymore, Ridge Dirksmeier and Harper Mallett. There's so much talent in the valley that I want to be a good mentor. I want to help the next generation get out and ski some of the best lines. Ideally, I'd like to get into the most remote places and ski the best terrain that we can get, capture it all on film and tell stories of all the great characters that make our valley so awesome."
---
Being a local skier, what are your favorite runs on Baldy?
I love launching airs off of Airport and Waterfall, and on powder days it's hard to beat a lower-bowls rope drop. Airport and Waterfall are local jumps that the younger generation understands. They're sort of Hollywood hits right below a couple of chairlifts. They have good hang time and usually nice soft, steep landings. They're not always soft, but steep.
---
What's your favorite après spot?
Apple's Bar and Grill is hands down the best spot to après. I love catching up with the local senders and hearing about everyone's best runs after a classic Baldy pow-day. (Best Of voters agreed—see page 39).
---
Best place for cheap eats?
Apple's wins this one, too. Apple's has the best burgers in town, and compared to other resort towns, the food at Apple's is super reasonably priced. Apple's gives you a great bang for your buck. (Sorry, Karl. Our voters disagree—see the list).
---
Favorite way to spend the day when not skiing?
My other favorite hobbies are snowmobiling, filmmaking and surfing. I mostly use my snowmobile to access remote backcountry ski lines, but I occasionally leave the skis at home and focus on getting what the local brappers call "throttle therapy."
---
Favorite post-winter vacation spot?
My favorite way to end the ski season is to swap the plastic ski boots for a pair of flip-flops and get tossed around in some waves in Mexico or Central America. There are a lot of parallels between surfing and skiing. I love using surfing as a way to cross-train in the offseason.
---
What is your favorite summer activity?
I love mountain biking around town. We have such a good trail network here. I also do some summer soccer leagues and volleyball leagues.
---
What is your favorite mountain biking terrain?
I love taking laps on Forbidden Fruit. That's my go-to. I definitely like going out on some adventure rides like Fisher Creek loop. If I said the other trails then I would have some buddies that wouldn't be too stoked, so we'll just leave it at Fisher Creek and Forbidden Fruit.
---
Have you been to the Quigley Farms mountain bike trail system yet?
No, I haven't been down there yet, but I've seen some content and it looks like a rippin' trail with some huge jumps. It's quite a good outlet for all the skiers that are trying to find their summer send zones.
---
What Ketchum Coed Soccer team are you on?
Last year I couldn't play because of an ankle injury, but the year before that I was on Lefty's.
---
Who is your favorite athlete, overall and locally?
Overall, I really look up to [professional French freeskier] Candide Thovex. He's often regarded as the G.O.A.T. Locally, Wing Tai Barrymore. He's one of my favorite athletes. He's such a go-getter and a hard-charger. He's one of the best skiers in the valley to keep an eye on. His grandfather, [filmmaker] Dick Barrymore, was one of my all-time heroes with skiing.
---
Other Rockstars