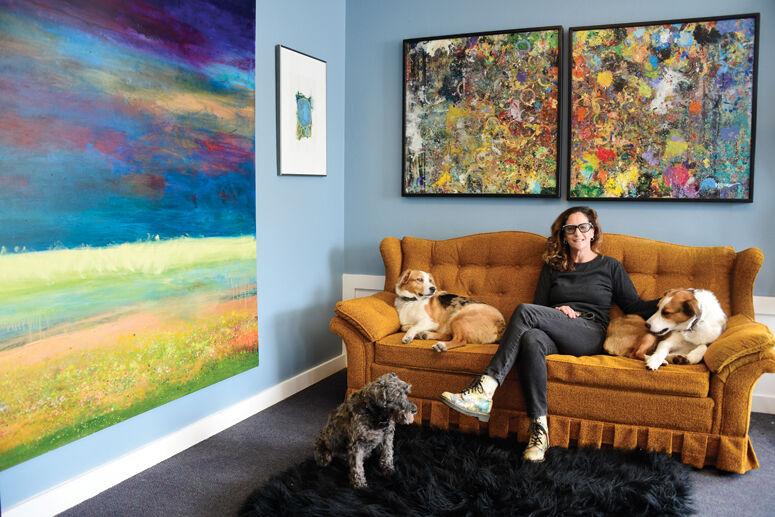 In her sunny corner studio facing Della Mountain in Hailey, Melissa Graves Brown props open the door to catch an unseasonably warm spring breeze. Brushes and jars of paint—rich greens, blues and oranges—sit atop high wooden tables.
Dogs Stella and Stanley, who Graves refers to as her "designer mutts," come in for a nap by the sofa. A friend stops to chat from the sidewalk.
"Did you see the lightning storm last night?" Graves asked. "Oh my god, it was amazing!"
A native of Fort Myers, Fla., Graves received her Bachelor of Fine Arts from Auburn University and Master of Fine Arts degree from the University of Pennsylvania before arriving in the Wood River Valley in 1999.
For the past 22 years, the painter has drawn inspiration from Hailey's aspen groves, high-desert hills and mostly cloudless sky in her three main bodies of work: "Groves," "Dreaming Trees" and "Foothills."
While her "Groves" series depicts quaking aspens at various times of day, sometimes set against a snowy, moonlit backdrop and other times against a sunrise, Graves' "Dreaming Trees" series features large, standalone trees. Her "Foothill Series" is a spin-off from "Groves," but with more rugged backgrounds.
Graves' trees may be her most recognizable subject matter— "I'm known as the tree lady," she jokes—but her hope is that viewers see beyond the obvious and focus on her use of color.
"That bright blue Idaho sky, that moment when the wind lifts leaves off the trees in the fall, those things are what ultimately guide my technique," she said.
To create leaves, she stands above a canvas and splatters colorful paint in short bursts.
"Between Pollock and Seurat, I'd be more of a Pollock," she said.
Graves' trees ("PleasanTrees," as she names them) mark a departure from the abstract, color-field style she adopted in college, though her approach has stayed consistent. She never sits in front of a painting for long, for example, preferring to work on several pieces at once.
Spontaneously dashing and drizzling paint onto a canvas allows color to become the main subject. It's also "insanely relaxing," said Graves, who hopes to share the process with others in paint parties and open-studio days later this summer.
Since opening her studio last October, she's held several "Sip and Splatter" parties for adults and "Color Lab" sessions for teens. The goal in each is to invite participants into a space of mindfulness and joy.
"In the 'Sip and Splatter' cocktail hours we'll get over tarps and just splatter. I've had some ladies in their 60s who have literally never put paint to a canvas," she said. "It's fun to watch them get giddy and connect with one other. It's like, great, now we're cooking!"
Through mentoring a handful of high school students on their sophomore projects, Graves realized just how freeing group-painting can be for young people. Thus, "Color Lab" sessions were born.
"Our kids need a lot of support, especially if they're not in sports," said Graves, who has two teenage children. "What I call 'windshield time'—you know, when you're driving and your kid doesn't have to look you in the eye, and they feel like they can finally talk—that's incredibly important. I try to facilitate that same kind of space where people can get comfortable and creative and messy."
Recently, the artist has enjoyed painting more circles and abstracts. ("A circle, to me, is perfection," she said.) She's also been painting hearts for her new series, aptly titled "Hearts."
"Hearts" was created to honor both her mother, who died the night she presented her thesis work in graduate school, and local teen Lily Dean, who died in a car accident in 2019. Graves said Lily, who was a close friend of her son's, loved the color pink and daisies—two common themes in "Hearts"—just like her mom did.
The series is a reminder that despite tragedy, there are still moments of joy to be found.
"Mother's Day is a struggle every year, and I really grew to love Lily," Graves said. "Those things are tough. But I just have so much gratitude around this new body of work, and to be doing what I'm doing."