A well-rested Sun Valley Suns hockey team shook the dust off their skates on Friday before putting on an offensive showcase on Saturday to sweep the visiting Santa Rosa Growlers over the weekend, 3-2 and 12-2.
The Senior A Elite Suns headed into Friday's game without playing since Dec. 18, and according to Suns head coach Ryan Enrico, it showed.
"We kicked off some rust Friday," Enrico said.
Even with the Suns getting back up to speed, the game itself was an exciting display of drama to give the 333 hockey fans a show at Campion Ice House in Hailey.
The game teetered back and forth, 2-2, deep in the third period. However, Darrell Hay scored the game-winning goal with 1:27 left to send the crowd into a frenzy, giving the Suns the victory. Assists came from Max Tardy and Doug Yeates.
"That was a very good game," Enrico said Friday. "That's about what I expected. It was physical and [the Growlers] played good defense. They forechecked well. It was good hockey."
Hay was one of a handful of players that suited up for the Suns for the first time in 2022. The 41-year-old blueliner from Kamloops, B.C., was a member of the Suns squad that beat the Jackson Hole Moose, 5-4, in Wyoming's Snow King Arena for the 2019 Black Diamond Hockey League championship.
Another big addition to the Suns is Brian Dunford, who also played for the team previously (2014-15). Dunford, 34, is from Pittsburgh and has played a lengthy international career in Turkey, Sweden and New Zealand. He returned stateside for two Federal Hockey League teams (Danville Dashers and Delaware Thunder) before moving to Sun Valley full time.
"To be able to slide those guys in and have them do their job is huge for us," Enrico said.
Friday night began like most nights for the Suns, a quick goal from Tardy just 51 seconds into the game with the assists from Spencer Brendel and Derek Grimes.
The Santa Rosa Growlers then tested the waters of Sun Valley's physical play and quickly found that the Suns' burst of pent-up energy was not something they wanted to continue. Santa Rosa's Chris Stankeivez and Sun Valley fan-favorite Trevor Thomas—who also suited up for the first time this year for the Suns—got into an early game scuffle.
Other players that suited up for the first time were Kyle Mitsunaga and Niels McMahon, who had no problem enforcing.
Near the end of the second period, Dunford added his first goal of the year for Sun Valley—a power-play goal—from Dylan Shamburger and Chad O'Brien to put the Suns up, 2-0.
Right before the second period was over, Santa Rosa got on the board with a goal from Matt Antonucci (Alexi Kulikouskiy). The Growlers scored once more to begin the third period to tie with an unassisted goal from Ryan Holder.
Before Hay's dramatic goal, Tardy and Santa Rosa's Cam Davis got into it, but neither spent time in the penalty box for fighting, getting three minutes for roughing instead. Tardy was then released just in time to help Hay with the game-winner.
Plenty of offense in 12-2 win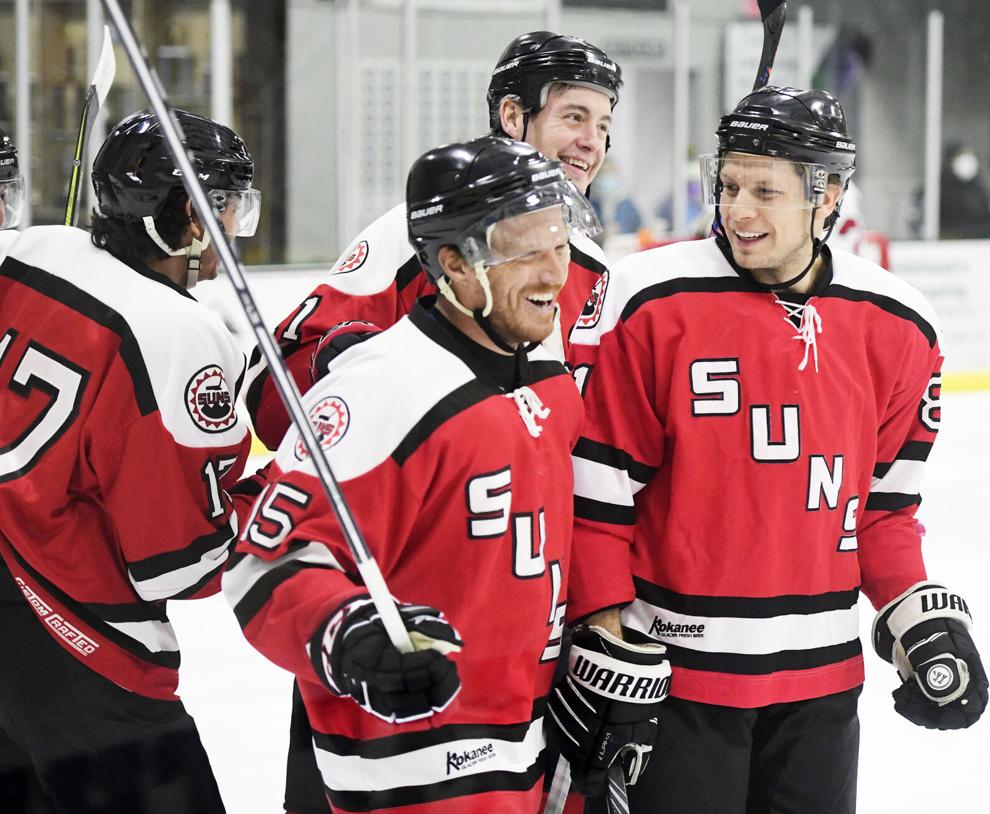 Coming into the weekend, the Growlers (1-2) had played only one meaningful game, and the lack of ice time was evident on Saturday as Santa Rosa struggled to pick itself back up from Friday night's heartbreaker.
The Suns (6-2) delivered an onslaught of goals and roughed up the Growlers in the process, jumping out to a 5-0 lead in the first period. In the opening frame alone, Sun Valley outshot Santa Rosa, 17-5.
In both games, Sun Valley was the aggressor, outshooting Santa Rosa, 73-47, and outscoring the Growlers, 15-4.
On Saturday night, two Suns players finished with hat tricks—Justin Taylor and Steve McCall. Taylor finished with 4 points (3 goals, 1 assist).
DJ Robinson added 3 points (2 goals, 1 assist) and Brenden McGovern added 3 points (1 goal, 2 assists).
Other goal scorers from Saturday were Taylor Rothgeb, Tardy and Dunford.
The Suns got typically strong play at the net as Matt Cooper (3-0) got the call on Friday with 24 saves. Bobby Bowden (3-2) split time with James Moskos (8 saves) on Saturday.
"As usual, we got great goaltending," Enrico said. "Last night [the Growlers] goalie played well, but we also made him look good. Everything came together Saturday. We had four solid lines, which makes the job easy."
Santa Rosa's Dominic Jones (1-2) totaled 58 saves in two games.
Santa Rosa's Saturday goals came from Justin Havriliak (unassisted) on a shorthanded goal and Blake Johnson (Josiah Nikkel).
Up next for the Suns is another home series. This Friday and Saturday night, Jan. 14-15, the Suns welcome the Wilmington Wheels of Delaware.