Rebecca's Private Idaho, the gravel grinding cycling extravaganza, returned as a force to be reckoned with in its ninth running over Labor Day week from Sept. 1-5.
Of the 929 riders who finished in the gravel festival, 102 were Blaine County residents. Their reward on Sunday evening: music, food, drinks and dancing at Sun Valley's Festival Meadow as rider after rider rode to the finish line.
"Pros and new riders can come and experience the remote nature of Idaho," event host Rebecca Rusch said. "Mountain biking can be intimating, so gravel riding is the welcoming and inclusive race for any type of rider."
As always, the field of riders this year attracted top-level cycling talent that previous years haven't seen before.
In Sunday's premier 102-mile Baked Potato race, Salt Lake City's Griffin Easter took the overall timed event in the men's category, finishing in 4 hours, 50 minutes, 35.3 seconds. Easter—a UCI Continental Team rider—has placed first in multiple stages in the Tour de Beauce and Vuelta a Colombia.
Following Easter was Colin Strickland of Austin, Texas, who has won the Red Hook Crit four times and is the 2019 Unbound Gravel winner. Strickland (4:52:12.1) narrowly beat out former Tour de France rider Peter Stetina (4:52:13.3) of Santa Rosa, California, in an epic battle of endurance.
John Borstelmann (4:58:06.5) and Seattle's Stephen Mull (4:58:06.5) followed to round out the top five in Sunday's main event.
Top local rider in the men's Baked Potato was Jackson Long of Hailey. Long finished in 5:22:3.9. Joel Brazil of Ketchum finished 26th with a time of 5:36:6.5. In all, there were 23 local riders in the men's Baked Potato race.
In the women's Baked Potato, Rose Grant (5:23:41.8), Moriah Wilson (5:23:48.8) and Crystal Anthony (5:26:52.7) were the top three finishers. Megan Zeeb of Hailey was the top local female rider in this category. Zeeb finished in 26th with a time of 6:44:45.6. In all, there were four local riders in the women's Baked Potato.
The most popular race of the weekend among Blaine County residents was the men's 56.23-mile French Fry race, in which 43 locals rode.
Hailey's Whit Albright was the top local rider in this one. Albright finished third overall (2:57:20.2). James Roloff (2:48:14) and Caleb Holtzinger (2:55:31) took the top two spots.
Albright was the leader among the pack of 11 locals that finished in the top 27. Richard Mull (2:57:55.1), Steve Butler (3:01:32.6), Blair Clark (3:01:32.6), Gardner Cord (3:03:50) and Joshua Wells (3:05:6.7) all rode consecutively within the men's overall top 10.
Other locals that finished high were Nick Uberuaga (3:10:3.0), Mike Long (3:11:9.7), Mike Burke (3:18:14), Morgan Masner (3:19:0.5) and Mike Keenan (3:19:11.7).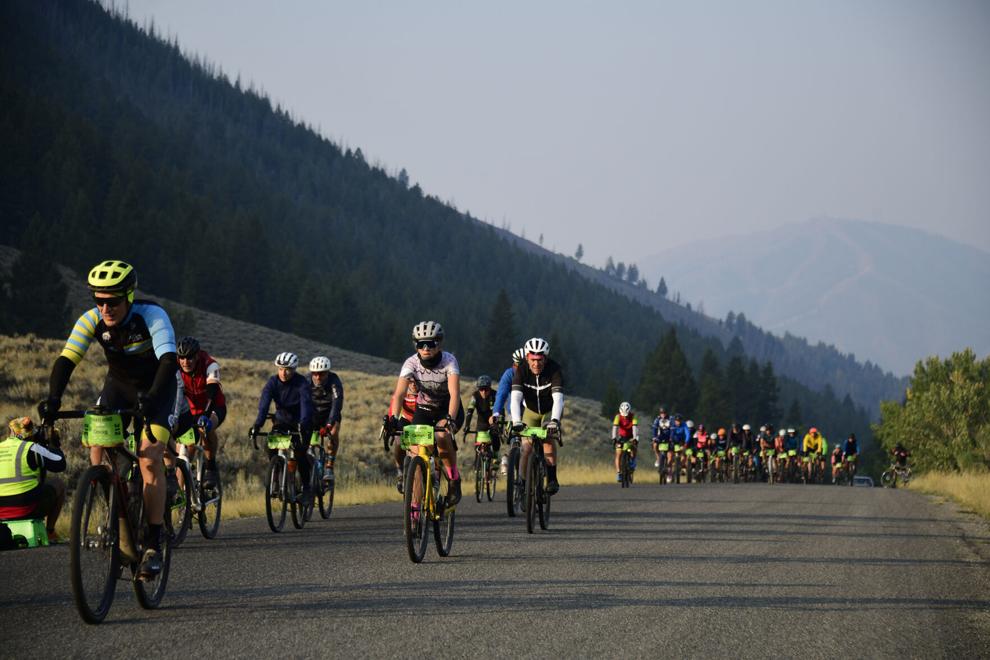 In the women's French Fry, Kirsten DeHart (3:24:48.7) was the top local female rider. She took third overall behind Nekane Powell (3:20:58.9) and Alexandra Burton (3:23:7.7).
There were 11 total local riders in the women's 56 miler. Gretel Friedman (3:39:12.2) and Susan Reynolds (3:43:29.6) placed fourth and fifth. Carolyn Harper (4:09:4.7) finished 22nd.
Hailey's Paige DeHart won the women's 18.83-mile Tater Tot race with a time of 1:06:18.8—an average of 17.4 mph. DeHart was the best out of eight local riders that competed in the women's Tater Tot. Lisa Wicklund (1:11:44), Fleur Brazil (1:15:3.5), Ryan Waterfield (1:16:57.1), Michele Korkowski (1:18:24.4) and Molly Goodyear (1:24:44.6) rounded out the top locals.
Reed Boeger was the top local in the men's Tater Tot race with 1:06.19.5. There were 12 total Blaine County riders in this race. Townes Vandermeulen (1:12:29.5) and Stephen Thompson (1:15:33.9) followed Boeger to round out the top locals.
The lone local in the male Hash Brown race was Jack Burke (5:49:28.1).