In 2006, professional big mountain skier Griffin Post decided to take a gamble.
On the verge of finishing his Master of Business Administration degree from the University of Denver, Post had a different calling—one that didn't reside in a cubicle.
Rather, it was a total recall to his favorite sport—skiing.
According to skiing folklore, Post's childhood friend, professional photographer, fellow Sun Valley ripper—and overall wildman—Drew Stoecklein presented Post with a crazy idea: enter the 2006 U.S. Extreme Skiing Championships in Crested Butte, Colo.
"Drew took me under his wing and encouraged me to enter," Post remembered.
The only catch was that Post had never entered a professional extreme skiing competition before, so he'd have to go through the qualifying round. The entry fee was $400.
Most bodacious skiers wouldn't have batted an eye at the challenge; however, there was one hiccup. Post also had to make rent that month.
So, with graduation only a short time away and rent due soon, Post did what most honorable skiers do in their early 20s: he took the money and used it to enter the competition.
Since he was a newbie with zero entries, he had to make the top-25 cut to qualify for the two-day championship.
"At the time it was the contest for big mountain skiing," Post said. "It had the most prize money and was the longest running competition."
Despite feeling like he skied well, at the end of the qualifying day, Post received heartbreaking news. He finished 26th.
"I was devastated," he said.
However, Post noticed a discrepancy with the judges' score. As Post added up his total he realized that he should've made the cut. To the judges' embarrassment, he was right and was instantly bumped from 26th to 23rd.
"I was pumped that I didn't waste all that money," Post said. "The next two days I really skied well."
In fact, he won the whole competition. Post went from nobody to somebody in a matter of days, and his huge gamble—betting on himself—paid off. The winning purse was $5,000.
"I thought, okay, maybe this can work out," he said.
From that point on, Post finished his MBA from the University of Denver in 2007, but afterwards decided to become a professional skier.
"That brought on some mixed feelings from my parents," he recalled.
Mixed feelings or not, Post's success is undeniable. Since that epic 2006 victory, Post has gone on to become one of the world's best big mountain skiers. He's posted victories at the 2007 Jackson Hole Freeskiing Open and 2008 Telluride Freesking Open.
In 2010, he returned to the U.S. Extreme Skiing Championships in Crested Butte for another classic victory by posting a score of 94 points—47 points in both runs. That point total was good enough to edge out defending champion Cliff Bennett from Snowbird, who scored a 93.2.
He also placed second in the 2010 Freeride World Tour.
Post would also go on to become a Gold Medalist in the 2017 X-Games in the X-Games Real Mountain team event.
He earned the Sickbird Belt Buckle and has been nominated six times at the Powder Magazine Awards, in addition to appearing in nine Teton Gravity Research films and several more Warren Miller movies.
He's sponsored by Lange Ski Boots, Kastle Skis, The North Face, Smith Goggles and Helmets, Jackson Hole Resort, Hestra Gloves, Garmont Boots, Ortovox, Smartwool, Sierra Nevada, POW (Protect Our Winter) and the Wyoming Wildlife Foundation.
When everything adds up at the end, there's reason to see why Post has been named Idaho Mountain Express' "Athlete of the Year" for 2020 for his entire body of work as a big mountain skier.
"I am definitely honored," he said.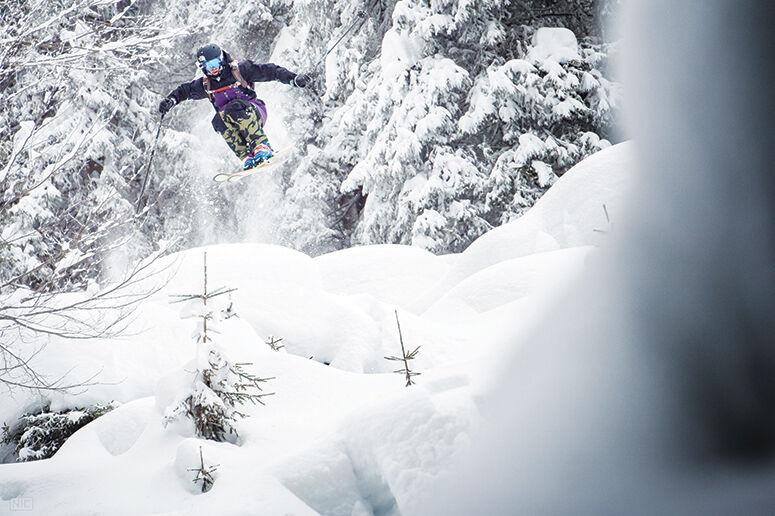 Born to be free
Post was born into skiing, and he was also born into wandering—but from the start, Post was born free.
His father, Ned Post, worked for Head/Tyrolia in Vienna, Austria where Post was born.
From there, his family moved to London and then Chicago before landing in a ski area called Sun Valley when Post was six-years old.
"I feel like I'm really from Sun Valley more than anything," Post said.
His family quickly became a staple in the community, with his dad working and operating Smith Optics and his mother, Connie Post—who still lives in the area—working for Sun Valley Company.
He went to Hemingway Elementary and then to Wood River Middle and High Schools, but transferred to Sun Valley Community School when he was in the 10th grade, and graduated as a Cutthroat in 2001.
He then went out East to Bowdoin College in Maine, but found that it wasn't a good fit, and transferred to the University of Denver.
However, it was Sun Valley where Post cut his teeth and grew a love for skiing. He was on the Hailey Ski Team, then the Sun Valley Ski Education Foundation while at SVCS.
Mentors and coaches such as Skip Merrick, Pat and Adele Savaria, Hank Minor, Tyler Ferris, Matt Murphy, Moe Murphy, Ruben Macaya, Jeff Rust, Caroline Droege, Tyler Palmer, Ben Chidlaw and Pat Revallier all had a giant impact on Post's life as a young ski racer.
Those memories are something that Post cherishes. His success, he says, doesn't belong to him alone, but also to all of those who helped him along the way.
The years of hard work as a ski racer built up confidence and a grit that is sometimes unmatched on and off the hill.
However, after a few years of ski racing in college, he threw in the towel and wanted a new challenge—and, a return to a purer form of skiing.
"Ski racing is great, but it's very objective," Post said. "It has its benefits and drawbacks. Freeskiing is more subjective. You can look at the mountain and ski it in the way that it speaks to you, which is an awesome change of pace after racing for so long."
He adapted well to the vibe around the freeride community and its free-spirited love of skiing.
"[Freeride skiing] doesn't have the regimented element of ski racing. There's more of a love of skiing in freeride versus who is the fastest—it's about the celebration of skiing" he added.
And that love has taken him to places that some people only dream of.
A reality check
"After I competed in the U.S. for a while, I began doing the Freeride World Tour, which is based in Europe," Post said. "I was so blown away at the mountains there."
At 24, when he was on the World Tour, Post entered the Verbier Xtreme, which is held at Bec des Rosses in Switzerland.
Bec des Rosses is one of the most daunting mountains in the Pennine Alps, standing at 10,574-feet.
"You look up at it and you think there's no way you can ski down that," Post remembered. "It's not attractive to ski at all, and to this day it makes no sense that there's a contest there, but I was there and I was young and hungry."
At the top of the run, Post clicked in possessing a lethal combination for a big mountain skier: He wasn't wise to the challenge, and he felt he had something to prove. He chose a line on Bec des Rosses and sent it.
"I bit off a chunk of mountain that was way out of my league and way out of anyone's league," he said. "It was a reality check moment."
He not only crashed, but tomahawked all the way down. Despite coming away with only a broken thumb, he knew he escaped a life-threatening injury.
Undaunted—and, after a time, healthy again—Post eventually came in contact with Teton Gravity Research and began filming with other big mountain pros like Ian McIntosh and his childhood ski hero Seth Morrison.
"There were so many emotions early on because what I was doing was so scary and dangerous, but in the back of my mind I was thinking 'I can't believe I'm getting to do this with my childhood heroes.'"
Is writing harder than skiing?
Not only has big mountain skiing opened doors financially, but it's also opened doors to new creative outlets.
In the years since his professional debut, Post has also become a published skiing and adventure writer.
He's written for Powder Magazine, Freeskier Magazine and Sun Valley's own Big Life Magazine.
"I think you become an asset to the sponsors and a more rounded person because writing is really hard and putting something meaningful into words is not easy," Post said. "Sometimes I love it and sometimes I hate it, but when you have a finished product, it's great evidence into what you've done and it lives on forever. That's a pretty cool part of my life."
A new outlook
When he first jumped on the big mountain ski scene in Crested Butte, Post was a bright eyed, bushy tailed 22-year old with a giant chip on his shoulder.
Now, at 37, he's a self-described humble introvert with a thoughtful side.
Posting up at Wilson, Wyo., "Griff" has been skiing and calling Jackson Hole his home base mountain for the past 10 years, where he hangs with girlfriend Michelle DeLong and skis the slopes.
When COVID-19 hit, Post—like everyone—had to find a new pastime. He picked up a new hobby that his mother would approve of: gardening.
"My mom is a big gardener, and my garden turned out pretty well. I grew some tomatoes and it became a decent hobby," Post said. "That was a personal growth area."
Since the lockdown, he began looking towards the future a little more. He's still out at Jackson Hole listening to punk rock while ripping, but also looking at other ways to scale mountains.
He's working on some projects in Alaska and hopes to complete an expedition to Nepal in the fall.
"I have a lifetime of pins on Google Earth that I want to start chipping away at," Post said.
But for now, there's skiing to be done.