On a beautiful weekend for golf at Elkhorn, the Idaho Golf Association crowned two new champions of its Idaho State Amateur golf championships for men and women July 23-25.
The men's winning trophy is named for Scott Masingill of Payette, who won the tournament nine times from 1972 to 2001 and who tied for 24th last weekend. The women's trophy is named for Jean Lane Smith, a seven-time amateur champ.
Youth predominated in the field of 80 men and 36 women.
Boise State University junior Hugo Townsend from Boden, Sweden birdied four of the final six holes Saturday to capture a two-stroke victory over University of Idaho junior Colt Sherrell out of Tahoma High School in Maple Valley, Wa.
Townsend, a son of 1969 and 1971 Ryder Cup pro golfer Peter Townsend of England, finished 10-under-par in the 54-hole stroke play tournament with scores of 72-66-68 for 206. His 66 Friday was bolstered by a 31 on the back nine including birdies on the final four holes.
He won $750 for his gross-stroke triumph on the par-72, 7,214-yard Elkhorn championship course, after losing most of his spring college season in Boise to the pandemic. Sherrell finished at 67-70-71 for 8-under-par 208 and $550.
Townsend said, "It just feels really good to play in a tournament. I've been working really hard in the gym and playing a lot with my teammates since I can't go home (to Sweden) this summer."
Wire-to-wire women's winner Brooke Patterson, an Eagle High School junior, stayed composed and hung on for a one-stroke victory over Grand Canyon University junior Payton Fehringer of Pocatello and Highland High School.
After her electric three-under-par 69 for a four-stroke lead in Thursday's first round, Patterson finished 69-75-75 for 3-over-par 219 and $500. She had four bogeys on the final 11 holes, but stabilized with five pars on the last six holes of the par-72, 6,056-yard course.
Making a nice comeback after a rocky first day, Fehringer settled for second at 76-72-72 for 220 and $400.
Jennifer Harper and Danielle Doerflein along with Ketchum's Chris Abbott were among the top money winners out of 25 golfers leaving Elkhorn with shares of the $8,525 purse.
For her 54-hole net score, Harper posted consistent rounds of 68-66-72 for 10-under-par (net) 206 and the first-place net prize of $450. Her best gross-stroke score was an 80.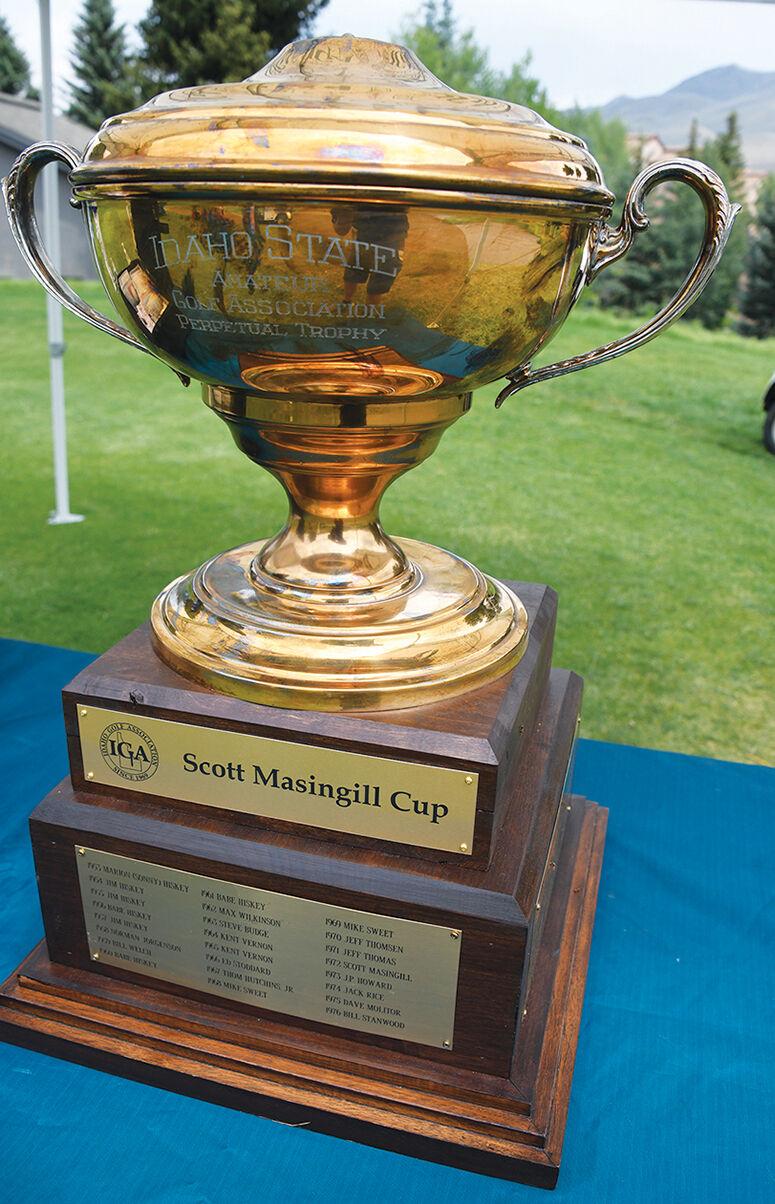 Doerflein opened Thursday with a fine 3-over-par 75 gross, and tied for second place in final net totals with rounds of 67-72-72 for 5-under-par 211, good for $300. She shared the 211 net total with Tyler Erickson of Soda Springs, 72-68-71.
In gross totals, Sun Valley Golf Club women's champion Doerflein tied for 17th at 75-80-80 for 235.
Sharing the first-place men's net victory at 5-under-par (net) 211 were Abbott (72-76-63) and Jayson Dunkley of Boise (71-64-76), each winning $575. Abbott surged on the final day, improving 13 strokes over his second round with a 2-over-par 74 on Saturday.
Boise State senior Brian Humphreys out of Camas High in Washougal, Wa. had six birdies during his best-of-day 5-under-par 67 on the final round. He won the $450 third-place prize at 71-73-67 for 211.
Sun Valley Golf Club men's champion Alan Barnhardt was one of only nine men to break par 72 in the final round. Barnhardt won $200 for placing eighth overall with scores of 75-70-71 for even-par 216. He birdied his final two holes for 34 on his final nine Saturday.
Two more of the 12 locals in the 116-golfer state field came away with money in the men's amateur net accounting.
Ketchum's Matt Walker shot a final round 3-over-par 75 in the gross totals, and secured sixth place and $250 in net with final scores of 73-75-69 for 217 net. Walker's gross scores were 79-81-75 for 235.
Hailey's Greg Fairfield improved each day, ending with a 76 Saturday, and tied for seventh in net totals with 75-72-71 for 218 net, for $212.50. Fairfield's gross scoreboard was 80-77-76 for 17-over-par 233.
Wood River High School sophomore Parker Edwards, 15, made an impressive debut on the championship stage, scoring 83-80-84 for 247. He tied for 13th in net with scores of 75-72-76 for 7-over-par 223.
Here are other local gross men's scores from the 92th annual Idaho men's tournament that has been staged since back in 1929:
Timothy Graves of Hailey 80-80-75 for 19-over-par 235. Graves tied for 11th in net at 75-75-70 for 4-over-par 220 net;
Shane Wall 81-77-82 for 240; Mike Abaid 75-83-83 for 241; Michael Conger of Boise 78-83-84 for 245; John Baker 85-82-81 for 248; Juan Flores 92-90-81 for 263; and Will Fruehling 95-91-85 for 271.
The IGA normally holds its state amateur golf championships for men and women at different courses. But, in this COVID-19 year, it was decided to combine the two events. Elkhorn had already planned to hold the men's competition.