Sometimes there's a man for his time and place. He fits right in there, and on Saturday that was Jim Rivetts, a longtime Wood River Valley resident.
With Magic Reservoir teetering at an all-time low in the midst of a record drought, Rivetts provided a poignant and poetic remedy to the brokenhearted and the downtrodden after a tough year in 2020 when the 10th annual John McClatchy "Big Fish" Memorial Fishing Derby was canceled due to COVID-19.
Like Rivetts—and John McClatchy himself—there was no quit, but a tale to be told of legendary days.
Even though it was canceled last year, the McClatchy Fishing Derby prevailed anyhow, only a year later.
And Rivetts was riveting in the process.
During the 2020 pandemic, Rivetts contracted COVID-19 and nearly died, needing a double lung transplant to keep moving. However, his body rejected the transplants so he had to go for round two, which his body finally accepted. It wasn't without a fight. During that time, he also needed a knee replacement, which his body rejected as well. Eventually his knee came around and cooperated, too.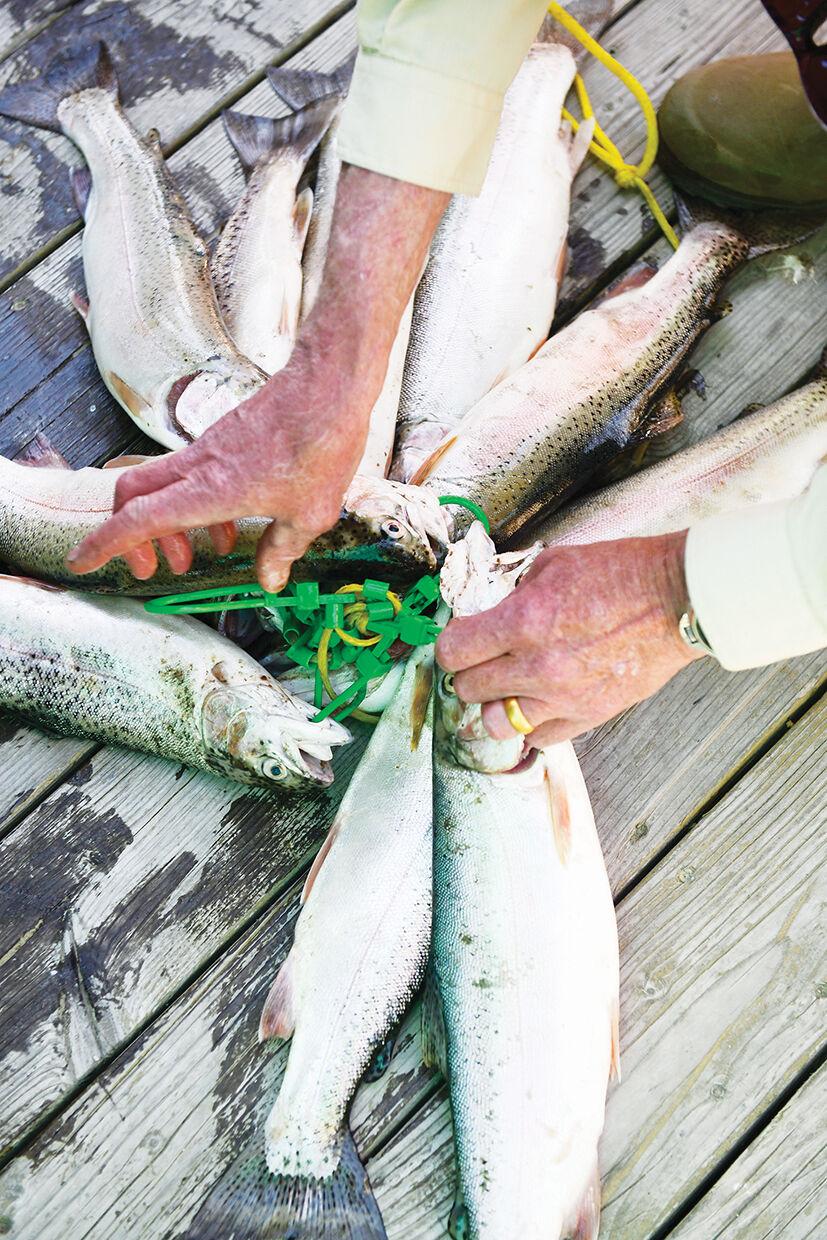 During the rough complications, Rivetts told his doctor, Glen Shapiro, that he wanted to stay alive long enough to fish in the McClatchy Fishing Derby. Shapiro helped Rivetts do just that, and even obliged him enough to add that if Rivetts were to live, then Shapiro would compete in the fishing derby with him.
Well, on Saturday, June 19, Rivetts not only fished in the fishing derby, but caught the biggest fish—a 2.66-pound rainbow trout—to win the derby and a $1,000 purse.
Shapiro didn't fare all that badly either, tying for second place at 2.40 pounds. He and Rob Kessler split the award to get $375 each.
With proceeds going to Camp Rainbow Gold—where Rivetts' daughter, Jamie Rivetts used to work as a camp organizer—the winners had another trick up their sleeves.
Rivetts and Shapiro—tickled to bits about their winnings—were motivated to donate the combined $1,375 winnings to Camp Rainbow Gold, which brought up the total donation to $5,000 for the day—by far the biggest catch.
Prior to Saturday, the McClatchy Fishing Derby had donated nearly $50,000 in John McClatchy's name through the event.
Other top anglers from Saturday were Bret Durfee and Rocky Hammond (2.25 lbs.), Tim Friesen (2.19), Kendall Asher and Fred Tews (2.11), Jesse Vercelli (1.96), Paul Dopuis and Matt Bauer (1.93) and Mike Inman (1.90).
There was a kids prize as well. Parker Bridge took first with 1.98 pounds. Konner Bailey took second with 1.79, and Carter Arnaiz (1.77), Lakai Bailey (1.68) and Maddlyn Arnaiz (1.63) rounded out the kids fishing.
In all—during a scorching hot day at Magic Reservoir—there were about 50 anglers competing, some in boats, some in fishing tubes and some on shore. There were even some that spent the day fishing their trucks out from the mud.
But, in honor of John McClatchy, they all were having fun.