Sawtooth Rangers Riding Club organizers are excited that three rodeo ambassadors will be the returning royalty for Hailey's 72nd annual Days of the Old West rodeo from Tuesday through Thursday.
Beginning last year, rodeo ambassadors replaced contestants for the traditional Miss Days of the Old West royalty contest. They assumed similar responsibilities that queen contestants tackled in the past at the Hailey holiday event.
Cara Rona Malone, Danielle Madalena and Megan Taber brought color, cheerful smiles, personality and pizzazz to the three-day rodeo. And they are back again this year.
Madalena said, "We get to be the face of Hailey Days and the Wood River Valley that others in other communities see and interact with. It is important to embrace our history and traditions, and let others know who we are and explore the fabulous western culture we come from."
Here is an introduction to the Old West rodeo ambassadors who will become well known during the July 3-5 Independence Day celebration:
Cara Malone
Cara Malone, 21, is a daughter of Ron and Kay Malone of Jerome. She has become treasurer of the Sawtooth Rangers during her six-year involvement with the Hailey rodeo.
 Malone said about her treasurer job, "This position has brought to my attention just how important it is to have participation from contestants, rodeo spectators, volunteers and sponsors who are involved with our 4th of July celebration rodeo."
She is a full-time student at University of Idaho in Moscow working toward a bachelor's degree in Agriculture with an emphasis in Communication and Leadership.
In 2017, Malone won the Miss Days of the Old West high-point award and Senior Queen honor. In 2014, she was Hailey's Teen Queen and co-reigned as the Intermountain Professional Rodeo Association Teen Queen.
 She was president of the Jerome rodeo team and competed for three years in District 5 high school rodeo. She has been active in 4-H, serving as a leader for the last four years and helping members with archery, dog, long rifle and horse projects.
Malone said, "It has been an honor to represent our local supporters and the Rangers. I have traveled many miles! Along the rodeo trail I've met so many wonderful people who have given me ample opportunities and become lifelong friends with memories."
Megan Taber
Megan Taber, 14, is a daughter of Darren and Amie Taber of Shoshone. She was the 2016 Hailey PeeWee Queen and earned prizes for Photogenic, Interview, Speech and Horsemanship three years ago.
She is about to begin her ninth-grade year at North Valley Academy charter school in Gooding. A Shoshone native, Megan has two older siblings, Martin and Moira Taber.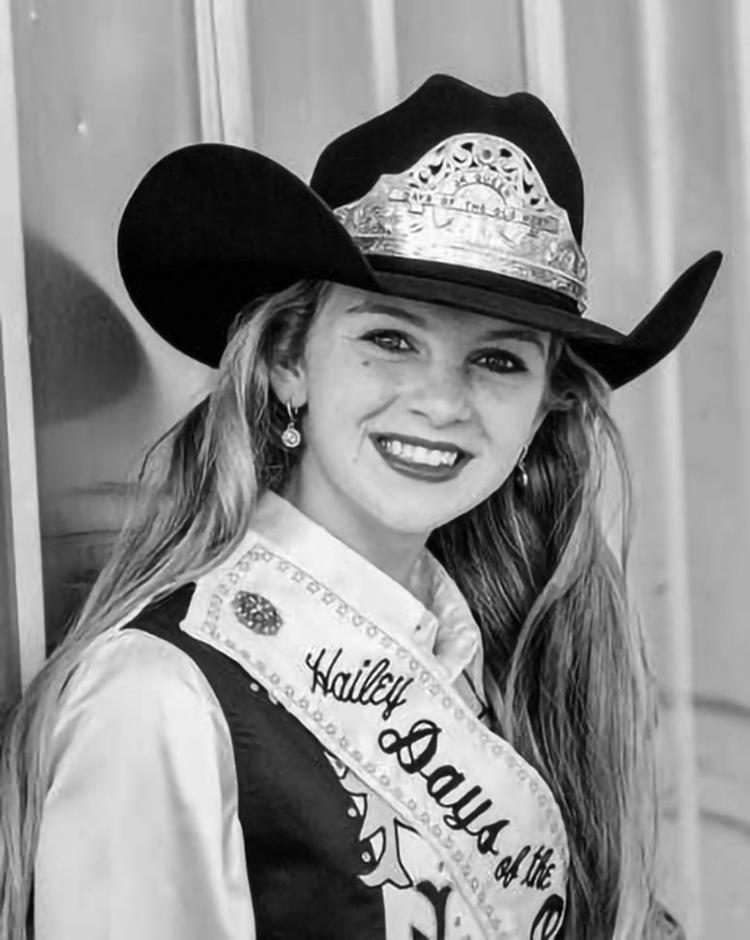 Megan said, "I have competed in junior high rodeo since I was a sixth grader, and I was fortunate to go to state this year where I placed fifth in barrel racing. I also compete in goat tying, pole bending and breakaway roping."
She also participates in 4-H and FFA.
Taber said, "I'd like to thank the Sawtooth Rangers for offering me this wonderful opportunity, and thank all the people who have encouraged me to do my best in everything I do—but to remain kind and humble at the same time."
Dani Madalena
Danielle Madalena, 12, is a daughter of Dan and Tifney Madalena of Filer. Two years ago she won Hailey PeeWee Queen, won the Speech contest, took Horsemanship in her class and shared the Personal Interview prize.
Her hobbies include riding horses, dance and playing with her twin baby brothers. One unique thing about Dani is that she herself is a twin, and she has five brothers.
 Dani loves 4-H and also enjoys junior rodeo, but being a rodeo queen is her favorite.
She said, "As a rodeo ambassador I have the best job, spreading the news about our great Hailey Days of the Old West celebration and Rodeo! Not only do we represent this iconic cultural event here in the Wood River Valley but throughout the state, and sometimes at other large rodeos outside of the state.
"Being a rodeo ambassador means putting on a warm smiling face, a firm handshake, and a beautiful face out to the public to spread this important message, and to invite all to join in the culture and celebration of our rodeo, both competitors and spectators."
She said, "The Wood River Valley is such a unique and iconic place. It holds so much history and tradition in the Western way of life.  Let's never forget the folks who started this great community—the Wood River Valley's pioneers, whose blood sweat and tears laid this foundation.
"It has been my absolute pleasure to serve as a Hailey Days of the Old West ambassador being a representative of the rodeo and all of the Wood River Valley!"